Apologies for the extra email but I HAD to let you know...
YOU ASKED FOR IT...
AND IT'S ONLY $7 USD

with a $47 VALUE EARLYBIRD BONUS
AUDIO when you get it by May 20th!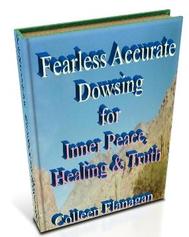 FEARLESS ACCURATE DOWSING
for Inner Peace, Healing & Truth
This e-book that reveals all MY DOWSING SECRETS!

- Pick one of many illustrated methods that work for you
- Clear any fears that block accurate dowsing
- Dowse for any information on yourself, family and pets
- Discover specific people, names, and dates
- Dowse for fear blocks leading to unwanted
emotional or physical conditions, for pets, plants,
voting, clutter-busting, the healthiest vitamins
- For the TRULY ADVENTUROU

S

, dowse to
meet your Angels, learn about past lives!

Get the information YOU NEED
about anything, anywhere in the world!

Table of contents and details here:
purchasing this e-book by May 20!
From the Silver Self Healer's Private Library...
...a $47 value!
Download this

11 minute MP3 mini-session MEGA-CLEARING
session with me to demolish the fears and emotions blocking
the accuracy of your dowsing skills and your intuition!
Decades of dowsing knowledge for people and animals
around the world is NOW YOURS--only $7!
There is NO OTHER E-BOOK like this available that
shows YOU how to clear FEAR BLOCKS to dowsing!
Get the e-book AND AUDIO by May 20!