THE RISE OF THE LAVISH BOX SET…
DISNEY, TOTORO SETS CATCH THE EYE
BBC SPOTS MORE TUBE TALENT
MIDWEEK CHART UPDATE
TALKIN' BOUT YOUR GENERATION…
CLIFF BACK FOR CHRISTMAS
BATTLING THROUGH AT LFF
FOG BECOMES CLEARER
MAKING AN EXHIBITION
A NIGHT WITH THE OPERA
CROWN BACK ON THE THRONE
SILENCE IS MUSIC TO 4DIGITAL'S EARS
DOWN BROMLEY WAY
IN THE GOOD BOOKS
AT THE MOVIES
TRAILERS OF THE WEEK
---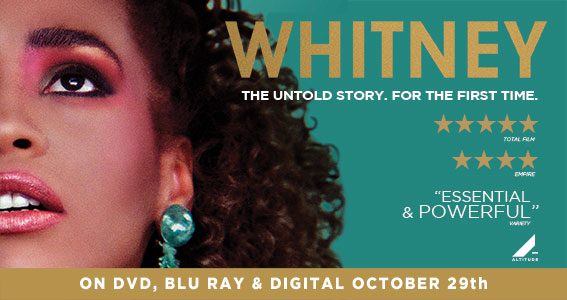 ---
If you can't read this newsletter or see the ads, please click here. Apologies for the late-running of this week's newsletter…
It was a good week for… Solo's run at the top of the charts continues…
It was a bad week for… Google and co targeted for tough new anti-piracy laws to be introduced in Australia…
Make way for the lavish box set. The two most lusted after items across the Internet over the past seven days or so have been premium priced – in one case hugely expensive – sumptuously packaged box sets which go beyond the traditional gift market. They'll work as either self-purchases or as presents for someone you REALLY love, and mirror the way the record industry has trotted out similarly pricey vinyl packages in recent years. First up are two SKUs – one Blu-ray and one DVD – of Disney's Classics films, from Snow White to Moana. Each SKU, the former priced around £250, the latter at £200, contains 55 films, from Snow White to Moana, with space for Ralph Breaks The Internet when it's released next year. Additionally, there's an 80-page book and posters and it looks gorgeous (you can see it here). As Zavvi's Steve Cook said: "The Disney Complete box set has been really well received by our customers, the feedback on social has been very positive and so have the pre-order numbers. It's great to see a high value initiative being released into the UK market during peak."
Also announced this week was a rather tasty item from Studiocanal, celebrating the 30th anniversary of the Studio Ghibli anime classic My Neighbour Totoro. This sumptuous set (here) carries a similarly high ticket price, £80, and is an Amazon exclusive, but it again points another way forward for distributors keen to give a new lease of life, and a new further revenue stream, for catalogue titles. It includes a 176-page book, artcards, a tote bag and loads more, as as well as the classic film on DVD and Blu-ray. Commenting on the set, Studiocanal's Thom Leaman said: "Studio Ghibli is a premium brand with an incredibly dedicated fanbase, but with a limited back catalogue and no new Ghibli film for the next year or so we are always challenging ourselves at Studio Canal to offer fans something fresh and desirable without simply exploiting their interest. The 30th Anniversary of perennial fan favourite My Neighbour Totoro was a perfect opportunity to put something new onto the market but importantly give fans who may already own the title the opportunity to own the ultimate premium version of the product. One that will look great and take pride of place on the shelf but also come packed with plenty of top quality branded items and opportunities to delve into the history and making of this classic. It's a model we will be looking to replicate with other Ghibli titles going forward."
---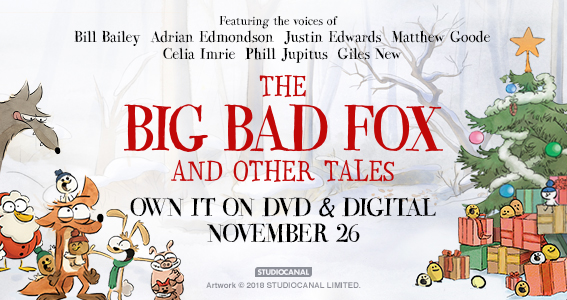 ---
More innovation, and, in recent years, BBC Studios, the company we used to know as BBC Worldwide, has been taking the YouTuber phenomenon and turning it into home entertainment gold with a raft of releases featuring Internet influencers and more – last year it was the turn of Dan TDM after the likes Caspar and Joe. And for 2018 it is working with YouTubers Dan and Phil for their debut release. Following in the footsteps of last year's Dan TDM release, the December 10 DVD release (digital is from November 26) Interactive Introverts, is a record of their stage show (the biggest ever undertaken by "digital talent" and features a wealth of unseen footage too. The pair boast 17 million subscribers between them, with the tour taking in 80 shows across 18 countries playing to a quarter of a million people. BBC Studios has now formed a new arm within the organisation, TalentWorks, aimed at identifying digital stars and translating their success to other formats. and executive producer and director of talent for BBC Studios Paul Hembury said: "Dan and Phil's Interactive Introverts DVD wonderfully captures their hit stage show and gives fans an opportunity to bring Dan and Phil into their living room, get to know them, and watch the show again and again." The duo themselves added: "Interactive Introverts is a show all about giving the people what they want and now they can own it forever! With the awesome looking film and all of the really cool, exclusive extras this DVD is an amazing compilation we're really proud of."
And after looking at a few smart publishing ideas, it's time for a look at the midweek chart bulletin from the Official Charts Company and, when it comes to the listing, it has a familiar ring to it. For the top five is pretty much as you were – Solo at number one, Deadpool 2 at number two (with just 1,500 between the top two), The Greatest Showman still there at number three, Avengers Infinity War climbing back up to number four and Book Club at number five. A mere 50 copies separate that title and Coco, just below at number six. New entries include The Hurricane Heist at number eight, The HappyPrince at number 10 and the latest animated DC tale in the shape of Constantine: City Of Demons at number 12, with Day Of The Dead Bloodline at number 19. Kill Switch is new at number 28 and Night Of The Creeps is at number 40.
Out this week and off to a good start is the latest from Dogwoof and one that's been picking up interest since its theatrical debut earlier this year, Generation Wealth. The latest collaboration between Amazon Studios and UK doc specialists Dogwoof, it's directed by photographer and filmmaker Lauren Greenfield, looking at the global boom bust economy, the corrupted American Dream and the human costs of late stage capitalism, narcissism and greed. Commenting on the release, the company's Daniel Green said: "We're delighted to once again be working with Lauren, whose previous film The Queen of Versailles was a big hit back in 2012. Generation Wealth is not just a documentary, but part of an eye-opening multimedia project that aims to really dig deep into our growing consumerism. With an 18 certificate, it's certainly not for the faint-hearted."
---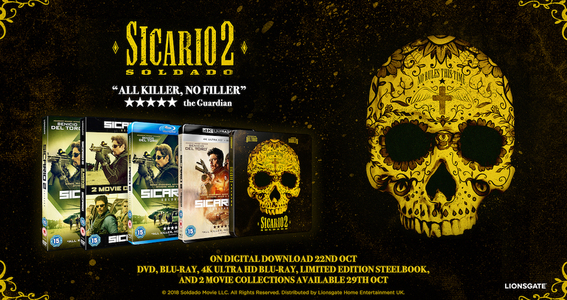 ---
Cliff Richard was back in the headlines this week, his latest show receiving extra publicity for one or two of the barbs thrown at the BBC, but those comments arguably crowded out the real story: the fact that they came as part of a live concert and celebration of the singer's 60 years in the business. What's more, the Manchester concert was beamed to cinemas around the country, drawing more than 80,000 punters and earning in excess of £1 million at the box office. Now Spirit is set to extend those celebrations with a live record of the event due on DVD on November 19. Commenting on the release, Spirit's Rob Callow said: "We are really excited to be working with Cliff and his team again as he celebrates 60 years in the music business. Recorded last week at The Bridgewater Hall in Manchester, Cliff was on the most incredible form just 2 days before his 78th Birthday. The sold out show was broadcast live to over 80,000 fans in cinemas across the country generating box office revenues in excess of a phenomenal £1 million. Based on the incredible box office, the social media buzz following the announcement of the DVD release and the fantastic level of support received from our valued retail partners everything looks set for Cliff to have another hit to celebrate this Christmas."
We've been off to a while bunch of London Film Festival screenings this week (more of this in a forthcoming issue, once we've gone through the backlog of titles on the special digital viewing platform too), but there's a few worth keeping an eye on. One of the biggies, and due at cinemas shortly ahead of a home entertainment bow early in 2019, is the rather wonderful Vs, released by Altitude. It's a homegrown offering with huge potential, and has something about it that seems perfect for home viewing too. It follows a disaffected youth struggling in foster care who falls in to the rap battle scene in Southend, Essex, of all places. It's a remarkable film (the town has never looked as good as it does here) and is earning plaudits from critics, including four stars from The Guardian, whose Peter Bradshaw said: "it also has real urgency and storytelling punch, and the contests themselves are tremendously witty, inventive and exciting… it may owe something to Curtis Hanson's 8 Mile from 2003, starring Eminem, but I enjoyed this more… A movie with flair and force."
The flurry of activity around superlative genre director John Carpenter continues apace, with the new take on his creation Halloween due at cinemas, his original slasher pic still doing the business in the midweeks and, now, at London Film Festival, Studiocanal unveiling the first in its raft of 4K restored classics from the master, The Fog. The film is due at cinemas on October 26, with special Halloween screenings on October 31, two days after its home entertainment bow. On the same date there are theatrical releases for They Live and Prince Of Darkness (home entertainment for the former and a Steelbook of the latter also on October 29, with standard Prince Of Darkness edition on November 26), followed Escape From New York on November 22 and home entertainment on the 26th. All have new artwork and, if The Fog us anything to go by, will look a treat. Despite its misty title, The Fog has never looked clearer or sharper, with Studiocanal's expertise in giving a new lease of life to films from its catalogue coming to the fore. It went down a storm with the crowd too. Commenting on the activity, Studiocanal's Tara Hutton said: "These Carpenter films are all cult classics that have been given the 4K restoration treatment they deserve. There is already a lot of excitement around the Collector's Editions and Blu-ray Special editions, which are eagerly awaited by fans. Matt Ferguson, the artist behind the new designs has done a tremendous job and we are delighted with the results."
---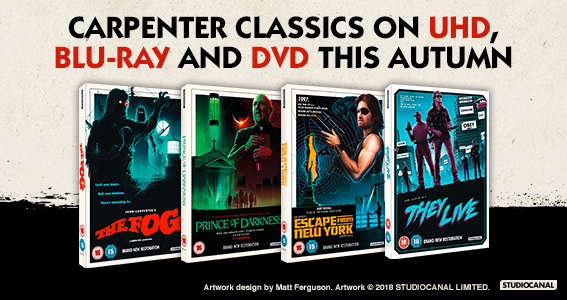 ---
Independent label Anime Ltd is continuing to fly the flag for Japanese animation and looking to widen the scope for the genre by this week launching an exhibition focusing on the work of one of the territory's leading directors. The exhibition, at Noho Studios in London's West End, features the work of Mamura Hosoda and looks at the output of the talent behind such films as The Girl Who Leapt Through Time, Summer Wars, Wolf Children and The Boy and The Beast. The event ties in with the London Film Festival UK debut for his latest work, released by Anime Ltd, Mirai, which will then be released at cinemas in November ahead of a home entertainment bow in 2019, mirroring the company's strategy in recent years. Commenting on the release, the company's president Andrew Partridge said: "Mamoru Hosoda has had a huge impact in the UK ever since The Girl Who Leapt Through Time - we're very honoured to be hosting the first exhibition of this kind to showcase his work to date. There's no better time to explore the works of this incredibly talented director, when Mirai has been welcomed as the Gala film for Family at the BFI London Film Festival." The company's Andy Hanley added: "Anime has never been more accessible outside of Japan, and Mirai's November 2 theatrical release is an important opportunity for us to build further on that - it's a film with something for everyone that can be appreciated across generations old and young, and has a view on family life that anyone will recognise. This exhibition at Noho Studios near Oxford Circus is built from a similar foundation of showcasing anime's broad appeal, from looking behind the curtain at how anime is produced through to fun interactive elements for the whole family to enjoy. The engaging, imaginative and universally resonant works of Mamoru Hosoda are perfectly suited to an exhibition which is the first of its kind in the UK."
Another big title unveiled at LFF is the remake of Dario Argento's Suspiria, directed by Luca Guadagnino and snapped up by Mubi as an exclusive release for the svod service. It's led to an upsurge of Interest in Argento's original, recently released by CultFilms in a 4k restored edition. As the company's Garwin Spencer-Davison noted, such is the demand for its lovingly restored version of the giallo classic, that it is "practically on general release theatrically". What better time then, to announce another Argento classic due on November 19. He said: "CultFilms is releasing Argento's Opera as a companion to the earlier Suspiria on a dual format Blu-ray and DVD. We're happy to report that within five minutes of the social post, we'd started clocking sales on our CultFilms.co.uk website." It joins the just released Il Postino on the CultFilms imprint, while there's been a further announcement from the sister Shameless Films label about another classic slice of giallo in The Case Of The Bloody Iris, also due on November 19. Again, here's Garwin Spencer-Davison on the release: "We've coined it the third of the Giallo-royalty dream team releases from Edwige Fenech and George Hilton, back in their third Shameless outing. Iris is sourced from a new 2K scan extensively restored, it's in both English and separate Italian versions for which we've made new English subtitles. It has all the obligatory extras too, but most of all, it really does look amazing. The other two of same ilk, Strange Vice Of Mrs Wardh and All The Colours Of The Dark, did well for Shameless so we have good expectations for this another proper Giallo - black gloved killer and all – in the idiosyncratic Yell'O case."
---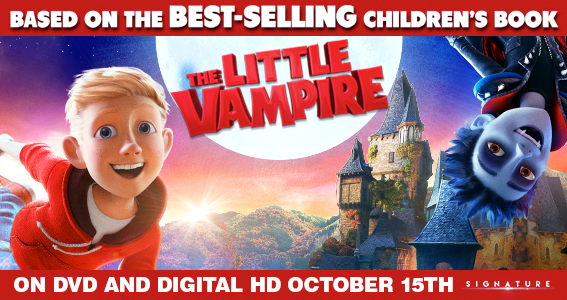 ---
The Crown, the Netflix drama turned more traditional home entertainment release from Sony Pictures Home Entertainment, and a huge hit on its release last year, is set to return to the throne again with the release on Monday October 22 of the second series from SPHE. And once again, the major is hoping that the release will long reign over us. Commenting on its bow and the support behind it, SPHE product manager Amy Sawyer said: "Season one was the standout successes of last Q4, debuting as the biggest new show of the past five years. This time round, we will build on that phenomenal result and establish The Crown as the biggest TV release of 2018 with a launch plan fit for a queen, including extensive print, radio and digital display. With a host of conveniently timed Royal events and announcements over the past few weeks, The Crown is more relevant than ever and our campaign will ensure it remains so throughout the gifting period."
Talking of Royals, the wedding between Princess Eugenie and that fella last week gave an unexpected and timely boost to the forthcoming 4DigitalMedia release of The Music Of Silence. For the film, starring Antonio Banderas, is a biopic looking at the life of singer Andrea Bocelli, who was one of the performers at the lavish ceremony, thus thrusting him back into the limelight. Commenting on the film, due on October 29, the company's Eve Greenow said: ""We are very excited about the UK release of The Music Of Silence, the incredible true story of one of the most iconic tenors in the world, Andrea Bocelli, starring Antonio Banderas and Toby Sebastian. A fantastically poignant film with an appearance from the global opera star himself. Particularly timely with his superb performance at the recent Royal Wedding, and his current UK tour, we look forward to seeing how it performs."
---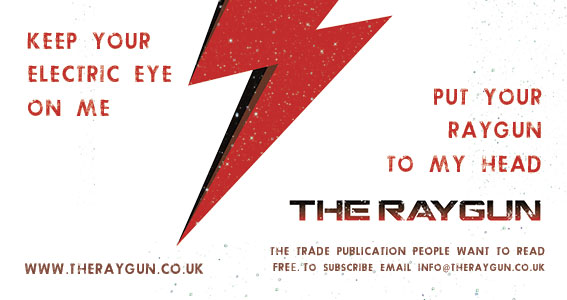 ---
Back to this Monday, October 22, and out on DVD and download and arriving on the back of its platform theatrical release is The Bromley Boys, a feelgood tale looking at that most British of sports – non-league football. It boasts an impressive cast of familiar faces, taking in everyone from Alan Davies to Adam Deacon by way of Martine McCutcheon. It was a labour of love for producer and star TJ Herbert, who took seven years marshalling the project from south London book about a love affair with "the worst football team in the world" to the big and now small screen. It had a high profile premiere at Wembley in May, ironically just days after the little team that could, Bromley FC, appeared in the FA Trophy Final. Herbert said: ""It has been a long journey, but I am proud of the film and its authentic journey into a nostalgic era of Non-League football. With the highs and lows of Dave's awkward teenage love for Bromley FC and Ruby; there is a magical story that audiences can relate to. We've all had a first love after all! And while the film centres around a rather bad football club, the story is a universal one that will not only resonate with any real football fan but as we have discovered from our theatrical release a much broader audience that don't necessarily like football. It is after all a very human story. The film has been likened to both Billy Elliott and The Full Monty and has to date secured international sales in eight key territories"
Also on Monday, comes the more sedate and sedentary tale not of a south London football team, but an East Anglian bookshop, with the release of The Bookshop from Universal. Based on the acclaimed novel by Penelope Fitzgerald, it stars Emily Mortimer, Bill Nighy and Patricia Clarkson it follows the tale of a woman who decides to open the store suggested in the title despite ruthless local opposition, to fulfil her dream of opening a bookshop. Universal is targeting the predominantly ABC1 female audience with print ads and targeted social activity. It is also working with the likes of National Book Tokens and Booksellers Association with competitions as part of its PR campaign. Universal junior product manager Macayla Madden-Forde said: "It was lovely to work on a film with such a fascinating story and brilliant cast. I think period drama fans and lovers of literature alike will be delighted with The Bookshop."
---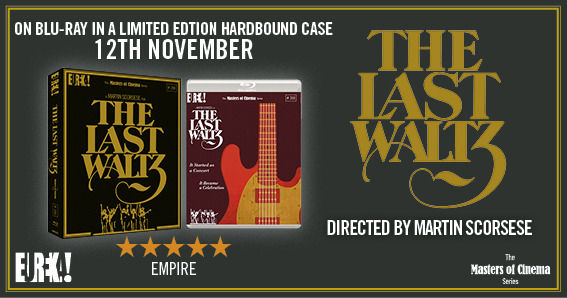 ---
"Cda.pl is Poland's most popular piracy website where users from around the world find and view copyright infringing content. It is so big that it is now more popular than several legitimate VOD services in the country. Cda.pl had 68.13 million worldwide visitors with nearly 13 million unique visitors in July 2018 according to SimilarWeb data and currently enjoys a global Alexa rank of 1,477 and a local rank of just 15 in Poland."
MPAA statement on Polish pirate site CDA.pl

"CDA.pl is a very large and very popular service, often more popular than other VOD services in Poland. Yes it's true. We're big and we're popular. On CDA.pl, you can find videos that users have uploaded that breach copyright law. Yes, such cases happen, just like everyone else – we emphasize everyone, including social video websites where users add content. The same problem applies to CDA.pl, as well as YouTube, Dailymotion, Vimeo and others."
The website responds…

AT THE MOVIES
The new take on Suspiria, the giallo classic originally created by Dario Argento and now directed by Call Me By Your Name's Luca Guadagnino, is turning plenty of heads (it really has to be seen to be believed) at London Film Festival and this week has seen his next project has been revealed. It's not the Call Me By Your Name sequel, rather a completely new idea and another strange turn into new territory. For it will be a film based on the characters and themes if Bob Dylan's seminal Blood On The Tracks album. The script has been penned by Richard LaGravanese, who includes The Fisher King and Behind The Candelabra on his CV.
DC's film world keeps on expanding, with the latest project set to concentrate on one of the more unlikely characters - Batman's butler. Pennyworth will follow the man known to Batfans as Alfred. With Sean Pertwee turning the character into more of a fighting man than previous incarnations, the idea is not too much of a stretch, although Paloma Faith, rumoured to be playing his nemesis may be pushing it a bit.
Cats: The Movie (possibly not Its real name) keeps adding to its litter, sorry, cast, with each announcement looking even stranger. Latest names who will be stroking their whiskers and feline groovy are the unlikely combination of Dame Judi Dench and Idris Elba.

TWEET OF THE WEEK
Follow us on www.twitter.com/theraygun…

TRAILERS OF THE WEEK
Hey boss, da plane, da plane…
Here's that Southend rap battle we were talking about…
You're on The Raygun newsletter mailing list, which has been running for eight years, because you requested it, have been recommended to us or sent us emails. You can unsubscribe at any time, if you're daft, using the link elsewhere or by emailing as below. But of course, you don't want to do that, do you? We don't share your information with anyone else, we don't like cookies and we're the good guys. We care because you do…
To subscribe to The Raygun newsletter, please email
info@theraygun.co.uk
with subscribe in the subject matter
To unsubscribe, email

info@theraygun.co.uk

with unsubscribe in the subject
For editorial or advertising queries, contact

tim@theraygun.co.uk