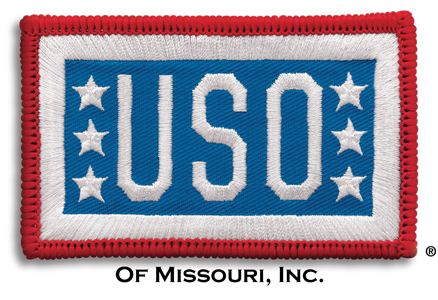 FOR IMMEDIATE RELEASE
For more information contact:
Michelle Nelson, President
Back 2 Basics Marketing, LLC
Phone: 626.293.5958
Email: michellenelson@back2basicsmarketing.com
FOR IMMEDIATE RELEASE:
USO of Missouri, Inc. to Host Armed Forces Salute
ST. LOUIS, MO (January 4th, 2013) –
USO of Missouri, Inc., in St. Louis, is hosting their ninth annual Armed Forces Salute event, Thursday, March 7th, from 6:00PM to 9:00PM at the Hyatt Regency St. Louis at the Arch.
The welcome reception will begin at 6:00PM with dinner to follow at 7:00PM and the award ceremony will start at 8:15PM. The U.S. Airforce Band of Mid America will provide music throughout the event. David James Elliott, star of the television show, JAG, will be the guest host this year.
"We are very excited for our event this year," said Sara Colvin Director of Special Events & Communications for USO of Missouri, Inc., "Our event provides a unique opportunity for attendees to honor their local military for their amazing service and dedication. We're happy to give the attendees that chance."
If you are interested in attending the USO of Missouri, Inc., Salute to Armed Forces or donating, please contact Sara Colvin by calling 314.429.2938 or RSVP by visiting: http://9tharmedforcessalute.eventbrite.com/. To learn more about the USO of Missouri, Inc., visit www.usomissouri.org/.
About the USO of Missouri:
The USO of Missouri, Inc's mission is to lift the spirits of America's troops and their families by providing a "touch of home" through our facilities, a shoulder when needed, and fun family events. The USO of Missouri, Inc. is a civilian, registered 501(c)(3) non-profit organization receiving no government, military, or United Way funding, and is not a part of the Department of Defense. The USO of Missouri, Inc. relies entirely on the support and generosity of the American people to serve our troops each and every day. Since its inception in 1981, over 4.1 million military personnel and their families have benefited from the services provided by the USO of Missouri, Inc. The USO of Missouri, Inc. provides services to the entire state of Missouri and the Southern Illinois counties of Jersey, Madison, Monroe and St. Clair. For more information about us, or to contact the USO of Missouri, Inc., visit us online at www.usomissouri.org.
###