EXTENDED SIDEWALKS / BUS STOPS ON UPPER WASHINGTON ST.
I, along with Councilman Cunningham and others (including the mayor) have received a number of complaints about the recently installed concrete bus stop/sidewalk extension that was installed at the SW corner of 10th and Washington, in front of Muller Insurance. There is another one installed on Washington and 8th, and one under construction at 12th. These are not corner bump outs, but rather effectively they have installed a long extension of the sidewalk instead of just marking the bus stops red, like they did downtown. I have spoken to the administration who explained that given the streets are wider uptown, although inconsisent in design across our main street, there was room to install this preferred alternative so that buses did not have to dip into towards the sidewalk to pick up passengers. Now they can just drive straight, stop in front of the curb, and passengers can board the bus. And the administration has also indicated that there is still sufficient room for both an 11' travel lane and a 13' passing lane. See below the diagram (sorry so small) for the 10th street intersection (the top is west). The sidewalk extension is highlighted on the south west corner.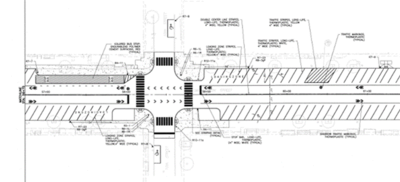 For clarity in case you hear otherwise, the City Council did not approve this plan. We approved a modification sans bike lanes but never actually had the revised plans that would have shown these so they are a surprise to all of us.
We have asked the administration to pause to discuss this design choice. But in the interim, I welcome your thoughts.