Celebrating the hero, Muhammad Ali (1942-2016)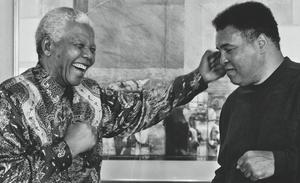 04 June 2016
The human rights and Palestine solidarity organisation BDS South Africa joins the peace-loving peoples of the world in mourning the loss and celebrating the life of boxing legend and activist, Muhammad Ali.
Ali is an inspiration for those us fighting for justice - be it in the struggle against racial injustice, economic exploitation or Israeli Apartheid.
According to
news reports
, in 1974 already, the former boxing champion told a press conference in Beirut, that "the United States is the stronghold of Zionism and imperialism." On a later visit to two Palestinian refugee camps Muhammad Ali is quoted as saying: "I declare support for the Palestinian struggle to liberate their homeland."
In 1985 the heavyweight boxer travelled to Israel in an attempt to secure the release of Lebanese and Palestinian prisoners held by the Israeli regime.

Ali's determination and commitment to civil rights, anti-imperialism and social justice motivated many of our people (and our international allies) in the anti-apartheid movement. Today Ali inspires many Palestinian solidarity activists in the struggle and boycott of Israeli Apartheid.

Muhammad Ali - our champ, the peoples champ, the champ.

Hamba Kahle, Comrade Muhammad Ali. Lala ngoxolo.

ISSUED BY KWARA KEKANA ON BEHALF OF BDS SOUTH AFRICA
BOYCOTT, DIVESTMENT AND SANCTIONS AGAINST ISRAEL IN SOUTH AFRICA (BDS SOUTH AFRICA)

6th Floor
|
Cosatu House
|
110 Jorissen Street
|
Braamfontein
|
Johannesburg
PO Box 2318
|
Houghton
|
2041
|
Johannesburg
T:
+27 (0) 11 403 2097
| M:
+27 (0) 74 054 3826
| F:
+27 (0) 86 650 4836
W:
www.bdssouthafrica.com
| E:
media@bdssouthafrica.com
www.facebook.com/bdssouthafrica
|
www.twitter.com/bdssouthafrica
|
www.instagram.com/bdssouthafrica
BDS South Africa is a registered Non-Profit Organization. NPO NUMBER: 084 306 NPO
BDS South Africa is a registered Public Benefit Organisation with Section 18A status. PBO NUMBER: 930 037 446