Happy Birthday Greetings
Hope your day is as special as you are, Andrea! Big kitty hugs to you!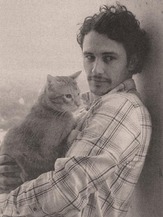 Celebrity Cat Lover,
Kurt Cobain
Helping Stray Cats, the Humane Way!
I found this article a while back and ran out of room to share it with you then, so here it is now:
Frankly, when it comes to helping cats, this information is never out of date.
Congratulations to my friend in Iowa who took in an abandoned house cat this summer and has found him a wonderful home! Every cat should be so lucky!
Rescued Kitten Stars on Broadway, Now Needs a Home

Alfonso, a gray and white kitty, will appear with James Earl Jones and Rose Byrne in "You Can't Take It With You" opening on August 26 in New York.
Several cats are in the show and all will be offered for adoption during intermission.
=================
If someone sent you this newsletter, feel free to sign up for your own subscription here:
This and previous issues can be seen at this link:
Help! Name This Cat!
I need some help again. A new cat was dumped in my yard this week, and I need a name for her. She's very sweet but scared and just wants to cuddle, or, as seen in this photo, yawn. [Tip: Animals that are nervous often yawn a lot. They are not bored, just wary. Probably more common with dogs.]
Over 100 Tuxedo Cats Dumped At California Shelter In Boxes, Shelter Overwhelmed
OK, who's dumping cats in California? The humane society in Novato has been flooded with more than 100 cats, dropped off late at night, a few dozen at a time. They appear to be in good shape and are likely the result of a breeding operation or perhaps a hoarding situation. The shelter doesn't have room for them all and is looking for the person(s) responsible so they can get them some help.  
http://bit.ly/1pg2Xue
Petfood News and Links

Following the recalls? Here are some helpful links:
Free shelter feed links:
Thought For the Day
If you want your cat to adore you, first you must adore your cat.
~~RJ Peters
Last minute news:
Tammy's Surgery is a Success!