It's Robo Call Season Again
It is that time of year again folks, time to refill the political war chest so we can start hammering the RINOs at the Capitol. Last week we hit Senator Anthony Sykes for refusing to advance HB 15582 which would have stopped the use of Sharia law or any other form of foreign law in American courts. Labeled the ALAC bill, short for American Law for American Courts, the bill had passed with bipartisan support in the House only to be left to whither in the Rules Committee by Senator Sykes, the Senate author of the bill. Remember that Sykes did this last year as well, actually killing his own bill.
This time we called his bluff and sent thousands of robo calls into his Senate District alerting his voters to his refusal to advance the bill. The calls started at 2pm on Monday and we used a new feature that allowed voters to press 1 to be connected with the Senator's office and by 3:44 reports were coming back stating that his assistant was telling voters that Sykes had put HB 1152 on the agenda for Wednesday. In less than one hour and 45 minutes Sykes was crying "Uncle!" and doing the right thing.
But forcing a bad politician to advance a bill is just the start of the process. The bill was defeated 9 to 6 in the Senate Rules Committee with the following Senators voting against the prevention of foreign law being used in American courts:
Sens. Patrick Anderson (R-Enid),
Cliff Branan ( R-Oklahoma City ),
Jerry Ellis (D-Valliant),
Earl Garrison (D-Muskogee),
Al McCaffrey ( D-Oklahoma City ),
Judy Eason-McIntyre (D-Tulsa)
Four Republican Senators
voted against this bill despite the passage of the State Question in 2010 that received over 70% of the vote. More State Chamber of Commerce "ho's" either toeing the line with the state chamber or obeying the marching orders of the CAIR organization.
Suffice it to say that we have plans for these four Senators, plans that they aren't going to like. But we need to raise around $12,000 to mount a serious campaign to inform the voters of their district of their self serving voting records. The robo calls do a tremendous job of informing votes as the majority of them land on answering machines and a significant part of the live answer recipients will use the Push One feature during the robo call to talk directly with the Senator's office.
So we don't often ask for money but we need to gather a lot of it in the next few months.
The robo calls are tremendously effective in letting the locals know that their politician is acting badly and it energizes their opponents and dries up their political donations as the locals realize just how bad their guy is.
You can donate in two ways:
Or you can send a check to Sooner Tea Party, 358 North Rockwell Ave, Oklahoma City, OK, 73127.
We aren't a non profit and this isn't a political donation, you are basically "hiring" us to spend your hard earned money to publicize the bad voting records of some very bad politicians. Not a single nickel will go toward overhead or anything other than direct costs to robo call voters, drop literature in their district, or print yard signs exposing their bad behaviour. This type of expenditure is outside the Ethics Commission's reach so your donation to the Sooner Tea Party will be 100% confidential. We don't tell people to vote for or against a candidate when we make these calls and drop literature, we just expose the voting record and let people decide on their own. Make checks payable to "Sooner Tea Party" if you want to help expose voting records of bad politicians.
But if you want to spend your money doing direct attacks on bad politicians or in support of the good politicians we have a Political Action Committee
that can accept funds for that purpose. Corporate donations usually can't be accepted with the exception of LLCs but check before donating to the Oklahoma Tea Party PAC. All PAC donations do have to go through the Ethics Commission so your support will be public record. We aren't allowed to "earmark" donations for specific candidates under Oklahoma Campaign laws but we are vocal about who we support and who we attack.
Make PAC donations payble to the Oklahoma Tea Party PAC, 358 North Rockwell Ave, Oklahoma City, OK, 73127.
And consider this before you donate. A few thousand dollars carefully spent exposing a poor voting record can completely wreck a $100,000 political campaign. There is simply no other organization that stretches your hard earned dollars further and gets the best impact. We were credited for taking down Glen Mulready's Obama Care/Fallin Care Health Insurance Exchanges by Glen Mulready himself, we lead the fight that emasculated Speaker Kris Steele this session, and there is no other group in the state that politicians fear as much as they fear us.
Help us keep the battle for decent government going, help us take it into their own districts.
Rodent Infestation at the Capitol
or a Botched Hair Coloring Job?
Holy moly, call the exterminators! Is that a skunk or a muskrat sitting on top of Guy Liebman's head? Of course the first question would be how evan a small mammal made it past Lee Denney's desk up to where Liebman sits without becoming a tasty snack. I've heard that the gargantuan legislator carries a full complement of barbeque tools and sauces, including a hibachi, in her purse. Had that been a skunk or even a possum It wouldn't have made it past our corpulent legislator without becoming another "little smokies" recipe to be sent out on her Christmas card.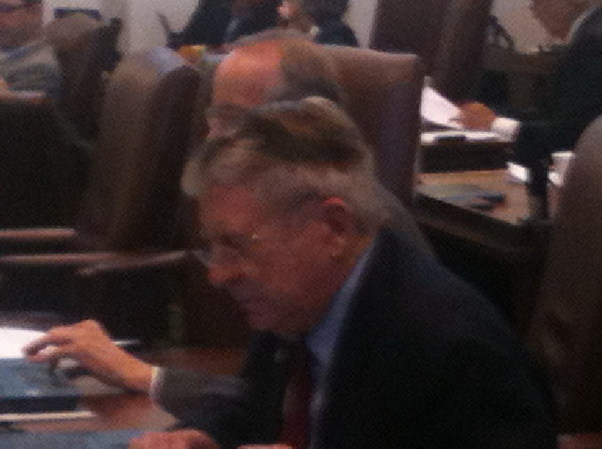 Okay, with nutritious rodents and tasty mammals out of consideration that leaves a botched hair coloring job adorning the fasionmeister known as Representative Guy Liebman.
Call me old fashioned and out of touch with current society's definition of "manhood" but I've always looked at men that color their hair as somewhat vain and unmanly. In my opinion, the message that is sent is that they are way too concerned about their looks. Social mores allows women primp and preen because like it or not, women do "compete" based on their looks. A good example is the behavior of men and women when they first enter a room. When men enter a room the first thing most of them will do is check out the women that are in the room. Then watch any woman when she first walks into a room, she checks out the women too… the competition is always on their minds.
So is Rep. Liebman going through a mid life crisis? Is he going to start mimicking former legislators Wayne Pettigrew and start consorting with "low" women? Is there a small red sports car on order? Well, no, it seems that our elderly statesman is being challenged by a young man named Mike Turner who has a head full of dark hair.
Small things mean a lot when you are looking at people and trying to figure them out. In this case it is very evident that Representative Liebman,
Mr. Transvestite Republican
himself, is wetting his trousers over his young challenger.
So the mystery of the dead rodent hair do is solved and we can cancel the emergency call to the exterminator, now let's look at this young man that has Rep Liebman trembling.
Mike Turner is 25 years old, a solid conservative that believes in the constitution including the 2nd Amendment and the 9th & 10th Amendments, believes in cutting spending, is against Obama Care, and against the soft on crime agenda that Speaker Steele pushed the last two years and that Rep Liebman supported. Basically Mr. Turner is the complete opposite of Guy Liebman and hair color has nothing to do with it.
Take a look at
Mike's website
and facebook page and you will see why Liebman is taking this seriously. Mike is young, stands for what the Tea Party stands for, and he is knocking doors in House District 82. Money can buy elections only when your opponent won't work or if there is little difference between the candidates. Liebman has reason to panic. You might say that Mike has Lieberman's hair standing on end.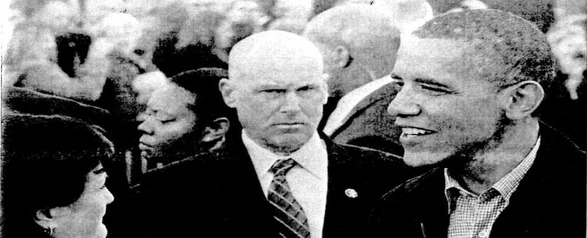 A Picture is worth a Thousand Words
Look closely at the face of the person shaking Barack Hussein Obama's hand. It is none other than the person that puts the pachyderm in Republican, our rotund Representative Lee Denney. The picture was taken at the Cushing Oklahoma visit last month. Attending the event were numerous Democrats including:
Jimmy Curry of the Oklahoma AFL-CIO former state Rep. Debbie Blackburn, progressive activist Susan Chambers, Oklahoma City School Board President Angela Monson, former state Sen. Bernest Cain, former Attorney General Drew Edmondson, former state Treasurer Scott Meacham, Tulsa civic activist Sally Frazier state American Civil Liberties Union director Ryan Kiesel, former gubernatorial aide Steve Cortes, and state Democratic Party chairman Wallace Collins.
Current Democrat legislators inlcuded Rep. Dorman (D), Judy Eason-McIntyre of Tulsa, John Sparks of Norman, Tom Adelson of Tulsa, Al McAffrey of Oklahoma City, Rep. Mike Shelton, Anastasia Pittma, Jabar Shumate, Minority Leader Scott Inma, Emily Virgi, and Danny Morgan .
Only two Republicans officials were present, Lee Denney of Cushing and Commerce Secretary Dave Lopez, a member of Governor Mary Fallin's cabinet.
Denney told the press that she was
"happy she got to shake his hand. I welcomed him to my district, and he said that we had good hospitality. So, I was very glad that we've been friendly to the president."
Yes you have been very friendly to Obama's policies Representative Denney. You supported the Obama Care/Fallin Care Health Insurance Exchanges to the bitter end, helped knock down dozens of pro constitution bills, privacy and liberty type bills, and spending reduction bills.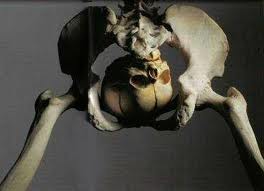 Fossil remains of the first politician
Liberal Education = Liberal Politician
By R. H.
What is it that Speaker Steele fails to recognize about conflict of interest? How is it that he gets away with it? Representative Randy McDaniel is a Financial Advisor and Stock Broker by trade. He has no business being appointed to any Appropriations and Budget Committee board. It creates a conflict of interest. Mr. McDaniel you yourself should realize this and step down from the board now.
Representative McDaniel is a highly educated individual. He furthered his education by attending Georgetown University, Institute of Business and Government Affairs. This is a well-known left wing bastion. He has not indicated what degree he obtained there. He went on to study at Cambridge University, England, M Phil-Land Economy, again not indicating any degree he might have obtained from this liberal bastion of thinking.
Representative McDaniel has served his country in the Oklahoma National Guard from 1988 through 1999. I thank you for your service. There is no indication of combat duty or awards and decorations.
Let's take a look at his legislative record for the last two years. From a first glance, he is serving his constituents well as an average to above average legislator. In 2011 he submitted 10 bills and 1 House Joint Resolution for consideration. Of those I died in House Committee, 4 died on the House floor, 1 died in a Senate Committee and four became law. The House Joint Resolution is still in committee. That's a 40% success rate. That's a pretty good success rate. Who says having friends in high places doesn't help.
In 2012 he has submitted 7 bills and 2 House Joint Resolutions for consideration. Of those all 7 bills are on the Senate floor. It looks like he's on a roll. Of the House Joint Resolutions, 1 is in a House Committee and 1 is in a Senate Committee. Let's face it; this could be a banner year for Mr. McDaniel.
Let's take a look at what Project Vote Smart has to say. You can find this information at
www.votesmart.org
.
Following the typical liberal politician doctrine, he has refused to indicate where he stands on the issues. In other words, whichever way the wind is blowing, that is the way he'll vote. He has very high RIED scores meaning that he is a State Chamber toadie.
His voting record looks like something out of a State Chamber wish list, rebates for sport franchises, industrial development bills like the Oklahoma Space Port, voting conservative only 13% of the time.
Whoever decides to challenge Representative McDaniel better come with a big war chest in tow. Mr. McDaniel had one in 2010, $172,833.00
Now one would think that that's a lot of money. His district does encompass Nicholls Hills. It does cost a little more to campaign in that part of town. Let's dig a little deeper into his finances though.
With these funds available, why did he not ask the Party to utilize the funds elsewhere. Surely these funds could have been better spent.
Expenditures
July 13, 2010 thru Aug. 9, 2010 $24.00
Aug 10, 2010 thru Oct 18 2010 $1,500.00
Oct 19,2010 thru Dec 31, 2010 $135.00
I guess it doesn't take much money to run a campaign in Nicholls hills. But wait a minute. It shows only $77,511.69 forwarded from previous campaign in this last report. Where's the rest of the money? This needs to be explained.
It is obvious why Mr. McDaniel will not sign HB 1004. His signature will cost him his position as chair of the Economic Development, Tourism and Financial Services Chair. A position that he is in conflict of interest of anyway. Mr. McDaniel you can begin making amends by letting all the voices of those silenced by the Speakers intimidation is heard. Sign the discharge petition. Sign HB 1004.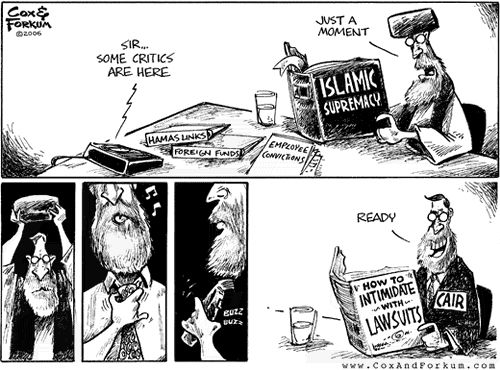 Who CAIR's? You'd Better.
By Ms PM
This article is to set the stage for an article next week on the CAIR conference last weekend at the Oklahoma City Mariott. We staked the place out, two teams, one inside and one outside taking pictures of people of interest that attended the event. In particular we were looking for legislators that were attending. As the FBI is prohibited from dealing with CAIR as they are an unindicted co conspirator in terrorism investigations so should our legislators be prohibited from supporting their agenda here in Oklahoma. But first let's look at how much influence that CAIR has lost in the last two years by looking back at the same CAIR conference in 2010
The National Cowboy and Western Heritage Museum allowed CAIR to hold their banquet back in 2010. When I had heard about this I wrote the museum with documentation enclosed, to let them know who this organization is and what they stand for. The letter received no response and I was as mad as an old wet hen. I placed a call to the grand poo-pa, left a message which did no good. I wrote another letter. This time I got a response and many excuses as to why they had allowed this to happen. The bottom line, their vetting process had turned up nothing. I wasn't the only one that had put a bug in his ear, many concerned citizens had done the same. Thanks to many Oklahomans, he will not make that mistake again.
In this article
you can get a pretty good idea of the farce CAIR portrays and which of our stunning public servants are buying into a scam on Oklahoma and America. I found it interesting who some of the sponsors were for this shin-dig. American Red Cross, ACLU (imagine that), Central Oklahoma Human Rights Alliance or C.O.R.R.A., IHOP restaurant, Peace House Oklahoma City, Quiznos Subs and The United States Census 2010.
Here are our great leaders....These fools attended but left no comments. Many other groups attended and the full list can be read in the article:
Jari Askins , Governor Brad Henry's office, Drew Edmonson, Kenneth Corn, Shane Jett, Mike Shelton
I found their comments about CAIR more alarming. I checked the crystal ball and CAIR was once again slapping the U.S. in the face and our ignorant servants, along with others were cheering them on.
"Your dedication embodies the very essence of our society's steady pursuit of social, racial and economic equality for all. CAIR has assisted with Norman's cultural awareness through their efforts in helping training of our local law enforcement officials." -Mayor Cindy Rosenthal, Norman
"The Council on American-Islamic Relations has a progressive agenda working toward a comfortable assertion of their American identity." -Senator John Sparks, District 16
"For their work in fostering the causes of peace, understanding and better community relations in the Great State of Oklahoma and for the pride and patriotism they display towards the United States of America and the Great State of Oklahoma." -Senator Andrew Rice, District 46
"
It is definitely a pleasure to work with and get to know better CAIR and its members. We share many similar values, such as our interests in good government, our love and best wishes for our children, and a desire for pleasant, safe communities." -Representative Wallace Collins, District 45
"I recognize you and your colleagues at CAIR - Oklahoma on the deep sense of mission you bring to your efforts, and the myriad of achievements you have accomplished in your ongoing work with the many citizens of the state of Oklahoma." -Representative Ryan Kiesel, District 28
"Conditions in the world today make it imperative that the people of our world must work together to accomplish peace, establish communications and understanding." -Representative Al McKaffrey, District 88
"I applaud and commend the Council on American-Islamic Relations for its stellar efforts and commitment in helping to ensure justice, civil rights and the ending of discriminatory practices throughout the communities you dutifully serve." -Representative Richard Morrissette, District 92
"The Oklahoma City Chapterof the Council on American-Islamic Relations (CAIR) has worked for the betterment and unity of people and for justice and peace in Oklahoma for many years." -Representative Anastasia Pittman, District 99
"Through the resilience of organizations such as yours, the message of peace, multiculturalism, equal opportunity and inclusion continues to have a meaningful and positive effect on our nation." -Representative Mike Shelton, District 97
"We saw in the last election how important civic engagement was and I am thankful that CAIR nationwide played a significant role in voter education and registration within the Muslim community." -Representative Jabar Shumate, District 73
But...do not despair, help in understand how deviant and connected this group is with known terrorist organizations can be seen up close and personal by attending these two free, open to the public meetings.
Brigitte Gabriel, ACT! for America President to speak in Yukon and Edmond. This lady knows what she is talking about and is the leading expert on Global Islamic Terrorism.
Date: April 15, 2012, Time: 7:00 PM to 9:00 PM, Location: Trinity Baptist Church
612 N. Cemetery Road, Yukon, OK
Date: April 16, 2012, Time: 7:00 PM to 9:00 PM, Location: Fairview Baptist Church 1230 N. Sooner Rd., Edmond, OK
Brigitte will spell out the strategies and tactics ACT! for America is employing to effectively fight back against these threats. You will hear first-hand how ACT! for America is successfully rolling back the tide of radical Islam...how we are winning legislative victories...how we don't have to live in fear or resign ourselves to the inevitability of the threats arrayed against us...and how we will prevail.
So folks...turn off the TV, suit up and show up...you just might learn something.
Then there was this bill, HR 1044 authored by Representative Cox. He touts how great the contributions by citizens of the Republic of Turkey and how much the U.S. and Turkey have in common.
You can read the bill here
if you want your daily ration of crap:
What I find most humorous about this bill was the amendment on February 29th by Reynolds that states this:
By striking the language on page 2 lines 10-14:
"WHEREAS, it is the policy of the Oklahoma Legislature to recognize the contributions of our allies and the value of maintaining beneficial relationships with allies of the State of Oklahoma, such as the contributions made by the Republic of Turkey and the value of our positive relationship with this ally."
"WHEREAS, it is the policy of members in the leadership of the Oklahoma House of Representatives to recognize the value of passing resolutions of this nature in order to continue to receive free, unreported, extravagant trips to exotic locations paid for by unknown sources."
There were no votes recorded. Did they vote?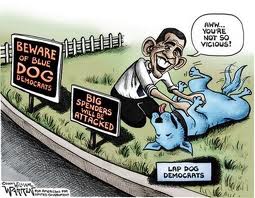 Speaker Steele's Lap Dog?
By R. H.
If there was ever a better example of the phrase "absolute power corrupts absolutely" Representative Skye McNiel would have her picture there. She clings to her position as Majority whip by refusing to sign HB 1004, because she knows that passage of that bill would cost her the power that she so desperately clings to.
A review of her legislative record indicates that she is a tax and spend liberal RINO Republican. She hasn't met a tax increase or fee increase she hasn't liked. In 2011 she submitted 9 bills and 1 House Concurrent Resolution for consideration. Of those, 1 dies in House Committee, 3 died on the house floor, 1 died on the Senate floor and four became law. Those are indicated below:
HB 1008 Income Tax Credit- Liberal
HB 1953 Quick Action Closing Fund (The Governors Slush Fund) Liberal
HB 1954 Tax Credits for Business
HB 1957 Licensing and Permits for Swine Feeding Operations –Liberal
The House Concurrent Resolution passed. HCR 1005 Water Appreciation Day. Are you people kidding me? Surely you have more important things to spend your time on than debating whether or not to have a day to appreciate water. You should have your pay docked for the time wasted debating this useless resolution.
In 2012 she is not doing as well. She submitted 10 bills and 1 House Resolution for consideration. Of these 8 are still in committee, 1 is on the House floor and 1 is on the Senate floor. The House Resolution has been adopted. This one was a resolution of "Disapproval of Federal Expenditures for Wild Horse and Burro Program". Can you people get real? You refuse to hear bills by Conservative legislators, but you'll waste time on stuff like this. It's no wonder the state legislature is a laughing stock around the country.
I also went to the Oklahoma State Ethics Commission, Campaign Finance Division web site and reviewed her C1-R filings for the 2010 Campaign year, and found what I feel are some questionable entries. Here are a few of the ones I found.
Date Item Cost Year to Date Cost
February 10, 2010 Christmas Cards $3,704.38 $20,059.62
Date Item Cost Year to Date Cost
June 1, 2010 Prizes for Golf Tournament $198.21 $198.21
July 21, 2010 Supplies for Golf Tournament $20.00 $647.43
September 4, 2010 Vehicle Tow $150.00 $150.00
August 13, 2010 PTA Contribution $50.00 $50.00
November 6, 2010 NAACP (Donation) $60.00 $60.00
November 8, 2010 Kellyville Schools (Donation) $100.00 $100.00
November 13, 2010 Shrine Circus (Donation) $195.00 $390.00
Now these entries raise some questions. Why is she buying Christmas cards in February? Did she put on the Gulf Tournament? If not why did she spend so much money there? Was she on a campaign trip when she had the vehicle towed? Why are the three donations attributed to the campaign? It seems to me that if she wanted to contribute to these organizations, she would have given the money out of her own pocket.
Representative McNeil, this was just a brief glance at your campaign. We know that you owe your position to the Speaker. We know that you are a RINO Republican. We know that you approve of the Speakers Social Justice agenda. For once do the right thing. Let the voices of your fellow Oklahomans be heard. Sign HB 1004 so that other Representatives can have their bills heard. By silencing Conservative Republicans, you are silencing the voices of millions of Oklahomans. Do the right thing.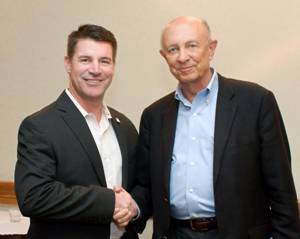 Rep John Bennett and former CIA Director James Woolsey
Rep. John Bennett, an American Patriot
Back around August of 2010 I met a young marine in Henryetta after a request for assistance on his campaign against the infamous Glen Bud Smithson, one of the worst of the worst in the House of Representatives. John Bennett went on to win this campaign by around 500 votes if I recall correctly, the first Republican Representative from Sequoyah County. John stood his ground on opening day against House leadership and became one of our best Representatives since being elected.
John's courage and integrity earned him the top spot on the State Chamber's Ten Most Wanted list, a list of House members targeted for removal in 2012. They say that in politics you are known by the enemies you have so nothing more could speak louder on John's impact at the Capitol.
So it really isn't a huge surprise that John earned the endorsement of James Woolsey, the former Director of the CIA. Woolsey was in Oklahoma City for the Alliance for Vigilance banquet and I had gotten John and the leader of the group together as a potential member of a new anti terrorist caucus being formed at the Capitol. During the event Director Woolsey had heard about John's courage and steadfast support of conservative issues, and a new alliance was struck.
Director Woolsey provided the following endorsement letter for John and I have no doubt that Woolsey is going to be proud as we are of John's political impact in the coming years.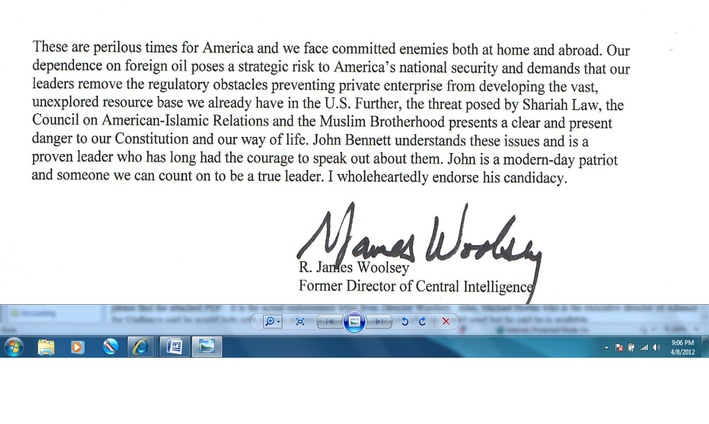 The battle at the Capitol will intensify toward the end of this session and it will grow white hot this summer as the primary battles begin. The State Chamber will throw $100,000 to John's opponent, they want John gone and they could care less if a Democrat regains the seat as long as he is their boy. Other conservative House members will face the same opposition because the loss of as few as three conservative House seats will allow the Speaker Designate election victory last October to be re fought. The State Chamber knows beyond a doubt that a conservative Speaker of the House would be their worst nightmare as more conservative bills would get heard and more RINOs would be exposed as they were forced to actually vote on the tough issues that our state must face in the coming years.
John Bennett needs your help if he is going to remain a conservative anchor in the House of Representatives. He will be facing someone without a bad voting record like Glen Bud Smithson had and they will do their best to buy that House seat. Take a look at
Bennett's website
and onate to Bennett's campaign and volunteer to knock doors for him in the coming election. Men like John are rare and it is even rarer to find one willing to put up with running for office so let's make darned sure he makes it back for the 2013 legislative session.
Bureaucrat or Politician?
By R. H.
They say a person's life experiences tend to influence one's political views. None can be more evident than in the case of Senator Judy Eason McIntyre (D) Tulsa. She is a graduate of Booker T. Washington High School in Tulsa. She went on to gain her Bachelors and Masters of Science Degrees in Social Work from the University of Oklahoma. Most people will tell you that you don't get your Bachelors and any advanced degree from the same university. It just doesn't enhance your resume.
She was chosen to serve as Democratic Whip in 2011. I congratulate her for that. She was also selected to serve on the Select Committee on Pensions. It seems that the state's pension fund has $16 billion dollars in unfunded liabilities. That goes along with Democrat and Liberal Republican politicians promising public sector unions the moon just to get their support so they can get elected. Now the pension system is in almost as bad a mess as California's. Thanks liberals. So what do you do? You appoint one of the most liberal politicians in the state to a committee to correct the problem. That's a lot like the President stating he'd cut the budget deficit in half by the end of his first term. We ended up with record debt.
Unlike a lot of college graduates, she did put her degree to good use. She worked for the Department of Human Services, Child Welfare Division for 31 years before she retired. She simultaneously served on the Tulsa School Board for 16 years. She served as President of the Board for 2 of those years. I wonder how much better the lives of her clients would be if she dedicated more time to them and less time to the school board? If not legally wrong, this is morally wrong for her to have done. You can find more on her by going to her
Senate bio page
I did manage to find a few public statements made by the Senator. One where she claimed state workers were underpaid and under appreciated by the labor commissioner. Well as in any organization, there is that 10% that always seem to underperform. For some reason it's as un-avoidable as death and taxes. What are frustrating are the cumbersome union regulations that must be adhered to fire these individuals so that better people can be brought in and the quality of work and the efficiency of the work product are raised. But then again the Senator has her political donations to think about.
Then in a statement dated Jan5, 2011 regarding the rate increase from Ohio based AEP-PSO, she made the following statement "Rep.Proctor and I share the belief that people should come before politics. I encourage all Oklahomans to voice their feelings and call their Corporation Commissioners," Sure sounds like she's sticking up for the little guy, except where was she when they made this rate increase a temporary one. All they're asking for now is to make it permanent. This sounds like a little too late to be truly indignant.
I also went to
her votesmart page
and did some research. I won't go into a lot of detail, but you are welcome to do so yourself. I will touch on some highlights.
Very little information has been made available on her campaign finances. This may be due to lack of submission by a volunteer. Unlike most of her colleagues, she did take the political stance challenge. No matter her politics, at least she took a stand. It's with some of her votes that I really have a problem.
I went to look at her local campaign finances, and found a lot more information. To get this information go to
the Ethics Commission
for the individual candidate. You'll want to look at the schedule e. Something is just not right here. I limited my look to an off election year of 2010 for her. Here are a few examples of what I found.
Date Name & Address Bene. Expl. Of Purpose Cost YTD Total
Mar 29, 2010 BTW Ramblers Alumni Assoc. Const. Souvenir Book $100.00 $120.00
Feb 16, 2010 Red Lobster Const. Lunch $17.16 $68.15
Feb 1, 2010 AlphaKappaAlpha Const. Dues $330.00 $375.00
Somehow I don't think that these can truly be called "campaign expenses".
That's just the tip of the iceberg. This doesn't even cover the fact that they fail to keep a running total on the amount spent at one service station. This is a frequent if not habitual occurrence. The items and amounts listed and alluded to all occurred during one quarter, January 1, 2010 through March 31, 2010. It makes one wonder how much we would find going back to her earliest available filings.
Now if this is any indication of the accounting tricks the Senator plans on using to balance the state retirement system budget, I pity our poor state retiree's. Maybe the best course of action would be for her to surrender her post on that committee, and just quietly not run for re-election. Surely after reading this, the State Ethics Commission will want to scrutinize her numerous campaign finance law violations more closely. I'm sure her constituents will.
Did we mention the Tulsa World would get a copy of this?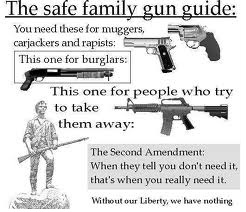 2nd Amendment Bills at the Capitol Need Support
by R. H.
Gunners may rejoice. With a little help you may finally see one of the most pro-active Second Amendment laws in the nation passed. All it takes is a lot of phone calls to your Senators to see that this bill passes on the Senate floor. I'm talking about HB 2522. You can
read the bill here
.
What this bill does is gives back to the gun owner the right to bear arms in public. It doesn't distinguish between concealed and open carried permitted individuals. It eliminates the requirement for a concealed carry permit. The requirement is changed to "handgun license pursuant to the Oklahoma Self Defense Act." That is a big change. It does leave in affect the requirement that felons are not permitted to possess firearms.
What are the requirements under the Oklahoma Self Defense Act you ask? Well I'll tell you. The Oklahoma Self Defense Act is better known as the Make My Day Law. Little known is that it is required that an individual should receive a license to have a handgun in the house. This law is Oklahoma Statute 21 O.S. Chapter 53 Section 1290. It explains how to apply for the license and everything.
Now there is a move on to amend this bill on the Senate floor to modify this bill to read "concealed carry." This would again limit the constitutional rights of Americans. This amendment should be defeated on the Senate floor.
The one disturbing portion of this bill has to do with being able to carry a weapon into an establishment that serves alcoholic beverages. This is dangerous. Although the section indicates that the individual is legal as long as they do not consume any alcoholic beverages, it's more than reasonable to assume that this section will be violated on a regular basis. Nothing is more dangerous than a drunk with a gun. This should be modified by amendment.
As this bill stands coming out of the Senate committee, it differs from the House bill. Those differences mean we will most likely see this bill head to a conference committee. The Senate bill, as it stands coming from committee, gives more rights to gun owners than the House bill. Let's let the Senate bill prevail.
Without doubt this is a bill I can support. The only modification I would like to see is the one concerning weapons in establishments serving alcoholic beverages. Let's make this bill happen.
Call your Senators and Representatives using the contact info at the bottom of this newsletter.
Call often. Let's get this done.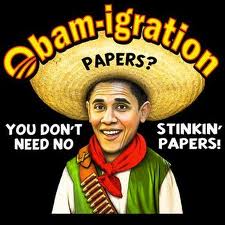 In State Tuition Breaks for Illegal Aliens Passes House Committee