MORE STRINGS TO UNIVERSAL'S BOW
THE CZECH'S IN THE POST AS ICON DELIVERS
PLENTY DIP INTO WICK SAYS TESCO
BASE CONTINUES ITS WEEKENDER
BASE INSIGHT FORUM DAY REVEALED
CURZON ARTIFICIAL EYE GETS GONG
PICTUREHOUSE'S DOG GOES OUT WALKIES
BOOK TO CELEBRATE THE BIG BOX ERA…
NETFLIX CANNIBALISES SALES
CONSUMERS DON'T CARE ABOUT THE STUDIOS
AMAZON OFFERS A TENNER TO CELEBRATE
CAR PARK DVD SALESMAN NICKED
---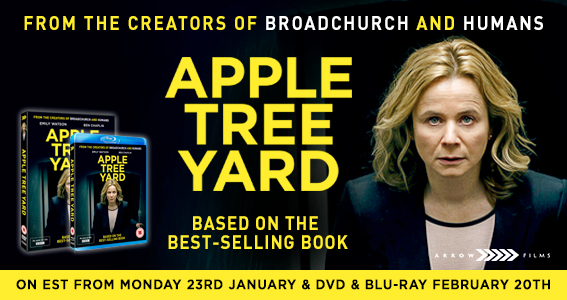 ---
If you can't read this newsletter or see the ads, please click here
It Was A Good Week For... Universal starting 2017 where it left off last year, at numbers one and two in the misweeks…
It Was A Bad Week For… Consumers don't mind illegally downloading even if they know it hits studios in the pocket and means less content…
The January lull may be in full flow, but there's still some decent releases floating around and plenty of new titles coming to market – not least in the fact that one of 2016's theatrical biggies, Bridget Jones's Baby, is just around the corner (more on that next week). But the fact there are a varied selection of new titles floating around is, as ever, a cause for celebration. Don't believe us? Well, there's four new entries in the upper echelons of the midweek charts as revealed by the Official Charts Company. That quartet take the top four places, with two of them, Ben-Hur and Kubo And The Two Strings, at numbers one and two respectively, featuring on The Raygun newsletter last week and continuing Universal's strong 2016 into the New Year. At three it's a newbie for Icon with Anthropoid, with, just below that, SPHE's Don't Breathe. Another new entry in the top 10 at the halfway stage comes in the shape of Hunt For The Wilderpeople at number eight and also making waves in the upper reaches of the chart is Trainspotting, ahead of the theatrical release of its eagerly awaited sequel. Further down the listing, there's a brace of new entries in the shape of the fourth season of Nashville at 31 and, two places below that, BBC Worldwide's Class…
The success of the aforementioned Anthropoid, which stars the dream team line-up of screen hunks Jamie Dornan and Cillian Murphy, which follows a plot to assassinate a leading wartime Nazi, is converting well against its theatrical haul. As the company's Chris Warrington said: "We're thrilled with Anthropoid's sales performance this week. The combination of a true and compellingly told World War 2 story, the double talent whammy of Cillian Murphy and Jamie Dornan, a well-targeted campaign and of course the support of our retail partners have enabled its strong box office conversion against other competing new releases."
It's good to see Hell Or High Water, Studiocanal's acclaimed thriller, enjoying success both in terms of sales and ongoing acclaim too – it's added a raft of BAFTA nominations to its raft of strong reviews and number two success in this week's Official Charts Company top 10. Commenting on its success, the company's Kristin Ryan said: "We're delighted with Hell or High Water's sales performance, debuting at number two in the physical charts. It's a great film with wide appeal, heightened further with the film garnering three BAFTA noms earlier in the week. A great way to kick off another exciting and varied year."
We've already discussed Joe Wicks' success in the fitness market at that end of 2016 and the start of this year and Tesco has published a news story about its sales performance on its website, hailing the self-styled new king of keep-fit's strong showing with his debut release. Tesco DVD buyer Sophie Cockrill said: "What an incredible 12 months it's been for the Body Coach, taking both the recipe book and fitness DVD charts by storm. Knocking the Queen of fitness off the top spot is almost as tough as one of his ab work outs! It is widely acknowledged that whoever caps the charts by mid-January holds the title of Fitness King or Queen of Britain."
---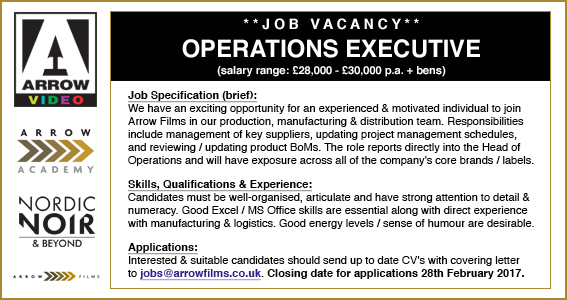 ---
Some news from BASE or, rather, a brace of BASE announcements, as the organisation this week confirmed it will be running the second phase of its Movie Weekender marketing initiative with Bauer Media across Kiss network, Absolute Radio network and Magic. It kicked off last Thursday, January 12. The first phase, in 2016, ran for 11 weeks, but this year's cross-industry campaign will run for longer, extending into the second quarter. Last years campaign was deemed a huge success, with 85,000 page views on Bauer's hub, more than 5,000 entries for campaign activity, boasting strong awareness of the Movie Weekender hub (36 per cent), its radio adverts (24 per cent) and a 42 per cent awareness of the overall campaign. Running from Thursday to Sunday, it includes radio spots and on-air endorsements from various presenters. It will cover TV as well as film, taking in Blu-ray, DVD and digital, with the likes of Fox, Warner, Sony, Universal, Disney, Paramount, Lionsgate and Studiocanal and BASE said it would welcome further discussion with retailers for further support. BASE ceo Liz Bales said: "Executing cross industry campaigns capable of driving the category is a key objective for BASE. Research shows how much of a success the first phase was and we hope the results can be even better this time around. It's incredible that we can come together yet again with our members and Bauer Media to create visibility of the video industry by continuing a campaign that has mass reach and the ability to increase revenues. The campaign will continue to promote new release titles across all formats (Blu-ray, DVD and Digital) which we hope will encourage consumers to purchase and enjoy their own Movie Weekender!"
Sticking with BASE and the association has this week followed its recent confirmation of the details for its awards ceremony by announcing the date if its next Insight Forum event. The activity, supported by ERA, offers up a raft of different speakers and experts discussing where the industry is at and, crucially, where it's going. As well as facts, figures, thoughts, opinion and insight, the forum, taking place on March 16 at the Picturehouse Central in London, BASE said this year's event will offer further opportunity for networking too. Commenting on the event, BASE's new head of insight James Duvall said: "We're really excited to be bringing back the BASE Insight Forum in March for a second year and delivering new insights for the category. The BASE Insight Forums are such key events to attend in the year and we really hope to see you all there." It's free for BASE and ERA members, or £250 for non-members. Tickets are available from here.
---
---
Congratulations to Curzon Artificial Eye, as it was officially announced this week that the company would be awarded an Outstanding Contribution To British Cinema gong at this year's BAFTAs. The award at the February 12 ceremony recognises its work as the still-expanding Curzon cinema chain, its strength as a distributor at theatrical and its groundbreaking work both as a home entertainment imprint and also its recent vod offering as Curzon Home Cinema. Commenting on the award, Dame Pippa Harris, chair of BAFTA's Film Committee, said: "I am thrilled that BAFTA is honouring Curzon with the Outstanding British Contribution to Cinema Award. For over 80 years, Curzon has provided the British public with unforgettable, cinema experiences, while championing independent, art house and foreign language film making. I would like to thank everyone at Curzon for their extraordinary contribution to our industry, and for their unwavering commitment to bringing the very best in film to audiences across the UK." Philip Knatchbull, ceo of Curzon, said: "I'm delighted that Curzon's contribution to film has been recognised by BAFTA. Curzon has a long and proud history in the British film industry and many talented and passionate people have contributed to its success story over the years. We think of ourselves as champions of bold and visionary filmmaking from around the world supported by our growing network of cinemas and home cinema digital platforms." Anyone attending the awards this year should keep an eye out for the lavish accompanying publication, edited by former trade press editor Toby Weidmann, with the feature on Curzon Artificial Eye penned by The Raygun's very own Tim Murray…
Some product and forthcoming release news now and you couldn't move this week for coverage of Apple Tree Yard, due to kick off its run on BBC1 on Sunday as a replacement for Sherlock in the 9pm slot. Based on a bestselling novel by Louise Doughty, it follows a woman's affair with a man its ramifications and far beyond. Starring Emily Watson and Ben Chaplin, the promise of racy scenes has kept Fleet Street editors salivating. Arrow has the rights and will be releasing episodes digitally the day after they air, with a physical release on February 20. Commenting on the release, Arrow's Tom Stewart said: "I knew after reading the script, Apple Tree Yard would be heading into 2017 as the next water-cooler TV sensation, appealing to the female 'Doctor Foster' audience but also to male audience, which can be a rarity in this genre. We're blessed with an List cast and, crucially, that the BBC1 have positioned it in the No.1 spot of the broadcast week."
Picturehouse Entertainment will be unleashing Wiener-Dog on DVD and digital on Monday January 23. The release is being supported by a targeted digital campaign alongside some additional press advertising during week of release. Picturehouse will be supporting across their own channels and there will also be fun promotional activity taking place at hot dog restaurants across the country. PR activity includes reviews and competitions across a range of outlets and Picturehouse are hoping that consumers will find a home for Todd Solondz's critically acclaimed comedy. Alice De Rosa, head of commercial for Picturehouse Entertainment commented: "We hope that people will rush to get their paws on this very funny film which was a favourite for many in cinemas last year."
---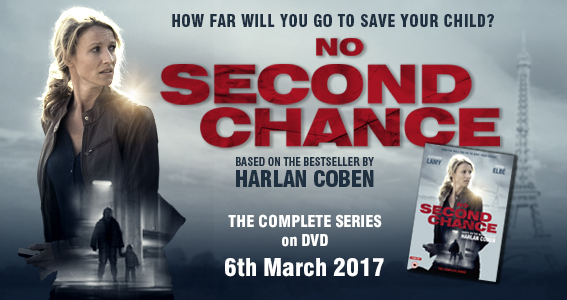 ---
Our old pal, regular Raygun reader, former video store staffer, then manager and finally owner Jon Spira, now a writer and filmmaker, has been teasing us about his autobiographical tale of life in UK video rental shops for a few years now and we are pleased to announce that Videosyncratic, a weighty tome looking at the halcyon days of video rental, has been completed. And what's more a Lickstarter campaign to help fund its printing and publication has smashed its target fivefold, and will soon be on the way. As Spira, who last year saw his latest feature, the excellent Star Wars doc Elstree 1976 released on DVD by Soda Pictures, said in his introduction to the Kickstarter campaign: "I'm a filmmaker and a film writer now, but through my teens, twenties and thirties I worked in a total of thirteen different video shops - from monolithic corporate outlets, chains that desperately tried to emulate those monolithic corporate outlets, to long-forgotten back street Mom n' pops, to raging, vibrant high street indies. And I have stories to share. For an entire industry that came and went in our lifetimes, the UK video shop culture has been woefully undocumented - it was a bizarre clash of failed homegrown entrepreneurship and the awkward application of American customer service values onto a confused and apathetic British workforce. In this book, I'll guide you from the early 80s to 2010, when I closed down my own video shops and left the industry in its death throes. The book has everything you could want from a book on video shops - video nasties, late fees, corporate sleaze, indie hijinks, triumph, failure, romance, adventure, grown adults being dragged out of shops by their ears, awkward sex in the VHS section and, most importantly, film geekery of the highest order. I loved video shops and I miss them and this book is my love song to them. I desperately want to get it out there and share that love with all the film geeks, retroheads and anyone who ever cherished their time walking the aisles of their own local outlet."
We spoke to Jon Spira himself about the book and got the following comment which should further intrigue Raygun readers and anyone in the industry. He said: "It's so good to finally be able to announce that the book is coming out – I think the readers of Raygun will probably be the most tuned in to this story, which references Golds, T.H.E, Ritz, Blockbuster and everything that hit the video shop shelves from big box pre-certs right through to those dismal thin-cased rental copies of DVDs which didn't even have the film's name on the spine that they were chucking down to us around the time I finally closed my shops down. Kickstarter is the only way to get a copy now - in print and e-book and we've got lots of fun extra gifts available when you order a copy. It's limited edition and only available for another couple of weeks - so please check it out." To find out more, go here.
Some interesting research now, and a report on the effects of streaming on DVD sales has been put together by researchers from the University of Hong Kong. They assessed titles looked after by Epix network, which includes films from Lionsgate and Paramount, when it switched streaming partner from the bigger Netflix to smaller Hulu. And it found that sales INCREASED after the titles were taken off the svod service, suggesting that sales are being cannibalised by appearing on svod sites. It said: "Our difference-in-difference analyses show that the decline in the streaming availability of Epix's content causes a 24.7 per cent increase in their DVD sales in the three months after the event. Our results validate the industry's concern that video streaming services displace physical DVD sales. In addition, we find that cannibalisation between the two media is stronger for DVDs released more recently and for movies with better box office performances." You can see the report here.
More illuminating research from the US, as Irdeto has found that almost a third of consumers have watched pirated content. And while that figure may be alarming, even worse is the fact that 39 per cent said that even though piracy can cause studios to lose money and thus invest less in content, that knowledge wouldn't impact on their behaviour. Only 19 per cent said knowing that studios were losing money would cause them to stop watching pirated content. Consumers were drawn equally to films currently in cinemas and new TV shows (24 per cent each), then DVD and Blu-ray releases (18 per cent), sports (10 per cent) and programmes from the likes of Netflix (nine per cent). Irdeto said it proved the need for content owners to innovate in offering consumers more choice, and the need for more education. The company's Lawrence Low said: "The negative impact that piracy has on the content creation industry extends much further than lost revenue. Piracy deters content creators from investing in new content, impacting the creative process and providing consumers with less choice. It is becoming increasingly important for operators and movie studios to educate consumers on the tactics employed by pirates and to further promote innovative offerings that allow consumers to legally acquire content." The company's Rory O'Connor added: "Education on the impact of piracy to consumers is an important element of an anti-piracy strategy. It is important for content owners to educate themselves on the three elements of consumer choice when selecting a service: content, value and convenience. To avoid pirates stealing market share, content owners and operators need to make sure they are implementing a comprehensive, 360-degree anti-piracy strategy that includes watermarking, detection and enforcement."
---
---
Amazon was offering customers who spend more than £50 a discount of £10 to celebrate it coming out top in the 2017 UK Customer Satisfaction Index. Commenting on its performance, UK country manager Doug Gurr said: "We always appreciate the support of our customers so we're thrilled to start the year with such positive feedback. We know we can always get better, and we're confident our investments in the UK will enable us to further improve the shopping experience for all our customers in 2017."
We always like a pirate update and like to see anyone involved in illegal distribution of films and product get their comeuppance, so even though we missed this one just before Christmas, it's still worth passing on the story of Sonu Gupta, of Borehamwood, who ended 2016 with a six month suspended jail term, 100 hours of community service, a confiscation order for cash and a costs judgement. He was nicked by Brent and Harrow after trying to sell dodgy Breaking Bad and Game Of Thrones DVDs box sets to undercover officers from Brent and Harrow trading standards in west London. He was believed to have earned more than £23,000 from his snide DVD racket. After meeting him in a car park (seriously) the trading standards team raided his house and found a cache of pirate discs ready to send out to "unsuspecting customers". He'd laundered his ill-gotten gains through his dad's bank account. Councillor Graham Henson, portfolio holder for environment, crime and community safety, said: "Mr Gupta thought he was above the law, but the law caught up with him and it wasn't a happy ending.Not only did he run a sham business selling dodgy DVDs, but he tried to hide his illegal profits. And for this criminal venture he received a hefty fine thanks to the detective work of our trading standards officers. We take this type of crime seriously and will always take the necessary actions needed to fine and prosecute those who think they can operate like this." As well as the suspended sentence, he had a confiscation order for more than £15,000 and costs of £7,621.20.
---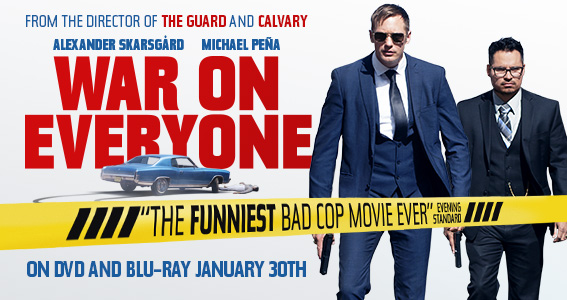 ---
QUOTE OF THE WEEK
"See, the guy who works at your store likes to download the movies and burn 'em and give them to everybody who works there. You have people in your store who are stealing from my industry, so why can't I just steal from you guys? I just want to know. If you're the manager of this place and you got guys downloading illegal movies, why can't I take groceries for free?"
Film director Casey Tebo found an old school pal had got his hands on an illegally downloaded copy of his film – so went to the supermarket where his friend worked and robbed it. See here for the rather strange film…
AT THE MOVIES
We talked about it here last week and congratulations to Lionsgate for its big win with La La Land, taking the musical to number one in the box office charts with an opening weekend haul of more than £6.5 million. It's one of the company's biggest ever openings, topped only by titles in its Hunger Games franchise. Studiocanal's Manchester By The Sea also enjoyed an impressive debut, with more than £700,000, just ahead of Ben Affleck's Live By Night. The Bye Bye Man and Underworld: Blood Wars were the other new entries, with more than £500,000 and £314,000 respectively.
A big week for announcements from Amazon, as the company has confirmed that less than a week after it premiered on its Prime Video, Sneaky Pete has been commissioned for a second series. "Bryan Cranston and Graham Yost have done a masterful job of steering the cast to fantastic performances," said Joe Lewis, Head of Comedy and Drama, Amazon Studios. "Both the critical response and our customers' engagement with the series are key factors in our enthusiasm to bring our audience a second season of Sneaky Pete." Also from Amazon – the rather wonderful Good Omens, created by Terry Pratchett and Neil Gaiman, is being turned into a limited series of six one-hour episodes. In a unique arrangement, it's partnering with BBC and BBC Worldwide. among others, with the series set to air on TV after it debuts on Prime Video in 2018.
Meanwhile, over at Netflix, the company has unveiled a deal with Jerry Seinfeld, which will see the comic producing a new series of Comedians In Cars Getting Coffee as well as two comedy specials. Seinfeld himself said: "When I first started thinking about Comedians in Cars Getting Coffee, the entire Netflix business model consisted of mailing out DVDs in envelopes. I love that we are now joining together, both at very different points. I am also very excited to be working with Ted Sarandos at Netflix, a guy and a place that not only have the same enthusiasm for the art of stand up comedy as I do, but the most amazing technology platform to deliver it in a way that has never existed before. I am really quite charged up to be moving there."
This weeks remake news: Fox is said to be planning a new version of its early 90s basketball comedy White Men Can't Jump, which starred Woody Harrelson and Wesley Snipes… Let's just hope the studio organises some basketball games for the release like it did last time around (more details available on request)… And sequel news sees a follow up to Goosebumps in the works over at Sony…
TWEET OF THE WEEK
TRAILERS OF THE WEEK
More Logan, due on March 1, as anyone watching Man United on telly at the weekend will tell you…
And here's the Red Band version…
Forthcoming from Netflix…
Smarter than the average Brit thriller…
More from the Power Rangers…
And a timely reminder about House Of Cards, although it's going to have to up its game after incidents that have happened in real life…
To subscribe to The Raygun newsletter, please email

info@theraygun.co.uk
with subscribe in the subject matter
To unsubscribe, email

info@theraygun.co.uk

with unsubscribe in the subject
For editorial or advertising queries, contact

tim@theraygun.co.uk