SHOP HOURS
Monday: CLOSED
Tuesday: 12 - 6
Wednesday: 12 - 6
Thursday: 12 - 7
Friday: 12 - 6
Saturday: 10 - 6
Sunday: 12 - 4

 

 

 

 

Spring is here and so are all our new Spring yarns!  If you are itching to cast on something lightweight, have a look at all our most recent additions for some inspiration!




Here are a couple upcoming fiber events to add to your calendar:




First, don't forget about the Kentucky Sheep and Fiber Festival May 21st and 22nd at Masterson Station Park in Lexington.

https://www.kentuckysheepandfiber.com/




Also, this year we will be participating in the I-75 yarn crawl, one of the largest yarn crawls in the country,  

August 9-14

. There will be tons of great prizes and events happening at the 35 participating shops. Passports for the event are $5 and if you register by July 1st, you will receive a limited edition tote bag for the event. You can register here (

http://www.thei75yarncrawl.com/home

) and set your pickup as ReBelle. 

 
First up for new yarns is Pittura.  It is so beautiful.  The colorways are inspired by Painters.  We have Kahlo, Schiele and Klimt.  It's a fingering weight yarn with 437 yards per 100g and it's a blend of 75% wool and 25% rayon from bamboo.  This yarn is great for shawls, scarves, cowls, light sweaters and hats.  We're giving away a wrap pattern, 
Albertine
, free with yarn purchase.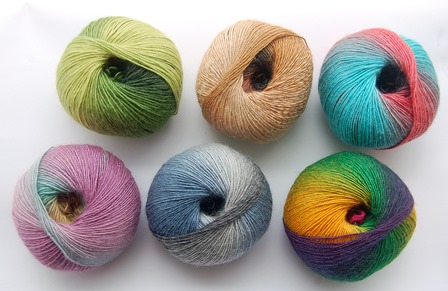 The next new yarn is Amitola.  Amitola is a fingering weight blend of 80% wool and 20
% silk with 273 yards per 50g ball.  Amitola is great for shawls, hats, scarves and lightweight sweaters.  Sarah has already cast on for the Inspira cowl.  Like many projects that involve gradient yarn, we expect whatever you cast on with this stuff to be addictive!
We wanted to bring you this yarn last year, but it sold out so quickly, we couldn't get any!  This year we got our order in early enough and so we bring you Zooey DK.  Zooey DK is a 60% cotton 40% linen blend with 284 yards per 100g ball.  It has a slight thick and thin texture, giving it a rustic appeal.  We have it in these three earthy colors.  Zooey DK would make a delightful top, shawl or skirt.  If you need some ideas, these patterns are perfect for Zooey DK: 
Sommer Sleeveless Top
,
Jessie's Girl
,
Vine Street Ves
t, 
Spring Break Skirt
, and 
Daisy Skirt
.
Finally, we have more Noema.  This yarn was also very popular last year and we weren't able to get all the colors we wanted, but this year we added three new ones to round out the palette.  Noema is a DK weight blend of 75% cotton, 20% acrylic and 5% nylon with 131 yards per 50g ball.  It has one ply of a single color and one ply that changes color throughout the ball, giving Noema a unique look and subtle texture.  Noema is great for cowls, scarves and tops.  For a quick project, try the
Gallatin Scarf
.
The yarn of the month for April is the winner of our Yarn Madness tournament - Malabrigo Rios!!  Malabrigo Rios is a worsted weight superwash merino.  With four plies, it's sturdy enough to wear well and stand up to repeated washings and, as you expect with anything from Malabrigo, it's softer than the average wool and available in beautiful kettle-dyed colors.  We routinely recommend Rios for nearly every type of project: baby blankets, sweaters, hats, mittens, shawls, cowls and stuffed animals.  Seize the moment to score some Rios for your next project while it's 10% off!  If you need some inspiration, here are some patterns that work nicely with this terrific yarn.
Featured Upcoming Classes
 

 

 

Shibori Wrap and Intro to Batik

 

The indigo plant has been used to create deep, beautiful blues for thousands of years.  We are offering two resist workshops, Batik and Shibori, the day before, and both include the dye workshop in their price with an additional savings if you sign up for both resist workshops.  For those who only want to dye, you can sign up for the Indigo Workshop on its own.  You can reserve your spot and pay for the classes 

here

.  The facebook event is

here

. The Saturday morning Shibori Wrap class is FULL, but we've opened a second session on Saturday, April 9th from 4-6pm and there are still a few spaces remaining in the Batik class.

Shibori Wrap 

Saturday, April 9th, 10am-12pm $45 FULL




Intro to

Batik 

Saturday, April 9th, 1-4pm $55




Shibori Wrap 

Saturday, April 9th, 4-6 pm $45




Indigo Dyeing (only) 

Sunday, April 10th 1-5pm $35




Sign up for Shibori Wrap and Batik for only $85!

 
Repairing Mistakes As You Knit 

($30)




In this class you will learn to fix common mistakes in your knitting as you go, without having to rip out several rows or start over. We will cover reading your knitting, counting rows, identifying common mistakes, techniques for frogging, and making repairs in finished pieces. This is a great class for reducing frustrations and taking your knitting to the next level!

Saturday, April 16th 1-3:30pm




 
 

 

 

Natural Dyeing with Food Scraps ($45)

 

n this workshop we will learn to dye fabric and yarn with kitchen scraps. We will be doing onion and avocado skins, avocado seeds, and turmeric in class, but we will do an overview of other items around your house and yard that you can use this technique with. We will also be covering the basics of mordanting both plant and animal fibers and shifting the colors with copper and iron. We will dye 12 sample skeins for you to reference later, all materials will be provided. Register in the shop or online- https://squareu

p.com/store/reb

elle/item/natur

al-dyeing-with-

kitchen-scraps-

class




Saturday, April 23rd 1-5pm