But as it stands right now it is very apparent that the State of Oklahoma simply swept the Sergeant at Arms Bob Craig/former Senator Ben Brown scandal under the rug. Despite felony theft of public money, threats and blackmail by Senator Ben Brown, burglary and slashed tires by goons most likely connected to the State Senate or Bob Craig or former Senator Ben Brown, the two corrupt officials got away with their blackmail and extortion without a slap on the wrist. Former Senator Ben Brown is still getting a fat pension check each month, Bob Craig continues his employment under President Pro Tem Brian Bingman, and the mainstream media continues to ignore the fact that President Pro Tem Brian Bingman refuses to fire an obviously corrupt employee.
Like a Cow Chewing her Cud
the Oklahoman Regurgitates Old News to Influence Elections
Last week saw the Oklahoman dredging up old news in an attempt to drum up public support for further attacks against Republican political operatives, specifically lieutenants of RINO Republican Chad Alexander that were involved in the defeat of the Oklahoman candidate for State Superintendent, Janet Barresi. We ran a story a few weeks back where we laid out the strategy that liberal forces were pursuing to defeat the framework of Republican operatives that engineered the Republican takeover of the state legislative bodies and the statewide elected offices and we predicted more attacks against the campaign consultants.
The Oklahoman's latest screed is against the independent group that financed the TV advertising against Barresi, claiming that they had not filed the required spending reports with the Ethics Commission and all but called for prosecution of the nonprofit Oklahomans for Public School Excellence. The Oklahoman and their liberal/progressive Republican allies are pushing for the disclosure of the pre election spending so they can determine who donated the money to fund the advertising that defeated their candidate.
Barresi spent over two million dollars on her race and despite being the incumbent she came in dead last in a three way race where her opponents spent a fraction in campaign expenses. Joy Hofmeister won the election outright and will face the winner of the Democratic run off for State Superintendent. The run off is on August 26th between Freda Deskin or John Cox. Deskin was the subject of a Sooner Tea Party article last spring where in the words of high ranking Democratic political operatives "Deskin got her political guts cut out". The release of the negative information about Deskin has caused many of the political elite from the education system to reconsider their support for Deskin as she is now damaged political goods.
The target of the latest attack orchestrated by the Oklahoman and Oklahoma County D.A. David Prater is Stephanie Milligan, the vice president of Chad Alexander's political consulting group. Much was made of an email released by Barresi right before the election where Hofmeister had been considering hiring Chad Alexander or Fount Holland in April. Prater and the Oklahoman tried to twist the facts into criminal charges of violating campaign laws by illegally consulting with a group spending independent money in a political campaign but the meetings were far in advance of any spending and were simply a candidate meeting with the two major political consulting groups for Republican candidates to decide which to hire.
Prater of course waited till right before the June election to announce that he was "investigating" allegations of criminal activity in an attempt to influence the June primary election for U.S. Senate and the State Superintendent's office.
Hofmeister 's political spokesperson denied that any collusion occurred in April and that there was no discussion of an independent group. Hofmeister ultimately chose a different consulting group and Chad Alexander's organization was employed by other political organization to head the independent expenditure of money in support of Hofmeister's campaign.
You will recall that Chad Alexander's offices were burglarized in June along with Gov. Fallin's campaign offices.
Prater of course is playing this very coyly, claiming that he is trying to determine if laws were broken. You can interpret that as "no laws were broken but we are sure going to beat the Republicans over the head with this dead horse in the news".
The facts are that the independent group Oklahomans for Public School Excellence was formed on May 2

nd

, after the April email and meeting to consider hiring Chad Alexander's group. A non profit school administrator group called the Cooperative Council for Oklahoma School Administration was one of the parties that organized the new group with the majority of the funding for the group coming from membership dues paid by school administrators. The actual funding for the newly formed group isn't clear but Chad Alexander had been looking into running political organizations as for profit businesses to avoid having to disclose donors or supporters, something that isn't completely clear as to being legal or not. It is clear that as long as the entity isn't a non profit they can keep their donors private. The trail for the TV advertising bills flows back to Stephanie Milligan, the vice president of Chad Alexander's political consulting group.
As in most of the political attacks by Oklahoma County D.A. David Prater, the law in this case is crystal clear. Under state law independent expenditures are allowed and improper coordination is narrowly defined as involving very specific coordination of advertising or strategies such as timing and content of advertising. The Oklahoman is pushing the criminalization of political activity based solely upon that single email on April 22

nd

where Hofmeister discussed meeting with Fount Holland and Chad Alexander to pick a political consulting group for her campaign, an act that is completely legal.
Of course the 800 pound gorilla in the room should be whether the Oklahoman or David Prater filed with the ethics commission for their assistance to the Barresi campaign. The Oklahoman picks candidates and shamelessly flogs any threats that arise against against their chosen candidates and David Prater shamelessly slanders or prosecutes their shared political opponents as well in return for good press and protection from negative stories. It wasn't but a few years back that the head editor of the Oklahoman was forced to resign after threatening legislators with negative stories for not following the Oklahoman political agenda. The Ethics Commission was said to have been considering ruling that entire editions of the Oklahoman were illegal campaign expenditures.
Now ponder that fact for a bit; a newspaper can promote their chosen candidate in an election and attack any opponents but if an individual or a group of individuals do the same they have to disclose what they spend and who provided the funds. If we truly had an independent press this wouldn't be an issue or if there were still a variety of press sources of comparable size and reach we could leave it to the public to sort out the political truth. But the truth of the matter is political advocacy is why the Sooner Tea Party was attacked, we have an audience and we have a long reach and the truth coming out was making the Oklahoman and politicians like David Prater look bad so we were a threat to be stomped out of existence using any means possible.
The bottom line of all of this is clear; the Oklahoma was testing the public support for further attacks on the Republican infrastructure and didn't like the response so they will bide their time and slowly poison political opposition, aided by David Prater at the Oklahoma County District Attorney Office. They figure they own his butt and just as well get their money's worth.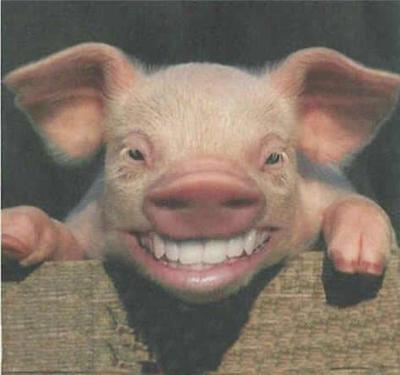 Aw Come On, Dig A Little Deeper, The Little Piggy's Want More Money
With an increase in the food truck business it's a perfect time to raise the fees.

The reasons are astounding and it's the spin attached requiring changes "to the way it enforces health and safety standards for the mobile kitchens." That's right; bureaucrats have once again decided to use your safety and protection to justify an increase in cost. "Doesn't it make you feel lucky," says the little smiling pig?
The city council will have a hearing to "adjust" fees for licenses and inspections. Of course they use the wrong word but it sounds much better than the truth of saying they are raising costs for small businesses. Oklahoma City manager, Jim Couch, insists that the growing numbers of food trucks are "placing a hardship" on the Health Department. After all they are the ones chasing the trucks around Oklahoma City to get inspections done. We can all hope their paperwork is correct; it would be a sad day to have them show up with no truck to inspect. Not to worry, taxpayers will always pay for their new game of "ride around the city." No wonder the fees are increasing, it's tough and expensive to operate without a clue on efficiency.
As it stands now the cost is $35 for an annual license along with a $29 license for each event. The $29 includes the inspection for each event. The increase in costs will be $100 for a base annual license. We then have a confusing annual license option of $150 for up to 6 events or $250 for unlimited events. Add another per-event inspection fee of $30 if you chose the $100 base license or the inspection fee is included if you chose the $150 and $250 model. You would tack on another $100 for a food truck court annual license fee and when you're finished paying you can try to figure out a new way to bend over.
Oklahoma City will have a new Bleu Garten food truck court designed to include "covered seating, a fire pit, outdoor bar, restrooms and parking for six food trucks." It will be a family-friendly atmosphere for all to enjoy in an outdoor venue. The concept would allow a place to step from the daily grind of life and enjoy an evening out with family and friends.
The organizer, Hunter Wheat, is copying an inspiration from food courts in Dallas, Atlanta and San Francisco. This idea works so well in other states it is sure to catch on here and makes for a golden opportunity to generate more revenue for the city.
We decided to dig a little deeper into the way Dallas does their permitting and after contacting the Dallas Health Department it does appear they are a little more "business friendly" than their Oklahoma neighbor. If Oklahoma had more than billy-goat brains one would think they could inquire about how to run the operation efficiently. But nooooo, not for the Okla-doodle-do's.
The Dallas website lists the yearly costs of operating all sorts of food vending. The annual cost was $465 for a food truck but the cost has been lowered to $304. We ask, how often does this happen here at home? This covers a yearly inspection and permits. The vehicles are driven to a location, inspected and once they pass new permits are assigned to vendors. They don't have the need to participate in the insane inspections for every event which is the excuse Oklahoma uses for jacking up fees and expanding government to micro-manage its small business community. Why is it that Oklahoma can't streamline the way the state operates and stop wasting taxpayer money?
In conclusion, any full time food truck vendor would have an easier time operating in a business friendly state like Texas. Oklahoma is very friendly to big business handing out incentives and tax cuts but falls short when it comes to small business. We can attribute this big business mentality to the Chamber Of Commerce stuffing the stockings of our great leaders. The citizens participating in this new venue in Oklahoma City don't seem to realize that the increase in the cost of doing business will be passed along with unnecessary higher prices. A real sock-it-to-you moment.
Once again it's up to the citizens to pay attention….and it doesn't appear that is happening. We elect the idiots that have no business sense to regulate the ones that do.