Welcome to CMCA(UK)
Hello and welcome to the Spring 2017 CMCA(UK) newsletter. The CMCA(UK) Newsletter provides a selection of the latest company news and achievements which we hope you will find of interest. If you would to stay up to date with all CMCA(UK) related activities go to www.cmcauk.co.uk. You can also find us on Twitter, LinkedIn and Google+.
World Codification Forum (WCG) - Melbourne, 24 - 25th May 2017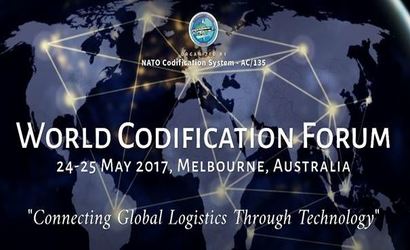 CMCA(UK)'s Chairman (Rob Crawford) and Head of Codification Services (Gary Harman) will shortly be jetting off to Melbourne, Australia to participate in the World Codification Forum where we will be supporting both our Industry partner (ESG) and our UK Ministry of Defence client (UK National Codification Bureau). Between them, Rob and Gary have in excess of 60 years of codification experience although they certainly don't like to be referred to as 'anoraks' on the subject! The theme for the 2017 World Codification Forum will be 'Connecting Global Logistics Through Technology' and Rob and Gary will be delivering a workshop on 24th May in conjunction with ESG which will provide an overview of our joint materiel codification and inventory management solution known as the 'Materiel Management One-Stop Shop' or MMOSS as it is more commonly referred to. Further details on MMOSS can be found

here.
Readers may or may not be aware that the NATO Codification System is currently employed by more than 60 countries across the globe and the World Codification Forum provides an opportunity for participating nations to discuss emerging issues and opportunities and to share best practice. CMCA(UK) currently hold a single source contract to provide all codification services on behalf of the UK Ministry of Defence and we look forward to helping our UK National Codification Bureau colleagues to fly the flag for UK codification.
Defence Procurement Research, Technology & Exportability (DPRTE) Exhibition 2017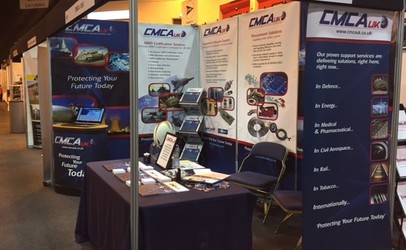 CMCA(UK) recently participated in the Ministry of Defence DPRTE 2017 exhibition which was held in Cardiff for the second year. We enjoyed a constant flow of visitors throughout the day which proved to be an ideal opportunity not only to introduce our services to new clients but also to catch up with existing ones. Last year's stand saw us concentrating on our V-Guard Under Vehicle Inspection System but this year the focus was on CMCA(UK)'s Procurement capabilities. Whilst many of our clients are aware of our Obsolescence Management and Codification services, CMCA(UK) has a rapidly expanding in-house Procurement Services capability that offers outsourced procurement and storage solutions for Prime contractors and smaller businesses alike. For more information on DPRTE2017 or to learn more about our Procurement Services then please contact our Business Development Manager, Tony Elliott, on 07788 150 941 or via

tony.elliott@cmcauk.co.uk
Transport for London Technical Expo

Preparations are underway for CMCA(UK)'s participation in the London Underground Obsolescence Technical Expo in July. The Expo will be attended by representatives from all areas of Transport for London (TfL) and its purpose is to address a number of themes relating to obsolescence and lifecycle management. In our role as an obsolescence management Subject Matter Expert, CMCA(UK) was contacted by TfL with an offer to present a paper at the event on the general topic of obsolescence management together with an exploration of recommended best practices for mitigating the obsolescence risks. We very much look forward to participating in the event and sharing our extensive obsolescence management knowledge with staff from across the TfL network.
International Institute of Obsolescence Management (IIOM) Conference
The International Institute of Obsolescence Management (IIOM) Conference will be held in Bristol between 20th and 22nd June and will cover numerous presentations and workshops centred on the topic of 'Overcoming Obsolescence Management Challenges in a Globally Developing Profession.' CMCA(UK) will be exhibiting throughout the event and our very own Head of Equipment Lifecycle Services, Chris Green, will also present a paper on the implications of REACH from the perspective of an Obsolescence Manager, hopefully encouraging attendees to consider how this far-reaching legislation is likely to impact both on their primary role and on obsolescence management activities across the supply chain.
REACH Authorisation List Update - Imminent Sunset Dates
In the second half of 2017 the Sunset Dates of 14 substances listed on the REACH Authorisation List will pass. After these dates the use of these substances will require a specific authorisation for use granted by the European Commission. Of particular interest are the 9 Chromium Compounds whose Sunset Dates are 21st September 2017, such as Sodium Dichromate, Potassium Dichromate and Chromium Trioxide, all of which are used in the finishing and treatment of metals and their plating. The passing of this Sunset Date impacts upon a number of processes that include Chromic Acid Anodising, Chromate Passivation of Cadmium and Zinc and Stainless Steel Passivation.

Read more >>
Partnerships and Growth Footnote
CMCA(UK) has always strived to develop and maintain strong industry partnerships in an attempt to encourage innovation and diversification across the disciplines of Codification, Obsolescence Management, Long Term Storage and Procurement Services. Over the years we have partnered with a number of institutes and organisations including educational establishments, specialist companies and blue chip enterprises. Currently we are in partnership discussions with an international technology company with a global footprint, and we hope to have an announcement shortly that will provide further details of this exciting development.
May we take this opportunity to thank you for taking the time to read our newsletter. Please don't hesitate to contact us regarding any of our services or to see how we can help you. Contact either our Business Development Manager for Procurement Solutions, Antony Elliott on; +44 (0)1905 458 307 or email

Antony.Elliott@cmcauk.co.uk

.

Alternatively for Equipment Lifecycle Support enquiries, contact Rob Shakeshaft at

Rob.Shakeshaft@cmcauk.co.uk

.
For those of you that are receiving our Newsletter for the first time, you may be interested to know that 2017 marks CMCA(UK)'s 20th year in business. The company has been trading in the Worcestershire area since 1997 during which period we have grown from a very small team into a multi-million pound enterprise. We have strong

ties with the Worcestershire & Herefordshire Chamber of Commerce and we pride ourselves on sourcing local skills and talent to sustain

our workforce of 70+ employees, many of whom have been with the company for a large number of years. More recently CMCA(UK) has invested heavily in the apprenticeship scheme in an attempt to identify young talent and fresh ideas. This initiative forms part of our long term plan to continue growing the business and to develop career opportunities for local people. If you know of any local talented individuals that are looking for a new challenge then feel free to share this Newsletter with them!

Charity & Community Commitments

CMCA(UK) has always taken the issue of Corporate Social Responsibility seriously, making regular fundraising and resource contributions to the local community and participating in annual nationwide charity events. CMCA(UK)'s Chairman, Rob Crawford, recently took part in a charity football match at Hereford FC's Edgar Street ground between HFC staff and a club sponsors team. The sponsors team came out on top, winning 7-4 but more importantly the match, which was organised to raise much needed funds for the Midland Air Ambulance and St Michael's Hospice, raised just over £700. Well done to Rob for his efforts; he should be fully recovered in time for Christmas!

Over the last 3 months output has been considerable within the Procurement Solutions pillar of the business. The number of lines quoted and processed over the last 3 months has been substantial with increased outputs relating to all of our key customers. In addition to our normal activities, we have continued to grow and develop our Supplier Quality Assurance framework and have recently expanded our website to include support pages as a means of cascading our supplier quality requirements whilst providing support and guidance to all of our key suppliers. Please take the time to visit our

website

and specifically the SQA page to see the improvements initiated over the past few months.

Read more >>

Staff Achievements

Run Forest Run - Glenn Hill Charity Challenge

Readers of the CMCA(UK) Newsletter may be interested to know that our very own Glenn Hill has taken on an impressive challenge to raise funds for Autism West Midlands, a charity that's close to his family's heart.

In September 2016 Glenn's young son was diagnosed with Autism Spectrum Disorder (specifically Asperger's Syndrome) and in the months leading up to the diagnosis Glenn and his family at times understandably felt overwhelmed by it all. Thankfully they have since made contact with Autism West Midlands who have helped their family in providing invaluable support and guidance. Glenn now wishes to put something back in to the charitable organisation and will be running 7 events across 7 months which kicked off with the Great Birmingham 10K in April and will conclude with the Birmingham International Marathon in October. If you'd like to support Glenn on his journey you can donate here.