THOR THUNDERS IN AS THE SUN SHINES
X MARKS THE SPOT FOR LOVEFILM
CENTIPEDE TRIMMED TO GIVE IT LEGS…
…CONTROVERSIAL FILM PREMIERES AT FRIGHTFEST
LIVE AT THE APOLLO, WITH HMV
MATERIAL GAIN FOR LIONSGATE
RELEASE MAKES SENSE FOR ARROW…
…AS INDIE BUILDS BRIDGE WITH DENMARK
MUSKETEERS ARMED FOR 2012
MIXTAPE FOR ITUNES, FILMFLEX
RELEASE OF THE WEEK – FRESH MEAT
---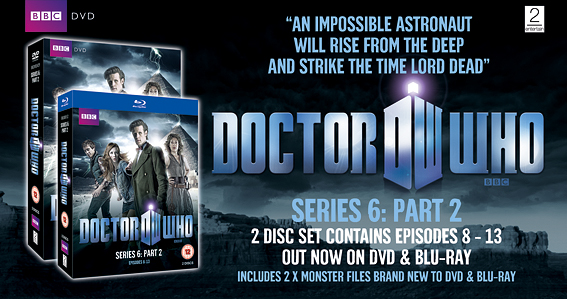 ---
It Was A Good Week For…

Paramount's Thor enjoyed a strong week one, setting the major up nicely for Q4
It Was A Bad Week For…

Anyone adversely affected by the heatwave, as the Indian summer kept some punters out of stores…
When we launched The Raygun some 18 months ago, one senior industry observer, who's been around a bit and should have known better, wondered out loud how we were going to fill it every week. Well, we've always been chock full of news (and more), but this week's newsletter is proof that there's a heck of a lot going on in our industry and we've got stacks to report…
Let's start with last week's big releases and it is testament to the pulling power of Marvel's character and Paramount's marketing that its latest superhero release, Thor, managed to strike a hammer blow through last week's heatwave and sell some 240,000 units in its first week. While the Norse God couldn't exactly bring thunder to the skies over the UK, he could still urge people, via Paramount, to get into stores and online to pick up the different SKUs of the release. Paramount's Barney Hands said: "We're delighted with the strong wk1 sales of Thor – particularly the Blu-ray uptake which amounted to over 35 per cent of sales. This is a very positive start to Paramount's upcoming slate of Q4 new releases – which is heavily weighted towards core fans of action, sci fi and superhero titles. In short, roll on November and December."
The biggest announcement of the week comes from YouTube, which this week confirmed that it has inked agreements with the UK arms of major studios and distributors as well as homegrown companies to make films available to rent for UK consumers via its site, www.youtube.com/movies. Companies involved include (in alphabetical order) eOne, Lionsgate, Metrodome, Revolver, Sony Pictures Home Entertainment, Universal and Warner. The films on offer are available at what is described as "competitive" pricing, with new releases starting at £3.49, and catalogue titles at £2.49 for standard definition and £3.49 for high definition. For the most part, consumers will have 30 days to begin watching their rental titles and once they've started watching them, they have two days to finish. Most recent releases on offer include Hanna, Fast Five and Red Riding Hood, while catalogue titles range from The Dark Knight (the title that seems to be used for every new innovation) and Reservoir Dogs to Lock, Stock And Two Smoking Barrels and Monty Python's The Meaning Of Life. It follows YouTube's launch of its film offering in the US in May and Canada in September. YouTube's senior director of content partnerships for EMEA Patrick Walker said: "We're happy to be working with partners of all sizes to bring more content to YouTube users. In addition to the clips, user created and long form TV content our British users know and love, now movie lovers can find full-length feature films on YouTube in the UK." We'll be testing out the service over the weekend and reporting on our findings next week on the website…
---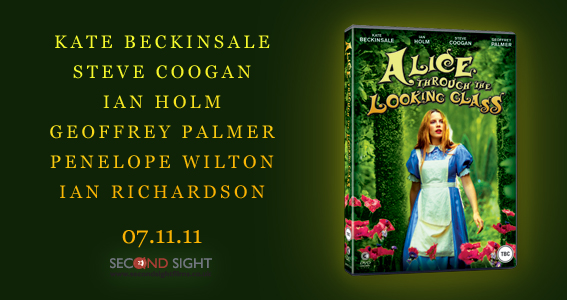 ---
And it wouldn't be a normal week if there wasn't an announcement from LOVEFiLM regarding another high profile deal it has inked and this week was no different. This time it has unveiled a partnership with Microsoft which will see the retailer's streaming service being offered to users of the Xbox 360 platform. LOVEFiLM is now an official Xbox Live film service provider and LOVEFiLM members will in the UK and Germany be able to stream via the platform, the latest device, alongside iPads, PS3s, PCs, Macs and other hardware, that it is available through. The 360 deal will also allow consumers to use Xbox's Kinect capabilities to control the LOVEFiLM app through motion and voice commands. LOVEFiLM ceo Simon Calver said: "This is an exciting and important deal for our customers and is the next move in LOVEFiLM's strategy of helping as many homes as possible connect to our service. We want to be the first choice for UK and German customers to get the best entertainment. Xbox LIVE already has a large consumer base of all ages - all of whom will now be able to connect with our great content, whether TV series, exclusive digital films or DVDs, Blu-rays and games by post, all for one simple price. We are pleased to announce this partnership as both parties really focus on giving customers exciting and innovative services. We are proud to be a part of Microsoft's expansion into the entertainment space and confident it will help fuel our ambition to become Europe's largest membership entertainment service." Stephen McGill, director of Xbox and entertainment for Microsoft UK, said: "Microsoft is very excited to be welcoming LOVEFiLM to Xbox LIVE. I feel certain that the opportunity to interact with LOVEFiLM's amazing catalogue of studio and independent film releases using Kinect-enabled voice and gesture commands will be well received by Xbox owners here in the UK."
And lo, it came to pass that after much discussion and toing and froing, The Human Centipede 2: The Full Sequence, to give it its full title, has, at last, been given an 18 certificate. The BBFC gave the nod to the film, which was due for release from the Bounty label via its UK distributor Eureka, until the organisation refused to classify the film this summer, due to its extreme content and the possibility that it could breach obscenity laws. But now, after being passed with an 18 cert after 32 cuts, totalling two minutes and 37 seconds, were made across eight scenes of the film, Eureka is readying itself for a release of the film. Commenting on the decision, Eureka sales director Ian Sadler said: "We are really pleased that after nearly four months of detailed discussion and debate, we have been able to reach an agreement with the BBFC and to produce a very viable cut of the film which will both excite and challenge its fans. Naturally we have a slight disappointment that we have had to make cuts, but we feel that the storyline has not been compromised and the level of horror has been sustained." In a statement, the BBFC's Sir Quentin Thomas said: "When we first examined this work earlier this year we judged that, as submitted, it was unsuitable for classification; and, as we explained to the company, we could not ourselves see how cuts could produce a viable and classifiable work. That remains the view of one of our Vice Presidents, Gerard Lemos, who is therefore abstaining from the Board's collective decision. The company lodged an appeal against our decision to refuse classification. In the course of preparations for that appeal, the company proposed a number of cuts which it was right for us to consider. In response, after further examination, we proposed a more extensive series of cuts. These cuts produce a work which many will find difficult but which I believe can properly be classified at the adult level. The company has now accepted these cuts, withdrawn its appeal and the work has been classified, as cut, at 18."
The Human Centipde 2 (Full Sequence) will now premiere at premiere at Film4 FrightFest's Halloween all-nighter on October 29, with director Tom Six and producer Ilona Six in attendance. Eureka confirmed to The Raygun that the film will receive a theatrical release on November 4 ahead of its eventual home entertainment bow. Sales director Sadler said: "We are extremely excited to be able to present The Human Centipede II (Full Sequence) at Frightfest. Fans of the first film are in for a fun-filled, stomach-churning, seat-squirming treat of the most nauseous. Tom Six has delivered us a villain who in years to come will be revered alongside Freddie and Jason. The silence of the banned? No more. Thank you BBFC." Film 4 FrightFest co-director Alan Jones added: "This sequel is exactly the sort of genre movie FrightFest is world famous for championing: it's surprising, shocking, satirical, sobering and sensational. Horror movies rarely come as controversial as Six' latest assault on the senses and we cannot wait to let our audience share its complex cleverness and introduce them to as many cast and crew members as we can."
---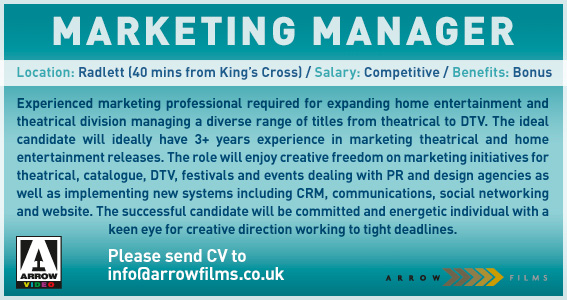 ---
You can say what you like about the decision, but the whole furore has awakened interest in the film. Want proof? When we featured the trailer on our newsletter a few weeks ago, it was the most clicked through item on that week's newsletter… We'll have our full thoughts on the decision up on our website shortly, where our opinion piece will join a batch of features this week that has included our regular round-ups of screenings we've been to and press coverage for home entertainment, as well as more top 10s, trailers aplenty and articles looking at the likes of Revolver's The Woman and the next batch of BFI Flipside releases… Head over to www.theraygun.co.uk for more…
Sticking with Eureka, it's been a busy week for the company, with the Internet buzzing with news from the independent. For as well as The Human Centipede 2, one of the most talked about films of the week on Twitter and elsewhere, the company also unveiled its slate for the first part of 2012 online. The schedule includes a further two titles from ongoing deal between Eureka, its Masters Of Cinema imprint and Universal. This will see worldwide first Blu-ray releases for Two-Lane Blacktop, the seminal road movie starring the unlikely pairing of James Taylor and former Beach Boy Dennis Wilson (due in February), and Alex Cox's post-punk, post-apocalyptic hardcore action film Repo Man. The first fruits of that deal, sci-fi film Silent Running and Orson Welles' Touch Of Evil, are due this Q4. We've now seen the former and it really is a treat, it looks outstanding and gives this cult classic the kind of release it deserves. Eureka's Ron Benson said: "It looks like these titles are going to do really well for us. And we've got a really strong line up for 2012 too."
To London's Hammersmith, or, more precisely, the HMV Apollo for the retailer's annual Live event. Store managers and staff from the retailer's 250 stores, as well as head office management, were out in force for the event. Daytime activity saw a procession of suppliers, labels and distributors unveiling their wares for the final quarter to help fire up the store staff, while HMV also unveiled its own marketing plans to its employees. The serious stuff was followed by an evening's worth of entertainment at the Apollo, with the likes of Miles Kane and Jessie J performing for assorted retailers, distributors and, of course, The Raygun. The mood of the daytime event was summed up by HMV's Rudy Osorio who said: "It was a really productive conference for us, with our Christmas plans going down really well with our store managers, who gave us very positive feedback. As ever, we're grateful to our supplier partners for their support in attending and presenting, and, in particular, for sharing a great hmvlive night out with us at the hmvapollo." And our thoughts on the evening? We can testify a fine time was had by all. And it was set to carry on into the wee, small hours too, as we headed home with representatives from the industry's north London contingent, we turned down at least two afters events…
---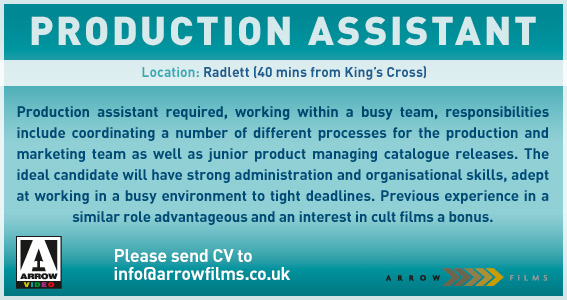 ---
What a week it's been for events… There's been at least three major premieres this week, all of which have garnered acres of coverage in the K press and beyond. First among them was Lionsgate's event, at the BFI Southbank, for the release of George Harrison: Living In The Material World, due on DVD and Blu-ray next week. It was one of the biggest home entertainment launches we've ever been too – what other video industry events could boast Paul McCartney, Ringo Starr, Yoko One and Olivia Harrison, let alone the cast of celebrities rubbing shoulders with the former Beatles and their surviving partners. That cast list included (deep breath) director Martin Scorsese, at least three Monty Python members (Terry Gilliam, Eric Idle, Michael Palin), Sir Ben Kingsley, Noel Gallagher, Sharleen Spiteri (who we sat next to, incidentally), Ronnie Wood, Billy Connolly and Pamela Stephenson, Jackie Stewart, Whispering Bob Harris and loads more… As the gossip gurus at Holy Moly noted, it was the "best turnout in a while" for a celebrity premiere. And needless to say, every newspaper the next day was full of coverage for Lionsgate's release. The marketing campaign has kicked in now and, from what we hear, pre-orders have been soaring in the run-up to release. Last week alone, the title was on the cover of Newsweek and benefited from a whopping feature and cover story on Mojo magazine. Lionsgate's Nicola Pearcey said: "Sunday's premiere at the BFI provided an exceptional launch for an exceptional product. Showcasing the documentary in the home of British cinema was very fitting and combined with the remarkable celebrity attendance meant that the whole evening had an extra special feel. The coverage and overall campaign for the release is phenomenal. It is testament to both the product and the team when you achieve national TV coverage, blanket newspaper coverage (including front covers for Newsweek Europe, Mojo, Rolling Stone and The Telegraph) as well as widespread online and radio breaks. Awareness this week has been fantastic - we have seen a huge spike in pre orders already, and as the campaign continues to unfold over the forthcoming days (and weeks), we're very hopeful for our sales." HMV's Gennaro Castaldo added: "We're incredibly excited about the release of Living In The Material World on DVD, especially after such a great theatrical campaign. We've already taken a lot of pre-orders from customers, and we're expecting a great deal more interest from devoted music and film fans alike, who will see this release as a must-have gift for Christmas. Anyone that's been privileged enough to see what is a masterpiece of film direction and editing, that also comes with a great soundtrack, will know that it not only offers a fresh and fascinating perspective on The Beatles, but that it also shines a light on the hitherto secret gem that is George Harrison's life story."
From there, it was on to what is the latest and biggest premiere in the ambitious growth of independent operation Arrow, with the event held in honour of its widest theatrical release thus far, Perfect Sense. The film stars Ewan McGregor and Eva Green and both at the premiere in London's Curzon. McGregor, in particular, has been everywhere, from Jonathan Ross to The One Show on ITV and BBC respectively, as well as, all over the press, including a major (and fascinating) feature in The Observer and loads more – links here. The film is benefiting from a 62 site nationwide opening, with an eight-day TV campaign, national press ads and vod pre-roll ads to support the release. Arrow's Tom Stewart said: "Arrow Films is very excited to have Perfect Sense finally hit UK and Ireland Cinemas after six months of careful planning. We're proud to see a significant nationwide release go out after such excellent Publicity created by The Associates to ensure every aspect of opportunity was handled effectively. Perfect Sense represents the very best in British filmmaking showcasing wonderful performances from in particular Ewan McGregor and Eva Green." The title will be released on DVD early in 2012 through eOne, as part of its ongoing deal with the independent.
---
---
Sticking with Arrow, before we move on to more premiere action, and the independent has announced a couple of high profile acquisitions this week. After scoring big with the likes of The Killing and Wallander, and with everyone else looking for the same thing, Arrow has signed up the two most likely contenders for "the next Killing" from Scandinavia. The Bridge has all the right credentials: a brutal killing, a dramatic manhunt and a whiff of political intrigue, along with transmission on BBC4 (with transmission slated for 2012). It's set in Denmark and Sweden, with a cop from each country trying to track the killer. Meanwhile, from the producers of The Killing, comes Borgen, a Danish drama follows politics in the course of an election. Like The Killing before it, it is being remade as an American television series. Arrow's Alex Agran said: "We are thrilled to be bringing two more outstanding series to the UK for 2012 following our successes with The Killing and Wallander in 2011. High quality Scandinavian drama is seriously hot property right now and we've managed to find ourselves at the forefront of that space, which makes for a very exciting next 12 months for Arrow."
Back to the premieres and mention of eOne brings us to Westfield, (the original White City one) on Tuesday for the launch of The Three Musketeers, an all-new film version of Alexandre Dumas' classic adventure tale. Our correspondent, Alex Kidd, will be reporting on this and all his screening and film viewing manouevres over the past week on our website on Tuesday next week. In the meantime, both the two aforementioned films, Perfect Sense and Three Musketeers, as well as Arrow's Borgen, will form a part of a strong first quarter from eOne for 2012. That slate also includes Kevin Smith's Red State, the recent theatrical opening that has become one of the most talked about films of the past 12 months; Albatross, starring Jessica Brown Findlay from Downton Abbey; The Gruffalo's Child, the sequel to the animated tale that has become as well loved as the hugely popular children's books; The Ides Of March, the latest directed by and starring George Clooney and also featuring hunk du jour Ryan Gosling (we're seeing this at the London Film Festival and can't wait); horror in The Shrine; a Second World War spectacular OBA – The Last Samurai; homegrown horror Devil's Bridge and Womb, starring Eva Green and Matt Smith. And then there's the ongoing franchises, with the 16th volume of massive pre-school hit Peppa Pig and the fourth outing for growing franchise Ben And Holly's Little Kingdom. Oh, and there's also the none too small matter of the first part of the final chapter in The Twilight Saga, Breaking Dawn Part 1. eOne will be conferring event status on to the release, with the kind of blockbuster campaign the trade has come to expect from this huge franchise. Head of sales and marketing Matt Brightwell said: "We're thrilled to be presenting to trade our biggest ever quarter, which reflects eOne's continued growth, with outstanding theatrical, kids and TV content."
---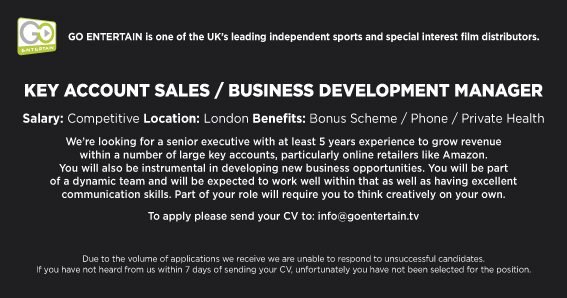 ---
Dateline: Cannes. So while many in the industry were off at the HMV Live event or assorted events, others were heading down to the south of France for MIP. Here's our insider's report: "MIP was steady, official numbers are up but many licensors and sellers appeared to have downgraded their pitches with several moving to seats in the cheaper participants area, some skipping the market altogether. The markets get tougher and tougher with UK competition fierce as ever, all buyers now look towards Santa Monica and hope to find the next big thing before their rivals."
The independent sector is continuing to investigate different release strategies and windows for assorted titles. Next to receive this treatment is Soda's forthcoming Black Power Mixtape 1967-75, a stunning documentary made from unearthed footage of the nascent movement in the US, with a stunning soundtrack. After screening at the London Film Festival, the film is coming out on October 21 at cinemas and also via FilmFlex and iTunes on the same date, with the physical release on DVD around a month later on November 21. Explaining the thinking behind the release, Soda's Kate Gerova said: "We believed the film was a gem, that it would get good word of mouth, and although it's archive footage, it still feels contemporary. We felt very strongly that we should release it during Black History Month but anyone looking at the theatrical schedule can see how it is almost already saturated with top quality films. So on one hand it's a very practical decision to go on other platforms and maximise our reach, but equally important is knowing that whilst this film will play well in indy cinemas, much of our target audience don't go to those venues. Making it available simultaneously on platforms like iTunes and FilmFlex means it is it much more accessible. It fits the spirit of the film which is about empowerment; this strategy is about audience empowerment." See the trailer for the film, which we've seen and can thoroughly recommend, here…
It's not just in the UK and it's not necessarily the indies either, as the row over premium video on demand continues to rumble on in the US. This week theatrical exhibitors and multiplexes have been up in arms over Universal's plans to trial premium vod on its forthcoming title Tower Heist in two regions a mere three weeks after its theatrical bow. Cable operator Comcast will be offering the film for $60 little more than 20 days after it has opened at cinemas. One chain, Cinemark, which could account for 10 per cent of revenues, has said if Universal continues it will effectively boycott the film. "If Universal Pictures moves forward with its Tower Heist premium video-on-demand offering as announced, Cinemark has determined, in its best business interests, that it will decline to exhibit this film in its theaters." That $60 equates to around £38, and, given the fact that it is around a tenner per ticket in your average suburban multiplex, it could make sense for punters who want to save on the price of popcorn…
And we'll end this week's newsletter with a nudge in the direction of the latest edition of our second favourite newsletter, Revolver's online video round up, Take Down. Well worth a look, click here…
---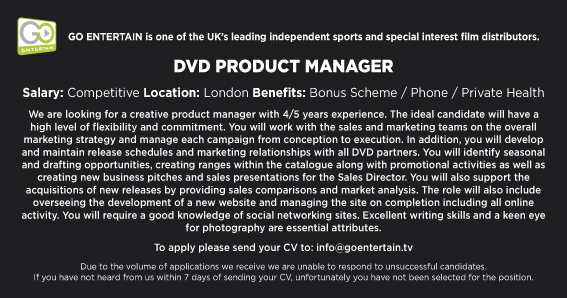 ---
"Steve was such an 'original', with a thoroughly creative, imaginative mind that defined an era. Despite all he accomplished, it feels like he was just getting started. With his passing the world has lost a rare original, Disney has lost a member of our family, and I have lost a great friend."
Disney ceo Robert Iger paying tribute to Apple and Pixar supremo Steve Jobs, who tragically died this week.
"The world is a better place because of Steve, and the stories our company tells have been made richer by the products he created. He was a dynamic and fearless competitor, collaborator and friend. In a society that has seen incredible technological innovation during our lifetimes, Steve may be the one true icon whose legacy will be remembered for a thousand years."
Time Warner chief Jeff Bewkes
"The genius of Steve Jobs, a man I've known for 40 years, not only brought to life the visual magic and brilliant storytelling of Pixar, but brought the world one of the most innovative and successful platforms to make movies and TV available online at the click of a mouse. He was a pioneer, and helped all of us better understand how technologists and creators can work together to enrich and enliven our shared world. If anyone ever wonders whether one person can make a difference, the answer is Steve Jobs. He will be deeply, deeply missed."
Chris Dodd ceo and chairman of the MPAA
We don't know about you, but in the midst of all the Downton Abbeys, Spooks and other television series, one new arrival has become, in a matter of weeks, required viewing. Fresh Meat is airing on Channel 4 on Wednesday evenings and is earning itself great word of mouth from viewers, as well as press acclaim. And now it's coming to DVD, due to arrive on November 7, the week after the series ends, courtesy of 4DVD. It boasts all the right credentials, it comes from the creators of Peep Show (Sam Bain and Jesse Armstrong) and boasts an impeccable cast (Peep Show's Robert Webb appears alongside an Inbetweener, Joe Thomas, while comic Jack Whitehall is a revelation as posho JP) and the critics have agreed. The Times said: "Bain and Armstrong again prove themselves masters at skewering the excruciating awkwardness of human interaction," while the Observer described it as "a superbly crafted comedy hit". 4DVD's Claire Bosak said:"Figures show that TV viewers are in agreement, with 2.1 million and 1.8million people tuning in to the first and second episodes respectively. The DVD will launch with press, radio and online advertising."
---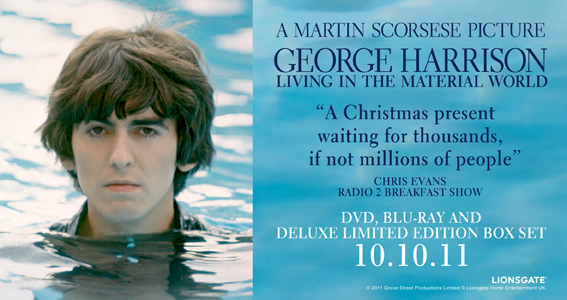 ---
In a week that saw cinema attendances dip due to the gorgeous weather, Studiocanal's Tinker Tailor Soldier Spy continues to confound all expectations with its remarkable run at the box office – it's still number one and has now taken more than £9 million. Abduction opened with more than £900,000 and, remarkably, at number three was the one off screening of the Phantom Of The Opera anniversary concert, due for release from Universal, which took more than £550,000. Other new entries included The Debt (£417,977), Shark Night 3D (£416,770) and What's Your Number (£320,331).
Although it's not due for release until the spring of 2013, the forthcoming Postman Pat film, or rather Postman Pat: The Movie – You Know You're The One, to give it its full title, has already received oodles of coverage. This is in no small part thanks to the strength of the brand, which will be celebrating its 30th anniversary to tie in with the release of the 3D CGI film, and the hugely impressive list of homegrown talent providing their vocal skills to bring Pat and co to life, with names such as Stephen Mangan, Jim Broadbent, Rupert Grint and David Tennant all lined up for parts. But what hasn't been mentioned yet is that Icon has picked up the UK and Irish theatrical and home entertainment rights for the film. Our youngest correspondent will just have turned five on its release, let's just hope the film delivers (that is, we promise, the last time we'll use that cheap gag).
Ben Wheatley's Kill List has been one of the more acclaimed horror outings of the year and the director, who also made the excellent Down Terrace, has this week embarked on his next outing. Sightseers is something of a departure for the director, as it is more of a comedy, albeit one that's described as being "pitch black". The film, which follows a couple's ill-fated trip to the heart of the UK in a caravan, will be released by Studiocanal in the UK.
In a week dominated by "will they, won't they" TV news, including the key story about the future of The Simpsons, which may not, some pundits believe survive beyond another series due to a pay dispute, it's been interesting to note the future of Arrested Development. The cult comedy soap opera following the exploits of the Bluth family and starring the likes of Jason Bateman, has been tipped to return in series form, with episodes followed by a full-length, feature outing. And now that is set to become a reality, as Netflix and Hulu are said to be embroiled in a bidding war to sign an exclusive deal to air the series. That kind of cash advance could help the series become a reality…
This could just as easily fit in to our Trailers Of The Week section, below, but MyMovies has teamed up with Pearl & Dean (try reading that name without humming the signature tune) to create this website, featuring a host of trailers and other bits and bobs, for film fans everywhere. MyMovies md Monica Chadha said: "We're thrilled to be reinventing our longstanding partnership with Pearl & Dean and bringing world class video content to their users in a brand new way. They remain an iconic name in cinema advertising and we look forward to playing our part in ensuring Pearl & Dean retain their relevance and status in the hearts and minds of consumers, through this compelling new entertainment destination."
This week, we've mostly been following the news about The Human Centipede 2 all over Twitter… Follow us on www.twitter.com/theraygun…
After the huge success of the first, a sequel was inevitable. We're not quite sure what's going on here, but we think they go to Europe or something…
This looks like a very modern English film (cheap 80s new wave gag ahoy)…
Due to air at the London Film Festival, here's a first look at Sket, from Revolver's Gunslinger production arm…
A second trailer for arguably the most controversial film in the US, certainly where the trade is concerned…
*Grown men weep in the office*
To subscribe to
The Raygun newsletter, please email
info@theraygun.co.uk
To unsubscribe, email
info@theraygun.co.uk
with unsubscribe in the subject