HOBBIT, FROZEN SET TO JOIN MILLION CLUB…
TRADE FAR FROM DESOLATE
UK ON SMAUG ALERT
VIDEO MARKET WORK £10B BY 2018
HMV HEADS BACK TO CINEMAS
RAID TWOFER DRIVES TRADE
THRONES STILL IN THE CHAIR
MANIA STRIKES AGAIN
LIONSGATE'S BACK ON TRACK
A MATTER OF HONOUR FOR EONE
ART EYE'S BROWN PAPER BAG STUNT
99 PROBLEMS - SIGNATURE'S GOT ONE
BRIT IMPRINT'S BIRTHDAY
SISTERS CONTINUES ARROW'S DE PALMA STREAK
NETWORK CELEBRATES A YEAR OF BRIT IMPRINT
JOURNEY TO THE MOON
METRODOME PICKS UP MORE
QUOTE OF THE WEEK
---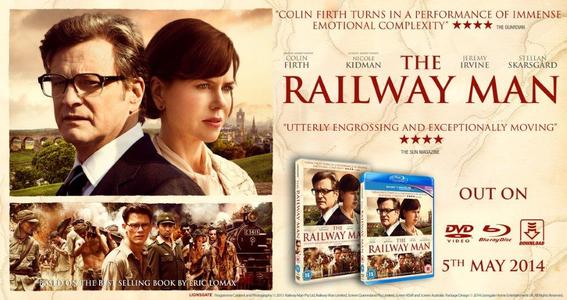 ---
I
f you can't read this newsletter or see the ads, please click
here
It Was A Good Week For… The latest in The Hobbit franchise, joining Frozen as potential million sellers…
It Was A Bad Week For…
Not sure about you, but we've been complaining about a couple of PR companies this week…
It's been another big week for releases, as Warner's The Hobbit: The Desolation Of Smaug followed on from Disney's Frozen, the former arriving on Monday, April 7, after the latter's appearance at the end of May. Both are, experts at the Official Charts Company say, likely to pass the million selling mark in physical terms by the end of April. Impressed? You should be. Only five titles managed that feat in the whole of 2013, now a brace will pass the landmark before a third of the year has passed. Thrown in the continued growth of digital formats and you're looking at a market that refuses to go away. Congratulations to all concerned…
Commenting on the performance of both The Hobbit: The Desolation Of Smaug and Frozen, the Official Charts Company's Martin Talbot said: "The Hobbit: The Desolation Of Smaug is on course to become one of the fastest sellers of the year. Frozen did a touch under 900,000 copies last week - and has now become the first title to pass the 1 million mark. It had sold 30 per cent more copies than Hobbit at this stage last week, but Hobbit should still do around 700,000 copies (it is currently on 520,000). If it does that, it is likely to become the second biggest title of the year - and with Easter providing a nice boost to market, we could have two million sellers this month at the current rate of sales. That would not be bad by the end of April, given that last year saw just five million-sellers all year."
Warner has been busy over the past week or two pushing the release of The Hobbit: The Desolation Of Smaug (we'll be glad when the next one, The Hobbit: There And Back Again comes along, so we can stop typing that potential minefield of a title). It started off its campaign at the Empire Awards, as the film picked up a brace of awards, while Luke Evans, aka Bard the Bowman, has completed interviews with the likes of Daybreak, Radio 1, IGN, Total Film and the Metro, while Thorin Oakenshield (Richard Armitage to his parents) appeared on This Morning and Sky Sunrise as well as interviews with a wealth of online and social media outlets. Orlando Bloom received a timely star on the Hollywood Walk Of Fame, which also picked up plenty of coverage. More on this one next week.
---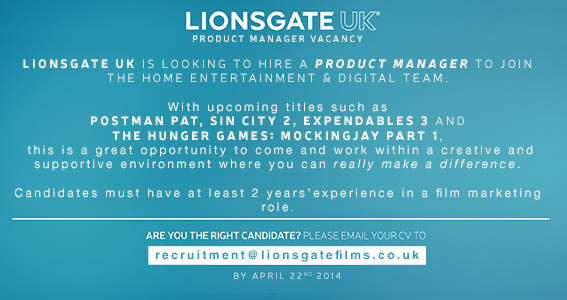 ---
Interesting to note then, that these impressive performances come in a week when analysts at Futuresource Consulting issued a report looking at the UK video entertainment market. It said that total spend in this area will grow 2 per cent a year between 2014 and 2018, reaching £10 billion in four years' time. Growth in pay TV and svod will drive much of this, while packaged video will, Futuresource said, decline by £1 billion in the five years from 2013. But its decline is far less marked than in other territories and the UK is Europe's biggest and second only to the US and Japan. Senior analyst David Sidebottom said: "The UK video market has undergone significant change in the last two years, driven by increasing digital service choice, significantly improved infrastructure and connected device uptake. As the evolving retailer and service provider offerings continually shape consumer behaviour, the UK is becoming one of the most dynamic digital video sectors globally. Experiencing a 9 per cent decline in retail value in 2013, the overall UK packaged video market performed better than most European countries, with performance more in line with the USA. At almost £1.6 billion, the UK remained the third largest packaged video market in the world and the largest in Europe, although this title could be challenged by Germany in 2014. Netflix has established itself as the leading player in the UK svod sector, primarily due to strong TV franchises and wide availability. But with the launch of Amazon Prime Instant Video, integrating LOVEFiLM and effectively replicating Amazon's US video strategy, combined with the newer movie focus of Sky's Now TV, the consumers choice of premium video viewing has never been greater, which in turn is driving industry revenues."
Next Friday (April 18) sees hmv heading back to cinemas for another marketing burst, its second outing to multiplexes in 2014. The latest round of activity, timed to coincide with the appearance at cinemas of the web-slinging alias of Peter Parker in The Amazing Spider-Man 2, who followed hot on the heels of Captain American, promotes the Blu-ray Superhero collection. Agency Bolder Creative took the iconic hmv dog Nipper and dressed him up in a red cape, with clips from the movies in the promotion, giving the whole thing a distinct comic book feel. This Wednesday, April 9, also saw HMV and Nipper appearing on TV screens to promote children's DVDs, CDs and books. The latest marketing burst follows hot on the heels of hmv's successful Awards campaign, which saw it advertising its Oscars-friendly titles at cinemas. HMV's Patrizia Leighton said: "After the success of our hmv presents awards season campaign we are delighted to be returning to cinemas with hmv presents superheroes. Creatively we have delivered a campaign that once again promotes the Blu-ray format and showcases our passion for this genre with our film loving audience. This time Nipper has even donned his red cape for the big screen. With a range of superhero movies slated for the coming months, cinema provides an ideal home for this campaign and playing out ahead of movies such as the Amazing Spider-Man 2 and Captain America perfectly allows us to connect directly with this highly engaged audience."
In case you hadn't realised, one of the year's best action films - and what should be a near certain entrant on most right thinking people's best of 2014 lists, even at this early stage - The Raid 2 opens at cinemas today (Friday 11). Ourselves, eOne and hmv have already eulogised about this, but you can't have failed to have noticed from the marketing currently appearing everywhere that eOne is offering a drafting deal for anyone buying the original Raid movie on DVD or Blu-ray. Anyone buying a specially marked pack gets a voucher offering two tickets for the price of one to see The Raid 2 at Cineworld cinemas. As well as the standard above the line marketing for the offer, eOne also organised a Tweetalong to watch the first film, with director Gareth Evans joining in, eOne's Hans Griffiths said: "Franchise drafting is obviously a key driver for catalogue sales so I wanted to support this opportunity with a strong marketing campaign. Cinema ticket offers on home entertainment are something that's done regularly in the US to drive catalogue sales but not in the UK, so I sourced a company who could deliver that for us. The idea behind the campaign was to create something that would be a win-win for both Theatrical and home entertainment.
Including the '2 for 1' offer on pack helped us secure incremental space at retail, along with giving the consumer an added incentive to purchase the product. The campaign also enabled our theatrical team to raise awareness for The Raid 2 in the key two to three weeks prior to the release in space they are not able to reach via their own media campaign, such as UK retail. The offer has also been supported by print advertising, in-store POS and a social media campaign which Gareth Evans joined in. HMV is also offering hmvpure members the chance to win a signed Gareth Evans print. We don't have redemption rates yet but we are seeing a significant uplift in Raid DVD/BD sales week on week and the film only opens today."
---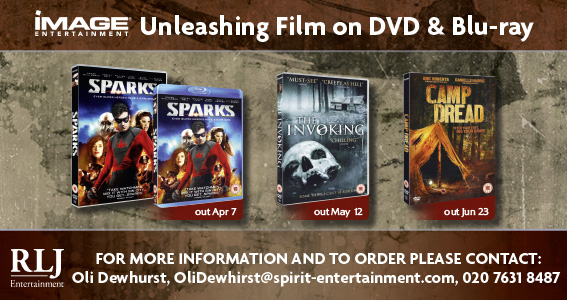 ---
In case you hadn't noticed it, which you should have, given Sky's relentless marketing and promotional activity as well as numerous articles across quality and tabloid press (The Guardian alone has 25 and counting in April alone) Game Of Thrones returned to screens this week, with Sky smartly screening the opening episode of the fourth series in the early hours of Monday morning simultaneously with its US bow. And it worked too - the programme drew 1.2 million viewers officially in the UK, while in the US it was HBO's highest rated programme since The Sopranos seven years ago. And that's just the official viewing figures, as The Guardian noted this week, the programme is not just the UK's but the world's most pirated show. As data expert Eric Antze from Irdeto told the newspaper: "Programmes start to be pirated literally minutes after the first airing of a show. Within an hour we see pretty significant propagation of that content across the internet, and piracy is on the increase." While piracy may be the scourge of our industry, the debut of the new series has given a boost to home entertainment. As HBO's Ian Fullerton said: "The current sales are quite simply phenomenal. In the first 14 weeks week of this year, the franchise has sold over 400,000 units equating to an over-the-counter revenue of £11m. And with Season 4 broadcast in full swing we expect a lot more. And if you think the chatter around Thrones has reached peak level just wait until this coming Monday's episode on Sky. I think Twitter might explode after this episode has aired."
Dateline: New Orleans. The annual event that is Wrestlemania, the biggest in the WWE wrestling calendar, rolled into town and proved to be one of the biggest ever, both in terms of attendance and what actually happened in and around the ring. Fremantle's Ken Law was there to keep an eye on the proceedings ahead of Fremantle releasing the title in June this year. He reported back from Louisiana for us, saying: "The WWE certainly delivered this year. WrestleMania 30 began with WWE legends Stone Cold Steve Austin, The Rock and Hulk Hogan all in the ring together; then 75,000 collective jaws dropped as the Undertaker lost his 21-year winning WrestleMania streak, a monumental moment that will be talked about for years to come. And to round it off the fans' favourite Daniel Bryan finally captured the WWE World Heavyweight title and sent the New Orleans Superdome into rapture with a deafening chorus of his signature chant "YES! YES! YES!" The bars of Bourbon Street had been echoing to that chant all weekend and the fans got exactly what they wanted. It will be a cracking DVD and Blu-ray release on June 9. I can't wait!" More on this in the coming weeks.
Some product news now and the rich vein of varied titles coming to market in the months ahead continues into May in Q2, with one of those being Colin Firth and Nicole Kidman starrer The Railway Man. Commenting on the title and plans for its release, Lionsgate's Kaz Mills said: "The Railway Man comes to the home entertainment market on the crest of a highly visible theatrical campaign that saw plenty of love for a truly affecting, emotive film. We're going to capitalise on the reception the film enjoyed, and on a general greater awareness of historical conflicts in the year of the centenary of the First World War and the 70th Anniversary of the D-Day Landings by ensuring older audiences who may have missed the film theatrically are aware of its arrival on Blu-ray and DVD, and by pushing its historical and cinematic appeal to younger audiences. In addition, we are honoured to be working with former hostage and journalist John McCarthy who will be completing a range of broadcast, print and online interviews, talking both as a former prisoner and as a member of the media in order to provide a unique point of view on Eric Lomax's experiences. This will form the central part of a sensitively considered campaign that will also underline the quality of the cast, the importance of the book and British cinema's examination of world conflicts. This will be supported by an extensive press campaign with online and radio presence, as well as third party brand promotions."
---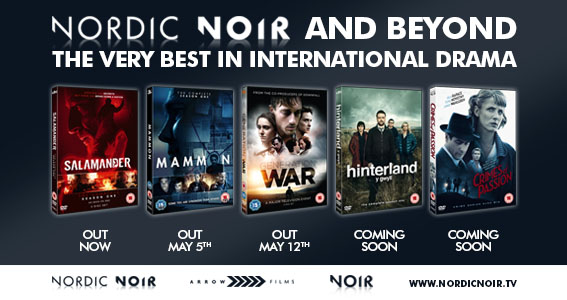 ---
Due ahead of that from eOne is Honour, starring the ever-wonderful Paddy Considine, with its home entertainment bow following hot on the heels of a limited edition theatrical release. eOne's Jeff Suter said: "We are delighted to be releasing British urban thriller Honour – a film that comes from BAFTA nominated director Shan Khan. Honour deals with the topical issue of honour killings within the Asian community and showcases the best of British talent – Paddy Considine (Tyrannosaur, The World's End), Aiysha Hart, star of the BBC's Atlantis and Harvey Virdi (East Is East, Bend It Like Beckham). Honour has received a theatrical release from Pinewood pictures and eOne have been working closely with them to ensure that there has been one seamless campaign across product life cycle. This kicked off with a hugely successful Gala screening earlier this month and has been followed by a wide reaching national PR campaign. Further to this we will be supporting the DVD with an A/V and press campaign."
PR mailout of the week award goes to Curzon for the excellent package sent out to mark the April 28 release of Artificial Eye's Nymphomaniac, the much-talked about Lars Von Trier film. Check discs for the two-part film were sent out to the press with a brown paper bag, a rubber duck and some badges. The bag alone made journalists and reviewers sit up and take notice - not only did we at The Raygun tweet it with accompanying pictures, but a number of national newspaper reviewers did too. It's part of an ambitious campaign for the release, more in the weeks to come, but in the meantime, the company's Paul Diment said: "We've had great success with previous Lars Von Trier releases Antichrist and Melancholia, and Nymphomaniac will be no different. We've more fun activity to come, so keep your eyes peeled. Our long lead print campaign has already begun, and there'll be more online and print support around the week of release. Alongside the trade wide two disc DVD and Blu-ray sets, they'll be two additional retailer exclusives. HMV have an exclusive slipcase and artcard set on both DVD & Blu-ray, and Sainsbury's will have an exclusive sleeve on DVD."
Booming out of our TV this week has been the rather excellent Made In America, one of the highest profile and biggest name releases thus far from Signature. It's directed by Ron Howard and charts a Philadelphia concert hosted by Jay-Z and a whole wealth of rap and rock stars. The first five to 10 minutes alone is worth the price of entry and Signature has this week confirmed the title will be released on May 19 on DVD and vod formats. Signature's Jon Bourdillon said: "We are proud to release Made In America in the UK. With the collaboration of great talents including Ron Howard as director and one of the world's best-selling artists of all time, Jay-Z, it is the must-see music feature film of the year."
---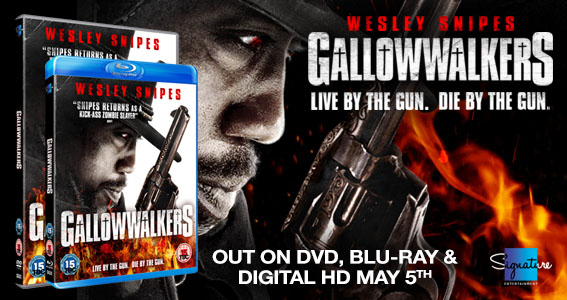 ---
And a happy birthday to Network Distributing's laudable The British Film, the imprint celebrating the country's film history which is celebrating its first birthday. What's more, it's also set to notch up its 100
th
release, with April seeing a whopping 16 titles being released. As well as the Ealing Studios Rarities Collection series, popular titles have included Roger Moore's The Man Who Haunted Himself, Sean Connery in On The Fiddle and Frankie Howerd in The House In Nightmare Park. Network md Tim Beddows said: "here's something very gratifying in opening a can of film that has been locked away for decades, ignored, unloved, forgotten. Always a sense of anticipation of what the contents might reveal because in the majority of cases no-one really knows. It's like mining for gold and just as dirty, but a year on from the launch of The British Film and we've still got more than 300 titles to liberate from the archives. The range so far has been a great success and we're as excited now as we were with the very first release to continue filling in the gaps in the history of British film."
On to another of our favourite imprints, the excellent Arrow Video label. Highlights from the label recently have included a raft of titles from one of our favourite directors, Brian De Palma. One of the final ones, at least for the time being, arrives on April 28 with the release of De Palma's early thriller Sisters. Arrow Video's Francesco Simeoni said: "We are very pleased to be unveiling our sixth Brian De Palma release in what has been one of the most successful 'mini-collections' within Arrow Video alongside such other auteurs as George Romero and Dario Argento. Sisters was actually much earlier in line than some of our recent De Palma releases like The Fury and Phantom of the Paradise but we were holding out for a really brilliant extras package, the film has never had anything substantial in the UK or the US for that matter in the way of special features so we waited until we could offer a real bumper crop alongside the usual new picture and audio remaster, new artwork illustration and comprehensive booklet. So now we have brand new interviews with cast and crew including star Jennifer Salt, Oscar-winning editor Paul Hirsch, writer Louisa Rose, an extensive critical analysis of the film, a film by-film guide to De Palma's 50-year career and lots more, it's one of the best releases we've ever put together."
Landing on DVD and digital next week from Wildcard Distribution is Moon Man, based on the much-loved children's book of the same name by acclaimed author Tomi Ungerer, brought to the screen by the team behind The Secret of the Kells. Commenting on the upcoming Home Entertainment release, Wildcard ceo Patrick O'Neill said: "We're really excited about the upcoming release of Moon Man in the UK. The film has had a really successful theatrical run since its initial release at Christmas and it's great to have it on shelves for Easter. With the film available both on DVD and across a range of digital platforms from April 21, this will be a real treat for younger viewers and perfect family viewing over the Easter holidays." Relative newcomer Wildcard is promising further releases later in 2014.
And we'll end with some acquisitions, as Metrodome and its head of acquisitions Giles Edwards have been beavering away, signing up a slew of titles. Berlin acquisitions now tied up include 3D documentary anthology Cathedrals Of Culture, with input from the likes of Wim Wenders and Robert Redford; comedy horror mockumentary What We Do In The Shadows, starring Flight Of The Conchords' Jemaine Clement; zombie football bloodbath Goal Of The Dead; horror musical Stage Fright. In something of a further coup, it has also picked up We'll Never have Paris, the directorial debut of Simon Helberg, better known as Howard from The Big Bang Theory. Helberg himself said: "After over two hundred years of slightly underwhelming independence, I am proud to return to the United Kingdom with Metrodome as my intrepid leader, and share the hilarious tragedy that is my romantic life in We'll Never Have Paris." Metrodome md Jezz Vernon added: ''We're very excited to be distributing Simon directorial debut, it's a sharp funny well written comedy and we're looking forward to launching the film this summer."
---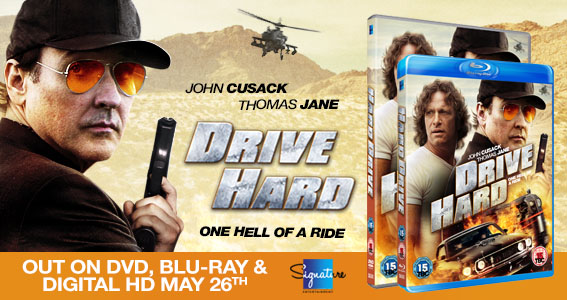 ---
"We see the move to digital as an opportunity to be able to monitor activity and there are also successful models for good paying citizens, like Netflix and Lovefilm. The majority of people want to be legitimate, they don't want to be seen as thieves or pirates. It comes down to a balance of piracy versus not being able to live in a world of $100m TV shows like Game of Thrones".
Giles Willits, financial chief at eOne, talking about TV piracy
Plenty of new releases in the UK box office top 10, with Fox's latest animated tale, Rio 2, leading the way, with £2.89 million in its opening frame, ahead of Noah, which took £2.5 million, and Divergent, with (£1.77 million). The Double also made its way into the top 10, taking £281,794. Captain America: The Winter Soldier, with a touch under £11 million, has now overtaken the first film featuring the, er, first avenger.
Paramount is getting back in the TV game and has this week discussed some of its first planned series. The intriguing news is, some of its biggest programming will revolve around its films. For among the movies set to get their own small screen adaptations in new spin-offs are Narc, based on the rough Joe Carnahan cops 'n' dealers thriller as well as The Truman Show. It is also investing in the forthcoming Terminator telly series…
Golden Globe hosts Tina Fey and Amy Poehler, from 30 Rock and the excellent Parks And Recreation respectively, are set to collaborate again, this time on the big screen, in The Nest. The Universal-backed comedy sees them starring as sisters who return to their parents' old home for a last weekend before it is sold…
Unlikeliest Star Wars rumour of the week is that Peter Mayhew will be returning to the franchise in Episode VII as Chewbacca, the character he made famous. Much as we love him, given his health issues, surely this can't actually happen?
The Raid 2, in an 8-bit game style. This is amazing. And addictive.
TRAILERS OF THE WEEK
New red band trailer from the latest from the very red band Seth Rogen…
That Zach Braff film that had the crowdsourcing backing…
Karen Gillan horror shenanigans…
To subscribe to The Raygun newsletter, please email
info@theraygun.co.uk
with subscribe in the subject matter
To unsubscribe, email
info@theraygun.co.uk
with unsubscribe in the subject
For editorial or advertising queries, contact
tim@theraygun.co.uk