EU's top court rules favorably for André Shepherd, resister in Germany
Tomas Young (1979-2014), Iraq War veteran and anti-war hero
Objector Sara Beining trial set for Dec. 9th at Ft Carson, Colorado
Armistice Day statement from Veterans for Peace
---
André Shepherd gets favorable ruling from EU's top court prior to asylum hearing!
November 11, 2014. By Connection e.V.and Courage to Resist
In the legal case of U.S. AWOL soldier André Shepherd, the European Court of Justice Advocate General, Eleanor Sharpton, ruled that those endangered by prosecution or punishment for refusal to perform military service involving an illegal war or committal of war crimes, should be protected by the European Union. This is a best-case situation for André heading into his asylum hearing.
Rudi Friedrich of Connection e.V. (Germany) stated, "Should the European Union Court of Justice respect the Advocate General's final opinion, the position in asylum cases of military service refusers and deserters will be significantly reinforced.
André Shepherd, upon reading Sharpton's decision, "The final opinion gives me new reason for optimism, both in my own case, and for the rights of other deserters."
Tomas Young (1979-2014)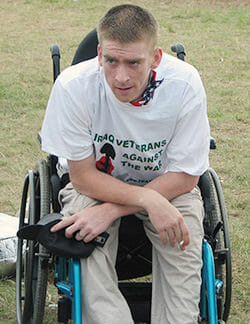 November 11, 2014. Excerpts from CommonDreams obituary
Iraq war veteran and outspoken Iraq war critic Tomas Young has died at the age of 34.
Tomas Young enlisted in the Army following the September 11 attacks, volunteering to go to Afghanistan. He was sent to Iraq in 2004, and was left paralyzed by a bullet on the fifth day of his deployment. In 2008, he explained that "many of us volunteered with patriotic feelings in our heart, only to see them subverted and bastardized by the administration and sent into the wrong country."
Young was the subject of the award-wining documentary Body of War by Phil Donahue and Ellen Spiro.
Last year, Tomas read a letter to Bush and Cheney which read in part: "You may evade justice but in our eyes you are each guilty of egregious war crimes, of plunder and, finally, of murder, including the murder of thousands of young Americans — my fellow veterans — whose future you stole."
Photo by Jeff Paterson. Tomas Young traveled to Crawford, Texas in an attempt to challenge President Bush on the Iraq War. August 29, 2005.
War resister Sara Beining court martial set for Dec. 9 at Fort Carson, Colorado
Click here to contribute to Sara Beining's legal defense and prison fund
November 11, 2014. Courage to Resist and the Nuclear Resister
Facing a lengthy prison sentence, Army war resister Sara Beining is scheduled to be court martialed at Fort Carson, Colorado at 9am, December 9th, on two counts of desertion.
Supporters are encouraged to attend the trial, contribute to her legal and prison fund, and send her letters letter of support to: Sara Beining, A0305918 / Criminal Justice Center / 2739 E. Las Vegas St / Colorado Springs, CO 80906
Sara is a single mother and Iraq war veteran. She is being held in the civilian county jail prior to her military trial. Sara went AWOL a second time last summer after a nearly year-long delay in resolving the original charge that resulted when she left her unit at Ft. Hood in January, 2007.
Just over one year ago, September 14, 2013, Beining was stopped for a traffic offense and held on an outstanding military warrant, more than six years after she and her newlywed husband had together walked away from war service. She was briefly jailed, then given a plane ticket and orders to report back to Fort Carson, Colorado, where, she said, "I tried for another year to play the game" and be quietly processed out of the army as many other recent military refusers have been. But in her absence without leave, Beining had given birth to a daughter in September, 2008 and become an outspoken opponent of war.
Armistice Day Statement from Vets for Peace
November 11, 2014. Veterans for Peace
The Armistice of 1918 ended the terrible slaughter of World War I.  The U.S. alone had experienced the death of over 116,000 soldiers, plus many more who were physically and mentally disabled.  For one moment, at the 11th hour of the 11th day of the 11th month, the world agreed World War I must be considered the WAR TO END ALL WARS. There was exuberant joy everywhere, and many churches rang their bells, some 11 times at 11 a.m. November 11, when the Armistice was signed.  For many years this practice endured, and then slowly, it faded away.  Now we do it again.  We ring the bells 11 times, with a moment of silence, to remember the many soldiers and civilians killed and injured by warfare, and to make our own commitment to work for peace, in our family, our church, our community, our nation, our world.
Read more...