---
| | |
| --- | --- |
| | March 2019 |
Reduced stress. Increased productivity. Improved well-being.
Forte Organizers helps individuals and families stay organized at home, as well as teaching business people organization skills at work.
Lori's latest Dayton Daily News article is the pot of gold at the end of our organizing rainbow.
So many of us work on the go these days. Our phones, computers and tablets go back and forth between the office, home and even Starbucks. In the hustle and bustle of our day, sometimes those electronics get left behind.
It is important to label all of your portable electronics with: "If found, please call (xxx) xxx-xxxx." List the number of the office, your spouse or your home phone, so people can contact you if it becomes misplaced.
This tip actually came in handy. Using a labeler, Lori took a few seconds to label her mobile phone with her husband's mobile number. While on vacation during a bicycle ride through the mountains, her husband got call from another rider saying they found a phone. Lori checked her bicycle bag where she kept her phone and it was empty. Her phone was recovered before she even knew it was lost!
The third week in March is National Clean Out Your Closet Week!
Inexpensive tension rods are a great way to organize your belongings and create more space once you have purged those items in your closet that you no longer want or need. You can create shoe racks, and organize anything from scarves, jewelry and hats.
FREE! Attack the Stack
Wednesday, March 6, 10:30 am-12:00 pm
Clark County Library,
201 S Fountain Ave, Springfield, OH 45506
Call (937) 328-6903 for more information.
Residents of Centerville and Washington Township with proper ID
Saturday, April 13, 10:00 am-1:00 pm
Public Works Garage, 8190 McEwen Rd.
Saturday, April 13, 10:00 am-1:00 pm
Fire Station 45, 8328 McEwen Rd.
Lose Your Stuff, Find Yourself...
The last week of March is National Clutter Awareness Week. Use this advice from Lori's book "Lose Your Stuff, Find Yourself" to help you manage your clutter.
"If you're spending too much time organizing the clutter in your home, it's time to break the habit.
With every item in your home ask yourself, "Do I really use this item or am I just in the habit of keeping it?"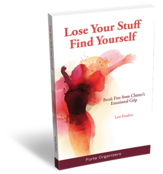 Pick up a copy of Lori's book by using this link:
Amazon.com
Just Hit Reply...
Do you have an organizing question you would like Lori to answer? Just hit reply, and your question with the answer might be featured in an upcoming newsletter.
One More Thing...
"I've always thought you've got to believe in luck to get it." ~Victoria Holt