The Pure Water Occasional for September 8, 2014
In this bad news Occasional, you'll hear about the takeover of plastic microbeads, the makeup of fracking wastewater, a big crack in a Mexican desert, and the vicious Portuguese Man of War. Then come the dangers of nanoparticles in sunscreens, the health risks of fracking, and the hazard of melting permafrost. If that isn't enough, there are saltwater spills in N. Dakota, brain-eating amoeba in Louisiana, the proposed Pakitzapango Dam in Peru, and the evil tanker mafia of India. On the positive side, the Ebola outbreak may have an upside, Pure Water Annie has sound advice about pipe sizes, as always, there is much, much more.
The Pure Water Occasional is a project of Pure Water Products and the Pure Water Gazette.
To read this issue on the Pure Water Gazette's website, please go here. (Recommended! When you read online you get the added advantage of the Gazette's sidebar feed of the very latest world water news.)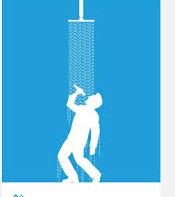 Gillibrand seeks federal ban on plastic microbeads in personal care products
By T.J. Pignataro
Sen. Kirsten Gillibrand calls herself a recovered user of personal care products that contain plastic microbeads.
The senator said so Friday in Buffalo as she urged a federal ban on the tiny plastics that are often added to facial cleaners, soaps, cosmetics and toothpaste.
"I thought they were great," Gillibrand said of the products.
Then she learned about the scientific studies.
The findings show microplastic particles – about the size of a grain of salt – are rapidly accumulating in the Great Lakes, on its beaches as well as in fish and wildlife.
"I thought, 'Oh, my God, I'm using something that could actually harm our lakes and our rivers and our streams and could actually harm our food supply?' " Gillibrand said. "So, I was so concerned immediately as a person who bought these products, that I had to do my part."
Using Frank Lloyd Wright's Fontana Boathouse and the Niagara River as a backdrop, Gillibrand said she will introduce legislation in Congress to ban microplastics from personal care products.
A bill to ban the microplastics was pushed in the State Legislature earlier this year, but the legislation never made it to the floor of the legislature. Illinois lawmakers passed the first law of its kind in the nation, banning the sale in that state by 2019. Ohio and California are considering similar measures.
Great Lakes scientists, including Sherri A. Mason, an environmental sciences professor at SUNY Fredonia, found last year for the first time that the tiny plastics were polluting all of the Great Lakes, with the highest concentrations in Lake Erie and Lake Ontario.
After personal care products are used, the microbeads are washed down the drain. They're small enough to pass through wastewater filters and are discharged from the plants with treated wastewater.
"Our 20th-century wastewater infrastructure couldn't even contemplate or be prepared to handle 21st-century pollutants," said Jill Jedlicka, the executive director of Buffalo Niagara Riverkeeper, who supports a ban on microbeads.
Microbeads, toxic algae, pharmaceuticals and nanoparticles, Jedlicka said, "have the potential to undermine decades of progress of Great Lakes restoration."
The Great Lakes and St. Lawrence Cities Initiative, a 110-member coalition of public officials from Duluth, Minn., to Quebec City, has pressed for federal bans on the microplastics in the United States and Canada, as well as at the state and provincial levels.
"Everyone knows it's the right thing to do," said Paul A. Dyster, the Niagara Falls mayor who also serves as the regional director for the initiative.
Microbeads not only plasticize waters and beaches, but they can wreak additional havoc when legacy contaminants like PCBs bind with them and are then consumed by fish and other wildlife.
More than 350,000 of the tiny plastic beads can be found in a single tube of face wash, according to the 5 Gyres Institute, a global environmental organization fighting plastic pollution in water.
Consumers can screen products for microbeads by looking for "polyethylene" or "polypropylene" in the list of ingredients.
Gillibrand said many natural and safer options can be used instead of plastic microbeads.
The options include ground up natural shells or husks, which some companies are already using.
The goal, officials said, is to make that the industry standard.
A federal ban on plastic additives is the way to fairly achieve that, Gillibrand said.
She didn't give a timetable for passage of a federal law, but she said she would introduce legislation in the U.S. Senate immediately.
"As a mom, I don't want to worry there are PCBs in the fish my children are eating," Gillibrand said. "As a legislator, we want to nip this in the bud now. This is a hazard that will only grow."
Source: Buffalo News.
Pure Water Gazette Fair Use Statement
Fracking's Wastewater, Poorly Understood, Is Analyzed for First Time
By Zahra Hirji
Researchers determined general chemical footprint of one liter samples, but not relative concentrations, and call for further study.
A new study in the journal Environmental Science: Processes and Impacts offers one of the most comprehensive analyses yet of what's in a type of waste called produced water, a poorly understood and controversial by-product of fracking.
This peer-reviewed study by a pair of researchers at Rice University in Houston shows that while fracking-produced water shouldn't be allowed near drinking water, it's less toxic than similar waste from coal-bed methane mining. It also revealed how the contents of this waste differ dramatically across three major shale plays: Texas' Eagle Ford, New Mexico's Barnett and Pennsylvania's Marcellus.
Fracking involves injecting a slurry of water, chemicals and sand down a well to crack open shale bedrock and extract oil and gas. The study defines produced water as the water that flows out of a well after fossil fuel extraction starts. It includes some of the slurry first injected down a well, as well as naturally occurring water and materials from deep underground, such as salts, heavy metals and radioactive material.
Previous studies have examined the salinity of this waste and even some of the inorganic chemicals. Building from that, the Rice researchers identified 25 inorganic chemicals in the waste. Of those, at least six were found at levels that would make the water unsafe to drink—barium, chromium, copper, mercury, arsenic and antimony. Depending on the chemical, consuming it at high levels can cause high blood pressure, skin damage, liver or kidney damage, stomach issues, or cancer.
But the study's innovation involved examining and identifying over 50 organic chemicals in the waste—an area that's been little studied previously. Some of these are potentially dangerous, depending on their concentrations, such as the cancer-causing toluene and ethylbenzene; however, such levels were not provided.
Study author Andrew Barron said the results showed that produced water "was not quite as bad as we thought."
For example, a related cancer-causing chemical called benzene, which is often seen in oil-and-gas products and waste, was not detected. Moreover, another set of cancer-causing chemicals found in similar wastewater associated with coal-bed methane mining was not observed.
Researchers did not look closely at the waste's naturally occurring radioactive materials.
Wilma Subra, an environmental consultant from Louisiana, told InsideClimate News in an email that the lack of benzene was "surprising." Subra, who works extensively in South Texas' Eagle Ford, added that she would have liked the study to cover radioactive materials, which Texans are especially concerned about.
Cracking the Case
According to the study authors, the most surprising find was the presence of group of organic compounds called halocarbons, some of which are potentially toxic. These chemicals are not native to the geology of the area being drilled; nor are they found in the man-made fluids purposefully injected down a well during fracking.
Eventually, the researchers cracked the chemical case and fingered waste treatment as the source. A common type of waste treatment uses chlorine to strip dirty water of bacteria. When this chlorinated water is then injected down a well, it potentially reacts with materials in the local geology to form halocarbons. In other words, researchers found traces of a waste treatment process in pre-treated waste. How does that happen?
To understand, let's walk through the waste-handling process.
A single fracked well can use over 2 million gallons of water. Instead of constantly relying on freshwater for this, drillers are increasingly treating and then reusing produced water, along with other types of fracking wastewater.
Now imagine that there are two wells: A and B. For Well A, drillers use only freshwater. In the resulting waste, there are no halocarbons. But some of that waste then gets treated with chlorine.
A mix of freshwater and treated water is then shipped to the second site and injected into Well B. According to the researchers, the chlorinated water likely then reacts with the naturally occurring salty water deep underground. This reaction forms entirely new chemicals—halocarbons—that show up in Well B's waste. Since so many operators are reusing waste at current operations, it makes sense that halocarbons are seen across all the study's samples, which were collected from wells less than a year old.
Barron, the study author, said the observed levels of these inorganic compounds are minimal and "not a cause for panic."
At higher levels, however, some of the observed halocarbons—including a type called organobromides, which has been associated with liver damage—could pose a public health risk. And their unanticipated presence indicates that the way wastewater is treated should be reviewed, said Barron, a professor of material science who holds the Welch Chair of Chemistry at Rice. Starting this year, Barron also serves as a scientist at the Energy Safety Research Institute in the United Kingdom, a country looking to expand fracking.
The investigation, which took more than a year, has implications for oil-and-gas operators in water-strapped states such as Texas, which is in the midst of a drought. Such states are increasingly looking to reuse wastewater rather than continually relying on precious fresh water. Just last year, Texas oil-and-gas regulators at the Railroad Commission passed new rules encouraging operators to reuse more of their waste from oil-and-gas drilling.
"What the authors have shown here is interesting and intriguing," said Lee Ferguson, an associate professor of civil and environmental engineering at Duke University, in Durham, N.C. Ferguson, who was not involved with the research, called it a starting point for further study.
A First Step
The study was funded by the Robert A. Welch Foundation, which supports research in chemistry, and the Ser Cymru programme, a health-and-environment research initiative launched by the Welsh government.
According to Barron, the authors first encountered produced water in their research for the Navy. They were looking at ways to design wetsuits that were salt permeable but impermeable to oil and gas molecules. Their cursory encounter with produced water made them realize there was still a lot to know about it—and that interest grew into this separate analysis.
Wearing gloves, Barron and his colleague, Samuel Maguire-Boyle, gathered produced water samples in specially cleaned one-liter Mason jars from three different well sites in the three different shale regions. At each site, they collected approximately 19 jars of produced water from storage tanks that connect directly to a well.
The report details the analyses of only three sites, one from each shale play. However, Barron noted, samples were collected from a dozen well sites and the three samples covered in the report were representative of that larger survey.
After stripping the water of any solids, the scientists used mass spectrometry to analyze the liquid. This analytical technique provides a unique signal for each targeted compound. The researchers then matched these signals with those from an industry database.
According to Duke's Ferguson, this method is good for determining a general chemical footprint of a sample but it's not always exact, because many compounds have similar profiles. To be absolutely confident in their results, he suggested that the researchers perform additional analysis. Moreover, he pointed out that the paper doesn't provide the relative concentrations of the organic compounds, making it very difficult to determine their levels.
Barron said the group did additional analysis to determine relative levels "within a narrow range," but he said more samples are needed to confirm them.
Barron hopes to replicate this study eventually at more well sites and determine how the composition of produced water varies within a single shale play.
Source: Inside Climate News.
Pure Water Gazette Fair Use Statement
Water News of the Week
Should we be worried about the 3,300 foot crack in the Mexican desert?
A new study published in the American Chemical Society's Journal of Environmental Science and Technology demonstrates the harmful effects of nanoparticles from sunscreens on ocean ecosystems. The researchers found that when nanoparticles of titanium dioxide and zinc oxide react with UV light in water, they create hydrogen peroxide, which can stunt the growth of phytoplankton. Phytoplankton are a critical species of tiny algae at the base of marine food chains, sustaining animals ranging from small fish, which feed dolphins and other sea life, to whales.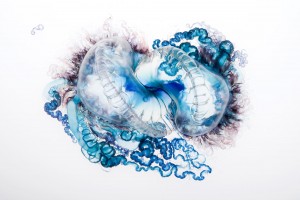 The astonishingly beautiful but deadly Portuguese Man of War is featured in an arresting National Geographic photo essay.
Health and fracking – what are the risks? For people who live in close proximity to this country's current oil and gas boom, are there health risks? It's a question people are asking from Pennsylvania to North Dakota, from Colorado to Texas, as more communities find themselves in the midst of unprecedented energy development.
Melting permafrost could worsen water quality in the Rockies. Melting permafrost could be a big deal across the Rockies and the West, where federal land managers have counted almost 40,000 abandoned mines, many of them in high mountain drainages. Already, more than 5,000 miles of streams and rivers are affected by acid mine drainage.
The past week was World Water Week.
Saltwater leaks into a stream from a massive saltwater spill from an underground pipeline on the Fort Berthold Indian Reservation near Mandaree, North Dakota.
In shadow of oil boom, North Dakota farmers fight contamination. Last summer, in a wet, remote section of farm country in Bottineau County, landowner Mike Artz and his two neighbors discovered that a ruptured pipeline was spewing contaminated wastewater into his crop fields.
"We saw all this oil on the low area, and all this salt water spread out beyond it," said his neighbor Larry Peterson, who works as a farmer and an oil-shale contractor. "The water ran out into the wetland."
It was August, and all across Artz's farm the barley crop was just reaching maturity. But near the spill, the dead stalks had undeveloped kernels, which, the farmers knew, meant that the barley had been contaminated weeks earlier.
Soon after, state testing of the wetlands showed that chloride levels were so high, they exceeded the range of the test strips. The North Dakota Department of Health estimated that between 400 to 600 barrels of wastewater, the equivalent of 16,800 to 25,200 gallons, had seeped into the ground.
Wastewater, known as "saltwater" because of its high salinity, is a by-product of oil drilling, which has been a boom-and-bust industry in North Dakota since at least the 1930s. Far saltier than ocean water, this wastewater is toxic enough to sterilize land and poison animals that mistakenly drink it. "You never see a saltwater spill produce again," Artz said, referring to the land affected by the contamination. "Maybe this will be the first, but I doubt it."
Chlorine burn to kill brain-eating amoeba continues in St. John Parish. A potentially deadly brain-eating amoeba has been detected in part of St. John the Baptist Parish's water system that serves the communities of Reserve, Garyville, Mt. Airy and a small section of LaPlace. This article points out the difficulties of maintaining consistent chlorination is small water systems.
Five facts you didn't know about water and people.
Positive Side to the Ebola outbreak?
Could there be a plus side to the Ebola crisis gripping West Africa? Africa's ministers in charge of water seem to think so.
Although there is no data linking the Ebola outbreak with lack of access to clean water and sanitation, the epidemic should bring attention to Africa's water and sanitation problems and accelerate investments, said the African Minister's Council on Water (AMCOW), a body of government ministers from 53 member states.
"Sometimes it takes an outbreak for positive things to happen. Maybe it takes Ebola for sanitation and water to become a top priority. This is like a blessing in disguise: nobody wants it to happen, but you use it as a means to have more commitment and investment in water and sanitation," AMCOW executive secretary Bai-Mass Taal told Thomson Reuters Foundation on the sidelines of a global water conference in Stockholm.
33 things to eat, drink, see, and do before climate change ruins everything. The Matter handbook to a burning planet is a compendium of real scientific findings that look at how the globe may change over the next fifty years and beyond. Think of it as your guide to the good life before climate change melts it away. Recommended reading with lots of excellent images.
A government tanker delivering drinking water at a slum in New Delhi, India.
Water shortages lead to 'tanker mafia' in India. Every summer, when Minoo Phakey's water runs out, she does what most people do in her middle-class neighborhood: She calls the mafia. Within an hour, a man in a tanker arrives, carrying a load of dubious water drawn illegally from the city's groundwater. While New Delhi has had water troubles for decades, the shortage has become critical in recent years as the city's population has grown with little or no planning, rising from 9 million in 1991 to almost 17 million today,
Lavender farmers rebel against EU chemical rules. The sweet smell of lavender is tinged with bitterness this year in the south of France, as farmers who harvest the flower protest European regulations linking the plant to chemical toxins.
Peruvian children watch the Ene River in front of their village in an area that would be flooded by Pakitzapango Dam.
Freeing the arteries of the planet. The Elwha River restoration project is part of a broader movement to dismantle dams and let rivers run their natural course freely. But there is still a hydroelectric boom in developing countries.
Water testing cannot explain dirty well water for Susquehanna County woman. A series of water tests by private and government laboratories show Gerri Kane's well water is safe to drink, but what comes out of the tap tells a different story.
How Many One-Inch Pipes Will Fit Inside a Two-Inch Pipe?
by Pure Water Annie
In this article Gazette technical wizard Pure Water Annie channels another technical writer, Ryan Lessing, of Watts Water Quality.
In this month's Watts email newsletter, the Water Pro Insider, Watts engineering department technician Ryan Lessing's technical tips column focuses on a frequent misconception about pipe sizes and flow rates. This is good information to know even if you aren't a plumber. If you are a plumber, you'd better know it, but if you're just building a fish pond or running a water pipe to your barn or adding a sprinkler to water your blackberry vines. you can get into a lot of trouble if you don't take pipe sizes into account. Here's what Ryan has to say:
From time to time I hear people say "I have a 2" pipe so I am going to install two 1" filters in parallel." Or they state something like "I needed the flow rate of a 3" pipe so I ran two 1½" pipes in parallel."
Flow rate and pipe size correlation is not as simple as adding pipe diameters together, such as 1" pipe + 1" pipe = 2" pipe. The rule of thumb is twice the diameter equals four times the flow. You can see in the figure that four 1" pipes can fit inside a 2" pipe.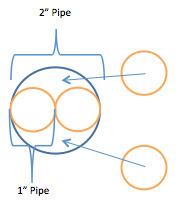 To estimate the pipe size required for a certain flow rate, the following formula can be used.
Diameter X Diameter X 2.448 X Velocity in Feet per Second = Gallons per Minute
Use a maximum flow velocity of 8.2 feet per second.
The formula works for estimating pipe size requirements for short runs, such as 20 linear feet, in the installation plumbing only. It is not intended for longer plumbing runs, where more details need to be taken into account.
So for 2" pipe, the formula would call for 80 GPM peak flow rate:
2" X 2" X 2.448 X 8.2 = 80 GPM
Or for 1" pipe, the formula would call for 20 GPM peak flow rate:
1" X 1" X 2.448 X 8.2 = 20 GPM
Notice how 80 GPM for 2" pipe is 4 times as much as the 20 GPM for 1".
As a final note, I'm sure you noticed how much Ryan's logo is like mine. Except to point out that my logo was made before color pictures were invented, I'll leave it to you to figure out who has borrowed from whom.
Ryan Lessing formerly worked for Alamo Water in San Antonio and has been with Watts in San Antonio for 8 years. He is an active member of the Texas Water Quality Association chapter and is currently president of the organization. He is also a bluegrass musician and a very nice person.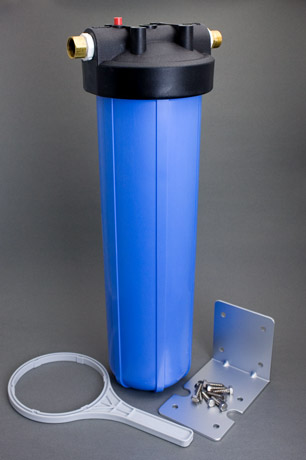 This large garden hose filter uses 4.5" x 20" cartridges and has about 6 times the capacity of a standard garden hose filter. With a carbon block filter, it has the capacity to remove chlorine from 40,000 gallons of city water. It's great for filling ponds, fish tanks. small swimming pools, and for putting chlorine-free water on your garden.
Go here for garden hose filters on our main website.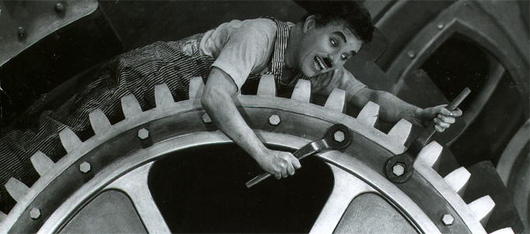 Please visit our RO Parts Page for tanks and accessories. We also have dedicated parts pages for countertop water filters, undersink filters, and aeration equipment. We stock parts for everything we sell.
Thank you for reading. Please come back next week.
Places to Visit on Our Websites in the meantime.
Garden Hose Filters. Don't be the last on your block to own one.
Model 77: "The World's Greatest $77 Water Filter"
"Sprite Shower Filters: You'll Sing Better!"
An Alphabetical Index to Water Treatment Products
Our famous whole house Chloramine Catcher
Pure Water Occasional Archive: Sept. 2009-April 2013.
Pure Water Occasional Archive: April 2013 to present.
Write to the Gazette or the Occasional: pwp@purewaterproducts.com
Please Visit
The Pure Water Gazette – now now with an up-to-the-minute feed of the latest water news.