A Fischer Haus Concerts Invitation to our July Concerts




 




FOLK FAMILY REVIVAL W/KILL COUNTY




Saturday July 27th, 2019

 

 
SLAID CLEAVES
Gates open at 7pm -

Food Served until 8:30pm



Let's welcome back one of our favoriate Americana Artists to Fischer!!!
Slaid Cleaves has spent most of his life as a dedicated student of American songwriting, drawing from heroes such as Bruce Springsteen, Hank Williams and Johnny Cash. As he puts it in his online biography, "I'm not an innovator. I'm more of a keeper of the flame." But while there may be nothing new under the sun, Cleaves still finds a way to put his unique spin on the down-home stories he's spun on record since his 1990 cassette debut, "The Promise." His most recent release, 2017's "Ghost on the Car Radio," continues this, with songs such as "Little Guys" and "Take Home Pay" taking a personal approach to income inequality and drug abuse.
~On the Menu for July 13th~
Please note food service will only run from 7pm until 8:30pm for this show
Jan's Southwest Chicken Salad
(Seasoned chicken breast, black beans, corn, purple onion, herbs)
 

served on a bed of Romaine Lettuce
with Creamy Cilantro Dressing
Topped with Crushed Blue Corn Chips

Cookies - $2/ea

PLEASE FEEL FREE TO FORWARD OUR INVITATION TO YOUR FRIENDS....  EVERYONE MUST RSVP (can do groups) Thank you!
Gates open at 6pm -
Food served until 8:30pm
KILL COUNTY opens at 7pm
FOLK FAMILY REVIVAL starts at 8:30pm

$15 Cash Door Donation for Adults

This will be a twofer show.... opening for Folk Family Revival is Kill County. 
Wherever the Folk Family Revival plays, the ground underneath seems more a sanctuary than a stage. Sure enough, the Lankford family, Mason, Barrett and Lincoln, once filled a pew at a Magnolia, Texas church, where the brothers became fast friends with their soon to be brother and lead guitarist Caleb Pace. They played Rock n Roll in church for a time, until the congregation found them a little too wild for their flock. So the family dug up their roots from that place and headed home to the little shed next to their parents' house, the blue house, where the brothers honed their craft.
Beneath many hours of cosmic contemplation, tempered through many hours more of pressure and concentration, the boys fashioned a sound; clear and righteous, bold and forceful, complex and simple at the same time. Mason's lyrics ride the narrow edge of paradox and preaching, while the rumble of the band propulses with the fury of sacred rage. They've come to shake the windows and rattle the walls. They will go down fighting. 
With their record releases thus far, 2011's "Unfolding" and 2015's "Water Walker," the band of brothers' music has evolved and left fans guessing with each rendition of their ever-changing sound.
Houston-based, genre-bending rockers
Folk
Family
Revival announce the release of their upcoming album "Electric Darlin" out on Friday, June 7. The band of brothers, comprised of Mason, Barrett and Lincoln Lankford and family friend and adopted brother Caleb Pace, have been making music together for years, redefining their sound and flowing through various genres with each record release. With "Electric Darlin," the guys are throwing their fans another curveball with a new, experimental sound. The album was produced by
John Evans
and recorded by Patrick Herzfeld at Signal Hill Recording Studio in Dripping Springs, Texas.
"We've always wanted to make a concept record that feels and sounds a little more like what you'd get at a live show rather than a 'one piece at a time' sort of album," said Mason Lankford. "So we wrote 'Electric Darlin.' A fictional story about two fictional characters, Pro and the Con. And we recorded it live in the studio so it sounds just like the band without a bunch of extra stuff."
Opening for Folk Family Revival is Kill County: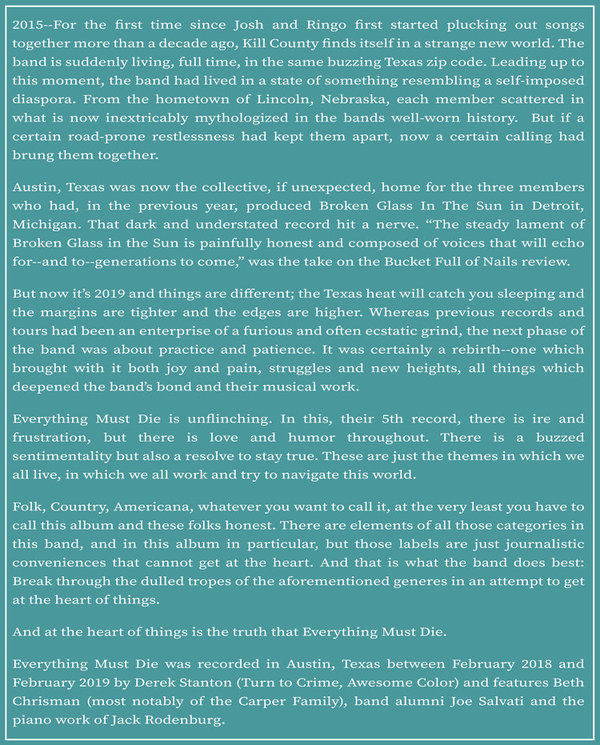 ~ ON THE MENU FOR JULY 27TH~
Please note food service will begin at 6pm and end at 8pm
JAN'S TURKEY CHILI FRITO PIE
SERVED WITH ALL THE TRIMMINGS
(Fresh spring greens, squash, cucumber, sweet red pepper, green onions, fresh corn, tomatoes)
served with Ranch or Vinaigrette
Dressing

PLEASE FEEL FREE TO FORWARD OUR INVITATION TO YOUR FRIENDS....  EVERYONE MUST RSVP (can do groups) Thank you!
OUR BASIC RULES AND POLICIES
All shows are considered private (you must RSVP) and on a Cash Door Donation (set by the Artist).  All who are attending are required to Check-In at the Front Gate or Merchandise Booth. Thank you!!
We are also:


Cash Only

BYOB -

Beverages


Food is available to purchase or can bring your own

 
Family Friendly

 

(Children are welcome but please ask them to use their inside voice during the performances... Thank you!) 
No Dogs please

(Sevice Animals are Welcome)

Please RSVP if you are planning on attending a show

Camping available -

Limited electrical hook-ups, let us know ASAP - Must check-in before 4pm (Please remember we are a pasture camping facility)




No Smoking the first 2 rows of tables from the stage

and when the sides are down in the Cantina - SMOKERS PLEASE USE BUTT CANS, DO NOT TOSS ON THE GROUND

Trash, recycles, etc. -

WE DO RECYCLE

- please put glass, plastic and cans in recycle bins not the trash cans

Tables and chairs are setup in the Cantina but you can bring your lawn chairs or blankets for outside viewing and listening. We will always make arrangements for seating those who

have special needs.  

Please Note: we will take up to 4 advance table reservations for 6 or more at this show in order received, we will also accommodate folks with special needs if noted on your RSVP for reserved seating.

We typically have a Campfire Jam after an evening show, feel free to join in.... Please, no minors at the Campfire Jam unless prior approval is given

2019 FISCHER HAUS CONCERT SCHEDULE
(subject to change, be sure to check the website for updates)
July 13th - Slaid Cleaves
July 27th - Folk Family Revival
August 3rd - Shake Russell & Michael Hearne

August 24th - Wood & Wire
October 19th - Marcia Ball
A HUGE Thank you from all of us volunteers....
"WE'RE ALL HERE 'CAUSE WE AINT ALL THERE" - FISCHER TX

Jan & Dennis - Hosts

Randy & Paul - Sound & lights

Chris, Sue, Linda & Amanda - Check-in
Bubba, Unkle Jimmy & Sue and Paul - Setup and ongoing maintenance
Bubba, Mark & David - Parking/Security

All those others who get y'all in those parking spacings

Special Thanks to all our volunteers and everyone else who has helped keep this lil Hill Country Haus Concerts going!