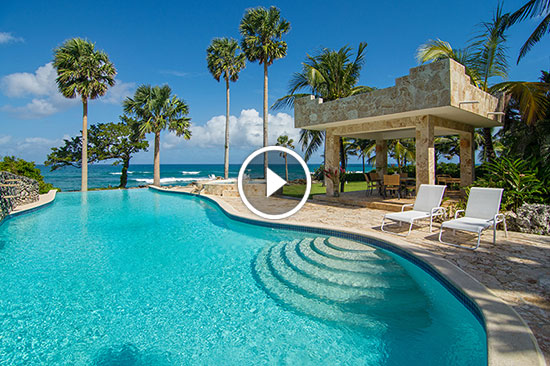 This magnificent oceanfront five bedroom villa features spectacular sunset viewing from the outdoor promenade seating areas and covered poolside gazebo.
All five bedrooms have en-suite baths, including a separate master guest suite located poolside, which is set apart from the main house. Spectacular Cliffside ocean views can be seen from the expansive main living area with vaulted ceilings, along with the two master bedroom suites.
A private yard with tropical plantings and trees surround the oversized pool, which is accessible from both the main home and master suite guest quarters.
This villa has recently been updated with brand new windows installed throughout. A large chef's kitchen, office, covered garage, storage area, maid's quarters with bathroom, and an outdoor shower reflect the impeccably designed features of this luxury home.
Enjoy fresh ocean breezes and tranquility in this ultimate Caribbean dream home.
---
Carnaval Celebrations in the Dominican Republic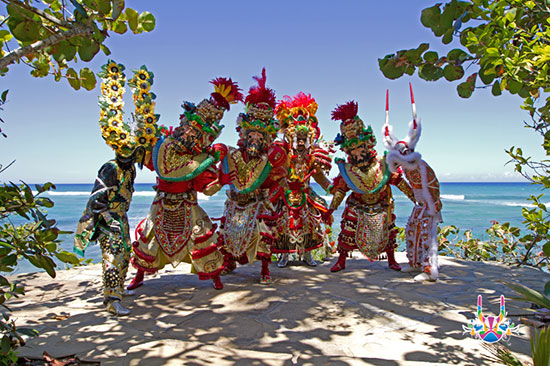 The history of Carnaval dates back to the 1500s, with eclectic influences from Spanish culture as well as other European and African countries. The lively parades have incredible dancing, art, and music and are not to be missed.
Carnaval in Cabarete will be held March 17, 2018, celebrating it's 4th Annual event. This is the most accessible venue for families and children get to experience Carnaval, and see the costumes up close. Come to enjoy this colorful and authentic celebration, honoring the county's local tradition and culture. Founded by local artisans, the Carnaval parade in Cabarete is a unique event that includes multiple locales such as a residential village, downtown Main Street and beachside restaurants and bars for a parade.
A time for joyous celebration and spectacle, the Dominican Republic is famous for world-renowned Carnaval festivities, with parades held throughout February and March in different cities throughout the country. Distinguished by its colorful costumes that symbolize religious and traditional characters, each town adds its own twist to the event.
---
Featured Property – Villa Zen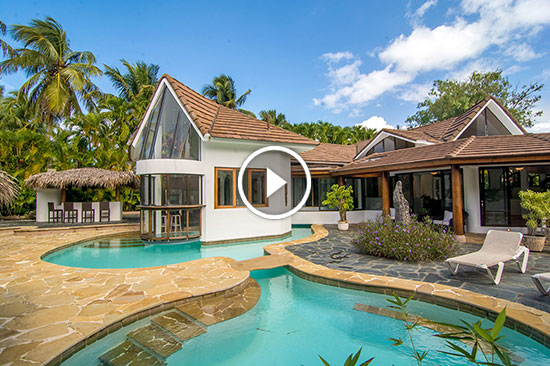 Villa Zen is a contemporary Caribbean villa, which has been remodeled and recently redecorated. This stylish vacation home at Sea Horse Ranch embodies the island lifestyle we all enjoy.
This four bedroom villa features a unique layout on ground floor level, with access to the pool and outside covered lounge as a key factor. The modern interior design is accentuated by a minimalist and serene palate, with contemporary furnishings throughout.
Villa Zen possesses distinctive design elements, such as a waterfall in the master bedroom that creates a relaxing indoor-outdoor experience. The swimming pool wraps around the kitchen and entertainment area and is visible through a clear floor in part of the kitchen, evoking an aquatic ambiance. The living and kitchen area enjoy abundant natural light through the large windows that overlook the pool and private tropical garden, and vaulted ceiling skylights. These are just some of the features that make this home so unique.
Villa Zen is a must see property – ideal for full-time island living and vacation rentals.
---
Whale Watching Season in the Dominican Republic
From mid-January through mid-March, the north coast of the Dominican Republic offers a unique opportunity to see whales in their natural habitat. The Dominican Republic is considered one of the Top 10 places in the world to observe Humpback Whales during their migration season.
Whales have often been spotted playing in the ocean in front of Sea Horse Ranch and The Beach Club this time of year. You must see for yourself the incredible spectacle of whales breaching near the shore as they travel eastward.
The ideal place to experience this incredible natural phenomenon of the most active species of whale in the Atlantic is on a whale watching tour in Samaná Bay. Samaná is located on the eastern tip of the north coast, which is a 3-hour drive from Sea Horse Ranch. Our concierge team is available to arrange a tour for our guests, contact us to learn more.