EONE: DEALS AND 2011 SLATE ANNOUNCED
PARAMOUNT'S GRIT AND HITS
2E SHOWS ITS HUMAN SIDE
ARROW DISTRIBUTION DEAL…
…AND ACADEMY LAUNCH

RED GOES MARCHING ON

OSCARS UNVEILED…
…AND ART EYE THROWS TRADE A BONE
MIRANDA GETS AWARDS BOOST
THE DARK SIDE OF G2 PICTURES
ROUTE TO MARKET
COUNTERFEITERS RAIDED, AND JAILED
EYEFRAME APPOINTMENT
SUNDANCE REPORTS
QUOTES OF THE WEEK
RELEASE OF THE WEEK – TAMARA DREWE
AT THE MOVIES

SITE OF THE WEEK
TWEET OF THE WEEK
TRAILERS OF THE WEEK
If you can't read this newsletter or see the ads, please click here
---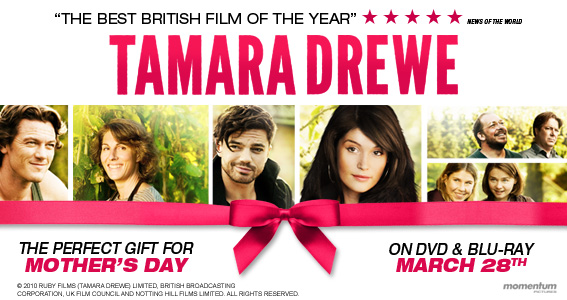 ---
It Was A Good Week For… Miranda, enjoying a boost from the Comedy Awards…

It Was A Bad Week For… Is it just us, or is anyone else getting awards fatigue syndrome already?

Two presentations this week and we'll run in chronological and alphabetical order, first with eOne, which gathered assorted retailers at its presentation at London's Charlotte Street Hotel. With its turnover hitting the £100 million mark (five times the figure it attained a mere four years ago), its market share almost doubling year on year and other impressive achievements over the past 12 months, eOne, now proudly calling itself the UK's biggest independent, is the little company that could. And now, with its slate for 2011 from Q2 onwards unveiled, as well as a couple of interesting distribution deals on the way, no wonder the company is knowingly using a line oft-stated at industry product presentations. As home entertainment director Jon Bourdillon said: "It's our strongest line-up ever and not a werewolf or vampire in sight. It's a strong, quality line-up from [the retailers'] favourite independent." That 2011 line-up (from April onwards) includes children's fare such as last year's biggest pre-school launch Ben And Holly's Little Kingdom and the current favourite Peppa Pig (two releases each in 2011) and more from the lovable Humf. Film-wise, Q2 kicks off with The Way Back, the epc Peter Weir-helmed title and goes on to gritty Peter Mullan-directed Scottish tale Neds (This Is Scotland, anyone?), Free Runner, the latest from Danny Dyer and Tamer Hussan – who've sold more than 2.7 million units across their previous outings, with never less than 10,000 units week one sales; Mickey Rourke starring actioner The Courier; The Man From Nowhere, billed as Korea's answer to Taken; dancing tale Beat The World; the third Rec title, a prequel called Genesis; Doug Liman real-life thriller Fair Game; Arrow title (see below) Captain Alatriste starring Viggo Mortensen; Arrow's In The Name Of The King 2 (as eOne's Sayoko Tietz said: "Dolph [Lundgren] and dragons, that's all you need to know."; the Renny Harlin-themed Father's Day release 5 Days Of War; (Stone Cold) Steve Austin starrer Hangar 14; horror sequel Hatchet II (another from Arrow, see below); family tale Gnomeo And Juliet and the comedy of Your Highness (trailer reposted below). And if that wasn't enough, there's also two prime slices of television fare, in swordplay epic Camelot and the excellent zombie series The Walking Dead.

To Paramount's space-age office park in Chiswick for a sneak preview of its 2011 line-up, one that is, as sales director Paul O'Hare noted, like having "three studios' worth of product" and could deliver an international box office revenue double that of even this year's impressive performance. The theatrical onslaught has begun already with Morning Glory and continues, in chronological order, with True Grit. (The Raygun and assorted retailers were treated to a sneak preview of the Coen Brothers' latest and it really is a belter, as we noted on our Twitter feed.) At the other end of the scale from the Coen Brothers' gritty grown-up Western is Never Say Never, the Justin Bieber pic and also released theatrically in February is the Natalie Portman and Ashton Kutcher saucy romcom No Strings Attached. Animation in 2011 comes in the form of one returning franchise, DreamWorks' Kung Fu Panda, as well as Paramount's own first foray into CGI territory, Rango. It has action aplenty with two Marvel franchises, Thor and Captain America, due to arrive, as well as the third instalment in the Transformers franchise, and the eagerly-awaited Cowboys Vs Aliens, before more from JJ Abrams, with Spielberg's involvement (Super 8) and Spielberg on his own (Tintin). The theatrical year ends with more DreamWorks Animation from Shrek spin-off Puss In Boots and Mission: Impossible 4. And that's just its feature film line-up; Paramount will also be bringing more of its television and children's programming to market in 2011, as well as catalogue activity such as its Movie Feast promotion. O'Hare said: "Our line-up is stellar and we're very proud of what we've got. We'll be working hard to maximise opportunities this year."

---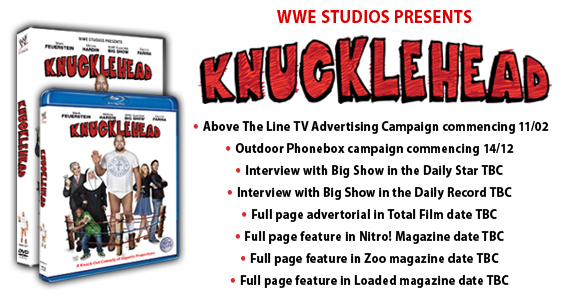 ---
One company with an extremely busy 2011 lined up is 2 entertain. It has some key titles that might normally be found in the final quarter due in the first part of the year. February 7 sees Upstairs Downstairs, the high profile new take on a classic series which averaged more than 8 million viewers on its transmission over Christmas, arrive. There's the latest series of Primeval on February 28. This airs on ITV and is backed by a number of different outfits, taking in ITV, Watch and 2 entertain parent BBC Worldwide, after viewers campaigned against its cancellation. And its primetime performance shows it is still a hugely commercial proposition. February 28 has both a new series of hero Bruce Parry travelling the Arctic and one that is currently earning plaudits during its run on BBC2, Episodes. The Matt Le Blanc starring programme is building its reputation during transmission (we at The Raygun are big fans of this transatlantic comedy). Into March and the first Monday of the month sees its latest high profile factual series, Human Planet, released. As noted, this is the kind of title that would normally appear in Q4. It will be backed by a TV advertising campaign and supporting press. Also on March 7 comes South Riding, more historical drama in the shape of South Riding. Further into the year come the Sky-aired Mad Dogs, Outcasts, now trailing on BBC and described as "Lost, in space" (not, Lost In Space, we hasten to add), vampire drama Being Human and a new series of the excellent Psychoville…

Back to eOne and the company made a major announcement this week, unveiling a major with Arrow Films that will see the company handling the distribution of first run titles for the ever-expanding Arrow Films slate. Arrow has recently beefed up its Arrow Films output after Tom Stewart joined to head up acquisitions, signing up a raft of titles. These will now be making their way to market via eOne, which will be looking after DVD and digital distribution from April. Titles covered under the deal will include the aforementioned Hatchet 2, Captain Alatriste and In The Name Of The King 2, as well as The Lost Future, with Sean Bean, Wallander and another Scandinavian TV import The Killing (see last week's newsletter, but also note that the weekend viewing figures for its BBC4 debut were above average for the station and close to Wallander levels). eOne's Jon Bourdillon said: "We are really excited to become the distribution partner for Arrow Films. They have a very exciting slate of film and TV releases for 2011 and they add real kudos to our already impressive 2011 line up." Arrow's Alex Agran added: "Entertainment One has a really impressive home entertainment team and a very professional sales force which makes them the perfect fit for our product as we move up to another level."

Staying with Arrow and as well as its more mainstream Arrow Films product going through eOne, it is still keeping its Arrow Video imprint through Lace, specialising in outstanding horror (we've eulogised about it before, here and on our website) and it is now planning to launch another offshoot, Arrow Academy. The aim is to deliver the same standard as attained by Arrow Video (packaging, additional material, bells and whistles) to the Arrow Films catalogue that it has with its Arrow Video label. Academy will release "upgraded" Blu-ray versions of Arrow titles such as Bicycle Thieves, Les Diaboliques and Rififi as well as new titles such as a never seen before cut of The Tin Drum. Each will come complete with documentaries, commentaries and essays. Arrow's Agran said: "The market is still very vibrant for high value, collectible and well presented product that appeals to connoisseurs who want to see these stunning films as they are meant to be seen. We love putting these packages together with the care and attention they deserve, we also love the feedback we get from the fans with whom we have a great relationship, we discuss with them they want in the sets and we deliver it to them. The focus on customer dialogue and provision is 100 per cent essential for our business."
---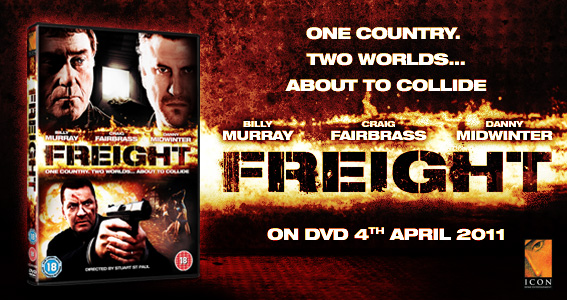 ---
This week on the website: we've had loads go up, as ever, for more, click through to www.theraygun.co.uk

Back to eOne again and a carefully timed press release lands in our inbox. It regards Red, its comic book adaptation which stars the likes of Bruce Willis and, in a rare action role, Helen Mirren, among others. Making sure it mentions the February 14 UK DVD and Blu-ray bow of the film, it goes on to say that US production company Summit is now moving on with its plans for a sequel to Red, hiring brothers Erich and Hon Hoeber, who penned the first film's script from the graphic novels, to write a second instalment. No word yet on the stars, but the announcement comes at the right time to maybe give a helping hand to eOne's release. Not that it necessarily needs it; eOne is already planning a major above the line campaign that includes TV, outdoor, digital and print elements. Some Red creator Warren Ellis, a big name among the comic book cognoscenti, is giving interviews with the likes of the Metro, while journalists from The Sun, Daily and Sunday Mirrors are having "an illustrated make-over" with a Red-style image featured during the week of release. eOne's Tom Jarvis said: "The home entertainment creative campaign is looking to utilize the amazing A-list cast and action sequences and with strong pre-order figures and a successful theatrical campaign we are confident this can be a big hit."

So, we're bang in the middle of the awards season now, and this week has seen a wealth of activity on both sides of the Atlantic. Of course, news was dominated by the Oscar nominations. Come on, you don't need us to list them all again, but obviously kudos to the unstoppable juggernaut that is The King's Speech, which heads the proceedings with a dozen nods, ahead of the likes of True Grit and The Social Network. The King's Speech, of course, is continuing to dominate at UK cinemas too (see more, below). No release date officially unveiled for the home entertainment release yet from Momentum, but one title worth keeping an eye on is Winter's Bone from Artificial Eye. Already lauded by critics and appearing in assorted year-end polls, its nominations this week will be followed by the film's DVD and Blu-ray bow on Monday. As Curzon Artificial Eye ceo Philip Knatchbull stated: " With the DVD and Blu-ray release on Monday, it's hugely exciting that the best American independent film of last year has been recognized with Oscar nominations in four major categories, including Best Film and Best Actress. Having grossed more than £700,000 at the box office, the film was already shaping up as one of Artificial Eye's biggest releases of the year but the massive awareness generated by the Oscars is a fantastic opportunity for this first class thriller to really break out." PR will include interviews with Actress nominee Jennifer Lawrence and there's be cross-promotional activity with publishers of Daniel Woodrell's novel, Hodder and Stoughton. Artificial Eye's Paul Diment added: "In the light of the Oscar nominations, we are ramping up the scale of our marketing campaign which already includes major national press ads running now and throughout the week of release."

Over in the UK, two major ceremonies were held, the National Television Awards and the Comedy Awards. 4DVD was celebrating at the latter, after its titles and talent featured heavily among the winners. Miranda Hart was considered the big winner scooping three awards – Best TV Comedy, Best TV Comedy Actress and the People's Choice Award for Queen of Comedy 2010. Jesse Armstrong and Sam Bain (writers of Peep Show) won the Writers Guild Award and The Inbetweeners won Best Sitcom. 4DVD's Karla Berry said "The Comedy Awards is watched by a far wider audience than just hardcore comedy fans so we often see a nice uplift in sales for any of the winners. Both The Inbetweeners and Miranda reentered the top 200 charts and Miranda sales are up between 45 and 55 per cent week on week so far this week."

---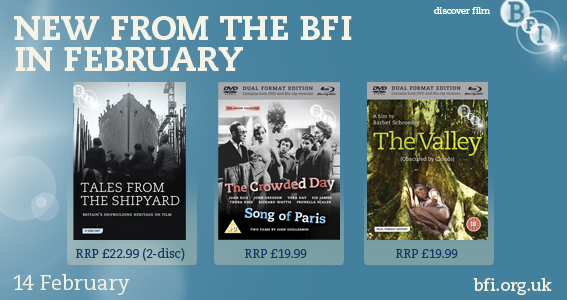 ---
The burgeoning G2 Pictures label has inked a major deal this week, announcing a tie-in that will see it bringing a US horror festival to these shores, as well as releasing titles from the event on DVD. The After Dark Originals concept follows the US format and will see seven branded horror films playing at Empire cinemas across the UK over the first weekend in March. Those seven films will then be released at regular intervals on DVD and Blu-ray throughout the year, culminating in a major box set release in the autumn. G2 Pictures struck out on its own this year, with Koch handling the distribution, after releasing titles through Momentum for its first two years in existence, and, along with its Joel Silver-branded action deal, this sees it now having two strands of strong fare due to arrive, with more than a dozen titles slated for 2011 just from these two deals. They will receive strong above the line support. G2's Alan Partington said: "These are major label, studio-type films. Most of what we put out is genre-led and After Dark Original fit in with what we want to do."

We've already mentioned Artificial Eye, and here's something else from the company, which has just announced a multi-platform release strategy for the next Ken Loach film, Route Irish. The thriller will be released simultaneously on March 18 at around 20 different cinemas, as well Sky Movies Box Office (the fourth similar collaboration between the two) and, in a new move, both FilmFlex and Artificial Eye sister company Curzon's new On Demand service. Curzon Artificial Eye's Philip Knatchbull said: "This is the fourth film we have co-released with BSkyB where 'Public' and 'Home' Cinema become synonymous. The inclusion this time of both Curzon On demand and FilmFlex give added impetus in establishing this new release pattern for future films". One of the cinemas it will almost certainly play at is the new Curzon Millbank, due to open at the end of February. We reckon it'll be great to see Loach's politically-charged material playing so close to the Houses of Parliament…

It's been a busy week for the Federation Against Copyright Theft. Last week the organisation helped secure two jail sentences against bootleggers in Northern Ireland and, for the first time, secured Serious Crime Prevention Orders against the offenders. The two men, Stephen McCully and James McComish were imprisoned for 20 and 30 months respectively after raids on addresses in and around Belfast. Their operation, including a factory, was thought to be generating around 500 fake DVDs a day. And this Wednesday, FACT and Met Police officers raided a DVD counterfeiting factory in south east London and seized a haul of some 50,000 bootleg films, with a street value of more than £120,000, and 30 DVD burners. Three men were arrested.
---
---
---
This week saw Ian Robinson rejoining Eyeframe as head of production, overseeing the DVD and Blu-ray production teams at the Soho-based company. He returns to Eyeframe after a brief stint at Ascent. Welcoming him back, director of sales and marketing James Greenwall said: "Ian has always been a very well respected DVD/Blu-ray producer for the home entertainment industry." Among other projects, Eyeframe is currently working on The King's Speech and The Hole 3D.

Quick release date change, and Ajami, the Middle East gangster tale due from Momentum, will now be released on February 14 rather than its original date of January 31.

To Sundance (well, we didn't actually go, but you know what we mean) and it was fascinating to see Kevin Smith toying with the industry over his forthcoming Red State (see previous editions of The Raygun). He promised to auction the film after its first screening at the event. Which he did. Well, kind of. Holding up a $20 bill he announced he'd be self-distributing the title in the US at theatrical, aiming for a new distribution model. The theatrical release later in the year will be preceded by a "tour" of US cinemas, playing for one night only at premium prices, all aimed at recouping the $4 million cost. There'll be no marketing for the film, aside from social media and similar elements. No word yet on home entertainment or international rights, but we do hear that one or two key buyers were less than happy at wasting a good few hours thinking they were heading for an auction that never was… Read Smith's Twitter essay over here.

Some actual real deal news from Sundance, where Anchor Bay has been busy announcing some new acquisitions. It has picked up UK (and other) rights to Tanner Hall, the coming of age tale that stars Rooney Mara, who is on her way to becoming a fully-fledged superstar thanks to her role in The Social Network and impending appearance as "the girl" in the US remakes of the Stieg Larsson trilogy. And in another newly-announced deal, it has also acquired similar rights for big budget actioner The Big Bang, starring, among others, Antonio Banderas.
---
QUOTE[S] OF THE WEEK
"Stay tuned." Amazon svp and cfo Thomas Szkutak telling analysts to wait and see what the retailer's plans were for Europe now it had acquired LOVEFiLM International in Europe.
"I think we're just going to have to take a couple quarters and see what they plan to do with it. And in the meantime, it doesn't directly affect our plan. There's vigorous competition in all these markets. So we're full speed ahead on our plans." Netflix ceo Reed Hastings on the same move. Netflix is said to be on its way to Europe…
RELEASE OF THE WEEK
It may be enjoying a huge success with The King's Speech (see below), but Momentum is not taking its eye off the ball with some of its forthcoming release. One of the next up on the busy 2011 slate from the company is Tamara Drewe, a far more contemporary British tale, likened on its theatrical release to some far saucier take on The Archers. Its chances already boosted by a BAFTA Rising Star nomination for lead Gemma Arterton, its release is being timed around Mother's Day. As Momentum's Kristin Ryan said: "
Steven Frears' Tamara Drewe is a fantastically fun and funny slice of the good life and is perfectly timed for a Mother's Day gifting. We'll be targeting our gifters with our TV, press and online advertising campaign as well as some key Mother's Day promotions."
AT THE MOVIES
Quality reigned at the UK box office, with The King's Speech continuing its phenomenal run, topping the charts again and now amassing more than £18 million at UK cinemas. Black Swan made an impressive opening just below it, with around £2.7 million in its opening weekend. Other new entries included The Dilemma (£1.1 million), Morning Glory (£524,356) and Neds (£283,210).
Make a date in the diary now… for Christmas 2014 – almost four years away – and around the same time the following year. For that's when Fox will be releasing Avatar 2 and 4, announced this week. James Cameron revealed the dates at the Producers Guild Awards and confirmed that "a chunk of the profits" will go to environmental causes. He didn't reveal much more about the plot, but did say this much: "Basically, if you survived the first film, you get to be in the second film, at least in some form."

Not quite film news, but it's got us excited anyway, as Shane Meadows has this week confirmed that he will be revisiting his ensemble piece This Is England again this year, with the latest tale, a feature length, one-off Christmas special This Is England 88, due to air later this year. The original film (Optimum) and 2010 TV series This Is England 86 have both sold well and been critically lauded. He confirmed the new production as he picked up a deserved Best Drama gong at the South Bank Sky Arts Awards. As we'd previously noted in the newsletter, Meadows has long stated that he wants to take his cast through to the golden years or acid house and other shenanigans. The 88 programme will be followed by another Channel 4 series, This Is England 90. At the same ceremony, incidentally, Rev picked up Best Comedy and Monsters was Best Film…

Another TV-related post here, as it appears as if one of the helmers behind Misfits, Tom Green, is set to make a film that revolves around the Stone Roses' seminal gig at Spoke Island. The film will follow an unknown band on their way to and from the event. The Raygun is reaching for its flares as we speak…

TWEET OF THE WEEK
When we finished wading through Kevin Smith's pronouncements on his Red State (see above), we enjoyed following Total Film's coverage of Sundance ( http://twitter.com/#!/totalfilm) and spent Saturday night tracking one industry insider ( http://twitter.com/#!/pompeyrod – guess who that is) at the comedy awards. Nearly as good as being there…

SITE OF THE WEEK
Thanks to Aim Publicity for spotting this one. It's just a bit of fun for the end of the week, as kids perform some of this year's Oscar nominations.

TRAILERS
We've covered it above, but here's the trailer for Ken Loach's new film (apologies for the Adele advert)…
http://www.guardian.co.uk/film/video/2011/jan/27/ken-loach-route-irish-trailer-video?CMP=twt_gu

Post-post-modern horror irony alert:
http://trailers.apple.com/trailers/weinstein/scream4/

Genuinely creepy trailer:
http://trailers.apple.com/trailers/independent/bereavement/
To subscribe to The Raygun newsletter, please email

info@theraygun.co.uk
with subscribe in the subject matter
To unsubscribe, email

info@theraygun.co.uk

with unsubscribe in the subject
For editorial or advertising queries, contact

tim@theraygun.co.uk