Free Army Sgt. Travis Bishop!
Iraq war vet Sgt. Travis Bishop will be court martialed this Friday, August 14 at Fort Hood, Texas for refusing to deploy to Afghanistan. Please donate to Travis' defense!
($800 of $2,000 has been raised so far.)

Afghanistan: 10 reasons to resist
Courage to Resist outlines why we oppose the occupation of Afghanistan, and why we support the troops who refuse to fight in Afghanistan. Feel free to plagiarize!

GI Resistance under the radar
An interview with two former soldiers who describe how they helped prevent their unit from deploying to a war zone. By Courage to Resist's Sarah Lazare for Truthout.
Victor Agosto gets 30 days for refusing
Spc. Victor Agosto—a member of Sgt. Travis Bishop's unit—was sentenced last week to only 30 days in jail for refusing to deploy to Afghanistan! Thanks to 52 supporters, we raised $2,234 for Victor's very successful defense!
Write Victor for the next three weeks at: Victor Agosto - B1C | Bell Co. Law Enforcement Center | 113 W Central | Belton, Tx 76513
Also: US war resisters Kimberly Rivera and Rodney Watson both won their most recent appearances in Canadian federal courts! These victories postpone their removal orders for the time being.
---
Ft. Hood soldier says no to Afghanistan occupation
Sgt. Travis Bishop is scheduled to be court martialed at Ft. Hood, TX on Friday, August 14 beginning at 9:00 am. Supporters are encouraged to attend the trial—contact Under the Hood Cafe for more information.
Please donate to Travis' defense!
As of today, approximately $800 has been raised via nationwide house parties. We need to raise another $1,200 for Travis' defense.
Read "Travis' story part 2" on Ft. Hood's Soldier Voice blog. Travis talks about his Conscientious Objector interview with the chaplain.
---
Afghanistan: Ten reasons to resist
By Courage to Resist. August 5, 2009
1- Like Iraq, it is also illegal
According to international law experts, the invasion and ongoing occupation of Afghanistan is as illegal as the US presence in Iraq. The United Nations Charter mandates that military force against another country is only justified when used in self-defense or authorized by the UN Security Council. Following the September 11, 2001 attacks, President George W Bush sought an authorization from the UN Security Council to use military force in Afghanistan. The UN resolutions that were passed in response—resolutions 1368 and 1373—never actually authorized military force, but rather, authorized the criminalization and prevention of terrorist activities. Contrary to popular perception, the Bush Administration unfolded an open-ended military operation in Afghanistan with no legal justification for doing so. The administration of Barack Obama is building on this flawed foundation in its continuance and escalation of the war.
"The invasion of Afghanistan was not legitimate self-defense under article 51 of the UN charter because the attacks on September 11, 2001 were criminal attacks, not "armed attacks" by another country. Afghanistan did not attack the United States. In fact, 15 of the 19 hijackers came from Saudi Arabia."
—Marjorie Cohn, president of the National Lawyers Guild
2- No military solution to terrorism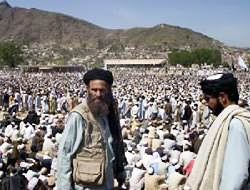 There can be no military solution to terrorism. This is because "terrorism" is a tactic that is not tied to any specific place. By pursuing the ever-elusive "terrorist" enemy, the US has waged an open-ended war of attrition in Afghanistan. This occupation breeds the discontent that gives rise to "terrorism" in the first place and has had the effect of bringing forward local opposition to the occupation.
If the US and its NATO allies are truly serious about diminishing the threat of terrorism and helping the people of Afghanistan build a better society, there must be commitment to building infrastructure, not destroying it. The life expectancy in Afghanistan is 43 years. If the billions spent on death and destruction were spent on building medical clinics, schools, community centers, and supporting small businesses and farmers, the quality of life in Afghanistan could improve tremendously in a short amount of time. The Taliban forces and warlords—seen by many Afghanis as a "last resort"—would lose much of their support.
"The solution is political, not military. And it lies in the region, not in Washington or Brussels." —Tariq Ali, author
3 - Funds used for war are needed at home
President Obama has inherited a major global financial crisis—the worst since World War II. The unemployment rate is the highest since the government started keeping track in 1976. Tens of millions of workers live in daily dread of being the next to be laid off. Two and half million homes are projected to be foreclosed on in 2009 alone.
The US government is wasting billions of dollars on open-ended wars overseas instead of tending to problems in our own backyard. To date, the Congress has allocated $915 billion toward the wars in Iraq ($687 billion) and Afghanistan ($228 billion).
That amount does not include, among other things, the cost of borrowing the money to pay for the war, lost productivity, higher oil prices and the cost of health care for veterans. Include those related expenses, and the total cost through 2009 for Afghanistan alone is $864 billion. For both occupation wars, its $2.17 trillion!
On our current course, we will end up spending $3.4 trillion within a few years—at a cost of over $11,000 for each person living in the US!
It is past time that we put those resources towards solving our growing problems here at home, including housing, healthcare, education, and food scarcity. War spending will not lift the U.S. out of the current economic stagnation.
Read our other seven reasons here...
---
By Sarah Lazare, Courage to Resist for Truthout. August 3, 2009
An interview with two former soldiers who describe how they helped prevent their unit from deploying to a war zone.
What do you do if you are a soldier being asked to fight a war you do not believe in?
For two former soldiers whose unit was ordered to deploy to Iraq in April 2005, the answer came in the form of work slowdowns, letter-writing campaigns, and one-on-one organizing with fellow soldiers. The result: they helped prevent their unit from deploying to a war zone.
In this interview, Skippy and Robert, who did not give their full names for fear of military retaliation, share their stories, telling how they convinced several in their unit to deliberately fail physical training, called public attention to the insufficient training and gear they were being asked to fight with, and found creative ways to encourage soldiers to "drop the military before the military drops you." They tell how they dealt with the fear and intimidation of standing up to their command, and about friends and comrades who fell victim to "broken Joe" syndrome.
These stories give a glimpse into the world of GI resistance - the oft-hidden side of the ongoing wars in Iraq and Afghanistan. While the military is not forthcoming with information about the number of troops refusing to fight in Iraq and Afghanistan, statistics suggest military resistance overall is on the rise. Since 2002, the Army has court-martialed twice as many soldiers for desertion and other unauthorized absences per year than for each year between 1997 and 2001. AWOL rates in the Army are at their highest since 1980, with the desertion rate having jumped 80 percent since the start of the Iraq War, according to The Associated Press.
Skippy and Robert's experience shows that while some GI resisters go public, much resistance happens silently, under the radar, in circles of trusted friends, in the small acts that fly in the face of military obedience and command. Their stories serve as a reminder that there are multiple ways to resist military control, and despite military efforts to quash dissent, these varied forms of resistance are as ongoing as the wars themselves.
---