April Miller filed for divorce
a few days after Rep. Doug Miller was arrested and charged on May 9th. Mrs. Miller is said to be a very religious woman who works as a lobbyist at the Capitol and as a real estate agent.
APOE of course promotes an anti bullying program as part of their spiel so it is going to be interesting to see who they fire over the alleged spousal abuse, the former legislator or the innocent wife? Proof once again that political wives should be investigated as part of politics because to often they are the recipient of cushy, little work jobs or even flat out ghost worker jobs as a bribe to their elected spouses.
But Rep. Doug Miller is a side show to what is being said as the biggest prisoner exchange in recent memory between Cleveland County D.A. Greg Mashburn and Oklahoma Count D.A. David Prater. Former GOP Chairman Chad Alexander is said to be the prisoner that Prater is using as a bargaining chip.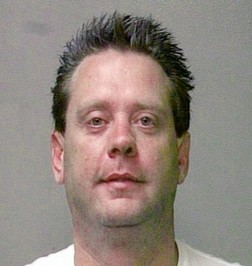 Alexander checked himself into a Texas drug rehabilitation center and took a leave of absence from his lobbyist duties.
In a statement to the press Chad Alexander claimed that his drug use had started only a few months before but Alexander was long rumored to be a prolific alcoholic and allegations of drug involvement had swirled around the man. Other rumors claim that Alexander started tapping his own product heavily after his brother died several years ago, allegedly with drugs involved. Another rumor puts Alexander's best friend dying in a Texas car accident that had a drug involvement as well.
Alexander currently lobbies for the Boys & Girls Clubs of America, Market Wholesale, Glazer's, Oklahoma Home & Community Healthcare Advisory Council, Oklahoma Roofing and Sheet Metal, Primary Vision Care Services, Republic Beverage Company and the University of Oklahoma.
So basically Oklahoma County D.A. David Prater has his hands on a rumored drug mule for State Chamber types and Republican legislators. If you don't think there is some astounding pressure being brought to bear to cut a deal before Alexander spills the beans then I have some ocean front property in Cleveland County I'd like to show you. Rumors are floating out of the District Attorney Council that Prater and Mashburn are working on a quid pro quo deal to trade misdemeanor charges or even dismissed charges for the Alexander and Hobson felonies. The fact that Alexander ran the Greg Mashburn District Attorney campaign is icing on the cake for Prater and all the more pressure on Mashburn to cut a deal.
We will follow these stories closely and report back on any sweetheart plea deals made.
State Senator Harry Coates has been busy the last few weeks with the end of the legislative session and the end of his career as a state senator coming to a close. But he found time to drive down to Texas to celebrate and showed what a shining example of Oklahoma Senate values he carries by getting arrested for drunk driving.
The police in Howe Texas, just over the Texas border arrested Senator Coates around 10:55 pm on Thursday night, meaning old Horny Coates must have been hitting the bottle all the way down from Oklahoma City since the legislature was in session that afternoon. The drunken disgrace was booked into the Grayson County Jail at 12:30 am on Friday and released at 4 am on $1,500.700 bail.
Everyone remembers Senator Horny Coates knocking up a lobbyist in 2010 and the subsequent veto of the legislation that the woman had "lobbied" Coates to push through the legislature. Senator Coates's wife wisely divorced his sorry ass and Coates married the tramp that he knocked up. The Oklahoman newspaper refused to run the story until after the General Election in November of 2010 despite knowing and admitting that they knew of the illicit affair in August of 2010.
A citizen of Howe noticed Senator Coates driving erratically and called the police. Arresting officers said Coates displayed signs of intoxication, had trouble maintaining his balance, and couldn't complete a field sobriety test. Coates consented to a blood test and was promptly arrested.
Sadly Senator Harry Coates is a typical Oklahoma State Senator. Without morals or values, unless you count bad morals, completely controlled by money from the State Chamber of Commerce, and protected by the Oklahoman whenever possible. Once you get to know these men and women you expect just about anything from them but they are well protected by campaign bribes and a powerful newspaper that is more than willing to look the other way if they have a chance. Senator Coates earned a measly 10 out of 100 points on the 2013 RINO Index, getting only one vote right, SB 76 which would have raised filing fees for public office.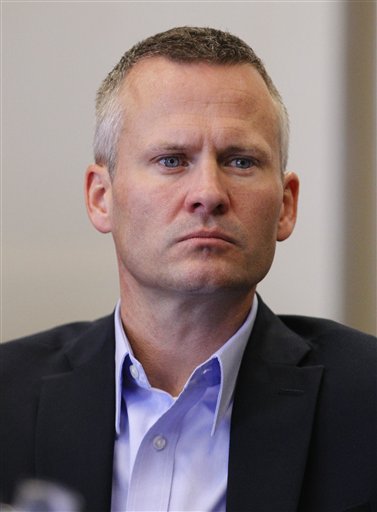 Who Put That D&%$# Photograph on my Desk?
Colby Schwartz had a Bad Day
Ah yes, the last day of a legislative session and the last day of a political career. Time to bring the wife and kids up to the Capitol, or some of the kids anyway, and cap off a spotless political career.
Or not…. Poor Representative Colby Schwartz was greeted on Friday morning with a nice picture of his former girlfriend of ten years, the same woman that we have been interviewing for several months. The RINO Republican legislator was said to have been "livid" with rage, with eyes darting around the House Chamber trying to perceive who had planted the picture of the woman that he found on AdultFriendFinder.com, his buddy of many of a three way sexual encounter, fueled with alcohol, illicit prescription drugs, and weed.
Reports said that Schwartz was freaking out with worry that his wife would hear of his secret life and somehow find the photograph. Later that day sources claimed that the picture was emailed to a who's who list of Oklahoma politicians and business leaders.
And the source of the picture of the Schwartz bumping uglies buddy? We aren't saying. What we will say is that chickens came home to roost and perhaps Oklahoma politicians might well learn to keep their zipper up, get high on life instead of illicit substances, and to vote to represent their people in their district instead of serving as a State Chamber whore.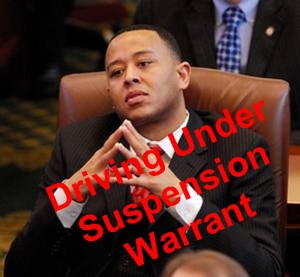 Where Will His Allegiance Lie?
Former Speaker of the House Shannon is still running around advertising about his support from the Tea Party organizations. We would beg to differ from that statement. In fact
the only statement we can find regarding the Tea Party is this
. We would like to know how Rep. Shannon can continue to have grass roots Tea Party support in this state when all the major Tea Party and other Grass Roots groups have failed to endorse his campaign?
There has been another disturbing trend that we have noticed. It would seem that a lot of complaints are being filed against Rep. Shannon for being a no show at scheduled events. You can get
more information about it here
. We must ask Shannon; are you afraid of the competition? It sure seems like you don't like or can't win a fair debate on the issues that matter to Oklahomans.
Rep. Shannon hasn't had everything go his way . As seen in
this report
there are stirring and questions about his racial loyalties being aimed at his Native American branch of his family tree and not his African American branch. Although loyalty to one's race is important, it should be remembered by Rep. Shannon that should he be elected to the Senate, he will be elected to represent all races of Oklahomans equally.
We did come across a very interesting article recently dealing with campaign financing. It appears by
this article
.
That the same group that initially filed as a for profit campaign group. Then hired a Campaign Finance Attorney from Washington, D.C. and refiled as a not for profit group in support of Rep. Shannon is a front group for a Democratic organization that is pro-tax and anti-oil and gas.
We also found
this disturbing report
. This report briefly mentions the flack that Rep. Shannon is getting from the Tea Party Groups here in the state. Again we remind you that we have been unable to find a group that does support him. This report also mentions allegations by Representative Mike Reynolds (R-OKC) of an arrest warrant, campaign fund raising violations and questionable financial dealings.
Then we found this
Shannon For Senate
. This is a web site maintained by allegedly Representative Mike Reynolds. Here we find that Shannon went to law school but did not stand or pass the bar exam. That raises questions in itself. It also calls into question the amount of time that Rep. Shannon has spent debating the issues. It indicates that during the first 6 years in the House, he spent 4 minutes in actual debate and an additional 11 minutes answering questions. For a man that wants to be the junior senator from Oklahoma, that's not much experience.
In fairness we did feel we needed to investigate the allegation of an arrest warrant having been issued on Rep. Shannon. We could only find two entries on the Oklahoma Court Records System. The first was his marriage license. Now we do know some people out there call that an arrest warrant, but it's not. The second was this
OCIS Case Summary for TR-2002-27875- State of Oklahoma v. SHANNON, TAHROHON W (Oklahoma County District Courts)
. This is a simple traffic ticket for which he pleaded no contest and paid the fine. However the DemOkie website had a good story complete with the details of a nine year old arrest warrant against TW Shannon that Shannon finally dealt with in December of 2012, right before taking the Speaker's position. The warrant came from a March 11
th
2003 traffic ticket for driving under suspension. Grady County officials appeared to have had a hard time finding Shannon despite all the press he received following his election as Speaker designate in 2011. Shannon had been ticketed for going 8 mph in a 65 mph zone and claimed he had forgotten that he owed the ticket.
This is additional proof that Rep. Shannon is not fit to represent the citizens of the State of Oklahoma in the Nation's Capital. Not only is his loyalty as a Conservative Republican called into question by the funding of the group of Democrats, but his ability to separate his loyalty to the citizens of Oklahoma from racial undertones has been called into question. He's unreliable and undependable. He is not what Oklahoma needs to represent a strong Conservative voice to the rest of the world.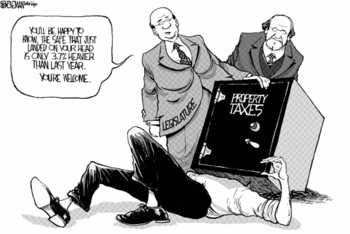 Creek County Assessor Race Heads Up
People wonder what happened to the Democratic Party as they don't put up much of a fight and a clue to where the Democrats went is shown in the Creek County Assessor race. Incumbent JaNell Enlow was a Democrat up until she decided to run for office in 2010 when she refilled as a Republican. But she didn't leave her big spending ways behind when she switched parties as evidenced by her hiring an out of state firm to come in to evaluate the oil and gas properties in Creek County at an annual cost of a quarter of a million dollars.
Of course Senate President Pro Tem Brian Bingman is from Creek County, still living there, and has oil and gas assets there, so most likely he got a special deal on his tax evaluations or was involved in the hiring of the out of state assessment company. Rumors abound including cheaper tax rates and lower assessments for friends and allies and a general sense that the woman abuses the power of her office.
But a conservative Republican has stepped up to challenge the RINO, Brandy Wilshire Valenzuela filed for office last month and is actively campaigning. Brandy and her kids are frequent volunteers at Tulsa area campaign headquarters and have wrapped more than their share of Oklahoma Guardian newspapers in the past.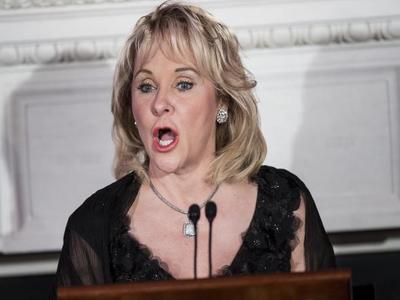 Not Raising Taxes Governor Fallin?
By Ms PM
Overlooking the fact that far too many schools don't have storm shelters here in Oklahoma and the fact that once again we are into tornado season and the fact that last year kids died in the May tornado it brings us to this latest
"don't let a good crisis go to waste" article.
It now takes two votes on the same bill to somewhat figure out what the Land of Oz should be doing. We wonder if they are ever sure and this is a pretty good example of they know not what they're doing. And did they get it right the second time around?
"Critics of the bill said House Joint Resolution 1092 would have raised taxes. It does not," says our forked tongue Governor, Mary Fallin. With this statement we'll fast forward as to whether or not taxes will be raised. We guess that allowing the local communities to increase their "bonding indebtedness" only puts those communities, if they vote to do that, on the hook for a tax hike. Any time Fallin can get someone else to swallow the bait she's off the hook.
The next spin comes from her issuing an "angry news release blaming the initial defeat of the measure on a politically motivated and intentionally misleading smear campaign." She lobbied the House members to get them to change their mind. Could it be said that the Governor should be brought up on blackmail charges for trying to make the House change their mind, which they did? Oh, silly me, those charges are only brought against citizens when they try to make politicians pass bills.
We then have the author of the bill, Jon Echols, R-OKC saying "What we're saying is we don't care…You have an opportunity to send a message that we do care." And we ask why it's taken so long to fix this problem? The definition of care is; close attention, protection, to look after, provide, to feel concern about or interest in. When politicians say they care and leave an important issue unaddressed for the duration of all the years Oklahoma has had tornados, it's easy to see that it took 50 people getting killed, seven of which were kids, before they ever got off their butts and attempted to fix the problem. We call it LOUSY leadership.
We then have Rep. Rebecca Hamilton, D-OKC say "A tornado didn't kill them; we did." Now that she's admitted guilt let's bring on the lawsuits against her for wrongful death.
"The proposed constitutional amendment would create a five-year window during which school district voters could approve bonded indebtedness in excess of 10 percent of the district's net assessed valuation. Each district would be allowed to exceed the limit only once during that time period." The bonds for these school districts would not only be for building tornado shelters but…
for other public safety improvements.
These other improvements, what are they? Who decides what the priority is? We smell another dead fish; anytime taxpayer money is spent the miscreants turn it into a free-for-all. Who knows, maybe the crystal ball is wrong this time. The Bank of Oklahoma Taxpayer is going to lend money to a city above and beyond what they can afford. Is this smart Oklahoma? The thought of trimming the fat in an overly bloated state government to pay for something needed is typical of sticky fingers with a golden opportunity to spend more of what you don't have.
The plan is to convince the brain dead that a crisis looms in the eye of the storm. By turning the table of mismanagement onto the backs of taxpayers they accept the responsibility to fix this age old problem.
So here we have it…ta da…"The proposal, if approved through a statewide vote, would let voters within each school district decide whether they want to increase their
property taxes
to build storm shelters." How better to get the money, let everyone vote to stick it to some to pay for all. It's the New American Socialized way of life. Unfortunately, these tactics regarding the immoral funding of "see what we did to fix your problem" will in the long run do far more damage to Oklahoma than any tornado ripping through our state. Is anyone tired of Mary's ding bat patrol?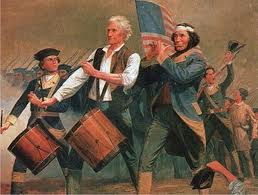 Konawa Tea Party Meeting Next Week
The Konawa Tea Party meets again on Tuesday May 27th in Konawa. I've said this countless times but this little group is a great example of how a Tea Party should be. They are unabashedly Christian but they make everyone feel welcome, aren't afraid to call a spade a spade or take a stand if needed, and they do a darned good job keeping the local politicians watching over their shoulders.
(4th) Tuesday May 27, 2014 7:00 - 9:00 PM
Kennedy Library- The Dougan Room
Konawa School 701 W. South St.
2013 Senate members and House Members
Please copy the block of emails for your contact list so you are able to email all of them and help to inform and educate them before the new sessions begin. Use Bcc to send dozens of email with one email from you to them. This will look like you send each one of them a personal email with only their email showing as the recipient. Please mention the Sooner TeaParty in your emails so they will have a healthy respest for what we do.
Want to reach all 101 House members with two email addresses? Just use these email addresses in the Bcc address line and all 101 of them will get a copy
Here are the updated individual House members email addresses in three blocks of Thirty- four each and updated senate emal addresses in one block
.
Rem
ember to strip the unsubscribe link before forwarding this newsletter to prevent someone from taking you off our list! Use our forward this email link at the top of the newsletter to prevent being accidently unsubscribed.
Money is always needed for printing costs, postage, sign materials, and robo call costs. We are tightfisted; we will spend your hard earned money wisely and frugally as we do our very best to clean up Oklahoma politicians so we can begin to clean up our country.
You can donate by sending a check to Sooner Tea party, 358 North Rockwell Ave, Oklahoma City, OK, 73127 or visit Soonerteaparty.org and use the Paypal donation button.