SEPTEMBER 7, 2017

SATELLIETGROEP
MAKING WAVES @ AFSLUITDIJK
DESTINATION HIGHWAY AFSLUITDAM

- a straight line with a slight curve -
WELCOME TO 'DESTINATION HIGHWAY AFSLUITDAM'
For 'Making Waves' Artists Collective Satellietgroep sourced the man-made Afsluitdijk as innovative milestone of geological time, landmark for climate change and migration highway.
With special thanks to Ministry of Infrastructure and Environment.
Join the
PHOTO BOOTH 'MAKE-TAKE
'
for your Eye-to-Eye with the craftsmen who build the Afsluitdijk.
'Dijkwerkers' (Hildo Krop, 1934), with special thanks to the private collector.
Photograpy by Hugo Schuitemaker.
Explore the DAMBAR for your DIY 'Destination Highway Afsluitdam' SOUVENIR/RELICT of relocated raw materials & species.
Courtesy Van Herik (Engeneering the future of water) and our local guides Jacob Holkema (Informatiecentrum Afsluitdijk), Hinko Talsma & Bas Kers (Floron), Marco Lont (till), Zuiderzeemuseum.
Video by Flora Reznik.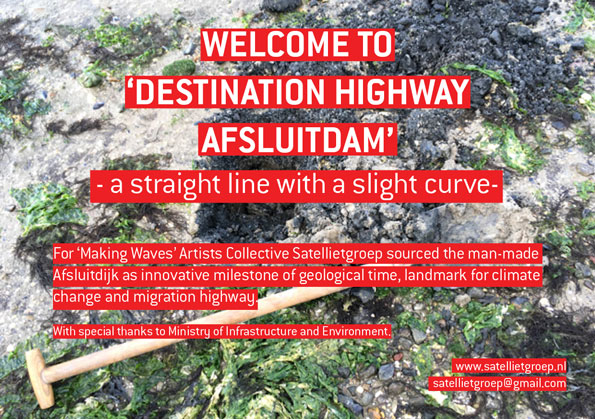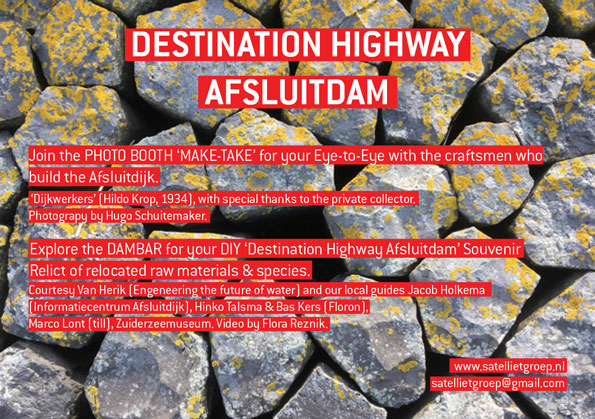 MAKING WAVES
More about Making Waves, the innovation program with keynotes by Kofi Annan, Melanie Schultz van Haegen and Tom Middendorp:

https://makingwavesnl.nl/
https://www.youtube.com/watch?v=LPZN7_xXaKU
@makingwavesnl
#makingwaves.nl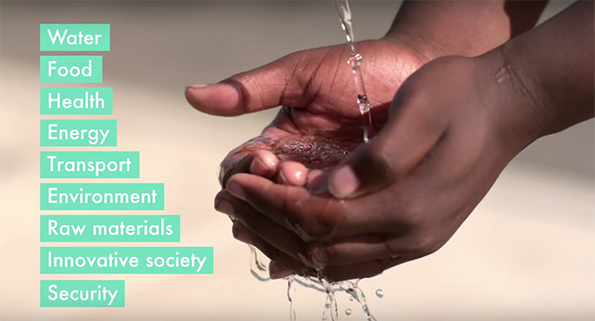 You can also contribute to the activities of Satellietgroep! Spread the word or invite us for a presentation, research, collaboration or exchange project. Satellietgroep works also on commissions. Feel free to contact us at satellietgroep@gmail.com or browse our website
www.satellietgroep.nl
for ideas. 
DCR GUESTSTUDIOS
Satellietgroep programs 3 DCR Gueststudios at DCR, the cultural incubator in The Hague that also houses 35 permanent studios for artists and designers, including the studio of Satellietgroep, Zaal 3 - laboratory for performing arts of Theater aan het Spui, sound studio Loos, Cloud Danslab and exhibition space Nest.
Contact our coordinator Lotte Bosman at dcrgueststudios@gmail.com if you are interested in a short or long term cultural visit in The Hague. More at www.gueststudio.com | www.dedcr.nl

Looking forward to meet you!
Jacqueline Heerema,
Francois Lombarts & Lotte Bosman.
Artists collective Satellietgroep (The Hague, 2006) explores the sea, coastal transitions, climate change, the perceptions of culture - nature and the role of mankind in these processes, in The Netherlands and abroad.

Our aim is to enhance public and professional awareness. Satellietgroep hosts artists in residents, designers and students for artistic fieldwork, collaborate with locals and scientists to reveal different perspectives that reflect the resilience of coexistence of mankind with the environment, in past, present and future.
Long term projects are 'Badgast' - artist in residency program at The Hague/Scheveningen (2009-2014), 'Now Wakes The Sea', the international exchange residency program in collaboration with international cultural partners (since 2012). Since 2014 Satellietgroep develops the artistic research program on the Zandmotor, the experimental innovation to generate new knowledge for coastal protection called Building with Nature.
The artist-in-residency and public programs function as an alternative source for visual storytelling and collecting. New concepts and works are developed that we connect and present during public events and at expert conferences. By interconnecting coastal communities, arts and science we share local knowledge on global level to gain sustainable insights on coastal transitions that transcend local and national issues.