We would like to draw your attention to the meeting place, where businesses exchange ideas, where real solutions are presented – the International event Save the Planet (Waste Management & Recycling). The 10th Exhibition & Conference will take place on 16 – 18 April 2019 in Sofia, Bulgaria.
Save the Planet 2019 will put an accent on: Plastics recycling • How to utilize waste and turn it into valuable resources? • Demolition and Construction Waste Management
Sign up till

the 1st of December

and benefit from the LAST Early Bird Discount!
Parallel Events: Smart Cities, Energy Efficiency and Renewables (EE & RE)
Contact person: Maya Kristeva, office@viaexpo.com, Tel.: +359/32 512 900
Organizer: Via Expo
E-NEWSLETTER HIGHLIGHTS
• 

Interview with Mrs. Magdalena Docheva, Manager of the exhibiting company M & M FRUT 
• Save the Planet Partners
M & M Frut LTD Banya has been on the Bulgarian market for more than 17 years. The company is one of the major suppliers for the country of plastic products serving different sectors of the economy - ecology, agriculture, industry. It is a branch of the main producers of plastic products in Europe - JSO Rlastic Spa. and Tešno Plastica Hellas A.E. 
THE INTERVIEW
Mrs. Docheva, what are the advantages of the products of Tecno Plastica Hellas A.E. and JCO Plastic Spa compared to the others offered in Bulgaria?
JSO Plastic Spa. has been engaged in industrial planning and production of plastic products for more than 40 years and Tenoso Plastica Hellas for 19 years and to date have a consolidated leading position. As their representatives, we are part of an industrial group established in the global market with solid know-how in competitiveness, technology, innovation and quality standards. We are able to customize our products and solutions that meet all customer requirements, which is the leading asset of our products and services.
What are the sectors that use your products?
Different product groups are widely used in all sectors of our economy - waste containers are used in the environmental sector, box pallets, boxes, europallets are used in various industries, agriculture and industry.
Municipalities are one of your main clients. Which municipalities do you work in Bulgaria? What solutions do you offer them?
 

 

 

FEAD, the European Federation for Waste Management and Environmental Services, represents the private waste and resource management industry across Europe. FEAD's members are national waste management associations covering 19 Member States, Norway and Serbia. FEAD's members have an approximate 60% share in the household waste market and handle more than 75% of industrial and commercial waste in Europe. Their combined annual turnover is approximately € 75 billion. FEAD represents about 3,000 companies with activities in all forms of waste management. These companies employ over 320,000 people who operate around 2,400 recycling and sorting centres, 1,100 composting sites, 260 waste-to-energy plants and 900 controlled landfills. More 
 

 

 

 

 

 

recovery – Recycling Technology Worldwide is the trade magazine for the recycling industry. Its focus is clear – it deals with the technology, the process, the machines and equipment. No raw materials prices, no tips on operations management – it is all about day-to-day work with and on the machines. That makes recovery – Recycling Technology Worldwide unique. As an advertising vehicle, recovery – Recycling Technology Worldwide therefore offers very special access to the technical decision-makers in the global recycling industry – in print and online!  www.at-recovery.com
 

 

 

 

Ecology & infrastructure is the first and only Bulgarian magazine for products and technologies for ecology and infrastructure. It is published since the beginning of 2012 and written by the professionals, which for 18 years publish the industrial magazine of Bulgaria – Engineering Review. Ecology & Infrastructure is focused on current product, technical and trade sector information in the following areas: Ecological projects and programs, Technologies for pollution prevention, air quality preservation, soil and water preservation, Measurement, analysis and monitoring of the pollution, Water management, Water and air purification, Waste Recycling, Energy from waste, Waste management and treatment of: house hold waste, building waste materials, production waste and hazardous waste, etc. More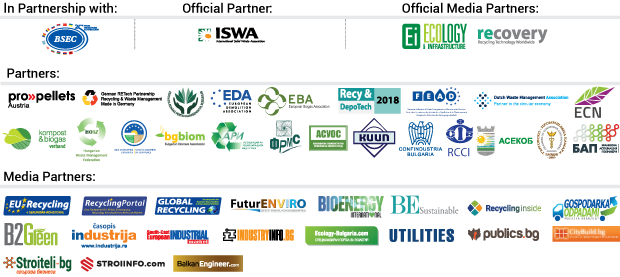 Due to the new regulations (GDPR) you can read more about our policy for personal data security 
here
. If you don't want to receive any more information from us, please unsubscribe with the link on the upper right corner or reply to this email with "unsubscribe".