Greetings & Blessings to all,
"Beannachtaí na Féile Pádraig ar chlann mhór dhomhanda na nGael, sa bhaile agus ar fud na cruinne, ar an lá náisiúnta ceiliúrtha seo.
Warmest St Patrick's Day greetings to every member of our global Irish family and to our many friends around the world."
We hope this St. Patrick's edition finds you in good health, good spirits and good company. If this is your first issue many thanks for joining us and if you like our musings and meanderings, please feel free to forward them on to your family and friends.
In our Ohio valley, the temperature as we write this a balmy 70 degrees or so! The daffs, crocuses and snowdrops are up and just a couple of days ago, we spotted not one but five skeins of Canada geese flying overhead - it almost looked like one of those murmuration phenomenon, there were so many. Herself is hoping and praying she's not speaking too soon when she says it's a sure sign that spring is finally here. What a blessed relief, especially for all of you in the Northeastern US who have endured such a terrible winter - and TG, the parade went off in Boston as planned - there had been rumors it was going to be canceled.
We got into the spirit of things ourselves and attended the annual O'Flaherty Blarney Bash on Saturday. It was mighty craic as they would say in Ireland! We stayed over, then lingered longer for a brilliant breakfast before heading home, tired, but happy. This morning, we did some last minute shopping for tomorrow evening's dinner. For many years we have succumbed to the Irish American tradition of corned beef and cabbage and really look forward to it; But before we indulge in that, tomorrow morning, we'll be heading over to our son's bar, the B-List in Bellevue, KY. We thought he was going to do his Kegs and Eggs celebration on St Practice Day, March 14th, but it turns out it's to be on the High holiday itself, as our dear friend Bill Deegan calls it. So we'll be there tomorrow morning around 9:30. If you're in the neighborhood, we'd love to toast the day that's in it with you.
FUND-RAISER
Our annual drive is almost over - but not the fun of selecting winners of several CDs and books. We're extending the appeal to March 31st, so There's still time to get in on the drawing by making a donation via PayPal
Our account there is:
bhaggerty@irishcultureandcustoms.com
Or via snail mail:
5814 Blue Spruce
Cincinnati OH 45224
Meanwhile, we'd like to take this opportunity to thank all of you who have made a contribution, especially those of you who also included compliments and words of encouragement. We treasure every single one of them! As with our last regular newsletter, each of you who made a donation will be recognized in our next regular edition.
Onwards. In the interest of time, we reached back to last year's edition which covered just about everything we want to include this time round. So we are unashamedly using it as a template for our 2015 edition, plus a few extras.
IN THIS ISSUE
LINKS
QUOTE
BIT OF THE WIT
DID YOU KNOW
JOKE
RIDDLE
THE WEEK THAT IS
LEAVE THEM LAUGHING
LINKS
IRISH CORNER CARD
We have created a special card exclusively for our readers here:
http://www.irishcorner.com/epickup.php?card_id=r4d824ed8a7a96
PRESIDENT HIGGINS ST PATRICK'S DAY MESSAGE
http://www.irishtimes.com/news/ireland/st-patrick-s-day-message-from-president-higgins-1.2141562
PRESIDENTIAL PROCLAMATION
Irish-American Heritage Month, 2015
https://www.whitehouse.gov/the-press-office/2015/02/27/presidential-proclamation-irish-american-heritage-month-2015
HAIL GLORIOUS ST. PATRICK
This hymn was always played on St. patrick's Day when Bridget was growing up. This is an outstanding version which serves to remind his fans how much we miss the amazing voice of Frank Patterson, RIP
http://www.youtube.com/watch?v=b7H4HumAbTU
GIVE UP YER AUL SINS -THE STORY OF ST. PATRICK
We have listened to this numerous times and just can't help but want to hear it again and again. It's the story of St. Patrick narrated by a little Dublin girl named Mary and she is accompanied by an animated video. It's from the series by Brown Bag Productions and we are certain you will want to watch and listen more than once.
http://www.youtube.com/watch?v=k0q-_gWOYjY
MUSIC FOR EVERY IRISH TASTE
If you want to listen to some lovely traditional airs amidst the cacaphony of so called Irish drinking songs, please click:
http://www.youtube.com/watch?v=SUT7aGT1JxM
Or this one:
http://www.youtube.com/watch?v=tNfPRUkXJ7Y
Or for fourteen different genres of Irish music, Radio Celt is yer wan!
http://www.accuradio.com/#!/
world/radiocelt/
ST PATRICK ON THE HISTORY CHANNEL
You could spend hours exploring what's on offer! Featured are videos, history, a quiz, destinations and much more.
http://www.history.com/minisite.do?content_type=mini_home&mini_id=1082
TEN WAYS TO CELEBRATE ST. PATRICK'S DAY
St. Patrick may have exiled snakes from Ireland but he didn't banish the fun.
http://www.rte.ie/lifestyle/travel/discover-ireland/2013/0315/376809-discover-ten-ways-to-celebrate-st-patricks-day/
FROM THE THE IRISH PAGE ARCHIVE - Slane - Bí Thuse mo Shúile
http://www.irishpage.com/SONGS/SLANE.htm
QUOTE
At this time of year all of us are winter weary and ready to welcome a respite from Lenten austerities. So... as the poet said...
Come fill the cup, and in the fire of spring
Your winter garment of repentance fling:
The bird of time has but a little way
to flutter -and the bird is on the wing.
Edward FitzGerald
A BIT OF THE WIT
Blarney, as defined by Bishop Fulton J. Sheen, is flattery so thin we like it, as opposed to baloney which is flattery so thick it can't be true.
A FAVOURITE JOKE
'Tis the season of abstention, so we hope you enjoy this classic:
An Irishman walks into a pub in Galway and orders three pints of Guinness and sits in the back of the room, drinking a sip out of each one in turn. When he finishes them, he comes back to the bar and orders three more. The bartender asks him, "You know, a pint goes flat after I draw it; wouldn't you rather I draw fresh pints for you one at a time?" The fellow replies: "Well, you see, I have two brothers. One is now in America and the other, in Australia. When we all left home, we promised we'd drink this way to remember the days when we drank together." The bartender admits that this is a nice custom, and leaves it there. The fellow becomes a regular in the pub , and always drinks the same way: He orders three pints and drinks them in turn.
One day, he comes in and orders two pints. All the regulars notice and fall silent, speculating about what might have happened to one of the absent brothers. When the fellow goes back to the bar for a second round, the bartender says, "I don't want to intrude on your grief, but I wanted to offer my condolences on your loss." The fellow looks confused for a moment and then a light dawns in his eye and says: "Oh, no, everyone's fine. You see, it's just that I've given up the drink for Lent."
DID YOU KNOW
1. St. Patrick might not be buried in Ireland at all? One legend says he ended his days in Glastonbury, England and was buried there. The Chapel of St. Patrick still exists as part of Glastonbury Abbey and there is evidence of an Irish pilgrimage to his tomb during the reign of the Saxon King in A.D. 688.
2. St. Patrick was the first person in history to speak out against slavery and he is the Patron Saint of the Excluded? By the time of his death, or shortly thereafter, the Irish stopped slave trading and they never took it up again.
3. St. Patrick's real name is believed to have been Maewyn Succat?
RIDDLE
The following are a half a dozen groaners just for St. Patrick's Day; might we suggest having a few of your favourite libations before attempting any answers. First in with a complete set of correct solutions wins the mention in the next newsletter:
1. What would you get if you crossed Quasi modo with an Irish football player?
2. What do leprechauns like to barbecue?
3. How can you tell if an Irishman is having a good time?
4. Why can't you borrow money from a leprechaun?
5. Why are leprechauns so hard to get along with?
6. What is a nuahcerpel?
Please send your answer to:
bhaggerty@irishcultureandcustoms.com
It would be helpful if you put riddle answer in the subject line. Thanks!
THE WEEK THAT IS
From our homepage you can click through to several articles appropriate to the day that's in it:
http://www.irishcultureandcustoms.com/
HEADLINES FOR ST. PATRICK'S DAY
By about 9:00 am on march 17th, we'll have headlines and links to all the good news. We keep two weeks worth of headlines here:
http://www.irishcultureandcustoms.com/01News/Home.html
So there you have it until we send our regular March edition at the end of the month. Until then, we'll take our leave with what we think is most appropriate for our patron saint's special day.
The Irish...
Be they kings or poets or farmers,
They're a people of great worth;
They keep company with angels
and find heaven here on earth
And a blessing attributed to St. Patrick. By the way, it's said if you ask for St. Patrick's intercession on his feast day, your prayer will be answered)
"As you arise today, may the strength of God pilot you, the power of God uphold you, the wisdom of God guide you. May the eye of God look before you, the ear of God hear you, the word of God speak for you. May the hand of God protect you, the way of God lie before you, the shield of God defend you, the host of God save you. Amen."
And. as they say in Ireland, mind yourself.
Slan agus Beannacht,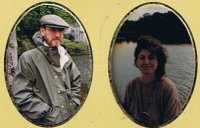 Bridget & Russ
Get down on your knees and thank God you're still on your feet!
LEAVE 'EM LAGHING
Back by popular demand in honour of the most important day in the Irish calendar: St. Patrick's Birthday
On the eighth day of March it was, some people say,
That Saint Patrick at midnight first saw the day.
While others declare 'twas the ninth he was born,
And 'twas all a mistake between midnight and morn;
For mistakes will occur in a hurry and shock,
and some blam'd the babby-and some blam'd the clock-
Till with all their cross questions sure no one could know
If the child was too fast-or the clock was too slow.
Now the first faction fight in old Ireland, they say,
Was all on account of Saint Patrick's birthday.
Some fought for the eighth-for the ninth more would die,
And who wouldn't see right, sure they blacken'd his eye!
At last both the factions so positive grew,
That each kept a birthday, so Pat then had two.
Till Father Mulcahy, who confessed them their sins,
Said, "Ye can't have two birthdays, unless ye be twins."
Says he, "Don't be fightin' for eight or for nine,
Don't be always dividin'-but sometimes combine;
Combine eight with nine, and seventeen is the mark,
So let that be his birthday." "Amen," says the clerk.
"If he wasn't a twins, sure our hist'ry will show
That, at least, he is worth any two saints that we know!"
Then they all drowned the shamrock-which completed their bliss,
And we keep up the practice from that day to this.
(Edited and adapted from Dick's Irish Dialect Recitations, Wm. B. Dick, Editor, New York, Dick & Fitzgerald, Publisher, 1879)