"Army of None" - New Book, Tour
"Strategies to Counter Military Recruitment, End War, and Build a Better World." A new book by Courage to Resist organizer David Solnit and Gulf War objector Aimee Allison. The tour will visit over 40 cities beginning in September.
GI Resister Updates
Mark Wilkerson released from brig! Eugene Cherry avoids court martial, discharged. Eli Israel imprisoned, but home soon. Capt. Peter Brown fights for conscientious objector status. Rev. Lennox Yearwood discharge hearing postponed. Korey Rowe arrested. Lt. Ehren Watada retrial rescheduled for October 9.
Report from Pacific NW resister events
Hundreds attend events to support GI resisters as Agustín Aguayo tours Oregon and Washington State. Los Angeles community welcomes Agustín at Friday, July 27 homecoming celebration.
Message from Howard Zinn
Historian and author, "A People's History of the United States": "I would urge people to support Courage to Resist in whatever way they can."
---
Army of None - New Book, Upcoming Tour
"Army of None: Strategies to Counter Military Recruitment, End War, and Build a Better World" - A new book by Courage to Resist organizer David Solnit and Gulf War objector Aimee Allison.
Uniformed US Army Officers lunch with students in elementary school cafeterias. Army training programs including rifle and pistol instruction replace physical education in middle schools. Like never before, military recruiters are entering the halls of US schools with unchecked access in an attempt to bolster a military in crisis.
However, even as these destructive efforts to militarize youth accelerate, so do the creative and powerful efforts of students, community members, and veterans to challenge them. Today, the counter recruitment movement--from counseling to poetry slams to citywide lobbying efforts--has become one of the most practical ways to tangibly resist US policy that cuts funding for education and social programs while promoting war and occupation. Without enough soldiers, the US cannot sustain its empire.
Army of None exposes the real story behind the military recruitment complex, and offers guides, tools, and resources for education and action, and people power strategies to win.
Counter recruitment is one of the most compelling and effective parts of the anti-war movement today. On July 9, ABC News reported that the Army has fallen short of its recruiting goals for May and June by almost 17%. (Read the full article here), a testament to both the movement's effectiveness and the unpopularity of this war.
Aimee and David will be traveling to 40 communities from September through January - visit their Myspace page for frequent updates. Contact Jen Angel to schedule a presentation, workshop, or performance.
For more information:
www.myspace.com/armyofnonebook
www.couragetoresist.org/armyofnone
Order "Army of None" today from Courage to Resist:
www.couragetoresist.org/orders
---
Courage to Resist. July 27, 2007
Army Spc. Mark Wilkerson
After nearly seven months in Fort Sill, Oklahoma military brig, Iraq War veteran turned GI resister Army Spc. Mark Wilkerson is finally free! Prior to sentencing, Mark explained, "I could not [again] deploy to a foreign land with a weapon in my hand, representing my government. I am not willing to kill, or be killed for my government. When I enlisted in the Army, I thought I would be able to, but after Iraq, my beliefs became such that I could no longer participate."
Only days after being released, Mark has already begun working with Iraq Veterans Against the War. He is looking forward to attending the upcoming Veterans for Peace national convention next month in St. Louis where he will be joining the Courage to Resist panel discussion on GI resistance in the military today.
Army Spc. Eugene Cherry
On the eve of a court martial last week for resisting redeployment to Iraq, Army medic Eugene Cherry was granted a general discharge. The Fort Drum, New York soldier with the 10th Mountain Division faced a bad conduct discharge for going AWOL to get help for post-traumatic stress disorder after the Army failed to provide him with adequate treatment. Instead, Eugene is now out and will be able to keep most benefits, including lifetime medical from the VA.
According to the New York Times, "Mr. Cherry's supporters suggest that the publicity, as well as his good record before he went absent without leave, helped persuade the military to cease prosecution and grant him a discharge." Support for Eugene was organized out of the Different Drummer Internet Café located near Fort Drum.
Army Spc. Eli Israel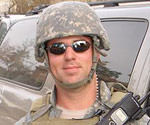 Last month Army Spc Eleonai "Eli" Israel, while stationed at Camp Victory in Baghdad with JVB Bravo Company, 1-149 Infantry of the Kentucky Army National Guard announced that he would no longer fight. Afterwards, Eli noted "It would have been a lot "easier" for me to simply keep doing combat missions for a couple more weeks, and be done with things. Moral convictions are not based on timing or convenience."
He is scheduled to be released today from the Theater Field Confinement Facility at Camp Arifjan, Kuwait were he served a 30 day sentence. Eli pleaded guilty to five counts of disobeying orders at a summary court martial. He expects to receive an Other Than Honorable discharge and to be flown to Mississippi within a couple of weeks. After he's out, he plans on fighting for a discharge upgrade as the officer who sentenced him ignored his application for discharge as a conscientious objector or take into account his prior service.
Army Capt. Peter Brown
A 10th Mountain Division officer serving in Iraq has sued the Army to gain conscientious objector status. Capt. Peter Brown, 2004 West Point graduate, has been stationed in Baghdad since August with the 2nd Battalion, 14th Infantry Regiment. According to his petition, he joined the infantry his senior year at West Point "to be at the forefront of the action."
The Army chaplain who interviewed Brown found his religious beliefs to be sincere, and the Army's own Investigating Officer agreed and recommended that Brown be discharged as a conscientious objector. A retired senior Navy chaplain, the Rev. Dr. Bernard R. Wilson, also interviewed Brown and reported that his "convictions are sincere and that he now holds these convictions deeply with all his heart, mind and soul." He filed a lawsuit in U.S. District Court in the District of Columbia last week with the help of the New York Civil Liberties Union after military officials twice rejected his applications for conscientious objector status.
Air Force Reserve Officer Lennox Yearwood
The Air Force has indefinitely postponed the discharge review hearing of Rev. Lennox Yearwood. Not only is Lennox the President of the Hip Hop Caucus, he is also an officer in the United States Air Force Reserve. On March 26th, Lennox received notification from the Air Force that they were taking action to honorably discharge his on the basis of "behavior clearly inconsistent with the interest of national security." The letter arrived a week after he announced the launching of a national "Make Hip Hop Not War" tour at a press conference on Capitol Hill. After anti-war activists, including Cindy Sheehan, began organizing a protest outside the gates, the military later postponed their July 12th hearing at Robins Air Force Base in Georgia.
Lennox was preparing to fight the discharge because, "The power of our voices against the U.S. occupation of Iraq is reaching the top echelons of the military and the administration. Our government is persecuting Americans who speak out against the U.S. military presence in Iraq. The U.S. military has launched politicized attacks on its own military members and moral leaders who oppose the war to discredit their voices of dissent."
Army Spc. Korey Rowe
Afghanistan and Iraq Wars veteran Korey Rowe turned war resister/video producer was arrested in his hometown of Oneonta, New York this week. Local police arrested Korey on an outstanding military warrant for allegedly "deserting the Army."
Korey has played a high-profile role in the "9-11 truth movement" since leaving the Army in June 2005. He co-produced the movie Loose Change, the central premise of which is that "the United States Government was, at the very least, criminally negligent in allowing the attacks of September 11th, 2001 to occur."
On the Loose Change web site, Korey explains, "At 18 for no apparent reason I joined the Army. I guess for a way out of my home town. Joined and not even six months later I found myself in a fox hole in Kandahar, Afghanistan (1/14/02 – 7/15/02). Served six months there before returning stateside for a hellish seven month full out training cycle before being shipped back across the Atlantic to Kuwait were we staged for a nice long year in Iraq (2/28/03 – 1/16/04)…As for the future, only life can tell. My life to date has been very interesting."
Army Lt. Ehren Watada
The second court martial of the Lt. Ehren Watada, the first military officer to public refuse to fight in Iraq, has been rescheduled for October 9. If the military is allow to carry out this trial—despite the clear prohibition against double jeopardy outlined in the Constitution—Lt. Watada's trial would take place around the same time that his Stryker brigade (3rd Brigade, 2nd Infantry Division) is scheduled to return from Iraq after a 15-month deployment.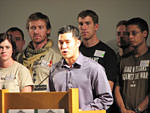 Double jeopardy clearly applies in the case of Lt. Watada because the mistrial in the first court martial held in February was orchestrated by Army Judge John Head to the favor of the prosecution (which had already rested its case) over the strenuous objections of the defense. The Army Court of Criminal Appeals has yet to rule on the issue of double jeopardy.
---
Report from Pacific Northwest resister tour
Army Spc. Agustin Aguayo was recently released from a military brig for refusing to return to Iraq. Now Agustin, his wife Helga and his two daughters are speaking out and organizing to support other war resisters.
From Portland to Bellingham near the Canadian border, the Aguayo's shared their story of pain, frustration, hope and determination and pledged to continue fighting for justice for Agustin and all military resisters.
"When we first started this is was just about us, but it's so much bigger than that" said Helga Aguayo. "We need to continue fighting for all the soldiers."
Kicking off the tour the Aguayo family led a march organized by the PDX Coalition to a recruiting center in downtown Portland. In Salem, Agustin spoke to a group of Latino youth about the realities of military service and met with organizers of PCUN, a Latino community group, discussing the connections between immigration issues and military recruiting.
As the tour made its way up the coast of Washington, people gathered in classrooms, churches, bookstores, community centers, and coffeehouses to hear about the Aguayo's personal struggle for justice and the transformation of not just a soldier, but of a family. "At first I wanted to quietly leave the military with a conscientious objector discharge and go on with my life but now I think that was selfish... Resistance in the military to this war is growing everyday and we need to show the soldiers that resist that we will be there for them."
The tour, organized by Courage to Resist, included events and presentations in Portland, Woodburn, Salem, Tacoma, Port Townsend, Port Angeles, Bellingham and Seattle. At many events the Aguayo's were joined by members of Iraq Veterans Against the War. These events would not have been possible without the incredible commitment in support of GI resisters demonstrated by our friends at the PDX Coalition, Veterans for Peace, Iraq Veterans Against the War, Troops Home Now Coalition, Whatcom Peace and Justice Center, Olympia Movement for Justice and Peace, AFSC, South Sound Peace & Justice Center, and many more.
View the July 11 Portland forum here (Goggle Video). Featuring Agustín and Helga Aguayo, Iraq Veterans Against the War members, and Courage to Resist's Lori Hurlebaus.
Welcome home Agustín!
Los Angeles celebration and fund raiser
Friday, July 27 at 7:00pm
United Teachers Los Angeles UTLA
3303 Wilshire Blvd., 2nd Floor, Los Angeles, CA 90010 (map)
(Wilshire Blvd. and Berendo -- Just west of Vermont Avenue)
With guests: Iraq War resister Navy Petty Officer Pablo Paredes, Iraq War resister Marine Lance Corporal Stephen Funk; Gold Star father Fernando Suarez del Solar of the Guerrero Azteca Project. Funds to benefit Aguayo Defense Fund.
For more info, call 323-691-5283, or:
www.aguayodefense.org
---
Historian and author, "A People's History of the United States"
I would urge people to support Courage to Resist in whatever way they can.
I can think of nothing more important in stopping the war in Iraq than for the soldiers themselves to refuse to fight. As a veteran myself I know how difficult it is to break out of the stranglehold the military has on one's mind, and how much courage that takes.
Those who make such a decision need all the support we can give them, and Courage to Resist does just that.
Please make a donation to support the work of Courage to Resist.