---
2020 Ethics Olympiad Newsletter
ACN: 606 554 367 ABN: 52 606 554 367
21/4/2020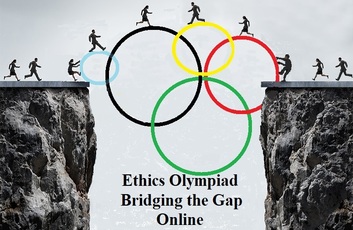 What a year it has been so far....and it is only April. So much has happened and much of it difficult and demanding. Ethical issues have abounded, such as; "Who should we treat if we only have a limited number of ventilators? How would we prioritise if we are forced to make life and death decisions? Should we stop work all together in the face of this virus or keep our dreams, aspirations and commitments alive for another week? These are just some of the ethical issues being raised, every day at the moment and they bring into focus our values and morals. No less important is the ethical thinking that needs to be had, before people make important life decisions. And it is at this level that the Ethics Olympiad offers a unique opportunity for educators and students in the months ahead.
Senior School Ethics Olympiads in May 2020 have had to be cancelled. These events were fully subscribed throughout Australia and New Zealand. Nevertheless, there is a great deal still happening which will interest educators.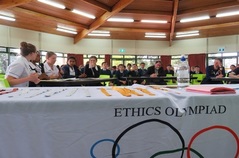 Schools registered for the Ethics Olympiad have had their registration transferred to the next available Ethics Olympiads and free professional development has been made available for those schools. If you would like to learn more about the Ethics Olympiad you can register for one/or all four professional development opportunities in May. Each session has been timetabled to provide minimal disruption to busy school routines. There are still limited spaces for others to participate in this PD. We will deal with theoretical and applied ethics, how to train a team for an Ethics Olympiad and how to participate in an online Ethics Olympiad. For more information click here or read below.
Middle School Ethics Olympiads are planned for November....and the dates have also been set for the 2021 Senior School Olympiads. The Ethics cases are now available for registered schools at the Middle School Olympiads in November. More info can be found below.
We ran a friendly online China vs Australia Friendly Ethics Olympiad last week involving a team from Rosefield College in Sydney and a team from the Shanghai Interscholastic Ethics Bowl and this proved to be very successful. (See the report below.) We are also offering member schools the opportunity to participate in online Ethics Olympiads in May. One of the features of this event is that students representing their school can participate from home. The recent China/Australia Ethics Olympiad trial opens up interesting opportunities for Australasian schools in the future. We are currently working on further opportuniites for Australasian member schools to participate in Olympiads with Chinese schools.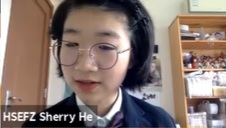 Membership of the Ethics Olympiad provides many benefits but during this pandemic member schools have a unique opportunity to participate in online events with other schools locally and overseas. We have inlcuded below a list of member schools. If your school is yet to join as a member please see the link below and consider joining.
We have also included below a case which can be used with students regarding the mass quarantining of populations during the Covid-19 pandemic.
We wish you and your school community well for the rest of a very unusual 2020.
1 China/Australia Olympiad Trial report
2. Online PD available in May
3. What is an Ethics Olympiad?
4. Middle School Olympiads
5. Covid-19 and the Ethics of Mass Quarantine
6. A list of current Member Schools and Membership details
7. Useful Ethics Resources
"The Ethics Olympiad was incredible
and definitely a life changing
experience. It really opened my eyes
to the ethical possibilities and also
allowed me to hear and respect other
peoples positions on the case topics."
(Brisbane student)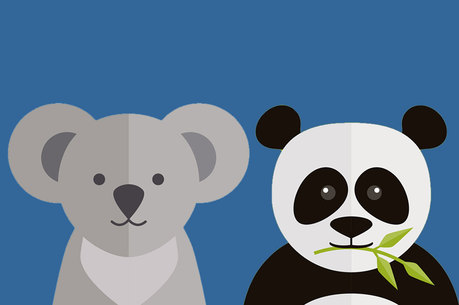 1. China Australia Friendly
Last week we ran the first online Ethics Olympiad between a school in China (No 2 High School of East China Normal University) and a school in Sydney (Rosefield College) and the event proved to be wonderful at all sorts of levels. It was a "friendly" event whereby scores and medallions mattered little compared to the possibility of bridging the geographical and cultural gap that lies between China and Australia. The Chinese students demonstrated skills in Philosophy and Ethics that would put many Philosophy students, where English is their first language to shame and there was a sense throughout the event that we were involved in doing something pioneering, something important. This was made even more significant as travel restrictions kicked in and much movement related to day to day life was being shut down. Herein we were doing something new and something that was bridging gaps. We discussed; What kinds of medical decisions, if any, should a minor be permitted to make for themselves? And... Do drugs designed to enhance loving feelings create good relationships? These ethical questions together with the related case studies provided fertile ground indeed for building skills in civility and good critical thinking. More to come in the future...
2. Online PD in May
These sessions will be aimed at providing coaches and potential coaches with some insights into teaching Ethics and participating in Ethics Olympiads. Participants do not have to be members or participants in the current round of Ethics Olympiads. The sessions will be open to anyone interested in finding out more about Ethics and the Ethics Olympiad. Feel free to book into one or more sessions below. There will be four sessions available.
* Please note that once booked in and once the registration fee is paid you will receive a Zoom invitation to participate in each online PD automatically.
Cost:
$75 (1 session) per person, per session- Non-Members,
$70 (1 session) per person per session-
Members
$150 (All sessions) per person-
Members
$180 (All sessions) per person for all four sessions - Non-Members
All sessions are free of charge for schools transferring their registration from the 2020 SHS Ethics Olympiad to another Ethics Olympiad.
Note that access to the PD and copies of the resources will only be provided once a teacher is registered.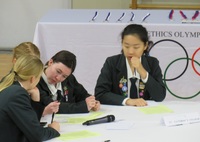 WHAT WILL WE BE COVERING AT THE PD:
How to provide your students with an understanding of various ethical frameworks to assist them at an Ethics Olympiad. (1 hour) Wednesday 6th May 4 pm Please note we will be running this at 4 pm NZST, 4 pm EST and 4 pm AWST. (SA -ACST will commence at 3.30 pm) One thing that has been noticeable in conducting Ethics Olympiads throughout Australasia over the past few years is the need for better preparation of students to help them recognise arguments that might be entertained by those who draw different and reasonable conclusions to their own. We will in this unit explore various consequentialist and deontological arguments. We will also provide teachers/coaches with resources to teach theoretical and applied ethics.
How to run an online Ethics Olympiad. (1 hour) Thursday 14th May 4 pm Please note we will be running this at 4 pm NZST, 4 pm EST and 4 pm AWST. (SA will commence at 3.30 pm) Schools that are members of the Ethics Olympiad are provided with all the resources they need to run an Ethics Olympiad online. These events are different from the face to face Olympiads previously run in each capital city. Schools can participate in Olympiads with other schools throughout the world and down the street. Extensive resourcing and support will be provided to participants.
How to judge a heat fairly (1 hour) Wednesday 20th May 4 pm Please note we will be running this at 4 pm NZST, 4 pm EST and 4 pm AWST. (SA will commence at 3.30 pm)One of the features of the Ethics Olympiads is the requirement that each participating school provides a judge for the heats. Without this provision, the event simply would not work. It is important that a teacher/judge prepare themselves for the role so as to be fair to the students on the day. The marking keys and criteria are all very clear but there is some value in explaining to teachers what to expect and helping them identify strengths and weaknesses and how these might be graded. Participants will also get access to resources online.
Procedures and tips for students and coaches participating in the Ethics Olympiad. (1 hour) Thursday 28th May 4 pm Please note we will be running this at 4 pm NZST, 4 pm EST and 4 pm AWST. (SA will commence at 3.30 pm) Coaches that have not previously participated in an Ethics Olympiad will be unsure about how best to prepare students for the experience. This session will offer some mechanisms and resources for preparing students. It will also offer teachers ways to promote Ethics Olympiads in a school community. How can I put a successful team together in the first place? How can I best prepare my students to participate in an Ethics Olympiad? This will be particularly useful for teachers preparing students for their first Ethics Olympiad. We will again provide teachers with resources to use with students in the preparation phase.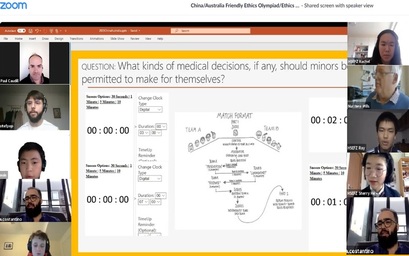 3. What is an Ethics Olympiad?
Students describe the Ethics Olympiad as fun, engaging and profound. Much of the growth occurs during preparation – the hours engaged in rational discussion with their team-mates and coaches. Then the event itself, with its emphasis on civility, clear reasoning, and cooperation, reinforces dispositions cultivated behind the scenes, ultimately moulding the students' character for the better.
Registered schools receive cases well before an Ethics Olympiad. The structure of online Olympiads and face to face Olympiads is the same. A moderator runs the event and judges provide questions and scoring throughout a heat. Following a coin toss which decides which of two teams is team "A" and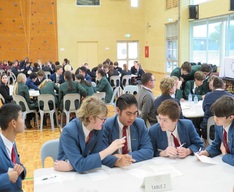 which is team "B", students are given an ethical question related to one of the cases that they have been given previously. Team A then has two minutes to discuss the team's response after which the group presents their arguments in response to the question. They have 5 minutes and then Team "B" has time to think through their response followed by three minutes to critique the presented arguments. Unlike a debate team B can agree with the position taken by team A and score well if they provide questions or responses than assist in helping dialogue did deeper into some of the issues around there position taken by team A. Following team "B"s critique team A has a brief team meeting followed by a three minute period to respond to the critique. Following this, the judges have an opportunity to ask questions of team A. Then the process is repeated with Team B taking the place of Team A and visa versa. A new case and questions are then introduced. Medals are awarded at the end of four heats.
4. 2020 Middle School Ethics Olympiads
Schools are invited to send a coach and five or ten students to participate in the event. The Ethics Olympiad has a proven track record of providing teachers and students with a creative vehicle for developing skills in communication, critical
thinking and respectful discourse while dealing with relevant, contentious ant interesting ethical issues.
During the day all students will be involved in a series of three Ethics Olympiad heats where they will be scored according to set criteria which reward, clear, concise,
respectful discourse around interesting ethical cases. At the end of the day, two teams will face off for the Gold and Silver Medals. A Bronze Medal will also be awarded to the third-placed team.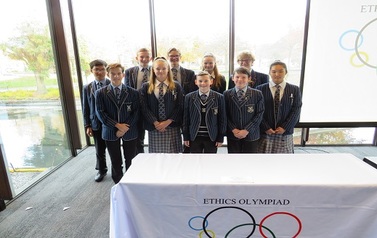 Hobart - Wednesday 4th November

Canberra - Friday 6th November

Perth- Monday 9th November

Gold Coast - Wednesday 11th November

Brisbane - Friday 13th November

Townsville - Saturday 14th November

Auckland- Wednesday 18th November

Wellington - Thursday 19th November

Christchurch- Friday 20th November

Sydney -Tuesday 24th November

Melbourne-Wednesday 25th November

Adelaide -Friday 27th November
CLICK HERE
to register your school for the November Middle School Olympiads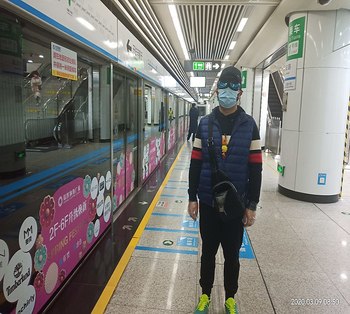 5. COVID-19 and the Ethics of Mass Quarantine
Are there any circumstances under which mass quarantine would be morally permissible or required?

What values are in conflict over Wuhan and the Hubei's mass quarantine order? What is worrisome about this order?

How should governments weigh violations of individual liberties against protecting the health and well-being of others during a health crisis?

Are there ethical limits to how long mass quarantines can or should be in effect?
Click here for an ethical case that you can use with students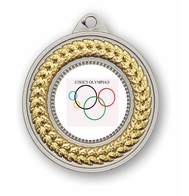 Members Receive;
Discount on registration fees for local Ethics Olympiad events.
The school can identify themselves as an Ethics Olympiad School in their publicity.
Access to the online competition with schools interstate and around the world.
The school will receive extra Ethics Cases
Access to password-protected resources to help schools teach applied and theoretical ethics.
Cost: $180 for School Membership- $80 per annum after the first year.
Cancellation: There is no cancellation fee.
Aberfoyle Park High School South Australia
Aitken College Victoria Victoria
Albany Senior High School New Zealand
Arndell Anglican College New South Wales
Anglican Church Grammar School Queensland
Austin High School Tennessee
Bentley School California
Bondi Public School New South Wales
Camberwell Grammar Victoria
Canley Vale High School New South Wales
Carmel School New Zealand
Crofton Downs Primary School New Zealand
Diocesan School for Girls New Zealand
Dwight-Englewood School New Jersey
East Austin High School Tennessee
Edmund Rice College New South Wales
Emmaus Christian College South Australia
Elizabeth College Tasmania
Genazzano FCT Victoria
Georgiana Molloy Anglican School Western Australia
Grace Christian College Western Australia
Haileybury City Victoria
Halls Head Senior College Western Australia
Hunters Hill High School New South Wales
Illawarra Grammar School New South Wales
Iona Presentation College Western Australia
Iona Presentation College Western Australia
John XXIII College Western Australia
Johnston Middle School Texas
Killara High School New South Wales
King's School Canterbury UK
King's College New Zealand
Lavella Catholic College Victoria
Loreto Kirribilli New South Wales
Macleans School New Zealand
Matthew Flinder's Anglican College Queensland
Mazenod College Western Australia
Mentone Grammar School Victoria
Merici College Australian Capital Territory
Methodist Ladies College Victoria
Middleton Grange School New Zealand
Monte Vista Christian School California
Mt St Michael's College Ashgrove Queensland
Mount Carmel College Tasmania
Narrabundah College Australian Capital Territory
North Sydney Girls High School New South Wales
Oakhill College New South Wales
Otago Boys High School New Zealand
Palm Beach Currumbin Queensland
Papanui High School New Zealand
Pembroke School South Australia
Presbyterian Ladies College Victoria
Pulteney Grammar School South Australia
Queen Margaret College New Zealand
Queenwood New South Wales
Radford College Australian Capital Territory
Raleigh Charter High School North Carolina
Rangi Ruru School New Zealand
Ravenswood School for Girls New South Wales
Rosebank College New South Wales
Ruyton Girls School Victoria
Sacred Heart College Western Australia
Santa Sabina College New South Wales
SCEGGS New South Wales
Scotch College Victoria
Scotch College Western Australia
Siena College Victoria
St Andrew's College New Zealand
St Brendan-Shaw College Tasmania
St Hilda's School for Girls Western Australia
St Ignatius College South Australia
St Marks ACS Western Australia
St Mary's College Tasmania
St Margaret Mary College Queensland
St Norberts College Western Australia
St Patricks College Sydney New South Wales
St Patrick's College Townsville Queensland
St Peters College South Australia
St Peter's Anglican College Broulee New South Wales
St Vincent's College New South Wales
Sydney Girls High School New South Wales
The Hutchins School Tasmania
The Kings School New South Wales
The John Cooper School Texas
Townsville Grammar School Queensland
Trinity Anglican School Queensland
University Senior College South Australia
Washington Latin Public Charter School Washington DC
Waiheke College New Zealand
Waverley College New South Wales
Wesley College Western Australia
Wilderness School South Australia
Wilmington Friends School Delaware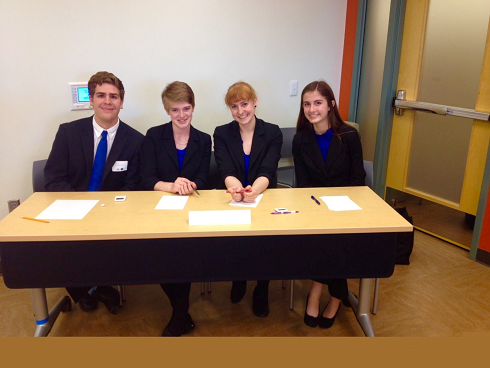 Helpful tips for schools new to the Ethics Olympiad

1. Run a practice heat at your school. (Schools that have participated in an Ethics Bowl will be familiar with the
process/ Otherwise attend the PD above)
2. Either register for a face to face event or become a member so you can participate online.
3. Contact the Ethics Olympiad office to compete against another school via Zoom, Skype or Google+.
4. We will provide you with all the resources you need to participate.
*Please notify us of additional contacts or changes in contact details for your school.