---------------------------------------------------------
How did YOU welcome in the New Year? For the first time ever, I celebrated the entire holiday weekend with my 80 years young mom.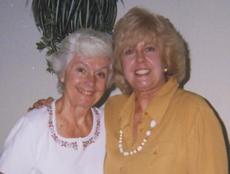 After living in Tucson, AZ since 1976, she moved 150 miles north to be near my sister and me. What a blessing for us! What COURAGE it took for her to leave her friends and familiar surroundings to start her new life in a 55+ senior community. Ain't NO stopping her now!
Do you have HUGE changes you'd like to make but somehow feel stuck?
I've partnered again with hundreds of global motivational gurus to bring you more n.o.-c.o.s.t. self improvement gifts (ebooks, audios, videos, f.r.e.e sessions) than ever before during this limited time SIXTH annual event.
As we say here in the Old West, join the stampede and lasso up some goodies to GET UNSTUCK in the new year! Please say howdy when you see me in the virtual aisles with a chuck wagon of motivational gifts for my 2012 transformation!
Blessings to you in 2012 and beyond, my precious friends and truth seekers!
---------------------------------------------------------