The change of the seasons is the perfect time to get your closet organized for the upcoming winter. In her throwback article, Lori gives us great tips on how to organize your closet.
Reduce The Distractions...
If you are part of an Open Office work environment, you realize that distractions can sometimes affect your ability to work. Here are a few simple solutions that might help.
On Amazon, you can purchase an inexpensive 'Do Not Disturb' flag like the one pictured below. It can be attached to the side of your computer screen, your desk or cubicle. You can find it by following this link: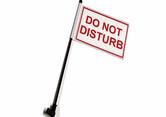 You can also place a Dry Erase Board or Chalk Board outside of your cubby, and ask people not to disturb you. Better yet, list the important projects that you need to get completed that day. It might deter people from interrupting you.
Is your pantry over flowing with open chip bags that go stale? Do you have limited pantry space? Then this
is the perfect solution for you. Use plastic pant hangers to clip and hang chips in your pantry.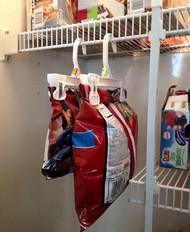 You can also use inexpensive, wooden clothespins as chip clips. Be proactive with your family and put a clip on the unopened snack bag before you put it away in the pantry. When they open the snack, the clip is right there and ready to use.
Lori's next public seminar is in the month of October. We will update our Facebook page and website if any new seminars are scheduled between now and then.
Diabetes Dayton
Diabetes Dayton collects the supplies listed below as part of their Diabetes Emergency Supply Assistance Program.
Test strips (unexpired)

Syringes (packaged)

Alcohol swabs

Batteries (AA and under, including watch batteries)

Pen Needles (unopened)

Lancets

Pump supplies
Supplies can be dropped off at their offices from 9 am to Noon and 1 to 5 pm, Tuesdays through Friday at 2555 S. Dixie Drive, Suite 112, Kettering, OH. For questions, call (937) 220-6611.
Lose Your Stuff, Find Yourself...
Enjoy this insight from Lori's book, "Lose Your Stuff, Find Yourself."
"Your life is a journey, always changing with your age, the people you meet and life's circumstances. Letting go of your stuff should coincide with your life journey."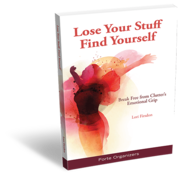 Pick up a copy of Lori's book by using this link:
Amazon.com
One More Thing...
"Just like the seasons, people have the ability to change." ~Unknown.
Happy Fall,