SHOP HOURS
Monday: CLOSED
Tuesday: 12 - 6
Wednesday: 12 - 6
Thursday: 12 - 6
Friday: 12 - 6
Saturday: 10 - 6
Sunday: 12 - 4

 

Spring is a time of fresh beginnings, time to clear out the old and bring in the new. Here at ReBelle, we are in full on Spring mode. We have made several changes in the shop, moving yarns around to make space for new yarns coming in and preparing for the warmer months with more cottons, linens, and silks. This month we added THREE new yarn lines and further expanded the Cumulus into brighter colors to coordinate with the Cumulus Rainbow gradients we brought in last month.

 Now, you can knit or crochet with a fluffy rainbow cloud! We love working with cottons and linens and silks during the warmer months and we really hope you will enjoy this year's selection. And speaking of rearranging and clearing out, it is almost time for the...




 

Mark your calendars for March 28th, it's our annual March Madness SALE when we have the biggest discounts of the entire year. There will be some amazing yarns on sale, so if you are looking for a bargain you won't want to miss it!
Roslyn is a sport weight with a light tweed. We had requests for this yarn and we thought it was pretty fantastic, so we decided to add it. Roslyn is 65% wool, 35% silk with 382 yards per 100g, and it's perfect for Springtime sweaters and shawls. Some patterns that work well with Roslyn are
Easy Folded Poncho
,
Buttercup
(top, class coming up with Susan in April),
Sunshine Coast
(sweater),
Cattails
 or
Clam Digger
(cardigan),
Shaelyn
(shawl),
Silk and Saltwater
(sweater), or
Ninilchik Swancho
.
Pollock by Juniper Moon Farms is a sport weight blend of 55% silk and 45% linen. It has a smooth texture, a subtle shine, and substantial yardage with 349 yards per 100g ball. We have it in six scrumptious speckled colors resembling the Jackson Pollock paintings that each is named after. Some patterns specifically designed for Pollock are
Venetia
(shawl),
Mara
(tank), 
Leandra
(cardigan, class coming up with Susan this summer), 
Breeze Sleeveless Airy Top
 and 
Late Harvest (
shawl).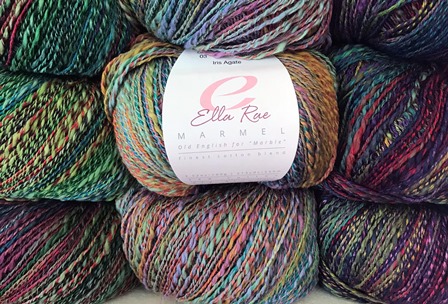 Possibly one of our most fun Spring yarns, Marmel is a blend of 58% cotton and 42% acrylic. It has two color-changing plies for a barber pole effect which will give any knitted piece delighful pops of color throughout. Marmel reminds us a lot of Noema, one of our favorites that was sadly discontinued, but it's slightly softer with a bit more rustic look. It has 273 yards per 100g skein, making it great for sport/DK projects. Some patterns that are well suited to Marmel are
Gallatin Scarf
,
Darn Knit Springtime Cowl
,
Lizard
(crochet shawl,) and the 
Super Eyelet Shawl
.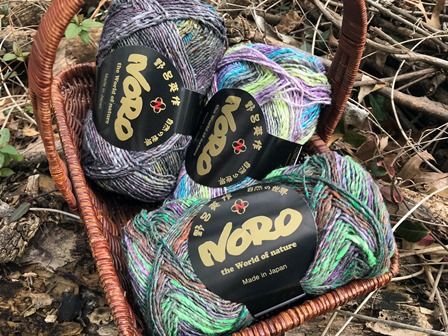 Do you love Noro yarns, but need one with even more colors?? Welcome, Ito! Each colorway of Ito has thirty individual colors of wool blended into one amazing colorway. Thirty!! 
Ito is 100% wool and comes in large 200g skeins with 437 yards. It can be Swapped out for Kureyon in any pattern and the big skeins make it great for these:
To the Point
(blanket),
Nightshift
(shawl),
Marlacardigan
,
Griffin
(kid's vest),
Scrappy Granny Shawl
(crochet),
Big Granny Afghan
(crochet), and 
#9 Cowl
(free in shop).
The yarn of the month for March is Blue Sky Fibers' Alpaca Silk. Alpaca Silk is a luxurious blend of 50% silk and 50% alpaca, it is a sport weight yarn with 146 yards per 50g skein. Alpaca Silk is elegant with superior softness, stunning shine, and dignified drape. Though its drape and shine may remind you of plant fibers, Alpaca Silk is also incredibly warm, making it well suited to shawls, sweaters, cowls, mitts and hats. Some patterns that are perfect for Alpaca Silk are:
Linda K's Yummy Mummy Wristwarmers
,
Chilkat Cowl
, 
Windom Silk Wrap
,
Esko Wrap
,
Crochet Scarf
, 
Clementine Shawlette
, 
Somewhat Cowl
(sweater) and 
Vitamin D
(cardigan.) Alpaca Silk will be 10% off for the entire month of March, so pick out a pattern and come get some!
For the month of March we will be knitting the Shiftalong hat by Andrea Mowry. The Shiftalong is a playful mosaic knit hat using a similar technique to the Shift or Nightshift Cowl (it is also a great way to use up your scraps from either of these projects.) Mosaic knitting is a colorwork technique that uses slipped stitches to make color and textural patterns so you only work one color at a time, much like a stripe making this a very accessible technique for almost every level of knitter. For this hat, there are several yarn options we like including Feederbrook Entropy DK, Malabrigo Arroyos, Zauberball Crazy, and Knitted Wit Fingering.
All ReBelle knit alongs are free and open to the public. You are welcome to attend as many or as few of the KAL sessions as you like. Come join the fun!!
The pattern can be found on
Ravelry
or you can buy it in the shop.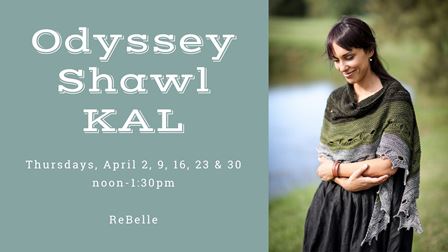 For April's shop KAL, we will be knitting the Odyssey Shawl by Joji Locatelli out of Malabrigo Dos Tierras. Odyssey is a three color crescent shaped shawl with simple, yet elegant detailing. It is the perfect combination of mindless and interesting to keep you going. 
The shawl knits up  fairly quick on US6 needles and uses 3 skeins of Malabrigo's Dos Tierras yarn, but if that yarn doesn't fit your style we have several other compatible yarns for this pattern including Malabrigo Arroyo or Rastita. 
Malabrigo dyed three special colors to go together for this knit along which we have kitted up for you in the shop. If you prefer something diffferent, Sarah has put together a variety of other color packs for you to chose from (or you can pick your own color grouping.) Whichever path you take, we are giving every participant a free shawl stick to go with your new (unassembled) shawl!!
The pattern can be found on
Ravelry
or you can buy it in the shop.
Featured Upcoming Classes
 

The Soldatna Crop has been a knitters' favorite since its release last April, there are over 3000 people on Ravelry alone who have knitted this amazing sweater. Dorothy will walk you through the design, everything from fit to fair isle to finishing. More information on the pattern and yarn requirements can be found here.

  

 

Saturdays, 3/7, 3/21, 4/4, & 4/18.

1:30-4pm

 



 
 

 

The Uppsala slippers are just the thing to keep your feet warm this Spring and they are also an excellent introduction to fair isle knitting. They will teach you an alternate heel style and a cool two color bind off that you will definitely want to incorporate into future projects. Knit with worsted weight yarn on US size 5 needles, these work up fairly quickly- knit a pair for yourself or get  a head start on holiday gifts. For this class you will need to be comfortable with basic knitting techniques- knitting, purling, increasing, decreasing, and knitting in the round. 

 

Wednesdays 3/4, 3/18, & 3/25.

 



 

The gnomes are taking over and we couldn't be more thrilled, these adorable little guys are bound to make you smile the entire time you are knitting them. A great way to practice shaping techniques and working on dpns while using up those precious yarn odds and ends that you have been holding onto. We bet you can't make just one!!

 

Thursdays, March 12 & 26. 6-8:30pm

 



 
 

 

The Buttercup Sweater by Heidi Kirrmaier is a perfect addition to your Summer wardrobe. This simple, yet elegant sweater starts with a beautiful lace scoop neck and uses raglan-style increases for shaping that leaves you with very little finishing work. The a-line silhouette is flattering for most body-types which is further enhanced by the wide range of sizes available. Susan will take you through this pattern step-by-step, helping you with fit and simple modifications that will further customize this sweater just for you. 




Wednesdays 4/22, 4/29, 5/13 & 5/27.