We need your help to support Bradley and all resisters
Donate online now, or more read our exiciting fund pitch!
---
Andre Shepherd appeals to save his political asylum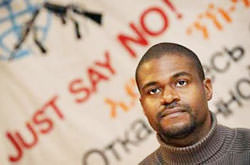 The U.S. AWOL soldier André Shepherd today instructed his attorney to institute legal proceedings against the negative ruling on his application for asylum, served to days ago by the German government. Peace and refugee-aid organizations that support André Shepherd denounced the decision of the Federal Bureau, and announced that they would continue to support him in his suit. "This shows that the German authorities are seeking to avoid any conflict with the USA, at the expense of those who put their bodies on the line to oppose the war in Iraq, which even the Federal government at the time considered to be in violation of international law."  Read more on how to support Andre.
---
425,000 people (and counting!) join fight to stop the torture of Bradley Manning
Add your name! Help us reach our goal of a half million by signing the petition, and passing it on.
The online action site Avvaz.org, whose subscribers number over 7 million, has just joined us in calling for President Obama to end Bradley's inhumane treatment (video) at Quantico.
Also: Vote for Bradley in the 2011 Time Magazine 100 Poll here.
More: Eminent US legal scholars protest 'torture' of Bradley Manning
---
Quantico brig breaks own rules to reject official visits

The Quantico Marine Corp brig in Virgina,  where Bradley is being held has recently refused official visits from Congress-member Dennis Kucinich, Amnesty International, and the UN Special Investigator on Torture.  This further confirms to the international community that Bradley's conditions may be in violation of international law, and that brig officers and the Department of Defense will do anything to keep it under wraps.  Read more on our blog at bradleymanning.org.
---
Bradley Manning Organizing Toolkit now online!
For those of you who want to participate more actively in the campaign to free Bradley Manning, we have created an activist toolkit, jam-packed with useful info, strategy and resources.
Months in the making,  this toolkit is designed with you in mind.  It contains a breakdown of how to take individual action and encourage others, create and host events, outreach to the media and ally organizations, and plenty more.
Everyone is an activist.