SHOP HOURS
Monday: CLOSED
Tuesday: 12 - 6
Wednesday: 12 - 6
Thursday: 12 - 7
Friday: 12 - 6
Saturday: 10 - 6
Sunday: 12 - 4

 

 

 

 

 

 

There are many exciting events happening in October and lots of new yarn in the shop, so get your planners out and fire up your Ravelry queue!

 

We are taking orders for our 10th anniversary t-shirts through this Sunday, October 2nd.  Order online

here

or in the shop.

 

During the month of October ReBelle would like to collect 100 knitted (or crocheted) knockers.  These knitted and crocheted breasts are offered free to mastectomy patients to serve as temporary or permanent prosthetics post-surgery.  We will be having a Knocker-a-thon on Sunday, October 2nd from 12-4pm and during this time we will also offer free instruction for making the knockers.  Knitting instruction will be from 12-2pm and crochet instruction from 2-4pm.  In addition, participants will receive a 25% discount on Ultra Pima, the preferred yarn of the Knitted Knocker Program. Facebook event and more information available

here

.

 

Mark your calenders for Saturday, October 15th from 12-3pm for the Neeley's Knits pop-up shop at ReBelle.  Neeley's Knits specializes in colorways inspired by movies and tv.  Come and see all her wonderful hand dyed colorways in person! (Facebook event 

here

)

 

Also, coming October 20th through November 10th we have a Malabrigo trunk show featuring items from books 6, 7, 8 & 9.  If you need any inspiration for your holiday knitting, this is the perfect opportunity!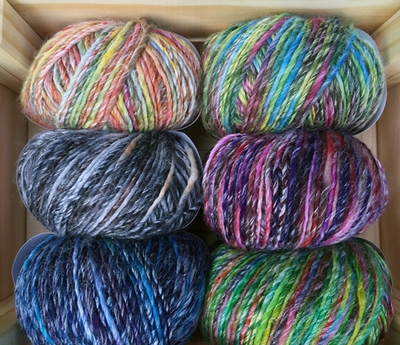 Our other new yarn this month is Pitturissimo.  It's an aran weight version of Pittura.  Pitturissimo is a blend of 75% Merino and 25% Bamboo with 164 yards per 100g ball.  It's dyed in painterly colorways and is great for both sweaters and accessories.  We are currently using it with the Highland Duo to knit up the
Tulli
cowl which is available for free in the shop with purchase of Pitturissimo.   Some other patterns perfect for Pitturissimo are:
Beloved
(hat),
Canfield
(hat),
Dragon Wing Cowl
,
Quilted Lattice Cowl
,
Skoosh!
(shawl),
City Cape
,
Wednesday's Child
(poncho) and
Lesley
(sweater).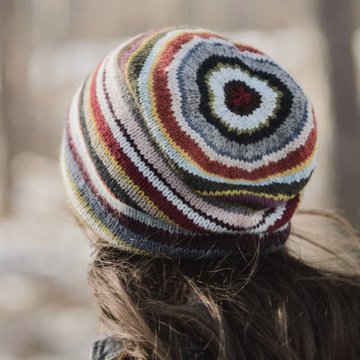 The 21 color slouch hat kit from Blue Sky Fibers is here!  This kit contains 21 mini skeins of Woolstock, a 100% wool worsted weight yarn, in all different colors.  Use it to knit up this hat (pattern included), change the stripe sequence to one of your own choosing or use the kit to knit up something completely different.  All those colors are crying out to be played with and the kit is only $25!
There's a few new colors of Rabat on the clearance shelf.  
This bulky color-shift yarn is a blend of 50% wool, 30% acrylic and 20% silk with 109 yards per 100g ball.  It knits up quickly on a US size 10-11 needle and as with anything on the clearance shelf, the price is sweet.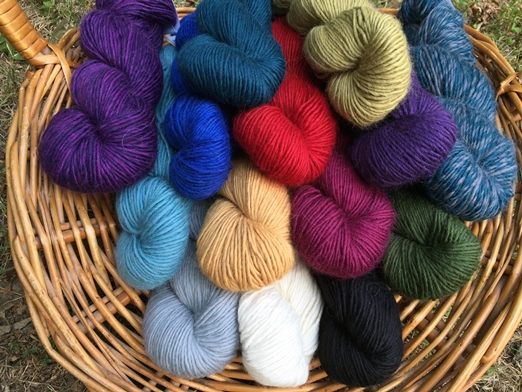 We have a few new colors of Highland Duo.  It's a super-soft single-ply blend of 70% baby alpaca and 30% merino wool with 197 yards per 100g skein and it works up nicely on a US size 8 needle.
The second edition of Knitters Against Swatches is here and it's even more hilarious
than the first! The second edition has 36 cards (28 white, 8 black) and can be played
with Cards Against Humanity with or without the first Knitters Against Swatches
expansion pack. 
Featured Upcoming Classes
 

 

 

 

 

Knitting and Crocheting

Knockers (FREE)

 

We are participating in the Knitted Knocker program to provide knitted prosthetic breasts to women who have undergone mastectomies. In this class we will teach you to make knockers on double-pointed needles so it is perfect for beginners. If you already feel comfortable knitting on dpns, join us anyway. There will be refreshments and discounts on knocker-making supplies. Want to make knockers on your own? Visit knittedknockers.org for patterns and drop off finished knockers at ReBelle. Those attending the class will receive 25% off Cascade Ultra Pima, the prefered yarn of the Knitted Knocker program.




Knitting Knockers Su

nday, October 2nd, 12-2pm

Crocheting Knockers Sunday, October 2nd, 2-4pm

 
Melt and Pour Soap Class 

($30)




Come and have fun crafting glycerine soap. Design and make three 4 ounce bars of soap to take with you at the end of class. You will be experimenting with color, fragrance, embeds and different shapes for your soap. This is a great introduction to the easiest type of soapmaking. We will not be using any harsh chemicals, so this class is appropriate for children who can safely work with hot liquids.

Sunday, October 16th 2-4pm




 
 

 

 

 

 

 

Knitting Two Socks at a Time ($30)

 

Avoid the second sock syndrome by knitting two socks at a time using two circular knitting needles. This class is for knitters who are already comfortable using double-pointed needles, but want to learn a new method of sock knitting. You will need 2-24" circular knitting needles in the size of your choice, stitch markers, and 4oz of sock yarn for this class.

 

Saturday, October 8th, 1-3:30pm