=============
**
EFT® for Physical & Emotional Healing
Sunday November 15
12-2 PM - $25
<><><><>
Lose Weight, Gain Confidence with EFT®!
Sunday November 22
12-2 PM - $25
<><><><>
to reserve your place at least 48 hours in advance!
=============
**
Contact Colleen for a free consultation or to book a session for an hour of surrogate muscle testing, tapping, laughing, fear blasting and SWEET RELIEF!
<><><><>
<><><><>
DISCLAIMER: EFT is gentle acupressure and has produced remarkable results in relieving emotional and physical distress.
USE EFT AT YOUR OWN RISK ON YOURSELF AND OTHERS, INCLUDING ANIMALS.
If you apply this newsletter's techniques to yourself or others, you are agreeing to take full responsibility for any side effects and/or outcomes.
* * *
Thank you for subscribing to my newsletter!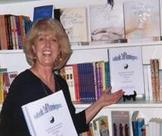 Please forward this newsletter to family and friends who could use the news!
Need help identifying the Core Issues to tap on?
Products to help YOU heal your life with the power of Tapping and Louise Hay's teachings.
* * **
Click
HERE
for Private Session information
.
Mega thanks to YOU, my Worldwide Subscribers for inviting my EFT® Tips into your inbox!
**

<><><><><><><><><><><><><><><><><><>
Are you blaming the seasonal weather changes for your dry skin?
Read on for tapping tips!
<><><><><><><><><><><><><><><><><><>
*
People have been tapping away their animal's fears, allergies and misbehavior tendencies using my
NEW ANIMAL EFT® E-BOOK!
Details HERE!
*
NOTE: Colleen Flanagan uses a modified yet highly effective form of EFT
®
that she's developed over years of research and hands-on experience. For complete training on standard EFT
®
and the free manual with tutorials, go to
www.emofree.com
<><><><><><><><><><><><><><><><><><>

Got Dry Skin? Tap it away!
by Colleen Flanagan, EFT-Cert1
*
Does your skin feel dry this time of the year as the seasons change? You may be surprised to know that your dry skin may be caused by negative emotions as well as the weather change.
*

Last year I heard a skin doctor on the radio say that the chemicals in some skin moisturizing lotions actually dry the skin. He suggested not using skin lotions for a few weeks and seeing how your skin reacted. He also suggested gently brushing your skin with a dry loofah several times a week.
*
I tried this and was amazed that my skin didn't dry up in the Arizona winter like it usually does. Oddly, in the spring rainy season, a patch of dry skin appeared on my back. Knowing how our bodies speak to us in metaphors, I muscle-tested myself to see if the dry skin was caused by negative emotions.
*
Indeed, my dry skin was manifested by fears that someone would never get off my back, and that I wished the whole situation would dry up and go away. After I applied EFT® and released all the fears about the situation, the dry skin cleared up in 3 days.
*
Do you have dry skin? Your body may be giving you clues by the dry skin location. For example, dry skin on the feet or legs is very common and may be due to fears of not feeling safe while walking your Life Path, or wishing a situation would dry up and go away.
*
(1) Consider experimenting with this EFT® Setup Statement or something similar modified for your situation. Tap on your karate chop point or rub your sore spot and repeat three times as you focus on your dry skin and what emotional situation could be causing it:
*
"Even though I have this dry skin on my (location), I deeply and completely love, accept and forgive myself. I release my fears of not feeling safe and wishing this situation would dry up go away. I choose to feel safe and peaceful, and allow my skin to heal."
*
(2) Repeat the Reminder Phrases as you tap on the EFT® acupressure points (face, torso, hands).
*
TIP: Create the Reminder Phrases from the above Setup Statement, e.g., "Fears of not being safe causing this dry skin",
"This dry skin because I'm afraid this situation will never dry up and go away.", "Releasing these fears causing my dry skin. Choosing healthy moist skin now."
*
(3) Do a 9-Gamut Routine.
*
(4) Repeat the Reminder Phrases as you tap on the EFT® acupressure points (face, torso, hands).
*
(5) Take a deep breath or two then relax. Did any uncomfortable memories or distressing situations come to mind as you tapped? Apply another round of EFT® on the specific memory until you can think about it and have no emotional charge.
*
(6) Wait a few days and see if your dry skin condition improves. If not, you may have several more aspects or fear layers to tap away with EFT®.
*

*
Tap each day for the optimum health of you, your loved ones, and your animal friends!
<><><><><><><><><><><><><><><><><><>
Want to learn HOW use MUSCLE-TESTING and TAPPING

together

like Colleen does?
*
People around the globe have ordered my
Muscle-Testing and TAPPING SECRETS in
ONE E-BOOK to help themselves, pets and their loved ones! You can NOW get the E-book and 3 bonus e-books through PayPal, then

download them right away

!
*
Check out the Table of Contents and get details by clicking HERE.
<><><><><><><><><><><><><><><><><><> *
GOT ALLERGIES? Get the facts about worldwide allergies and how TAPPING can help HERE!
* <><><><><><><><><><><><><><><><><><>
PET MISBEHAVIOR, ALLERGIES OR ILLNESS?
Get Colleen's 5 years of ANIMAL TAPPING experience and PROVEN TECHNIQUES in one informative e-book.
E-book's table of contents is HERE!
It's the BEST $20 you'll ever invest in your animals' emotional and physical wellness!
<><><><><><><><><><><><><><><><><><> *