BETWEEN US - February 2018 / ENTRE NOUS - février 2018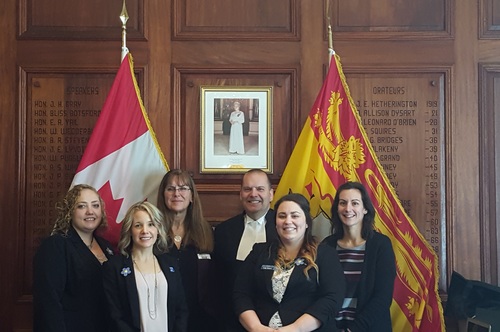 On January 31st, representative of the Alzheimer Society were invited to the Legislative Assembly in recognition of Alzheimer's Awareness Month. 
The Honorable Chris Collins
 introduced those in attendance, and recognized the importance of bringing more support and awareness to the stigma surrounding the disease.
Pictured above: Rachelle Wearing, Program Coordinator; Angela Meisner, Financial Manager; Barb Hatfield, volunteer and top provincial fundraiser; the Honorable Chris Collins; Kelly Watson, Fredericton Coordinator and Angela Hill, Program Coordinator.
Le 31 janvier dernier, des représentants de la société Alzheimer ont été invités à l'Assemblée législative pour souligner le mois de la sensibilisation à la maladie d'Alzheimer. L'honorable Chris Collins a présenté les personnes présentes et a reconnu l'importance d'accorder un appui accru et de sensibiliser davantage le public aux initiatives pour contrer la stigmatisation entourant la maladie.
Dans la photo ci-dessus : Rachelle Wearing, coordonnatrice de programme; Angela Meisner, gestionnaire financier; Barb Hatfield, bénévole et meilleure collectrice de fonds de la province; l'honorable Chris Collins; Kelly Watson, coordonnatrice de la région de Fredericton et Angela Hill, coordonnatrice de programme.
 Conférence sur l'optimisation des soins~
Enhancing Care Conference
Conférencier principal | Keynote speaker

Director of Member Experience at Planetree, 

Building Capacity to Care for Persons with Dementia: The Central Role of Primary Care 

 

Directeur de l'expérience des membres chez Planetree, 

Renforcer les capacités pour prendre soin des personnes atteintes de démence : le rôle central des soins primaires




 




 

April 6, 2018 | le 6 avril  2018

L`hôtel 

Crowne Plaza Hotel

120 $ chaque ou 60 $ par étudiant(e)

$120 regular | student $60
Research Program ~ L
e Programme de recherche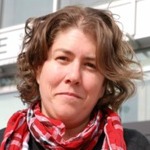 $59,615 - Quality of Life, New Investigator Grant
Project: The Med-Pass program to improve nutritional status and health outcomes of nursing home residents with dementia: a promising approach in need of high quality research. 
59 615 $ - Bourses pour nouveaux chercheurs, volet qualité de vie
Titre
:
Le programme Med-Pass pour améliorer l'état nutritionnel et les    résultats sur la santé des résidents atteints d'une maladie cognitive dans les foyers d
e soins de longue durée : une démarche prometteuse nécessitant une recherche de haute qualité.
"The increasing prevalence of dementia is a growing concern worldwide. While waiting for a cure to be found, we need to learn how to manage malnutrition in dementia." 
« La prévalence croissante des maladies cognitives cause de plus en plus d'inquiétude à l'échelle mondiale. En attendant de trouver un remède, il faut apprendre comment gérer la malnutrition dans les maladies cognitives. »  
Nancy Presse, 
Université de Montréal, Montreal, QC
Volunteer with us! Devenir bénévole!
Volunteers are the most important resource for charitable organizations like ours. At the Alzheimer Society, volunteer time and energy are essential to help us support people living with dementia.

Please see below for current opportunities in your area. 

Les bénévoles sont la ressource la plus importante pour les organismes de bienfaisance comme le nôtre. À la Société Alzheimer, le temps et l'énergie des bénévoles sont essentiels pour nous aider à soutenir les personnes atteintes de la maladie d'Alzheimer ou de maladies apparentées.

SVP, voir ci-dessous pour les possibilités actuelles de bénévolat dans votre région. 






Thank you to all who donate their time! 




Merci à tous ceux et celles qui




 

Participants at the Memory Café in Plaster Rock created these charming bird feeders during their last Café!




Third Wednesday each month from 11-1pm




Les bénévoles au Café de la mémoire de Plaster Rock ont aidé les participants à fabriquer ces jolies mangeoires à oiseaux

lors de leur dernier Café!




Troisième mercredi du mois, de 11 h à 13 h

 

Plaster Rock Welcome Centre
Memory Café Committee -
Comité du Café de la mémoire
Looking for help with planning, preparing and facilitating our Memory Café program. 
This monthly program focuses on socialization with an educational component. The Café includes a presentation on a different topic each month, followed by entertainment and refreshments. This program is for people of all ages at all stages of the dementia journey.
Le comité à besoin de 

bénévoles pour aider à planifier et 
à animer le café. 
Le Café de la mémoire est un programme mensuel, à composante sociale, destiné à faire participer les personnes atteintes de démence et leur familles. Le programme a lieu chaque mois, 
et a pour objectif la socialisation et un volet éducatif. Le Café de la mémoire comprend un exposé sur un sujet différent chaque mois, des divertissements et des rafraîchissements. Ce programme s'adresse aux
personnes de tout âge et à tous les stades de la démence. 
ACADIAN PENINSULA/PÉNINSULE ACADIENNE, 
BATHURST/CHALEUR, 
BELLEDUNE, 
DOAKTOWN, 
EDMUNDSTON, 
FREDERICTON, 
MONCTON, 
RICHIBUCTO, 
SAINT JOHN
 -----------------------------------------------------------------------
Walk for Alzheimer's - La Marche pour l'Alzheimer
·

 Help to coordinate and  promote Walk within your community
· Recruit volunteers to assist in planning, promotion and day-of support
· Recruit individuals and teams to participate
· Approach businesses for prize donations
· Coordinate venue, entertainment, food, speakers, supplies
· Aider à la coordination et la promotion de la Marche dans votre collectivité. 
· Recruter des bénévoles et les personnes pour participer.
· Solliciter les entreprises pour des dons de prix.
· Coordonner les divertissements, la nourriture, les orateurs, le matériel.
ACADIAN PENINSULA/PÉNINSULE ACADIENNE, 
BATHURST/CHALEUR, 
BELLEDUNE, 
DOAKTOWN, 
EDMUNDSTON, 
FREDERICTON, GRAND MANAN, MIRAMICHI, 
MONCTON, REXTON, 
RICHIBUCTO, SACVILLE, 
SAINT JOHN, ST GEORGE, ST ANDREWS, 
WOODSTOCK
------------------------------------------------------------------------
Caregiver Support Group Facilitator
Animateur/animatrice de groupe de soutien aux aidants naturels
We are looking for one or more volunteers to help facilitate our monthly support group.
Nous sommes à la recherche d'une ou de plusieurs personnes pour aider à l'animation 
des groupes mensuel.
FREDERICTON, MIRAMICHI, SAINT JOHN, ST STEPHEN, WOODSTOCK
-------------------------------------------------------------------------
Administrative Support - 
Soutien administratif
We are looking for help with data entry, reminder phone calls to clients, assisting with mailouts, etc.
Nous sommes à la recherche de personnes pour aider à la saisie de données, aux appels de rappel aux clients, aux envois postaux et aux campagnes de financement.
FREDERICTON, MONCTON, SAINT JOHN, ST STEPHEN, WOODSTOCK
----------------------------------------------------- 
 

Family Support - 
Soutien aux familles
We are looking for help with family support calls.
Background in social work or nursing required.  Must have extensive knowledge in Alzheimer's disease and other related dementias, excellent personal skills and communication skills required.
Nous sommes à la recherche d'une personne pour aider aux appels de soutien aux familles.
De l'expérience est exigée. La personne doit avoir une connaissance de la maladie d'Alzheimer
et des démences apparentées.
FREDERICTON, MONCTON, SAINT JOHN, ST STEPHEN, WOODSTOCK
We are always looking for volunteers! Please contact our office to find out how one hour of your time can make a difference!
Please visit our Facebook pag
e for provincial information and highlights
.
Consulter notre page  Facebook pour

 des renseignements
provinciaux et des faits marquants. 
Our Mission: To alleviate the personal and social 
consequences of Alzheimer's disease and related dementias through the provision of support, education 
and advocacy, and to promote the search for a cause and a cure.
Our Vision: 
We see communities where no one suffers from dementia – we have taken a stand against 
the disease, defied its predicted path, and defeated its dark shadow. 
To learn more about the Alzheimer Society of New Brunswick, our programs or to volunteer contact any of 
our 6 local Resource Centres in Edmundston, Fredericton, Miramichi, Moncton, Tracadie and Saint John.
------------------------------------------------------------------------------------------------------------------------------------
La mission
 : d'alléger les conséquences personnelles et sociales de 
la maladie d'Alzheimer et des démences connexes en offrant des services de soutien, de formation et de 
défense des droits, et de promouvoir la recherche sur les causes et les traitements de la maladie.
Notre vision
est celle d'un monde où personne ne souffrirait de démence – nous avons contrecarré la 
maladie, 
défié sa progression présagée et vaincu sa sombre menace!
Pour en apprendre davantage à propos de la Société Alzheimer du Nouveau-Brunswick et de nos
programmes 
ou pour vous offrir pour faire du bénévolat, communiquez avec l'un de nos 6 centres de 
ressources 
régionaux 
situés à Edmundston, Fredericton, Miramichi, Moncton. Tracadie et Saint John.
Alzheimer Society of New Brunswick, 
320 Maple Street, Suite 100
Fredericton, New Brunswick, E3A 3R4
-------------------------------------------
Société Alzheimer du Nouveau-Brunswick, 
320, rue Maple, bureau 100
Fredericton (Nouveau-Brunswick) E3A 3R4