SHOP HOURS
Monday: CLOSED
Tuesday: 12 - 6
Wednesday: 12 - 6
Thursday: 12 - 7
Friday: 12 - 6
Saturday: 10 - 6
Sunday: 12 - 4

 

 

 

 

 




October is breast cancer awareness month and we are participating in the Knitted Knocker program which provides knitted and crocheted prosthetic breasts free of charge to women who have undergone mastectomies.  Visit knittedknockers.org for patterns and drop off your finished knockers (stuffed or unstuffed) at ReBelle.




We will also be having free workshops on October 15th if you need help or just want to knit along with others. Knitting instruction will be available from 12-2pm and crochet instruction will be available from 2-4pm. We will have refreshments and all participants will get 25% off Ultra Pima (the preferred yarn of the Knitted Knocker program).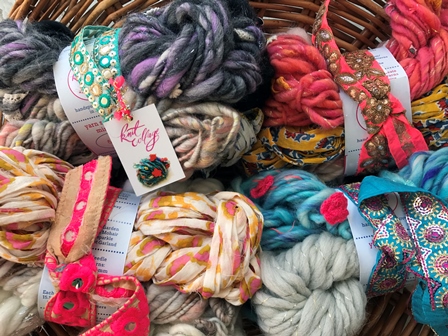 We have a fresh supply of Knit Collage, including their Pixie Dust and Cast Away yarns as well as these super cute sampler kits that come with mini skeins of Spun Cloud, Wildflower, Daisy Chain, Cast Away and Gypsy Garden. These samplers can be good for testing out their yarns, using for trim on borders, weaving, or they come with a pattern for a cute cowl.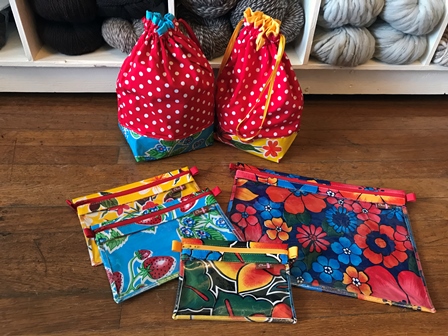 We have some new clear front pouches from Chic-a as well as some of their project bags. These clear front pouches are great, the small ones work as notions bags and the larger ones can hold patterns or small projects.
Featured Upcoming Classes
 

Come learn to crochet this cowl featuring a novel crochet technique using two weights of yarn to create interesting texture and pattern. The resulting fabric is soft and lightweight, resulting in a cloud-like cowl you'll always want to wear. The pattern is easily memorizable, and is a perfect take along project. A knowledge of basic crochet stitches is required. *Materials needed: Super bulky and fingering weight single ply yarn and a size G crochet hook.

 

Tuesday, October 24th 6-8pm






 

 




In the first class you will learn to cast-on, knit, and bind off so you can start on a basic scarf or hand mitts. The second class will cover purling, increasing, decreasing and pattern reading. The price includes two classes, yarn and needles.

Wednesdays, October 18 & 25, 6-8pm
 

 

 

Beginning Crochet ($40)

 

Come learn to crochet with Raellyn! In this class you will learn the basic crochet stitches, increases, decreases, and pattern reading. The class project will be a cute pair of crochet fingerless mitts, similar to those made in the beginning knitting class. Price includes two classes, yarn and a crochet hook.




Sundays, October 22 & 29, 4-6pm