Sea Horse Ranch Travel & News, May 2015
Summer Camp for Kids at Sea Horse Ranch
The popular Sea Horse Ranch Summer Camp for children, ages 6-12, begins in June and sign-up is available now. The fun day-camp includes activities such as Tennis, Swimming, Horseback Riding, Day Trips, professional Art and Music training, Soccer, Water Games, and optional Spanish lessons. Hours for the Camp are from 8:30am-4:00pm, Monday through Friday, with two sessions being offered; June 22-July 3, and July 13-July 31.
For more details please call the Sea Horse Ranch office at 809.571.3880, or Equestrian Center at 809.571.4462, Toll Free USA 1 800.635.0991
---
Sea Horse Ranch Welcomes BTT Tennis Academy & High-Performance Training Summer Session
BTT Tennis Academy is a high performance center based in Barcelona, Spain. Since March of 2015, BTT has begun a new training center at the Tennis Club at Sea Horse Ranch in Cabarete, Dominican Republic.
BTT Tennis Academy at Sea Horse Ranch provides the Tennis Club with professional, high performance training and instruction, along with quality sports management of the center, with events and competitions.
Along with the regular training services provided, BTT Tennis Academy will offer an intensive Summer Training Camp beginning in June, 2015 and will run through August. It is a training program based on the BTT system and implemented by experienced coaches, with a special session by Jordi Vilaró, Director and Founding Member of BTT Tennis Academy based in Barcelona, Spain, and Director of Tennis Club programming at Sea Horse Ranch. The trainings are held in morning and afternoon sessions, and supplemented by a program of physical training and a competition plan.
For more information, please call the Tennis Center directly at 829-401-7004, or Email: info@bttacademy.com.
---
Featured Property – Villa Irina
Situated on a private road and walking distance to the Beach Club Restaurant and seaside pools, this sprawling villa combines casual ranch style architecture with luxurious living. Villa Irina has four bedrooms and four and a half bathrooms. An enormous master bedroom is located at one end of the villa offering privacy and tranquility, while the others are located on the guest wing. An open concept living room offers seamless indoor and outdoor visuals to enjoy the lush garden views. A generous kitchen and dining area is ideal for entertaining, along with spacious grounds and private pool. Villa Irina at Sea Horse Ranch is a fabulous vacation retreat, or your Caribbean home away from home for long-term stays. Contact us to learn more about this vacation dream-home.
---
Standup Paddleboarding (SUP) in the Caribbean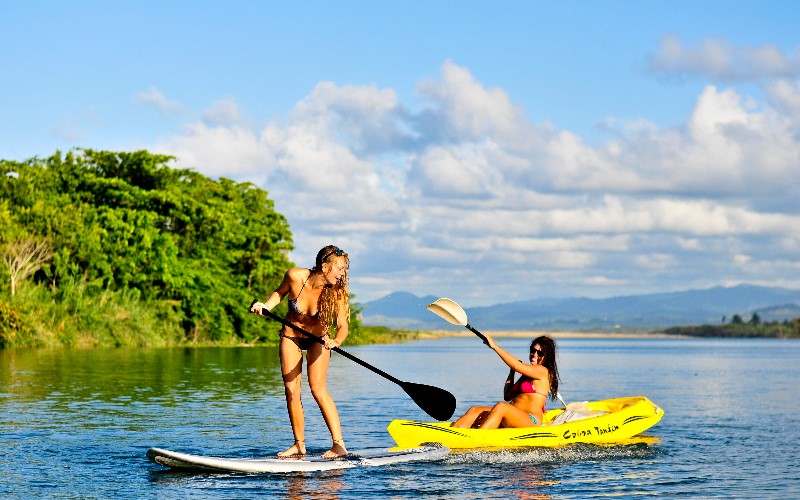 Standup paddleboarding, or SUP, is popular among people of all ages who want to enjoy being on the water while also getting a workout. Standup paddleboarding has exploded in popularity the past few years, and has become a hit on oceans, lakes and rivers around the world.
According to a 2013 Outdoor Foundation recreation report, standup paddleboarding was the most popular outdoor activity for first-time participants, garnering 56 percent of the newcomers among all outdoor activities.
Yet, Standup paddleboarding is not new. The ancient Hawaiians were believed to have used it for fishing and transportation between islands. Fishermen from Asia to South America have also used forms of standup paddleboarding for gaming and recreation.
To connect with Mother Nature this summer, try Standup paddling in the Caribbean with the perfect conditions in Cabarete Bay. SUP in a variety of conditions are available in the Dominican Republic, with wave riding or SUP in the calm, crystal-clear waters of Sosua and Cabarete. Our concierge team will be happy to arrange a river tour or SUP ocean adventure for you.
Photo credit Adrenaline Beach Adventures
---
Mother's Day Brunch at The Beach Club
Mother's Day is celebrated in the Dominican Republic on May 31st. Enjoy this special day with your loved ones with a very special brunch at The Beach Club at Sea Horse Ranch. Please note, The Beach Club will be closed on Wednesdays through June 10.
---
---
Sea Horse Ranch, Cabarete, Dominican Republic