"An enchantment to be cherished"
- Central TX Live Theatre
"pure addictive entertainment"
- Austin Theatre Examiner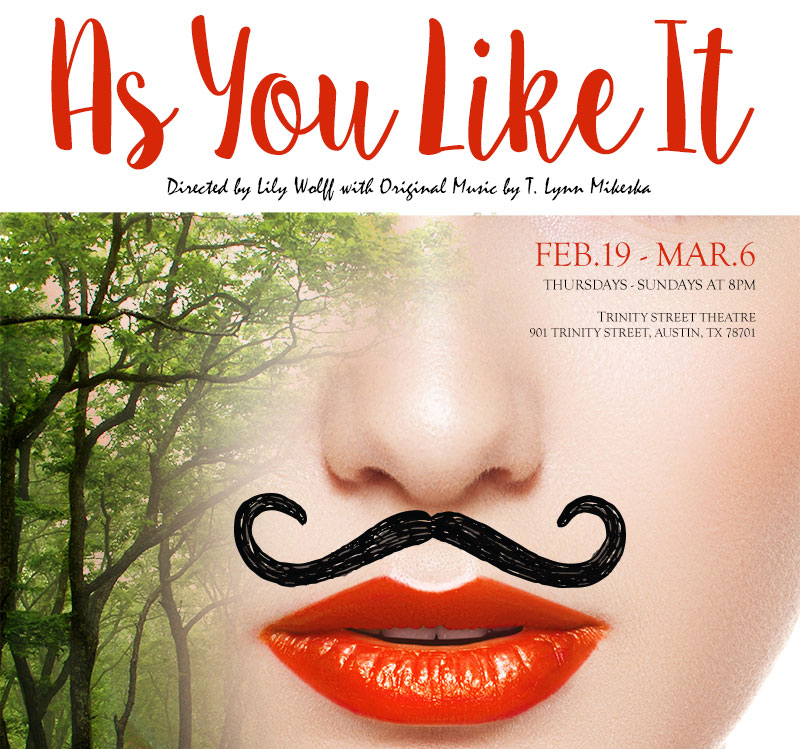 Don't forget! Industry Night is tonight!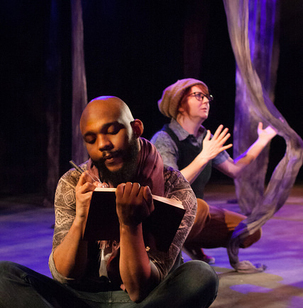 Rave review from Central Texas Live Theatre!

This is a land of dreams, enchanted and enchanting. As You Like It is always fun, and this production is something special. Director Lily Wolff draws into this magic circle both familiar Austin devotees of Shakespeare performance and attractive newcomers. And the Shrewd company is just that: knowledgeable, confident, plausible and entirely winning...Diction, delivery, movement and intent are crystal clear throughout, and there's not a second of downtime. The Shrewds' As You Like It does the piece proud, and it's an enchantment to be cherished. Read the full review here!
And another rave review from Austin Theatre Examiner!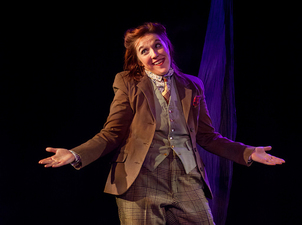 To see a Shrewd Productions performance is to be ready for a surprise. Throughout the years, they have provided excellent productions of unique modern plays, and now they're bringing this creative spark to the works of the bard, with their production of "As You Like It". ..With bold casting choices, great directorial decisions, and a cast of a lifetime, they've breathed sparkling new life into one of Shakespeare's most staid plays, as well as creating one of the most entertaining theatrical experiences this critic's had in years.Read the full review here!
About the Show
This gender-bending, music-infused take on Shakespeare's classic romantic comedy is directed by Lily Wolff with original music composed by T. Lynn Mikeska, and boasts an incredible creative team including award-winning actors and designers, who will transport you to the magical world of Arden. Our female-dominated cast is comprised of 9 women and 5 men, playing 24 roles, with most actors playing cross-gender. Expect to see an As You Like It that stays unwaveringly true to Shakespeare's text, but an As You Like It unlike ANY you've ever seen before.

As You Like It runs February 19 - March 6 at Trinity Street Theatre, Thursdays - Sundays at 8pm.
View photos from the show by Kimberley Mead!
Location:
Trinity Street Theatre
(located inside First Austin Baptist Church)

901 Trinity Street
Austin, TX 78701

Click here for a map.

Street parking and garage parking are available. Metered parking is available on the street, and is free after 6pm on Wednesdays and Sundays.

Dates & Times:
Monday, Feb. 29 @ 8pm
Thursday, Mar. 3 @ 8pm
Friday, Mar. 4 @ 8pm
Saturday, Mar. 5 @ 8pm
Sunday, Mar. 6 @ 8pm

Tickets:
$20 on Thursdays and Sundays
$25 on Fridays and Saturdays
$18-$23 Students/Seniors/Starving Artists

Click here to purchase tickets.
**A limited number of $10 Student tickets will be available on Thursdays and Mondays only with valid student ID. These tickets can only be purchased in person at the Box Office.