We did it! Turned lemons into lemonade after the street parade was cancelled, teaching artists and dancers of all ages came together in an online festival to honor first responders and healthcare workers.
Staying true to Dance Parade's values of inclusion and diversity, 1086 danced on Zoom and 3000+ more streamed in from 24 countries to dance together. As they danced in their virtual destinations we danced together as one world.
Emcee Jungle interviewed four Grand Marshals

 

 

             Photos Credits: Josef Pinlac and Ren Mutevellioglu

 

Grand Marshal David Dorfman, taught a master class on the virtual DanceFest Teaching Stage. Over 300 learned modern dance.

 
Grand Marshal Sarina Jain, founder of Masala Bhangra, taught a Bhangra class, also with hundreds.

 

 

Grand Marshal Liquid Todd, host of BPM on SiriusXM Channel 51. LT played a great set of house tracks that got over 1,000 Zoomers dancing for his 2 hour set.



Grand Marshal Princess Lockerooo opened the parade with a Waack Mob made from her students from all of the world and taught a Waacking class

 

 

At the Grandstand Stage the dance party included Dance Battles emceed by Emcee Red, tutu jams, a Dance Police Lockdown and a Grandstand Show



Dance Parade announced the winners of the Dare to Dance Contest that challenged choreographers to create videos of their dances during this period of social distancing. Thanks to Nancy Steele of STEELE DANCE, cash prizes were awarded to three winners: Ntrinsik Movement (1st), The Schoen Movement Company (2nd) and Chicago Dance Center (3rd) with two honorable mentions: Brooklyn Beasts and Motion x Synergy

 

 

Jessica Deahr accepted the 3rd Place Prize for the Chicago Dance Center for their video entitled "Dance My Way" -- Congratulations!

The Schoen Movement Company won 2nd Prize for their video entiteled "King of the Bongo" (above) and the grand prize went to Ntrinsik Movement for their video "Kindred Spirit" (right)

See all the winners' videos from our website

 

 



The Dance Police was out in force, enforcing the everyone dances regulations. 

 

 

We danced to Barbara Ann Michaels' "I Dance Like You" game



There were times when kids from around the world  stole the show!

 

 




There were super heros and unicorns of all ages

dancing with Stitch


 

 
and a fairy Princess

dancers from All Star Dance Studio


 

 
There was a lot of heart!
Shireen emceed the DanceFest Stage where five classes were offered: Waacking, Modern, Zumba, Salsa and Bhangra. She also narrated the Grandstand show, giving behind the scenes insights to several groups from the actual Dance Parade.

 

 
Mexican Dance (Mazarte Dance Company)

Andrea Beeman showcased her Middle Eastern dance

 

 

 

Los Andulleros de Santiago USA (Dominican Republic)


 
Latin dancers Paul Ru and Lulu!

 

 

Bolivian Dance

 
Andrea Beeman showcased her Middle Eastern dance

 

 

Traditional Dominican Dance Costumes razzelled and dazzeld

 
Virtual Background -- on the Brooklyn Bridge!

 

 

Virtual background? It was sometimes hard to tell


 

Red Hays emceed three rounds of Dance Battles

 
In an amazing tie in the final round Nene (above) and Yuki (right), both dancers from Japan, won the grand prize!

 

Amazing cultural costumes from around the world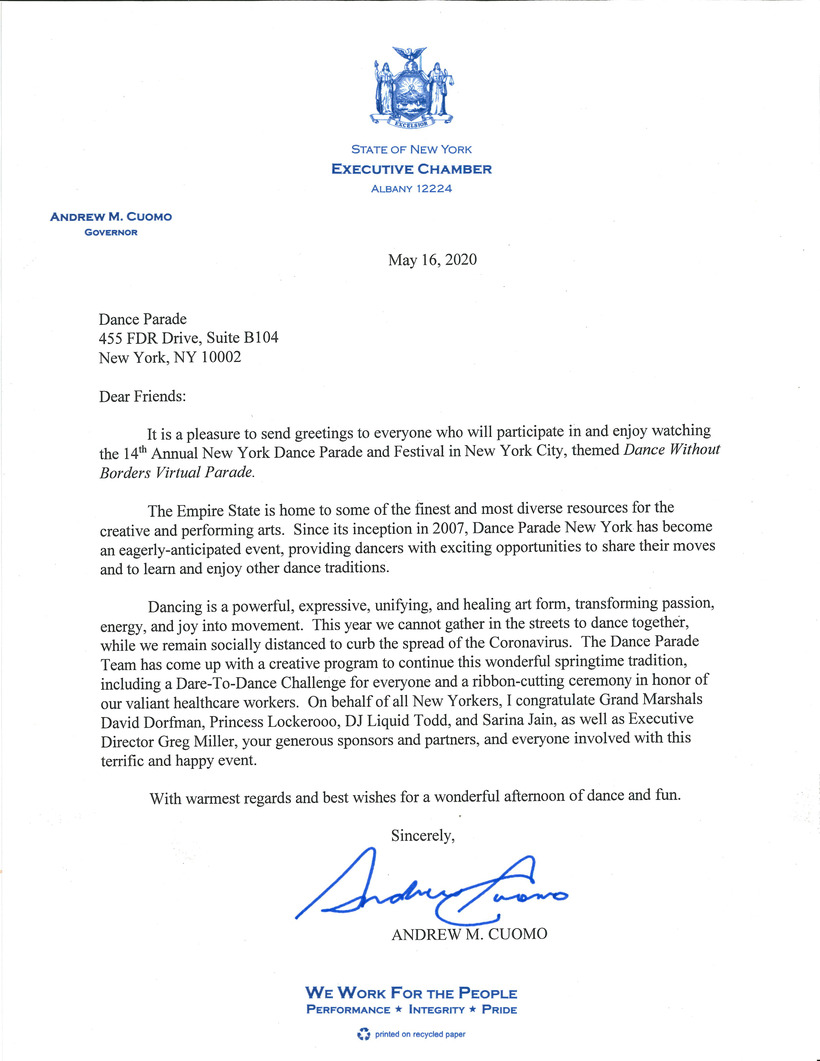 #TheShowMustGoOn  #DanceWithoutBorders #DanceParadeNYC #quarantine
Dance Parade is a 501(c)3 Non-Profit Organization
Our Values: Inclusion, Diversity & Cultural Equity