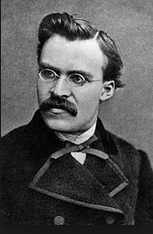 "

We should consider every day lost on which we have not danced at least once."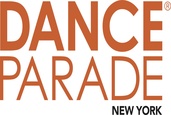 Team

Non Profit Board of Directors:
Erik Bryan Slavin (Chair)
Nicola Creary
Valerie Feit
Jerry Goldman
Mahayana Landowne
David Leventhal
Greg Miller
Philip Ribolow
Steering Commitee:
Greg Miller, Executive Director
Jenny Boissiere, Parade Production
Celia Kutcher, Parade Production
Carlye Eckert, Education
Valerie Feit, Education
John Dalton, Sponsorship
Michelle DeBlasi, Marketing
Martha Ma, Marketing
Jamila Holman, Festival Production
DJ McDonald, Curatorial
Mark Schmidt, Curatorial
Hal Lamster, Web
Donnie D'Amato, Web
Howard Gibbs-Hobgood, Volunteer Coordination
Rebecca Myles, Media
Bianca Rodriguez, Finance Director
Natalya Grigoriev, Finance
Brian Austin, Creative
Jason Parrish, Creative
Chauncey Dandridge, Social Media
Honorary Committee:
(Power Team & Grand Marshals)
Garth Fagan
Kwikstep
Rokafella
Carmen de Lavallade
Robert Battle
Mary Verdi-Fletcher
Rekha Malhotra
Savion Glover
Jawolle Willa Jo Zollar
Hex Hector
Jacqulyn Buglisi
Baba Chuck Davis
Louie Vega
Ashley Tuttle
Elisa Monte
Bill Shannon
Trevor Hochman
Peter Zehren
Samir Bitar
Mel Alvarez
Jonathan Peters
Charles Reinhart
"Billy Elliot" (Joseph Harrington)
Kat Wildish
Amy Marshall
Jellybean Benitez
Elizabeth Zimmer
Ellenore Scott
Don Campbell "Campbellock"
Morocco (Carolina Varga Dinicu)
Luis Salgado
Luigi
Kool Herc
Danny Tenaglia
Djoniba Mouflet
Advisory Board:
Jeanne Fleming
David Katz
Teddie Kern
Anil Kumar
Joseph McElroy
Fred Shequine
Tasha Blank
Sponsorship Team:
Greg Miller
John Dalton
Nikki Creary
Phil Ribolow
Parade Production:
Jenny Bossiere (Co Lead)
Celia Kutcher (Co Lead)

Cristin Lafata
Grace Marinao
Jenn Converse
Erik Bryan Slavin
Gabriel Kutik
John Dalton
Dan Rosenstark
Daniel Kahn
Disco Mike Park
Bobby Speakerwire
Wandalynn Miftahi
Cheryl Gant
Phil Ribolow
Mekeshia Brown
Marjorie Liebman
Wandalynn Miftahi
Peter Vassilatos
Ollie Chase
Festival Production:
Jamila Holman (Chair)
DJ McDonald (Curatorial Chair)
Mark Schmidt (Curatorial Vice-Chair)
DJ Sweat
Shiela Jamison
Ben Vazquez
Ameca Holman
Bianca Rodriquez
Mango
Norman
Donnie D'Amato (Emcee, Main)
Shireen Dickson (Emcee, Family)
Educational Outreach
Carlye Eckert (Chair)
Valerie Feit
Caryn Cooper
Shireen Dickson
Leslie Pieters
Jamee Schliefer
Finance:
Bianca Rodriguez (Chair)
Natalya Grigoriev
Elizabeth Zaklama


Legal:
Victoria Behr
Carmen Casado
Jerry Goldman
David Leventhal
Paul Llewellyn
Kaye Scholer LLP
Marketing:
Greg Miller
Brian Austin
Jason Parrish
Hal Lamster
Martha Ma
Sarah McGlaughlin
Amanda Alston
Luis Vargas
Lawrence Capici
Media & Promotions Team:
Rebecca Myles
Teresa Bigelow
Chauncey Danridge
Kevin Farley
Shiela Jamison
Special thanks:

·New York City Mayor Bill de Blasio
·NYS Governor Andrew Cuomo
·Manhattan Borough President Gale Brewer
·City Council Member Rosie Mendez
·NYC Cultural Affairs Commissioner
Tom Finkelpearl, Deputy Commissioner Eddie Torres, Assistant Commissioner Kathleen Hughes and Program Officer Stephanie La Froscia
·Community Boards 2 and 3

·NYC & Co Foundation
·NYPD Lt Christopher Cheng and Sgt Patrick McGuire
·NYC Department for the Aging
·New York State Council on the Arts
·Lower Manhattan Cultural Council
·NYC Parks & Recreation Director Claudia Pepe, District Supervisor Terese Flores and Deputy Director Venus Melo
·NYC Dept of Sanitation Superintendent Thomas Lincoln
·NYC Dept of Transportation Event Coordinator Ivory Henderson-Robb and G.I.S. / Events Coordinator Shuan Bruney
our 2017 Sponsors and Partners: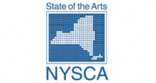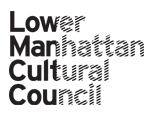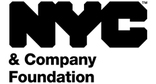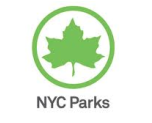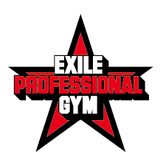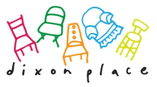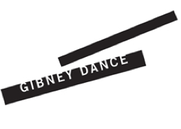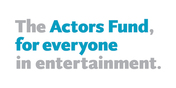 2017? Contact greg"at"danceparade.org
Out of darkness comes light:
In 1967, the mass destruction from the Vietnam War gave rise to the "Summer of Love" making lasting contributions to art and music.
50 years later in NYC, another cloud of darkness appeared over the dance world--In a case against the NYC cabaret law, a State Supreme Court judge ruled that social dance was not considered expressive activity--The light that followed was a groundswell of cultural expression that gave birth to the first Dance Parade.
This year, the arts are being threatened again by federal budget cuts and public malaise--Darkness, once again, that is driving dancers back to the stage and into the streets in numbers like never before.
So far, 95+ groups representing 50 unique styles of dance are signed up to participate in the 11th Annual Parade and Festival. Students and seniors in all five NYC boroughs are preparing steps, jumps and twirls for their debut on Broadway. This is quite literally a massive movement. Please join us as a spectator, a participant, volunteer or a donor. 
You could begin by buying a ticket for our
Showcase Gala Sunday, April 9th at Dixon Place!

Love and light,
 

Greg Miller






Join thousands of dancers as we explode down Broadway in the heart of Manhattan, sashay through Union Square and leap across Saint Marks Place.

Once again our goal is to exceed 80 unique styles of dance and to be the world's largest display of cultural diversity. The theme "Dance for Peace" will set a positive and joyous tone as we unify through our common passion for dance.


 

Never seen before dance genres and choreography that highlight the human experience -- everything from Ballet to Breakdance, Two-step to Dub-Step and African to Zydeco--all in dazzling outfits, with live bands, djs and decorated floats.

Do you belong to a Modern dance company, Contra group, Salsa group, Ballet School or are an EDM DJ? 

Registering as a parade group

is just $50 to move and groove before 75,000 live audience members and to be eligible for our Community Engagement programs in which we hire performaning groups and teaching artists throughout the year. Scholarships are available to waive the fee and there's no fee to apply to participate at DanceFest.

 

Nearby NYC? Join us this Monday 3/20 at 6pm for a Parade Group Coordinator's Meeting at 53 Chambers.


 

Are you joining us from out of town? Save up to 55% on rooms via Dance Parade's exclusive offer on Hotel Engine!

 

 

"Dance For Peace"




 




Photo Credits: Miguel Chaves (above) and Peter Cai




 

 

Click here to book discounted rooms!




 

T

he NYC Department of Cultural Affairs is seeking to understand the needs of the City's cultural field.

 

Your input is important and will inform the recommendations for CreateNYC, the City's first-ever cultural plan, currently underway.

Please fill out the Survey and share with other artists and cultural workers so they can do the same. All information collected will be kept anonymous.
2017 Dance Programs:

We employ Teaching Artists at our programs in all five boroughs of New York City. Each program ends with participation in the May 20th 2017 Parade and Festival!


 

Ageless Action: 

Serving older Americans through the joy and movement of dance.  





Community Kinect:

Using dance to instill a lifelong enthusiasm for physical fitness.

 

Cultural Residencies:

Multi-week residencies focusing on culturally specific dance forms.




 

 



| | | |
| --- | --- | --- |
| Photo Credit: Eraj Asadi |   | |
How did you first find out about Dance Parade? 
I'm a Hula-Hooper and found out [about Dance Parade] years ago through Bex Burton​, our fearless leader who moved to Colorado​. Amy Rogers has taken over leading the hoopers in ​the Dance Parade. I have been dancing in it for about four years with the hoopers.
What do you do for work in your personal life?​
​I'm a health and wellness counselor. I have my own radio show and love helping folks eat better. For information on my practice. Check out
my website.
What is your current role in Dance Parade, Inc? 
I'm the Parade's Co-​Producer and I am the liaison for all groups beginning with​ K-Z. Jenny Boissiere, handles A-J.​
What is your favorite style of dance to watch or participate in? 
I love watching all styles of dance; to participate in? Hoop Dance!   
Not only are we planning for thousands to dance down Broadway, we're also gearing up for a 5 stage festival and are involved in productions and teaching programs throughout New York City. We organize it all with committees that are steered by twice monthly meetings.

To join the fun, fill out the brief volunteer form here!


 

 
 

 

In each issue of steps we feature a new genre that will be featured in Dance Parade. This time, it's Roller Disco!

Roller disco is form of dance done at a discothèque or skating rink where all the dancers wear roller skates of some kind (traditional quad or inline). The music played is modern and easily danceable, historically disco but in modern times including almost any form of dance, pop or rock music. The concept originated as a fad in the 1970s when the disco craze was at its height, peaking around 1980 and inspiring several roller-disco magazines. In 1984 the fad arrived in the United Kingdom and many roller discos popped up all over the country.
As of 2006, the craze has largely discontinued, although many 1970s era roller-discos are still open and successful. Also, it experienced a mild revival in the early 2000s, especially in the mid-eastern United States, where certain clubs continue to host roller disco nights. Some now use in-line roller-blades. Roller discos are also popular among older children and young teenagers, especially for parties. As in other discos, special effects such as fog machines and flashing traffic lights are often used. To minimize the risk of injury, the organizers of roller discos often only allow participants to skate in one direction at a time, so that they do not crash into one another, although many roller discos have a "free skate" section in the middle of the roller rink.
(Photo Credit: Robert Dea, Artists: Harry Gaskin & Energy in The Middle; Article source: Wikiepdia)
 

Our Mission

is to promote dance as an expressive and unifying art form by showcasing all forms of dance, educating the general public about the opportunities to experience dance, and celebrating diversity of dance in New York City by sponsoring a yearly city-wide dance parade and dance festival.
Dance

Parade really needs your support

and any help you can give us is appreciated. At

Dance

Parade, we are grateful for every tax deductible donation no matter how small.

 

Here's how we'll honor you for 2017:

 
  · Make check payable to "

Dance

Parade" and mail to 789 Westminster Road, 1st Floor, Brooklyn, NY 11230
  · Click on the Donate button from danceparade.org and pay by credit card (PayPal account not needed)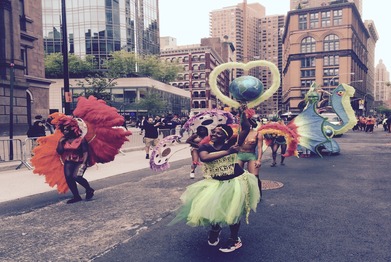 Photo Credit: Alton Aimable of Tropicalfete Body of Vibration Dance and Theater
| | |
| --- | --- |
| 305 Fitness | Aerobic |
| A.Stars Dance Team | Hip-Hop |
| ADF Dance and Fitness Co. | Bollywood |
| American Tap Dance Foundation | Tap Dance |
| Applause Dance Company | Hip-Hop |
| Batala New York | AfroBrazilian |
| Beyond Dance | African |
| Black Tie Dance Team | Hip-Hop |
| Born into the Arts | Hip-Hop |
| Boston Community Dance project | Fusion |
| Breaking Ground Dance Center | Jazz |
| Bronx Envision Academy (BEA) Dance Company | Jazz |
| Caporales San Simon Virginia | Caporales |
| Center Of Attention Dance Company | Majorette |
| Chinelos de Morelos | Mexican Carnival |
| CIP Lionesses | Hip-Hop |
| Clogging Connection | Clogging |
| Connecticut Dance Center | Fusion |
| D.R.E.A.M Team | Acro Jazz Hip-Hop |
| Dance Xross Fitness, DXF | Cross Fitness |
| Dancing Rubies | Belly Dance |
| DivaDance | Hip-Hop |
| DJDC-SparklingDivaz | Majorette |
| Dynamic Dance Company | Majorette |
| Energy in the Middle | Roller Disco |
| Experimental Dance Group | Afro Latino |
| Explosive Dance Team | Majorette |
| Expolsive Dance Team | Majorette |
| Folk Dance Club - Kaleidoskope | Slavic |
| Fraternidad Alma Boliviana | Caporales |
| Fraternidad Cultural Incallajta New York | Bolivian Pujilay |
| Fusha Dance Company | African |
| Gift of Dance | Salsa |
| Ground Breakers Dance Team | Step |
| Herencia | Flamenco |
| High Definition Dance | Acro Jazz Hip-Hop |
| House Coalition | House |
| House of Dance Philippines | Fusion |
| House of Ninja | Voguer |
| House of the Roses | Creative Movement |
| International Dancer Zaman | Fusion |
| It Girlz Inc. | Hip-Hop |
| JNJ Dance Expressions | Contemporary West African |
| Jules Of Queens | Majorette |
| Khaita Joyful dances | Tibetan |
| Kizomba Dance2Heartbeat | Kizomba |
| Koin & Co Dancers | Contemporary |
| Konstruction Dance Company | J-Sette |
| Kozmic Edge | Hip-Hop |
| Ladies in Formation | Hip-Hop |
| LI Zumba | Zumba |
| Masala Bhangra | Indian Bhangra |
| Mazarte Dance Company Inc. | Mexican Carnival |
| Morenada Bolivia USA | Bolivian Morenada |
| Na Oiwi NYC | Polynesian |
| Navatman Dance Company | Indian Bharatnatyam |
| New York Mindful Capoeira Center | Capoeira |
| NIA Cavallaro Junior High School Dance Team | Contemporary |
| Ntrinsik Movement | Contemporary |
| Ñukanchik LLacta Wawakuna | Ecuadorian |
| NYC Tap Crew | Tap Dance |
| NYC Twerkout | Twerking |
| PS 165 Edith K. Bergtraum School | Jazz |
| Queensborough Community College | Modern |
| Rhythm Locura | Salsa |
| Salay Pasion Bolivia USA | Bolivian Pasion |
| San Simon USA | Caporales |
| Saung Budaya | Indonesian |
| Seekers Of Knowledge Inc. | Hip-Hop |
| SharQui - The Bellydance Workout® | Belly Dance |
| Shot of Scotch | Scottish |
| Stewarts School of Performing Arts | Creative Movement |
| SynKopate An NYC Tap Project - Peridance Capezio Center | Tap Dance |
| Taal Performing Arts | Bollywood |
| The Colors Of The Wind Dancers | Chinese |
| The Dance Gallery | Ballet |
| The Golden Dancerettes | J-Sette |
| The Hoop Movement | Hoopers |
| The Palace Dance Team | Acro Jazz Hip-Hop |
| The Pink Tutu Ballet | Ballet |
| The Prancing Buckeyes Dance Team | Majorette |
| Tinkus San Simon Filial Virginia | Bolivian Tinkus |
| tinkus San Simon VA -USA (Ricardo Espinoza) | Bolivian Tinkus |
| ToneLove productions Inc | Hustle |
| Trellys majorette Dance of arts | Majorette |
| Tropicalfete Body of Vibration Dance and Theater | Caribbean Dance |
| UNITY Dance Team | Hip-Hop |
| Urban Dance League | Hip-Hop |
| Urban Grace Dance | Hip-Hop |
| Vision Elite Royalty Dance Company | Acro Jazz Hip-Hop |
| waterside dance | Hip-Hop |
| World Dance Initiative - Karen Kriegel World Dance | Korean |
| Xochipilli Dance Ensemble | Mexican Carnival |
| Young Leaders Dance Company | Hip-Hop |