Consider yourself in a situation where you sign up to fight for your country and come home with a permanent disability that in certain instances makes it impossible to earn an income. Can anyone that hasn't seen the impact of war up front and personal, fathom what it is like to not be able to function in society?
Take a moment to reflect. You possibly are missing one or more limbs and suffer from brain injuries that everyone can see because the look on your face paints a clear picture of someone that isn't quite all there. What once was a vibrant person now lives with being taken care of when that would be the last thing imaginable in their world. Maybe you would be suffering from PTSD and take your own life. The high statistics of 22 veterans a day committing suicide is enough to make any free citizen take notice…but do we?
Could you imagine being in their shoes and being asked if you would serve again why the answer would be a proud yes? How many out there would have the fortitude these brave Americans have?
We now have a society within America that never serve their country, and receive more in benefits than our Vets only to complain and demand more.
The article talks about a welfare recipient named Kiara and her super-star persona. We as taxpayers give her over $1200 a month to support her four children fathered by four different deadbeat dads of which none pay child support. We have allowed the system to work well for her over the last 12 years. She is capable of working but we as taxpayers allow her the attitude and choice not to work because "the government gives her money." Only the real truth is we as a society pay her way because we allow the government to take our money and give it away for votes.
She has sold our food stamps for cash and intends to get pregnant again in order to get more of our money. She believes she is entitled to spend our money.
The big question is how long will it take before taxpayers stop working and be content with this destruction of America? Isn't this the way it starts? Are you really willing to lose something you aren't willing to live without? We can only ask the question…what is it going to take before you take action?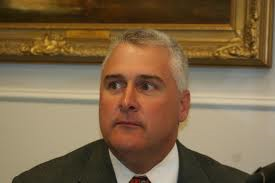 Undocumented Democrat Senator
THE WATCHMAN
In our research of Republican politicians it has come to our attention that there are so many that have a more liberal voting record than Democratic politicians, that we have decided that they deserve a name of their own. We will no longer refer to them as RINO Republicans. They are now referred to as undocumented Democrats. They are actually that liberal, yet they continue to run as Conservative Politicians. One such member is Senator Mike Schulz.
We began our research by going to his brag sheet at
www.ok.gov
. It was like reading a blank sheet of paper. The only item we found of interest was this news release
here
regarding the selection of Altus Air Force Base as the training unit for the new Tankers the Air Force received.
The next we found was
this
. This proposal would make a little sense. Why not commercialize some property along the turnpikes and help pay off the debt owed on them sooner. After all the way the Turner Turnpike was originally built was after the bonds were paid off, it would be turned over to the Oklahoma Department of Transportation and become a free highway. The original bonds were paid off over 40 years ago. What happened Governor?
Due to his position in the Senate, Senator Schulz made sure that the University's always got the funding they sought. His status as Alumni at Oklahoma State University paid off for getting that funding with
this
. For the universities it's nice to have alumni in high places.
We also found
this article
. This gives you a break down on some of the campaign finances through the 2012 campaign cycle. He wasn't running in 2012, which means he kept his campaign from 2010 open until then. It will also give you an idea on some of his votes.
We found
this
also
.
The only information we learned from this is that he is term limited in 2018. We should see what can be done to end his career in 2014.
We next went to
www.votesmart.org
to see what information was available on Senator Schulz there. We went to his biography page to see what qualified him to be Majority Floor Leader and could find nothing. In fact the only thing we found him qualified for is the Agriculture Committee.
We next went to the Ratings and Endorsement page to see how he faired there. Here is what we found.
2012 Research Institute for Economic Development 100%
2011 Oklahoma National Federation of Independent Business 100%
2009 OkWatchdog Position on Consumer and Patient Advocacy 64%
This tells us that the Senator was looking out for businesses, and walking all over the consumers in the District and the State. That's not the sign of a Conservative Republican.
2010 Oklahoma Sierra Club 71%
2006 Oklahoma Sierra Club 75%
What this tells us is that during the election cycle, Senator Schulz becomes an environmentalist.
2006 Oklahoma Aging Partnership 60%
These are the only numbers we have from this group, but they are not good. It leaves the impression that the Senator doesn't care for the elderly.
We next went to
www.followthemoney.org
to look at his campaign finances. They listed the funds for the 2012 campaign cycle. We found numerous Medical Association and Political Action Committees, Unions, and Corporations listed. What we're missing were individual donations. We knew we had to dig deeper and we did.
We next looked at his voting record this last session on subjects that nattered to Oklahoma. Here is what we found based on the RINO Index.
HB 1359 Regulating Animal Shelters, Voted No, Liberal
HB 1740 Scrap Metal Dealers Regulations, Voted Yea, Liberal
SB 854 Union Reform, Voted No, Liberal
HB 2180 Creation of New State Agency, Voted Yea, Liberal
SB 1126 Compete with Canada Film Act, Voted Yea, Liberal
HB 2195 Debt Spending Caps, Did not Vote
SB 76 Raise Candidate Filing Fee Bill, Voted Yea, Liberal
HB 1031 Medicaid Expansion Hospital Tax Extension , Voted Yea, Liberal
HB 2301 Budget Bill, Voted Yea, Liberal
He managed to score a 20 on the RINO Index only because he missed a vote. If that's not a liberal politician we don't know what is. He even voted to implement Obama Care in Oklahoma after it was roundly rejected by the voters. He's not doing what his constituents want. He's doing what the people who finance his campaign want.
We next went to
www.ok.gov/ethicscommission
to see what they had on his campaign finances. Since he has already filed for re-election in 2014, we stuck with his campaign reports from that campaign. Here is some of what we found.
For the first three quarters of the cycle beginning in Jan, 2012 and ending Sep, 2012 he reported no campaign donations from either individuals or others. He did go into the campaign with $82,628.64 in the bank. That's what not closing your previous campaign allows you to do. He collected that amount of money from his election in 2010 until he filed for re-election in 2012.
He couldn't have the decency to keep the personal donations coming from inside the state. Here are a few examples of outside of the state personal donations we found.
Jan. 31, 2013 1375 Enclave Pkwy. Houston, Tx. 77077 $ 500.00
Sep. 30, 2013 144 Indian Trail Rd. Scituate, MA 02066 $ 500.00
Seriously now Senator, you traded the integrity of funding from inside the state donors for a measly $1,000.00. You already had over $82,000.00 to start this campaign with. Were these donations that important to you? What a disgrace.
We next looked at the Corporations, Unions and PACs that have contributed to his campaign so far. Here is some of what we found.
Nov. 02, 2012 American Electric Power PAC, Columbus, Oh. 43215 $1,000.00
Dec. 12, 2012 Oklahoma Retired Educators Fund (Union) $ 500.00
Jan. 13, 2013 Ok. Nurse Practitioners PAC $1,000.00
Jan. 31, 2013 Ok. Corrections Professionals PAC $ 325.00
It just gets repetitive from here. The American Electric Power Company Pac actually owns the power company for the area that the Senator represents. The problem is they've taken the stance that the Corporation Commissions decision to leave the installation of Smart Meters up to the individual companies as a mandate by the Corporation Commission for their installation, and they represent it as such. That is dishonesty at the highest levels of corporate greed.
Senator Schulz has misrepresented himself to his constituents and to the state of Oklahoma. He deserves the contempt of the people and the shame of the state. His lust for power has led him to kowtow to the president pro-tem of the Senate. He takes his marching orders from him. He pays no heed to what is good for the State or his constituents and is not worthy of consideration for re-election to the senate. We need Conservative leadership in the Senate, not undocumented Democrats.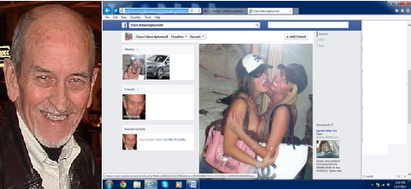 Mike McCarville and Russian hooker
For four or five days old Mike was the only "friend" of the Russian chick but in the last couple of days another young dude showed up. I guess he figured that he could squeeze old Mike out of the way easy enough.
But I suppose old Mike isn't likely to catch up with this chick but it did make me wonder about the creepy old dude and why he would associate with someone like this much less be their first friend on FaceBook. Maybe we will get lucky and his ticker will finally give out on him from all the excitement and heavy breathing from someone other than a nursing home attendant.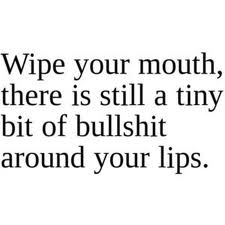 It seems that a few months back when once again Charlie screwed up the Oklahoma Constitution Conservative Index it wasn't just us that noticed. Like a stopped clock, the Oklahoman newspaper can get things right twice a day and on that day they pointed out that Charlie Meadows had called Senator Ralph Shorty a RINO.
Remember when this first hit old Charlie suddenly dropped out of sight, claiming he was reclosing himself for 30 days to write a book of all things. Later he popped back up claiming he had taken a trip to Alaska. The heat was on him for botching the Conservative Index and he took political advice to make himself scarce for a few weeks.
But in this week's newsletter Charlie outdoes himself in spinning the facts when he tried to explain how Senator Shorty wound up on the RINO list along with other star conservatives like Rep. Mike Ritze.
Whilste monaning and groaning abut being "attacked" old Charlie puffed himself up like a toad frog with self importance, claiming that the Oklahoman was driving a wedge between he and Senator Shorty. But what the newspaper article did was simply point out that Ralph Shorty is no RINO; therefore the Conservative Index must be fatally flawed.
Charlie tries to explain that only one RINO was chosen each year, that the rest are just 'nominiees" for one RINO spot. Bunk…or balderdash as the old fart would gurgle, the list has always set a line below which is RINO territory and everyone knows it.
In a shameful attempt to avoid the blowback Charlie said this in his newsletter:
"In an attempt to make sure we don't overuse an important label and thus diminish its reality, the truth is there is only one RINO each year in the House and Senate and only one RINO runner-up in each chamber."
Even worse, Charlie tried to fob off the blame on his members!
"Our members didn't consider Senator Shortey to be a RINO. I believe one reason he wasn't selected was that his low score was partly a result of him not voting on 3 votes that were used for the Index."
Yeah, Charlie, Senator Shorty had dead bodies in his district that week thanks to the Moore tornado. Almost all of the South Side legislators were in the tornado zone every day helping to procure supplies and assist the volunteers. Shorty brought in Tyson Foods for Gods sake! They fed 20,000 meals a day and brought in dozens of tractor trailers loaded with food and ice. When we needed diesel fuel to keep Mercy Chefs kitchen running and the bunk houses running it was Shorty that made the arrangement. When we would get blocked out of the neighborhoods by cops it was Shorty that cleared the path.
Even worse, the idiot that we call Charlie Meadows didn't think to look at who authored the bills that Shorty missed voting on. Yes, one of the bills was Shorty's own legislation. Another was another log rolling bill,, wrapping two separate issues into one legislation, guaranteeing that the legislation will receive a court challenge and have to be redone. That is unconstitutional you moron. For someone that considers himself a constitutional scholar one would think that he would have enough brains and attention to ask if the bills were at least constitutional before using the vote to hammer a good man.
Even worse Charlie tried to lay part of the blame on Steve Byas and his partner Ron at the Oklahoma Constitution:
" Ranking lawmakers is done in as objective of a way as possible, if not the Index could be accused as being subjective and subject to favoritism. Ron and Steve do a fabulous service to the people of Oklahoma with the Index, in fact Steve has written an excellent article about the Index in the current issue of the paper."
Charlie, you freaking idiot! It wasn't Steve and Ron that botched this, it was you and OCPAC! You guys picked the bills to score the legislators with. The only reason you should be mentioning their names is if you were apologizing to the state for screwing the pooch with this year's Conservative Index.