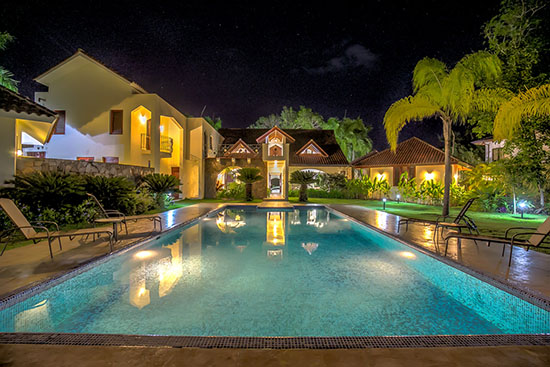 Casa Las Brisas is a spacious five bedroom villa which is impeccably maintained, and thoughtfully decorated with guests comfort in mind. Three bedrooms are located on the second floor, and two large suites are on the ground floor. The main living and dining areas have vaulted ceilings and abundant natural light. The kitchen is well-equipped and perfect for the home chef. A large swimming pool and a covered gazebo are prominent features of the spacious lawn which is surrounded by palm trees and tropical plantings.
Contact us for a viewing of this magnificent property today.
---
Planning the Ultimate Caribbean Family Vacation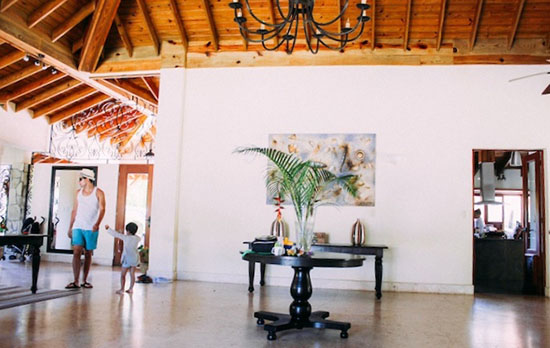 The Dominican Republic is ranked among the top vacation destinations in the Caribbean, and offers one of the most historic and culturally rich locations available. With many options to explore, it is the perfect island for family vacations. The town of Cabarete located nearby is a watersports destination, and also appeals to foodies with its great selection of international cuisine.
Sea Horse Ranch has amenities such as tennis, swimming pools, and sandy beaches to explore within the resort. A healthy, eclectic menu at our restaurant, The Beach Club, offers favorites that please all. Our Equestrian Center appeals to all ages, with pony rides for young children, or trail rides along the beach for the older children and adults. A Private Chef, nanny and in-villa spa services can all be arranged. A visit to our resort playscape and trampoline offers a fun-filled escape. Contact us to speak to a concierge about planning a personalized itinerary just for you.
Family Vacation Special Offer: Enjoy our special offers on our amenities when you vacation with your family. Try our two-for-one tennis lesson deals for children to learn the basics and enjoy a sporty activity. The Equestrian Center special offer includes four horseback riding tours for the price of two. Contact us more details planning your vacation. Offer valid until November 1, 2018.
---
Summer Edition of Jazz Festival in Cap Cana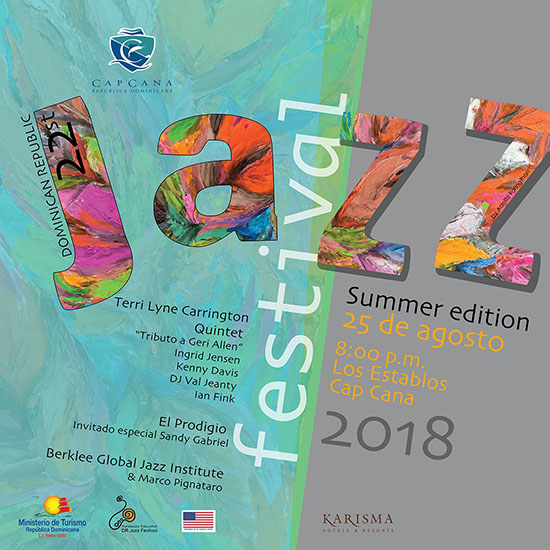 The Summer Edition of the Dominican Republic Jazz Festival will have a magnificent representation with award winning exponents of the jazz genre. The XXII version of the Dominican Republic Jazz Festival will be held for the first time in the East coast of the Dominican Republic, with a show at the Equestrian Center "Los Establos" of Cap Cana, on August 25 at 8:00 PM.
This renowned annual musical event is organized by the Dominican Republic Jazz Festival Educational Foundation FEDUJAZZ, with the support of the Ministry of Tourism. If you are in the Dominican Republic, attending this cultural event is a must on your itinerary.
The summer show date will feature the Berklee Global Jazz Institute and the Italian-American saxophonist Marco Pignataro. National stars Prodigio and Sandy Gabriel will perform the first set, followed up by Grammy Award-winning international artist Terri Lyne Carrington and her quintet. She will be paying tribute to her mentor, the late Geri Allen who was a prominent jazz pianist.
The show is free with VIP tickets available with profits benefiting FEDUJAZZ, the non-profit music foundation for children.
The Dominican Republic Jazz Festival will continue on October 26th in Santiago, on the 28th in Santo Domingo, on November 1st in Puerto Plata, on November 2nd in Sosúa and grand finale shows in Cabarete on November 3rd and 4th.