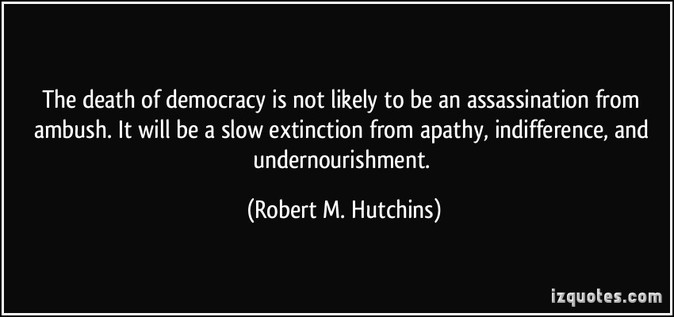 Democracy No More
RINO Faction of Oklahoma GOP uses Underhanded Tactics
to Oust our Democratically Elected GOP Chairman
The problem with having an organization run by a decent man is that a decent person is at the mercy of the devious and unethical individuals that desire power and will do anything to remove honest and ethical leaders. Quite simply opponents like Oklahoma County GOP Chairman Daren Ward and Oklahoma GOP Vice chair Estela Hernandez are simply better equipped to wear down decent leaders as they have more practice and are fairly immune to being shamed. When a decent person's reputation is attacked they flinch because they actually have a good reputation to protect; folks like Hernandez and Ward don't flinch an eyelash because they already accept that they are what they are. Kind of like fighting a pig and rolling around in the pig sty, the pig simply doesn't mind.
So it was last week when the slimy RINO elements of the Oklahoma GOP wore down duly elected GOP Chairman Randy Brogdon after five months of unrelenting personal attacks and the constant corrosion of anyone working for him. First was the lying about the outgoing fiancés of the State GOP which was deeply in debt thanks to defeated RINO GOP Chairman Dave Weston. Second was the attack on one of Brogdon's employees, a young man that had made the mistake of living with an unstable woman. Third was a manufactured controversy over a very old internet poster that compared the rules for not feeding wildlife against feeding people who refuse to work. About the same time the Federation of Republican Women got caught posting an internet poster of a lynched black man and equating it with Democrats yet little was said about that lapse of judgment.
The latest manufactured outrage was the RINO factions claiming that Brogdon was misusing GOP funds, an outrageous lie considering that the last GOP Party Budget Committee approved the travel expenses and salary for the organization.
Brogdon defended himself on KFAQ
but as the RINOs own the major media there was little to do to combat the outrageous lies.
Those behind the unethical ouster simply did not accept that after a half decade of effort the conservative Republicans finally gained enough numbers to defeat the RINOs for the leadership of the Oklahoma GOP. Rather than accept a leader that would enforce the party platform they opted to use any underhanded means to drive the duly elected Chairman from his post.
Those who stand to gain the most are uber RINO Pam Pollard who lost the election to Brogdon on April 13th of this year, Oklahoma GOP Vice Chair Estela Hernandez who attempted a coup against Brogdon in June of this year. Hernandez is a proponent of amnesty for illegals both because she herself was most likely brought into the country illegally as a child and because she and her husband work illegal aliens in their construction business. And of course the shady Oklahoma County GOP Chairman Daren Ward who has a history of lawsuits against him, one of which he simply walked away from after losing, reopening a new business in another name and leaving the empty shell of the old corporation. One homeowner in particular was out tens of thousands of dollars with zero recourse against Ward despite the judgment against his company.
Sadly these are the kind of people best suited to gain power as they are simply immune from criticism or attack. A decent person can hold power only if they have an army of supporters willing to roll up their sleeves and pick up a baseball bat to defend good leadership.
Both Pollard and Hernandez have indicated they would run for the top slot once enough time has elapsed for electing a new Chairman and it seems like that will be done without a rank and file vote of GOP members but through a vote of the County GOP Chairmen.
What the RINOs simply don't get is the current political mood of vast swaths of this country who are simply sick of crooked politicians using underhanded tactics and outright lying to the public. However should enough Republicans walk away from the GOP in disgust the wolves would simply follow them over to the next party. Like it or not politics appears to be about who can promise the most and lie the best rather than who has the character to lead wisely. Without a functioning media the RINOs and the liberal Democrats will be able to mold public opinion and there is little that can be done about the corruption.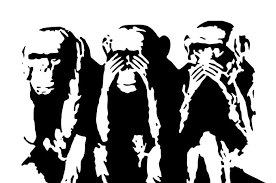 Tulsa County GOP
Hindrance or Help to the
Conservative Cause?
By the Watchman
For years now Oklahoma has been known as the Reddest state in the Union. We wonder if that's really true. While it is true that every statewide office and every federal elected office is held by a Republican, we must take a look at those office holders and the people that helped to get them elected to determine their true commitment to the Party and to Conservative principals. Tulsa County GOP stands out as a prime example of the problem that is not only eating at the core of the fabric of Oklahoma, but it is tearing this country apart. It's enough to make you wonder who they truly owe their allegiance to, the Citizens of their districts or the special interest groups that fund their campaigns.
We have been watching the Tulsa County GOP since 2014 and have found that they have been consistently liberal in their decisions and have continuously failed to follow the State and National Party Platform on most issues. This in itself is inexcusable. Even at that, we would not normally intervene in County Party Politics, but the events of the last Tulsa County GOP Precinct meeting left a bad impression in not only Tulsa County GOP events but effected the State and National GOP itself. They truly left us no choice but to say something to our readers.
The first article of interest we found was this
Leadership | Republican Party of Tulsa County
. This is the current leadership of the Tulsa County GOP. It is our hope and our desire that they are able to take the county party apparatus in the right direction in the future. They have a deep hole to climb out of to do that though.
For the purposes of this story we will begin with the events of this year. The next article of interest we found was this
The Okie » It's Election Time for GOP Activists
. This article indicated the schedule for precinct meetings, the Tulsa County Convention and the Oklahoma State GOP Convention. Everything is laid out right in front for people to see, except not everyone sees this News Blog. There is the first breakdown in communications.
The next item of interest we found was this
Tulsa County GOP precinct meeting | Tulsa Beacon
. This article was published on January 15, 2015, a little over two weeks before the precinct meetings were held. This is fine except not everyone reads the Tulsa Beacon and we were unable to find a reference for it in the Tulsa World. Once again not everyone was notified.
The next item of interest we found was this
Sooner Politics.org: Chairman McCutchin Puts Tulsa GOP In Racial Scandal
. At a time that the Republican Party was trying to grow its minority membership, the Tulsa GOP manages to alienate an entire precinct of minority voters. On this issue we have to stand with the NAACP. This is completely uncalled for and every county official who held office at that time should be barred from state and county office again by the GOP.
The next item of interest we found was this
Sooner Politics.org: The Errors Of The Tulsa GOP Chairman
. It should be noted that these errors all started with the former State Party Chairman David Weston. He erroneously reported how precinct business should be conducted in a report in December of 2014. It was further corrupted by then Tulsa County Chairman Michael McCutchin who fraudulently assumed the precinct organizing power away from the precinct This was a power grab in excess of the authority he was granted. Above all, the County Chairman has failed in his regard to call to order a meeting even once of the Tulsa County GOP Committee. He assumed more power than he was authorized and violated every party rule from day one. It is no wonder that the Tulsa County GOP is in such disarray.
The next item of interest we found was this
Tulsa County GOP battle intensifies; meeting Thursday | www.krmg.com
. Here we found where a self-styled general counsel for the county GOP informed a Mr. Larry Williamson of Precinct 456 that because they held their meeting on a date other than what was specified by the County, that their delegates would not be admitted or counted. According to the report, the County Chairman had said this According to Tulsa GOP Chairman, Michael McCutchin, any North Tulsa Precincts chosen a neighborhood location that disadvantaged citizens could walk to and feel safe & comfortably received in, would be banished from the county convention as a punishment for exercising their precinct's will (sic). The entire region of northern Tulsa was denied a central location. Instead, urban north Tulsa was told to attend their neighborhood precinct meeting by traveling to East Tulsa and meet at Nathan Hale Library, near 21st St. & Sheridan Road, for the January 31st 10:00 a.m. meeting." This is a flagrant attempt to disenfranchise voters in the area and a violation of the intent of a precinct meeting. In short this was the politicians trying to stack the deck again.
The next item of interest we found was this
Tulsa GOP Chief Responds To 'Dishonest' Criticism, Draws 'Line in the sand' | The McCarville Report
. We take note that this is the new County Chairman and does deserve a chance to right the sinking ship, but we wonder about his ability to do so. He got offensive at an argument made by a grass roots organization that has been made by many grass roots organizations around the country. Sounds to us like there may be a hint of truth to the complaint in addition to a very thin skinned county chairman. You sir made the statement that you have claimed yourself to be a grassroots conservative, but have backed it up with no references. We can say that if you truly were a conservative you would have written your article for someone other than a report funded by the Oklahoma State Chamber of Commerce.
We went back and found the article that the Chairman was talking about. You can read it here
Tulsa 9.12 Project Attacks 'Establishment' Republicans, Levels 'Lynching' Allegation | The McCarville Report
. We ask what is wrong with holding elected officials accountable. One only needs to look at the campaign finance reports to figure out that nothing gets passed in the Senate without the approval of the Oklahoma State Chamber of Commerce. That is a big problem. You sir just need to open your eyes to see that now that the Republicans are in charge thanks to a lot of sweat from the grassroots true conservatives that they now want us gone. Sorry pal, it's not going to happen and you by not indicating any other background have just become a subject for an article by this group.
Sadly the Tulsa 9.12 Project was correct. It wasn't only Tulsa County, but Oklahoma County is as much to blame as they are for this
Randy Brogdon sets meeting to elect new state Republican Party chairman - Tulsa World: Capitol Report
. After less 5 months in office he is resigning. He took over an office that was in debt. He and his staff worked hard and thanks to him the state party headquarters is in better shape than it was when he took over. We here at the Sooner Tea Party don't refer to them as RINOs or establishment Republicans. We have a much more accurate name for them and that is undocumented Democrats.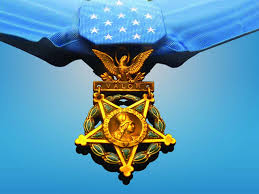 JOSEPH L. EPPS
By the Watchman
Many of us will be celebrating Labor Day this weekend. It's a day set aside to celebrate the hard working American middle class. Most people have forgotten what Labor Day is about. Most have also forgotten what it took to have the freedom to celebrate this day. Today we will present to you a gentleman who could be declared Oklahoma's own Sergeant York, except this event was almost two decades before Sergeant York's spectacular action.
Today we have the Honor and Privilege of presenting the second Medal of Honor recipient from Oklahoma. Private Joseph L. Epps. Information on this American hero is sketchy. The first article we found of interest was this Joesph Epps, Rank and organization: Private, Company B, 33d Infantry, U.S. Volunteers, and this Place and date: At Vigan Luzon, Philippine Islands, 4 December 1899, this was additional information we found, Entered service at: Oklahoma Indian Territory, Date of issue: 7 February 1902.This is a brief of the history and background of Private Epps.
The next item of interest we found was this
Joseph L. Epps - Wikipedia, the free encyclopedia
. This is perhaps the best source of information we found on this gentleman. Again there is really very little additional here. There is a birth date, death date and the location of this Hero's grave.
Epps was awarded the medal after he discovered a group of insurgents inside a walled compound, then climbed the wall and forced them to stack arms and surrender.
This is why we should call him the first true "Sergeant York." This is Oklahoma History that you won't learn in a classroom. This is part of the history that made this nation great. There are more, yet they go unmentioned in the history books. It's time we started learning our true history. Pay heed to our Hero's legacy. This is what Americans are made of. This was a true act of courage that was above the call of duty. We should all pay homage to men such as this.