Dear ,
I wish you a happy, peaceful and successful year 2018.
As new products I can present you today three Peace Silk silk fabrics: Elastic satin AMITA, Crepe de Chine RINARA and the heavy handwoven elastic fabric LAYA.
From Meghalaya, eri silk cakes have again arrived for spinning and felting and also hand-spun yarn in thick spun (coarse).
Also from Meghalaya the first hand-spinning wheels arrived. It's fantastic to see how, according to the principle of the ring spinning machine, a hand spinning wheel was invented here, with which the finest silks and, of course, other fibers can be effectively spun into yarn. More information read here...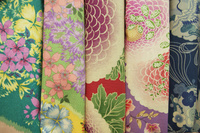 I have summarized our offer for Eco Digital Printing in a information sheet. It is attached as a PDF file to the mail. Let your creativity take over your mind and body! We print your designs on organic silk.
The film project WEAVING CHANGE is slowly gaining momentum. The first recordings will take place in the next few days in Meghalaya. The crowdfunding campaign, however, urgently needs your support to continue the project. Please allow us through your participation to take the next steps to make the film about the social impact of the new loom of Andreas Möller. Thanks for your support!
Finally, I like to give you a recommendation: If you want to do better fashion, need support in matters of sustainability or want to work with new materials, then the team of re/GENERATE is the right contact for you. re/GENERATE works as a Design Lab and is guided by the UN Sustainable Development Goals (SDG).
Best regards from Leipzig
Matias