SHOP HOURS
Monday: CLOSED
Tuesday: 12 - 6
Wednesday: 12 - 6
Thursday: 12 - 7
Friday: 12 - 6
Saturday: 10 - 6
Sunday: 12 - 4

 

 

 

 

 

It's finally May, our favorite month of the year!! Next May 20-21is the Kentucky Sheep and Fiber Fest, 

mark your calendars and join us at Masterson Station Park. If you swing by the ReBelle booth we will have some special surprises exclusively for the event. M

ore details on the event and classes for the weekend can be found 

here

 and as usual, 

ReBelle will be open regular hours during the festival.

 

May also marks the begininng of the summer dye season and we are bringing back our popular Handpainting Sock Yarn class on the 28th. Space is limited so sign up early!!

 

We are currently making preparations for lots of new fall inventory, but in the meantime we have two new yarns and a lot of new colorways in some old favorites.

 
Malabrigo has a new yarn, and this one's got alpaca in it! Dos Tierras combines the finest merino wool from Uruguay with the finest baby alpaca from Peru.  Dos Tierras is cable plied, meaning that 2 two-ply strands are plied together. 
The result is a gorgeous DK weight yarn that's particularly round, not as "hairy" as typical alpaca blends (and therefore less prone to pilling), and as soft as you would expect from Malabrigo. We have 7 colors right now and are eagerly awaiting 14 more as soon as they become available. Dos Tierras is a 50/50 blend with 210 yards per 100g skein. It knits up nicely on a US size 5-6 needle, typically 20-22 sts/4 inches. Dos Tierras is perfect for a cozy sweater, a comfy cowl, shawls, hats, mittens, leg warmers or blankets. I think it's perfect for an oversized sweater like Heavenly or Clarke Pullover, but some other great patterns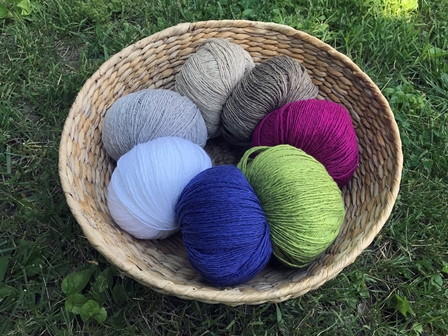 We have new colors in three of our favorite Summer yarns! First up, Zooey. We love this slightly thick and thin DK weight cotton/linen blend, it strikes a great balance between softness and durability. The neutral colors are great, but we just couldn't resist adding some bright colors.  Sarah has already snagged a couple skeins of that bright pink to make a
Cherry Bomb Skirt
for her daughter. Next up is Nettle Grove. Nettle Grove is a sport weight blend of cotton, linen, nettles and silk. The silk gives it a subtle shine and an exquisite feel. This yarn was very popular last year, and we've added Sandcastle, a natural color and Sunrise, a fun orange. Nettle Grove would make a delightful Summer tee or tank top or a nice shawlette or summer scarf.  Finally, we have added four colors of the always popular Hempathy. Hempathy is also the yarn of the month for May.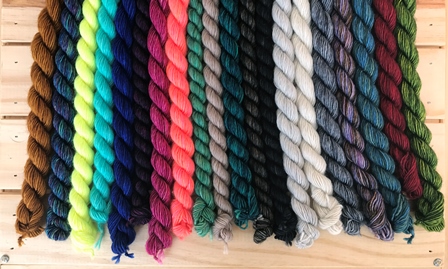 Our collection of Unicorn Tails has been replenished! The little 52 yarn skeins of Tosh Merino Light are useful for any project that requires small amouts of contrasting color, or try a pattern written specifically for Unicorn Tails such as
Tool Box Cowl
,
Take it All
 (shawl),
Colorblock Handwarmers
, or
Colorspell
(shawl).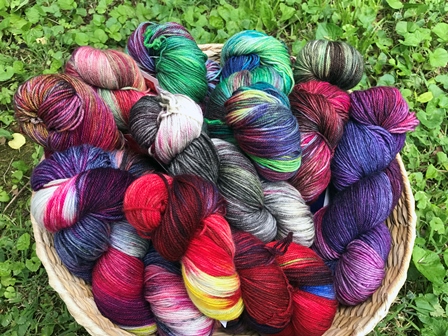 Zen Yarn Garden's Serenity 20 is a delightful yarn to knit with, it's 70% superwash merino, 20% cashmere and 10% nylon. What really get's me is the colors though. Zen yarn garden does a lot of one-of-a-kind colorways that are both gorgeous and unlike anything you have seen before. This yarn is sure to make a project shine whether it's a luxurious pair of socks, a sumptuous shawl or a fine hat.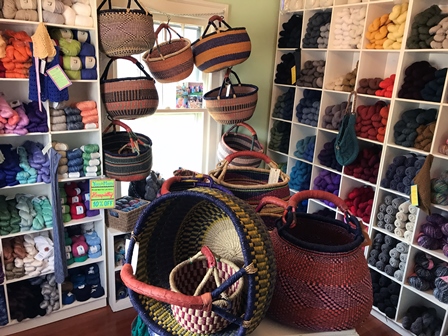 We've got a new shipment of baskets. These fair trade baskets from Ghana are nice for storing yarn, but also for so many other things! They are great to take to the Farmer's Market, on a picnic, store kids toys, linens, gardening or put together a gift basket.
Come and pick out your favorite before we sell half of them at the Fiber Festival!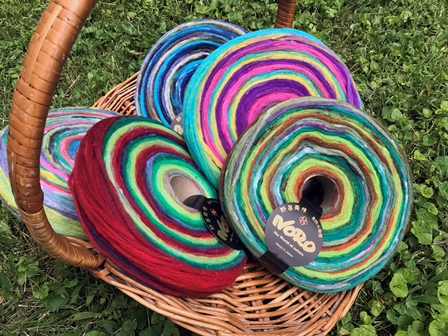 Noro has delved into spinning fiber with the aptly named Rainbow Roll. This 100g disc of pencil roving is 100% wool and dyed in classic bright Noro style. Pencil roving is great for those learning to spin as you can get the handle on maneuvering the wheel and managing the twist without having to worry about drafting. Non-spinners have also used the Rainbow Roll to knit with directly, adding their own twist by hand as they knit or just knitting very gently. You can also use the Rainbow roll as the weft for weaving or in wet felting or needle felting, so many possibilities!
The yarn of the month for May is Hempathy. Hempathy is a fantastic yarn. It's a blend of hemp, cotton and modal. The cotton and modal add softness, but Hempathy still has the durability and drape of hemp (similar to linen). Hempathy is perfect for shirts and lightweight cardigans as well as skirts, Summer shawls, bags and luxurious face cloths. Some patterns that  
Strafford Tee
,
Vitamin D
(cardigan), 
Lotus Blossom Tank
,
Summer Tank
(kids),
Hip in Hemp
(skirt),
Summer Scarf
, 
Ilene Bag
,
Spa Day Facecloth
. 
Featured Upcoming Classes
 

 

Lotions and Lip Balm 

($30)

Goatmilk Soapmaking ($30)


Come and spend the afternoon making your own skin care products with plant oils, beeswax and essential oils. First, learn to make lip balm, whipped balm and lotion. Then, learn to make cold processed goat's milk soap. Each participant will get to take home 3 lip balms, a whipped body balm, 2 lotions and 2 bars of soap. You can sign up for each class individually or sign up for both classes for only $50! Call the shop or purchase your space for the class online here.

Saturday, May 27th 12-5pm
Hand Painting Sock Yarn 

($30)




Come make a mess while creating your own custom colorway of sock yarn using acid dyes. The class price includes 100g of sock yarn as well as all the dyes and tools you will need. No previous experience needed.

Saturday, May 28th 1:30-4pm




 
 

 

 

Wheel Spinning I & II ($40)

 

In the first class you will learn about the basic mechanics and maintenance of a spinning wheel, types of fibers and fiber preparation methods used for spinning, and the fundamentals of spinning a basic yarn.

In the second class we will ply the singles spun after the first class. We will learn about setting the twist and finishing the yarn. We will also go over how to incorporate your handspun yarns into your knitting projects.

You will need to bring a spinning wheel and 2-4 oz of prepared wool fiber (roving, top, rolags, or carded batts.) If you do not own a spinning wheel, there are two available for rental.

 

Sunday, June 18 & 25th 2-4pm