Happy Holidays, Cat Lover!
Here's what's in this issue:
  Does your cat ignore you?
  Vaccinating cats...in the tail?
  Surprise! Gifts for you...
Cat food news...  
  Click to feed shelter pets
Shopping for Cat lovers...
Web sites to explore...
A smile for you...
  Emoticons, explained by cats...
  Latest video...
Take action....
NEWS FOR CAT LOVERS
You've probably seen this news item already, but in
case you haven't, here's an interesting "study" that was
done recently. I thought the comments below the story
were interesting, because very few cat owners agree with
the findings, including me. My cats definitely do not
ignore me! How about yours?
"Scientists Discover that Yes, Your Cat is Ignoring You"
http://shine.yahoo.com/pets/scientists-discover-yes-cat-ignoring-134200169.html
----------------------------------
 A new idea in cat vaccinations....injecting them in the tail.
I see where they're coming from (in case vaccine-related
cancer develops, removing a tail is easier and doesn't threaten
their lives), but why not give fewer vaccinations and reduce
the risk of cancer developing in the first place? Most vaccine
protocols now follow a three-year booster plan, but many vets
still insist on annual.
http://www.catchannel.com/news/2013/10/cat-vaccination-in-tail-approved.aspx
http://pictures-of-cats.org/cat-vaccinations-in-the-tail.html
-----------------------------------
As I have done for the past two years, I have some holiday
gifts for you! I appreciate having you as a reader of my
newsletter this year. I enjoy writing it and finding interesting stories
for you to read. So, I set up a special holiday page for you here:
Gift Page
CAT FOOD NEWS
Help Feed Shelter Animals
Don't forget to visit these sites as often as you can and
click on the shelter-feed links. There is no cost to you
to do this.
http://www.theanimalrescuesite.com/clickToGive/home.faces?siteId=3
http://www.givelitter.com/vote/
  (This one gives litter, not food.)
http://www.freekibblekat.com/
* * * * * * * * *
Be sure to scroll down the FreeKibbleKat page a little more
and look at the December Slide Show. Wonderful cat photos!
You can sign up for their daily reminders, too, if you need
a little nudge, like I do.
SHOPPING LIST FOR THE HOLIDAYS
List of books available at
http://ouramazingcats.com
-------------------------------------
My friend Nancy Dutton has an animal poetry book
available at Amazon.com in print as well as in the
Kindle book area!
http://amzn.to/vTH20k
http://www.amazon.com/dp/1438200765
------------------------------------
My friend Cateline has provided her Holiday
Pet Recipes for us, here:
http://bit.ly/17fsNSD
   (FREE!!!)
-----------------------------------
Another friend, Patricia Fry, has released the first
two episodes in her series, Klepto Cat Mysteries.
These books are a mixture of romance, mystery
and intrigue, with Rags, the "klepto-cat," keeping
everyone on their toes. A fun read, but so far, only
available in the Kindle format. However, you can get
a Kindle "app" from Amazon so you can read them
on your own computer.
http://www.amazon.com/dp/B00DAHFS1G/
http://www.amazon.com/dp/B00FPTQJK6/
-------------------------------------------------
No, I do not get a commission on any of the books
listed above, except the ones I wrote or published.
WEB SITES to explore  
Traveling with your cat for the holidays? Keep the
following web sites handy during your trip:
Finding pet friendly lodging:
http://www.GoPetFriendly.com
Nationwide veterinarian directory:
http://www.healthcarehiring.com/veterinarians/
This site is basically a job search directory, but we can
use it to find vets in specific areas.
A SMILE FOR YOU  
Ever wonder what all those funny "emoticons" mean?
Here's a chart with cats explaining them: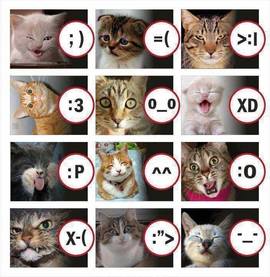 LATEST VIDEO:
Check out the video on my website, at the top of the page.
http://www.theproblemcat.com
  This one features one of
my favorite cats: 
Simon the Cat!
TAKE ACTION TO HELP ANIMALS IN NEED
How to help the animals:
1. Why UGG boots are NOT cute -
http://www.thepetitionsite.com/996/478/042/tell-ugg-to-stop-the-abuse-of-sheep-for-their-boots/
2. Always remember to check with your local shelter
to see what they need. Your donation will go directly
to the animals, in sharp contrast to some of the large
national groups, whose donation income goes toward
large administrative salaries and other expenses, not
necessarily for animals.
------------------------
Watch for your next issue of The Kitty Times in 2 weeks!
Happy Holiday shopping and getting together with friends
and family!
Roberta, the Cat Lady
mskitty @ theproblemcat.com
===================================
We will NOT rent or sell your info. You are
subscribed to a free email newsletter from
R.J.Peters, "the Cat Lady." You can unsubscribe
anytime.
If you know someone who would like to read
this newsletter, please feel free to forward
this one to them. If they want to sign up to get
their own, refer them to my web site, here:
http://www.theproblemcat.com/  (use the signup form)
     or go directly to:
http://www.theproblemcat.com/optinpage.html
===================================
To see past issues of the Kitty Times:
https://ymlp.com/xgbuhmbugmgj
Thought for today:
"I can't describe the total thrill of never murdering
a beautiful wild animal and mounting its head on a
wall. It's exhilarating and so natural."
~Ricky Gervais, Actor/Director