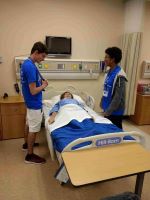 Students participate in STEM activities.
 Students Network &
Create Lifelong
Friendships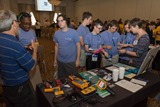 Students become Legislators for the Day and create legislation.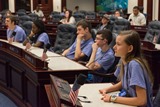 Legislative Iniative
  The Coalition is working with other stakeholders to increase the McKay Scholarships by adding the same categorical program funding that is in the Family Empower-ment Scholarship. 
   We will be sending updates shortly.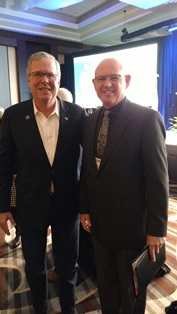 Gov. Jeb Bush
with Past President
Steve Hicks
 Youth Leadership Forum
EVERY MCKAY HIGH SCHOOL
SHOULD SEND A STUDENT!
  The Youth Leadership Forum is a life changing experience! Over the past 20 years, YLF has been providing leadership training to high school students with disabilities in a four day workshop in Tallahassee. 
Encourage Your Students to Attend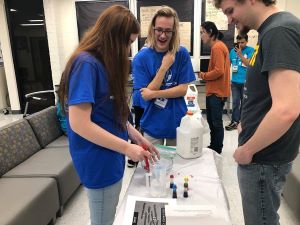 "I facilitate the High School High Tech grant at Port Saint Joe High School and we have sent several students over the years. 
 

The first year it was hard to "sell" this idea to our students.  So many of our students with disabilities are afraid to do new things.  Once they have gone, however, they come back with enthusiasm and much more confidence in their future." reported Robyn Rennick.
   "Don't just hand the students the application, really work with them to take this step in their development." 
Dr. Patricia Hardman, of Dyslexia Research Institute,  urges school leaders to back this program by actively helping their students. 
   NOTE:  This is NOT just for McKay Scholarship students but for any student with a disability.  Disabilities may be physical or health related as well as a learning disability.  The student DOES NOT have to have had an IEP or 504 plan but the disability has been identified by a professional.  
July 22-26 in Tallahassee

All expenses paid (travel, lodging, meals)

For ages 16-19

Great support staff

Lodging in FSU dorm, a college experience
Some leaders may be born, but it is the experiences through life that truly develops leadership skills. 
YLF will provide wonderful workshops and experiences that will help your students develop more independence and leadership capability. 
Which Three Students at Your School are Candidates for YLF?
Don't wait!  Contact your students and their parents now! 
Go to: https://www.floridacils.org/