---
Sponsors this week:
The Carpenter Shop
358 North Rockwell
OKC, Ok
405-942-2644
The Carpenter Shop is a full line cabinet and countertop shop that travels all over the state building dream kitchens for discerning customers
R A Graphix
(405) 703-3599
214 Ne 12th St, #C, Moore, OK 73160

R.A. Graphixis a full line printer and sign shop capable of screen printing, vinyl signs, banners, offset printing, and all of your printing needs. Randy and his family have supported the conservative movment for many years

This guy is a Noble Oklahoma based company that has great prices on electronics of all types and inexpensive toner and ink for your printer.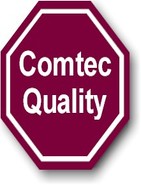 Comtec provides residential and commercial security systems in Oklahoma.
There is only one thing you really need to know about Comtec's quality and pricing, they do not require a contract for their services.
Customers are free to walk away if their service isn't top quality.
Rodent ResistantChicken Feeders!
$50 + Shipping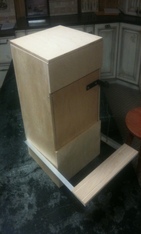 Advertise Your Business, Event, Or Service Here!
$25.00 per week, tens of thousands of Oklahoman
impressions every newsletter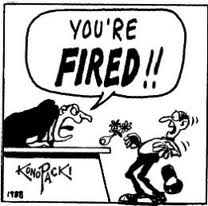 Speaker Steele Says "Quit or be Fired"
On the December 26ths newsletter we broke the story of former House Parliamentarian Joe Kintsel returning after a six month stint with a local think tank. Capitol sources claimed that Kintsel was brought back to try to stem the hemorrhaging of the Speaker Steele regime by finding any possible loopholes to prevent Speaker Steele from being thrown out of office at the start of the legislative session. Both Kintsel and former Oklahoman reporter turned Speaker Steele press secretary John Estus claimed that it was Kintsel's idea to return with both quotes completely out of context in the story.
In the January 1st newsletter we confirmed the return of Kintsel and made an issue of there being three enormous salaries now doing a job once performed by Kintsel. Kintsel himself is reported to be receiving a $150,000.00 session salary for six months work plus a reported $20,000.00 per month for the rest of Speaker Kris Steele's term. Arnella Karges and Jan Harrison were promoted after Kintsel's resignation last year so the House staff budget was pretty much stretched to the limit before Kintsel's return.
In the Speaker Steele email that announced Kintsel's return, we were told that Karges and Harrison were demoted and were to share responsibilities with Kintsel:
"The current organization of the Office of the Clerk will remain intact when Joel returns. Jan Harrison will remain Clerk of the House and will share administrative oversight of all House divisions with Joel. Arnella Karges will serve as Deputy Parliamentarian. No other organizational changes will be made."
Was that really the plan all along? Have three fat salaries being paid for the same work once done by one man? Or was Speaker Steele's email just intended to deflect criticism for the revolving door staff changes and to give him time to fire others to rake up the budget money to pay for Kintsel's bloated salary?
On January 11th the other shoe dropped. Arnella Karges sent out an email stating that she had taken the Vice President, Government Affairs position with The State Chamber of Oklahoma. Steele had to find the money in the budget to pay Kintsel's six figure salary and someone had to get the axe. But you can't chop the head off someone like Arnella Karges; she is too firmly entrenched in the political system to just cast aside without consequences. Before Karges joined the legal staff at the House she worked with Representative Jason Nelson at CMA as a lobbyist. Remember, CMA is the lobbyist group that holds the State Chamber of Commerce contract. Nelson ran for the House of Reprsentatives and Karges who had connections with former Representative Fred Morgan, went to work at the House.
Morgan had made a run at the 5th Congressional District and CMA handled Morgan's congressional campaign. After being defeated, Morgan went to work as the President of the State Chamber of Commerce and Karges stuck her snout in the State trough.
So State Chamber President Fred Morgan absorbed Karges back onto the State Chamber payroll but that still left a gaping hole in the House Budget. How did Steele solve his dilemma? He threw Jan Harrison under the bus.
Jan Harrison wasn't as connected as Karges. Steele's desperate need to slash payroll to fund Kintsel's gargantuan salary required that Harrison be forced out of her job. Despite being a long term House employee, a good Republican, known as proficient and fair, well respected for her years of service, Jan Harrison had to go. So Jan Harrison was told to "quit or be fired."
Karges continues to work at the House, rewriting and polishing bills which include the need to have intimate knowledge of confidential information. She will work till January 20th before she starts drawing her State Chamber paycheck. Am I the only one to see the problem here? This is like the Pentagon staffers that work on projects that they later bid on after taking defense contractor jobs. Karges is helping to form legislation that she will later lobby for or against. In the mean time, a hard working, dedicated, fair minded House staffer is going to be out of a job on account of Speaker Steele's abysmal leadership skills.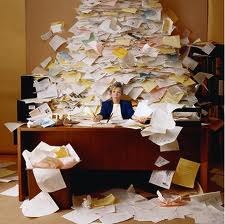 New House Ethics Panel Has
Work on Opening Day
Last year we saw the creation of a new House Ethics Committee after the Leftwich controversy came to a standstill. Speaker Kris Steele had ordered an investigation into Representative Randy Terril's involvement in the scandal but the investigation fizzled out after the first day when the panel couldn't find neither a need for further prosecution nor enough reasonable suspicion to warrant spending taxpayer dollars. Speaker Steele was embarrassed after the review board refused to prosecute Terrill without evidence on the first day so Steele ordered Representative Banz to continue on for several days, giving House leadership time to come up with a face saving way out of the dilemma. Their solution was to act as if their investigative powers were not broad enough to gather the information needed and announced the creation of a new Ethics Committee for the House.
We are all for ethical government and transparent operation of government, and as Speaker Steele is still in power until he is removed from office, and despite the fact that the Ethics Committee is a political solution to a failed witch hunt, as long as it is in existence we ought to get some use out of it. The new ethics committee was set up to prosecute violations after its creation, so we have a couple of perfect ethical violations that Committee Chair Gary Banz can sink his teeth into.
First is the Representative Dale DeWitt case that we reported on last year. Labeled "Shake Down at the Capitol", the story covered the controversial letter sent out by Representative Dale DeWitt who was recently appointed House Majority Floor Leader, replacing the outgoing Dan Sullivan. Representative DeWitt wasted little time heading to the lobbyist money trough, sending out this
December 13th 2011 letter th 2011 letter
to Oklahoma Capitol lobbyists.
Phone calls and emails with copies of Representative De Witt's letter started flooding toward the end of that week but the one that that concerned us the most was sent by a lobbyist that stated some real concerns. Floor leader is one of the three House leaders that can kill any bill they don't like, the other two being Speaker and any committee chairman. So the position is basically a gateway through which every single bill must travel, so when a floor leader asks you a favor, you had better reach for the checkbook or your clients will pay the price.
To further complicate things for DeWitt, he wasn't raising money for another Republican but for a Democrat Senate candidate for Senate District 20. Even more strange, Dewitt asked the lobbyists to send him the cash, not the Democratic candidate Phil Berkinbile. Why? So that DeWitt can "personally thank them". This is so obviously a bald face attempt to shake down lobbyists and it also reveals that DeWitt is really a Democrat, not a Republican.
No lobbyist in his right mind would want to choose only one candidate in an open primary with multiple candidates unless the candidate was being put up by one of his clients. But if you don't pay Representave DeWitt a nice fat bribe, uh, a nice fat donation, you guarantee that the new House Floor leader isn't going to support your client's legislation. At least the former floor leader, Dan Sullivan, was a bit more veiled about his protection racket, and we all remember what his character was like. If someone that arrogant and shameless knows better to do an open shakedown in plain view, what does that say about Representative DeWitt's character and judgement?
Even worse for the lobbyists, Berkinbile will lose the race. Berkinbile is a director of the state Career Tech system, and is going after a seat had been held by David Myers, a Republican from Ponca City, who died in late 2011. Some reports state that Berkinbile was registered as Republican and had a long simmering hatred of Republicans like former Representative Rex Duncan. Duncan had a reputation as a true conservative Republican which must have been offensive to Berkinbile.
So given the blatant disregard for both propriety and good sense, Ethics Committee Gary Banz should make floor leader DeWitt the very first case for his new committee. This is Banz's chance to show that the ethics committee is not just for prosecuting Kris Steele's political enemies but it is for fair and even handed transparency in the House.
The second case that Ethics Committee Chairman Banz should investigate is the case of the Contingency Review Board signing off on the Department of Human Services lawsuit without legislative approval. The CRB has the authority of settling cases costing less than $250,00 when the legislature is not in session and I can see where something like that is needed but this settlement covers a complete reorganization of the DHS and includes the hiring of three out of state "experts" that no doubt will clear six figure salaries. There is no way that this settlement is going to cost the state less than $250,000.
Here are two articles that explain the other problems with this DHS settlement.
Understand that according to our sources, the CRB, the Contingency Review Board, has met only a handful of times since it was created. Three times were for other Jerry Fent lawsuits. With the legislative session only weeks away from opening, what was the rush to settle this matter without getting the legislature involved?
The answer is found in the social justice and liberation theology values of Speaker Kris Steele. Steele knows that if he waits for the legislature to convene to handle the Department of Human Services problem then a compromise between cost and efficiency will have to be struck. And Steele won't be able to hand out six figure contracts to out of state cronies, even worse, some of Steele's cronies at DHS might lose their place at the trough!
So Representative Banz, here is your chance to prove to Oklahomans that you aren't leading a star chamber in order to knock down conservative voices in the legislature. Step up, bring in Floor Leader Dale DeWitt for questioning along with Speaker Kris Steele.
You want to be viewed as an honorable man? Then do an honorable thing. Bust these crooks, these wasters of tax dollars, and help bring back fairness and justice to the House of Representatives. You personally know that Speaker is very likely to be taken down in the legislative session. Report after report comes in with legislators complaining about Steel's heavy handed treatment of elected Representatives. The man is desperate to remain in power to fulfill the political favors he owes the State Chamber of Commerce in order to ensure his exit strategy, his fat paycheck and a cushy job, his just due in his mind for taking the heat for trampling on legislator and citizens alike.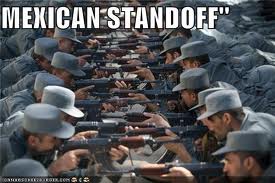 Moving in Mass or a Battle for the
Soul of the Republican Party?
Oklahoma Republican Party Chairman Matt Pinnell wrote an article the other day on the strong finish of Ron Paul in the Iowa Caucus and the fact that both Democrats and Independents thronged to support Dr. Paul. We also saw a very strong finish in the New Hampshire primary including a massive percentage of the under 25 year old vote.
Matt made a good case for making a home for the Ron Paul supporters and at considerable risk to his popularity he made the point that some Republicans might scream "But they aren't Republicans!" and laid out a well thought out case for inclusion. I find no fault with Matt's words but I would like to add to the discussion.
In the December 19th Newsletter I compared Tea Party values against the Oklahoma GOP Party platform. I pointed out the enormous gulf between the Platform Committee values and those who control the Rules Committee and the Platform Committee, due to the Platform Committee being the dumping ground for conservatives to keep them from taking their share of control of the Oklahoma GOP. But the conservatives didn't whine about being "sidelined", they made the most of the opportunity and did a great job in the Platform Committee that now reflects Oklahoma conservative values. Yet despite having this wonderful set of values to guide the party , in May of 2011 saw the defeat of conservative motions designed to extend control over our far less conservative Republican elected officials. Even the motion to ask Governor Mary Fallin to NOT work with the communist Chinese or to NOT sell them land in Oklahoma managed to fail on the convention floor.
No one can tell me that Oklahoma Republicans are against pro life, smaller government, illegal immigration, or lowering taxes. No one can tell me that Oklahomans prefer selling land to communist China and allowing them sovereign control over their property. All that is left is the embarrassment of having elected officials that believe they can ignore the Republican values of the Republican voters that put them in office. So I would like to respectfully reply to the statement "They aren't Republicans!" with this:
"They are more Republican than you are."
The Oklahoma Republican Party Platform starts out with ten principles:
1. Our rights of life, liberty, and property are natural rights granted to us by God and protected by the Constitution.
2. In the right to worship as we please without government intrusion or interference.
3. The federal government's power is constitutionally limited, yet responsible for protecting our sovereignty, establishing justice under law, and securing our liberty through a strong national defense and effective law enforcement.
4. God is the Author and Creator of life and that all human life, both born and unborn, should be protected.
5. Traditional marriage consists of one man and one woman.
6. It is the private sector and free market principles that best stimulate economic development rather than government subsidies or programs.
7. Taxes collected at all levels of government should be used only for legitimate government functions and those functions carried out efficiently so that tax rates may be kept as low as possible.
8. That government closest to the people governs best and is preferred to centralized control.
9. It is the right of every parent to act in his or her children's best interest including choosing the form of education, whether public school, private school, or home school.
10. We should welcome immigrants, who want to legally seek freedom and opportunity, who want to work for a living and who will embrace our values, learn the English language, and respect our national sovereignty.
Of the ten basic principles, I find only one minor departure between Ron Paul's values, values that he has been following and preaching for three decades. That minor departure, really more of a nuance, is in #5, the definition of traditional marriage. Ron Paul differs in only one aspect; it is the domain of the church, the state, and the local governments to make laws on such parts of our lives. Why? Does he support the gay and lesbian agenda? Absolutely not, he supports the U.S. Constitution and Article One, Section Eight that lays out the limited powers of the U.S. government.
That is 100% consistent to the #8 principle above so the truth is that all that could be said that the Oklahoma Party Platform is wrong, not Ron Paul. But neither is wrong! A state party platform has every right, indeed the responsibility to ask that marriage be defined by state and local governments!
Here are links to the last two Oklahoma GOP Party Platform. I challenge you to find serious differences between Dr. Paul and either platform.
What other excuses are used against Dr. Paul? "Oh, he wants to legalized drugs!" Or "He won't protect Israel" Or "He won't protect us from Iran."
Legalizing drugs? Bunk! Ron Paul believes it is the state and local government's responsibility to make laws on drugs. He believes, as I do, that the war on drugs has not only failed, it has warped into a war on our own citizens! How many people would support the idea of rounding up drug addicts and putting them into treatment like we used to do with mental patients? Is that perfect liberty? Is it a good idea? No, but there are some individuals, or at least some individuals at some times in their lives that need someone to step in and protect them from themselves.
It can't be done in the name of freedom, but most people would prefer forced treatment to sending people to jail at enormous public cost. Forced treatment instead of jail would free up prison space for truly violent crime, including those drug addicts that commit violent crimes. And you know what? Burglary should be considered a violent crime.
Or would you rather to continue to let convicted drug addict/burglars out after three months of a five years sentence like Speaker Steele is doing? Forced treatment isn't a perfect solution, I doubt there is a perfect solution, but it is something to consider by those more wise and more experienced in drug addict rehabilitation than I am. All that Dr. Paul is saying is that the people need to control how the problem of drugs is handled, not Washington D.C.
Israel not being protected, bunk!
Dr. Paul was vocal a few years back when Israel bombed the nuclear site in the Middle East, said that Israel had every right as a sovereign nation to protect itself. He asked that the American taxpayer not be required to pay for the bombing though. Dr. Paul as stated time and time again, we pay four dollars to Israel's enemies for every one dollar we give Israel. Not only that ,in return for the pittance we give them, we also tie their hands militarily. Ron Paul would let Israel whip Arab butt till the Arabs learned that attacking Israeli civilians with rockets and car bombs is not a good thing to do.
Who in their right mind would continue to believe that we are "helping" Israel with our current policies?
And Iran? I had dinner Friday night with Michael Hoehn, General Boykins, and some distinguished guests. Boykins had said earlier that Israel had two to three hundred atomic weapons aimed where they needed to be aimed. Iran or any other country, almost any combination of countries, would be smoking heaps of camel dung in short order if Israel was attacked IF we didn't force Israel to stand down. The other argument against foreign aid can not be dismissed, we simply can not afford to borrow money from the Chinese to give away! If you want to continue foreign aid to allies, either raise taxes or start cutting government back to the core purposes laid out in Article One, Section Eight of the U.S. Constitution.
Whether you believe you are Tea Party or Republican or Libertarian, Ron Paul is the only candidate you can support without compromising your principles. Romney has flip flopped on abortion, is a gun grabber, and was the jerk that implemented the first state program that forced American citizens to buy health insurance. Facts are facts! There is simply no argument left!
Perry? RINO Republican governor of Texas, directly responsible for the defeat of the anti TSA bill in 2011, former supporter and campaigner for Al Gore. Perry has been rejected in every primary so far.
Santorum? Gun grabber, supporter of Arlene Specter? We covered that last week in the NAGR report on Santorum.
But wait, some might say. "We need someone that has national appeal to defeat Obama." Okay, look at the Virginia primary. Only two candidates had enough support to get on the ballot,

only two that could turn in the required 1% of registered voters

, Romney and Ron Paul
Like it or not, this is now a two man presidential campaign. Romney stands for business as usual and I ask you, can we afford business as usual? Do we have another four or eight years before our currency collapses?
So I don't find a word wrong that GOP Chairman Matt Pinnell wrote but I would elaborate on his message. The insiders in politics know that the reason Ron Paul supporters were not welcomed into the Republican Party in 2008 was that Ron Paul supporters refused to compromise their principles. If the GOP dares to treat the Ron Paul supporters, former Democrats, former independents, Republican libertarians, or Tea Party supporters with anything less than respect, they will stay home in droves after the primary. If GOP County Chairs neglect to ensure fairness in the precinct process, enforce fairness in choosing delegates, refuse to change the rules or credentials committee roster, or if there is a hint of favoritism or refusal to allow the sharing of power, then the new Republicans will cost the GOP the Presidential election.
I would go so far as to predict the eventual rise of a third party should the GOP refuse to allow democratic change. So the RINO Republicans can circle the wagons and practice scorched earth tactics like were used in 2008 if they wish but they had better consider the consequences of their actions. I had a GOP chairman sitting in my office once, a good person, actually on our side on many things. But they made a comment that brought an immediate reaction, a finger in your face reaction. The comment was "Were else are they going to go?" My reply was that they can work against you if there is nowhere to go. They can take you down on the way and once things hit rock bottom then perhaps things will change.
Look at how the failed leadership of the Speaker Kris Steele has damaged the Oklahoma GOP. We saw the comments from Minority Leader Scott Inman (D) in the paper last Sunday. He basically told Speaker Steele that they "hoped" they could avoid acrimony but it would depend on "not taking them down a road that they didn't believe was best for the state." Only one interpretation, boy, we have you in a vise and you cut a deal with us or you are toast.
I would be ashamed to be a leader of a Party that owned all the state offices, the Senate, and the House, and found myself in a position that I had to cede control to the Democratic Party. The GOP can choose to follow Speaker Steele down that road or they can allow democratic process to decide who controls the seven Oklahoma delegate votes.
A final story to set the scene on the past and how we Republicans should be anxious to avoid it in 2012. One of the long time Ron Paul supporters is a County Chairman in central Oklahoma. They held their precinct meetings where people elected precinct officials and submitted resolutions and rules changes. They then held their County convention where those resolutions and rules changes were ratified and sent to the State Platform Committee, the Rules Committee, and the Credentials Committee. When this County Chairman got to the Platform Committee meeting, the resolutions and platform planks submitted by her county were missing. "Oh, they were lost! So sorry!" they were told by the former Oklahoma State Chairman, Gary Jones.
Most people would have given Jones the benefit of the doubt and not made a fuss. Not this County Chairman, they went off on Jones and raised a stink, refusing to budge an inch. Jones walks back into his office, according to the story, comes back with the resolutions, slams them down on the table saying "There!" and angrily stomps away.
Politics is not nice, it is war with words. You attack reputations not fortifications. It is raw, it is ugly, it is intense, it is what we do instead of using rifles and car bombs, so the timid need not get involved. You don't have to like the tactics necessary to defend the Constitution and the public good against the sociopaths that usually win at politics. But you had damned well better stay out of the way of those that are willing to pull off the gloves and fight back. Sometimes we get lucky and find a guy like Chairman Matt Pinnell that tries hard to steer between the two sides but if moderates do not stand beside him and protect him from the RINOs, then he will be forced into the corruption of his ideals or he will be driven from the GOP leadership.
Some Republicans will be like some of the legislators, "Well, I'm not choosing sides." Fine, then sit by and watch the GOP suffer. Blame yourself for not having the courage to take a stand and accept the Obama boot on your neck, on your children's neck, and their children's neck.
But what can you do about it? Go to the precinct meetings and support the Constitution, support Ron Paul. Reject the current RINO leadership, Chairman Matt Pinnell excluded, and let the chips fall where they may. Our great political system is a massive flywheel, resistant to change, but that in itself will moderate what Ron Paul will do so do not worry about any one or two issues that you aren't in perfect agreement on.
If you have never attended a precinct meeting, just show up, they will announce when to split up into groups. If you don't have a precinct chairman then you are it, spend how much or how little time you have to do the job but

take that position!

If there is someone already serving and there are two of you and one of him, vote him out and take the position. If they are a good guy that is on our side, they won't mind one bit! First ask them how they view politics, ask hard, specific questions and take them out if there is a shred of doubt. The vast majority of precinct Chairman slots are empty. I had two in my entire House District at the 2011 precinct meetings.
Past that, listen to the debates, the conservative side will be obvious. Expect demonization to occur, look past it, find the group with sour looks on their faces and vote opposite.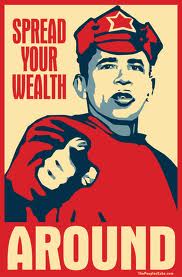 Oklahoma County Republican
precinct meetings



I'm pirating this from Jenny White's email that was sent around, modifying it some but the information comes from Jenny.
If you are unaware, because of the Republican majority at the Capitol, re-districting ensued this past year. Please note, everyone is meeting in one place for precinct meetings! If you have NOT received your new voter i.d. cards and are NOT aware of this situation, please follow these instructions:

Go to the Oklahoma State Election Board, enter in your information and WRITE DOWN your Congressional, House, Senate and County Commissioner districts. Please note that your PRECINCT number IS listed on this page in the upper right hand corner. You only need the LAST THREE numbers of the series to determine your precinct.
Map page on the house website link http://www.okhouse.gov/research/redistrictingbills.aspx
If you would like to verify the information from the election board, please visit 2012-2020 District Page on the website of the Oklahoma legislature where you can find the new maps.
Please inform your neighbors and get as many people as you can to the meeting. THIS IS A VERY IMPORTANT PRESIDENTIAL ELECTION YEAR and we can not sit idly by and "see" what happens!



2012 OKLAHOMA COUNTY
REPUBLICAN PRECINCT MEETINGS
Check back often for changes.
Harding Charter School3333 North Shartel Avenue, Oklahoma City
6:15 p.m. Registration / Check-in 7:00 p.m.
Republican Precinct Elections will held throughout Oklahoma on Monday night, February 6, 2012.
In Oklahoma, attending your precinct meeting is the first step in the election of delegates to the Oklahoma Republican State Convention. All registered Republicans are encouraged to attending these meetings.
In previous years, precinct meetings have been held in various locations throughout the county. However, this year will be different. Due to the redistricting that was done following the census, we will be having our precinct meetings at one central location.
We will be meeting at Harding Charter School, located at 3333 North Shartel Avenue, Oklahoma City 73118. We will be using the school's auditorium. The meeting will start at 7:00 p.m. Check-in and Registration will begin at 6:15 p.m. We are asking all precinct chairmen to arrive by 6:30 p.m. We will distribute precinct packets at that time.
During this meeting our agenda will include election of vacant precinct chairman positions, submission of planks for the 2012 platform, and election of delegates for the county convention. We look forward to seeing everyone on February 6th.
The following is from Tulsa County GOP, and by the way, you can't go wrong following the way that Tulsa votes. Check back often for any changes
Precinct Packets Being Finalized and Redistricting Issues Addressed

PRECINCT PACKETS

Precinct packet information was received from the state last week and
the Tulsa County GOP is working to make it available for all precinct
leaders next week.

This year we will be emailing the packets to the precinct chairman to
the email address we have on file.

If your precinct does NOT have any leadership we will be hosting a
precinct leadership sign up session on Saturday, January 21, 2012 at the Tulsa County GOP office located at 2816 E. 51st Street, Suite 100.

The sign up session will begin at 9:00 am.

To see if your precinct has a chairman or vicechairman go to
http://www.tulsagop.org and click on the "Files" link in the upper
left. You will find a file titled "Precinct leadership list".

REDISTRICTING

We are getting many calls concerning how to handle situations when the chairman or vicechairman no longer live in their old district due to
redistricting.

Your precinct leadership was elected to represent your precinct. If
they were "redistricted" out of their respective precinct they are
still your elected precinct leaders even through they no longer reside
in their old precinct.

There are two ways precincts can handle this type of situation:

1. The precinct leader can remain in office until the regularly
scheduled elections in 2013 at which time new leadership should be
elected. They may not run for re-election as they are no longer
living in their old district.

2. The precinct leader can resign now and your precinct can elect new leadership during a special election at this years precinct caucus.

There are nine new precincts in Tulsa County. These precincts will need to hold a special election this year to establish leadership and they will then hold another election next year during the regularly scheduled election cycle.

Click here to view a map of the new precinct boundaries.

The office is located at 2816 E. 51st Street in Tulsa. Hours are 10:00-3:00 M-Th and 10:00-1:00 Friday. Call 918-627-5702 first to ensure someone is there.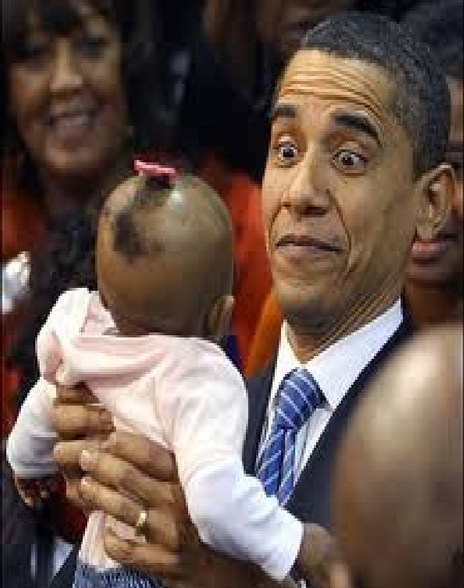 Speaker Steele's Illegitimate Offspring
Late last week Speaker Steele put out a press release calling a press conference on Tuesday Jan 17th at 1:30 in the Governor's Blue Room. The purpose is to reveal the 2012 Republican Caucus Agenda. Here is part of what Speaker Steele wrote:
"I am pleased to announce plans for a House Republican Caucus agenda press conference before session begins. The press conference will be much like the Caucus agenda press conferences held in previous years. Everyone is invited and encouraged to attend and stand in support as we discuss our success implementing our agenda last session and how we plan to build on that success to continue implementing the agenda next session."
"Following that event, we will hold a series of press briefings each week leading up to the start of session. These press briefings will focus on the details of policy initiatives we have been working on in the interim and policy initiatives we plan to pursue next session. This strategy allows us to publicly explain how policy initiatives for the upcoming session tie in to our vision for the state and our agenda in order to equip the press to report on these issues accurately, in detail and in context throughout session."
Well, as usual Speaker Steele seems to be playing loose with the facts here. He does give us a warning, kind of like a Muslim terrorist screaming "Allahu Akbar" before he attacks. Hey, I learned at the conference on Friday that terrorists are required to say that before they attack so they go to heaven. What Speaker Steel does is trip on his words, a Freudian slip. First he says "a House Republican Caucus Agenda" not " the House Republican Caucus Agenda". Hmm, is there more than one "official" agenda that the House Republicans voted on?
Next Steele says "…as we discuss our success implementing our agenda last session…" Hmm, sounds like the actually implemented the official agenda last session! Great, I must have missed that! Let's travel back in time boys and girls and see exactly what the 2011 Republican House Agenda consisted of.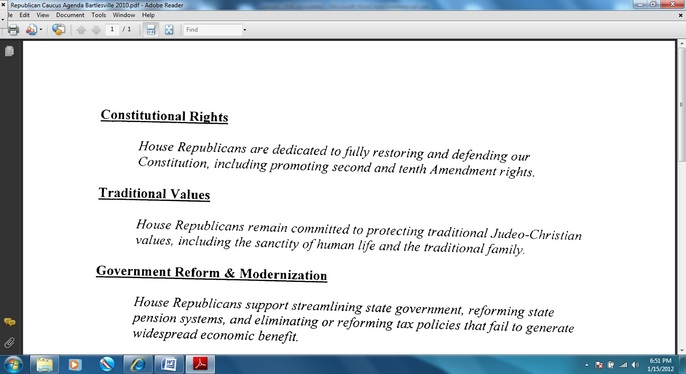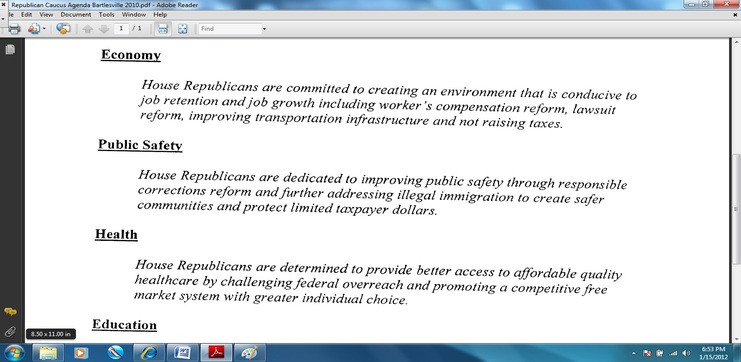 Constitutional Rights was first. Man, they said they were going to protect our constitutional rights including the 2nd and 10th Amendments! Did they? Uh, no. They killed all the good gun bills and the 10th Amendment bills. Darn, oh well we aren't using those rights anyway…
Traditional values were second, protecting Judeo-Christian values. Boy that is great! Oh, the transvestite birth certificate bill was ran by House leadership… Must have been a mistake.
Government Reform and Modernization. They were going to kill those pesky and costly tax credits for big businesses. No, those were re implemented for the big tire company and for Boeing. Shoot, that is three in a row but surely things will get better?
Economy, well that one has a lot of words and I'm getting discouraged. Let's call that one a mulligan.
Public Safety. Okay, now we are on solid ground. Prison reform and addressing the illegal alien problem. Uh, no. The passed the Kris Steele Soft on Crime bill and let out dozens and dozens of burglars and drug dealers loose on the street after a few months of a five year sentence. They gutted HB 1446 from being a step forward on controlling illegal aliens and turned it into George Faught's amnesty bill.
Health, great, they are going to challenge the Federal over reach on Health care and are going to promote a free market, more competitive insurance program. No, no, they tried to pass Obama Care/Fallin Care three times, then spent the summer "educating" Oklahomans on why it was wrong to stand against socialized medicine paid for by mandatory insurance purchase. Oh, and no free market for insurance, all companies and plans must meet Obama Care standards.
Education.. Oh, I give up. They didn't fulfill nearly anything on the agenda that the Republican House members put on the official agenda.
But Steele's choice of words inferred that there might be two agendas. Surely the 2011 agenda is similar, maybe they will get it done in 2012.
So we go next to the December 6th 2011 Republican House Caucus meeting agenda. Let's see, the Welcome speech, Opening Remarks, Policy Presentations, Caucus rule change discussion, Committee realignment, and announcements. Oh, then adjournment…. What does that mean? Another page somewhere? French for lunch time? What? They left without voting on an agenda?
That is right boys and girls, there is no official agenda from the Republican House Caucus for 2012 which means that the 2011 Republican House Caucus agenda is still in effect. But is there hope? We read in Steele's second paragraph that:
"These press briefings will focus on the details of policy initiatives we have been working on in the interim and policy initiatives we plan to pursue next session."
Whew! They do have a plan but where did it come from? Well…. It came from the State Chamber of Commerce in the form of the policy paper presentations by Mike McCarville's friend Pat McFerron, CMA partner and holder of the lobbyist contract for the State Chamber of Commerce. Here are the Issue papers that McFerron presented.
Folks, this is so simple. The Representatives voted on a 2011 House Republican Agenda, it was ignored al during 2011 and now they are so bold as to make another "official" agenda up without a vote of the elected Representatives but one approved, hell, paid for, by the State Chamber of Commerce professional lobbyist firm, CMA.
People scream about me trying to hold Republicans to their campaign promises and to uphold representative government at the Capitol. Where are the screams about Speaker Steele inventing an "official" agenda?
Here are all the House members in two fifty member blocks of email addresses. Use Bcc in your email address header and email fifty of them with one email yet they won't know who else got the email.
Don't forget the Wednesday night work parties starting at 4 pm. Get involved; help us hammer the bad politicians until they become good politicians.
Call 405-412-6233 for more info.
Remember to strip the unsubscribe link before forwarding this newsletter to prevent someone from taking you off our list! Use our forward this email link at the top of the newsletter to prevent being accidently unsubscribed.
Money is always needed for printing costs, postage, sign materials, and robo call costs. We are tightfisted; we will spend your hard earned money wisely and frugally as we do our very best to clean up Oklahoma politicians so we can begin to clean up our country.