PARAMOUNT INKS ELEVATION DEAL…
"UNRIVALLED" CONTENT OFFERING FROM SALES CO
CONSUMERS WOOED BY ILLEGAL OFFERINGS…
…INDUSTRY MUST TRY TO CHANGE BEHAVIOUR…
WARNING OVER DOWNLOADS, STREAMING, VPN USE
BBFC REPORT: DIGITAL, THEATRICAL UP
…DVD DECLINE TO CONTINUE…
…AS COVID STARTS TO HIT CLASSIFICATION
CONSUMERS GET HITCHED TO WIVES AGAIN
MEASURE FOR MEASURE
LIONSGATE HEADS TO ARKANSAS…
…AND GETS A DOG
ACORN OFFERS LIGHT
ANTI-WORLDS UNVEILS SECOND BATCH
TRAILERS OF THE WEEK
---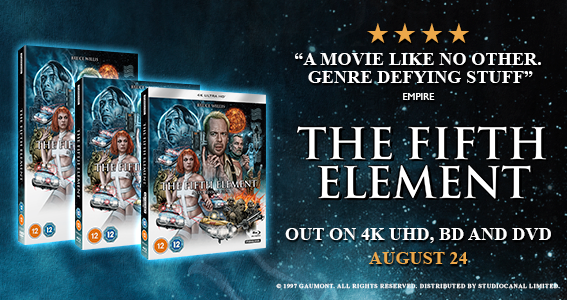 ---
If you can't read this n

ewsletter or see the ads, please click here.
Big news in the sales and distribution arena this week as Paramount announced its plans for s&d in the wake of the end of its five year contract with Universal later this year. And in a coup for the joint Lionsgate and Studiocanal venture Elevation, the sales company will be overseeing sales and supply chain for Paramount's physical home entertainment releases from January 2021. The deal will cover all Paramount and associated companies' products, taking in titles from such affiliates as CBS, Nick, Comedy Central and Showtime. It also presages a strong year for Paramount, with delayed 2020 biggies such as A Quiet Place 2 and Top Gun Maverick joining a slate that includes Coming 2 America 2, Rumble, Without Remorse, Infinite, The Tomorrow War. For Elevation it marks another step in its growth – the company started off handling sales for Optimum Releasing before being acquired by Lionsgate and Studiocanal to handle sales for the two companies. David Elliott, senior vice president, Home Media International for Paramount, will continue to oversee the studio's sales and distribution teams in the UK and internationally. Paramount will look after its own digital releases and handle marketing for home ent titles from its west London HQ.
We'll have more on the story next week, but in the meantime comment came from Kevin Dersley, managing director, Elevation who said: "We are delighted that Paramount has chosen Elevation Sales to represent its physical home entertainment content in the UK and Ireland. Paramount has a fabulous slate of franchise and original productions and a rich catalogue steeped in Hollywood heritage – when combined with other studios distributed by Elevation, our content offering to UK consumers will be unrivalled." "We are excited to join forces with the Elevation team," said Bob Buchi, president, Worldwide Home Entertainment, Paramount Pictures. "With Elevation's established retail distribution footprint, Kevin's vast industry experience and leadership, and our world-class content, we will be well-positioned in the market."
---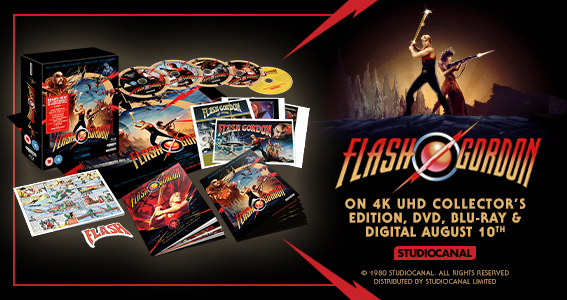 ---
One of the side effects of the Covid-19 crisis and the accompanying lockdown has been the way the public has slowly appeared to decide that maybe piracy isn't that bad at all. Normally right-minded people who wouldn't have gone near an illegal download or streaming site, or wouldn't have dreamed of getting a VPN and accessing content from other territories not yet released in the UK, have been wooed by the opportunity to view something. There's no hard and fast evidence, sure, but all the anecdotal indicators point towards a growing acceptance of viewing snide copies and masking your location to access films and TV programming you couldn't otherwise see. What's worse – and without naming any names – we've spotted a raft of industry people, both those working in and around the film and TV sector, even in distribution, accessing suspect content without so much as a thought. We've spotted writers and critics too surreptitiously viewing things they shouldn't have. It's a worrying trend, as acceptance of piracy and ignoring the consequences normalises it and will only enhance its appeal to consumers. So it's worth reminded you, Raygun readers, that piracy in any form is intolerable and even "non-crimes", such as watching a streaming service's US arm to enable you to watch a film not yet released over here, can still damage and temper our business.
We sought out comment from key industry figures to remind those in and around the industry of the dangers of the increased acceptance of piracy. Liz Bales at the Industry Trust (and BASE of course) said: "All forms of copyright infringement negatively impact rights holders and the category at large. Although methods such as streaming, torrents, illegal apps and add-ons etc tend to receive more focus, infringing via VPN software is also a significant problem - it erodes the value of rights in territories where content is yet to receive an official release, and territorial licensing remains a fundamental of the commercial viability of many film projects. Any act that seeks to promote or normalise the use of VPNs is disappointing, all the more so when that act is taken with a note of authority by credible voices and important stakeholders in the film community. At the same time, those credible voices drive much of the publicity, debate and engagement that is generated for content in the run-up to release. The Industry Trust has a clear remit to educate the public when it comes to issues surrounding infringement, whether by taking a pro-content stance in campaigns like Moments Worth Paying For, or by highlighting the personal risks people expose themselves to through infringement. As the landscape continues to change, it is clear that part of that education also needs to include dialogue with the publishers benefitting from strong commercial ties to the category, addressing the issue of VPN-related editorial and encouraging behaviour change exactly in keeping with the Trust's raison d'etre."
More comment came from anti-piracy experts at the Federation Against Copyright Theft. Chief executive Kieron Sharp said: "The message in relation to piracy is direct, simple and straightforward: any method of watching content that isn't supplied by the official provider is illegal. Whilst VPN use may not be typically seen as a risky or illegal means of accessing content from elsewhere, it avoids paying the content provider and ultimately harms the industry. Without fair remuneration, future film and TV production will inevitably suffer. The current pandemic has demonstrated that there is an increased need to support the industry and the thousands of jobs that could be put at risk. FACT combats digital piracy and content theft by working with PIPCU, other law enforcement agencies, government and industry partners to crackdown on illegal content provision and consumption and hold those behind it accountable for their actions. The educational message to consumers must be continuously driven home to bring about behaviour change. That message must come from all elements of the audio-visual industry."
---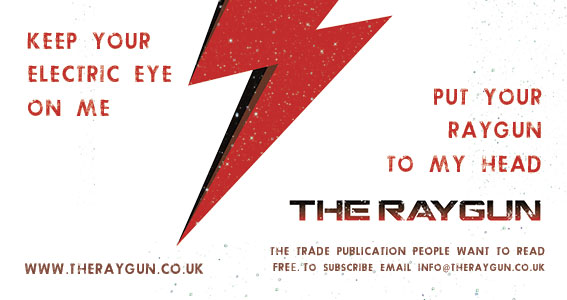 ---
It's hard during lockdown and everything that's followed, to keep track of what day of the week it is, let alone the date or even the month. So the publication of the annual BBFC report, which normally comes out in the summer, at least gives us a pointer to what season it is… The report, as ever, makes for fascinating reading – we'll be sharing more of it shortly on our website under one of our BBFC Report In Numbers features – with the report both throwing up some new figures, and also confirming many facts that those in the industry knew. The headline news shows both theatrical and in-home classifications increasing over the year, the latter driven by online classifications. The BBFC also highlighted the staggering growth in this sector – 1,158 titles were reviewed for online release in 2014, by 2019 that figure had soared to more than 6,500. That figure represents a growth of 13 per cent year on year and a whopping 462 per cent rise over the past five years. The 15 certificate is still the biggest for online content – almost 3,000 titles classified in 2019 were at that rating, almost half of all titles. At cinemas, there was growth too, albeit less than online. Some 1103 titles were submitted for classification. This also represents a marked rise on previous years – the figure has risen by 99 per cent over the past decade, with just 555 submitted in 2009. Again, the 15 certificate is the most popular, representing 368 of the total classified for cinema release. DVD and Blu-ray classification submissions and revenue were down again, as the report noted: "Turnover for the year was £6.0m (2018: £5.6m). There has been a 19 per cent increase in income from online submissions. This has been partially offset by a 16 per cent decline in income from DVD classification, which was expected. This decline as seen in the previous twelve years is predicted to continue, as the demand for online products increases. The current rate of increase in online submissions is not expected to offset further declines in DVD income and the cost base of the Company is being managed accordingly."
Comment on the BBFC report came from chief executive David Austin, who said: "It's clear that online platforms continue to thrive in the current media climate, and that they are increasingly using well-understood and trusted BBFC age ratings. Our mission is to help everybody choose content well, whenever, wherever, and however they view it, and people continue to tell us that they benefit from having age ratings and ratings in place, including online. Over the last year we've continued to keep our finger on the pulse of what people really think, and we continue to make sure our age ratings are where people need them. Our innovative partnership with Netflix saw the streaming platform begin to rate its own content to produce BBFC ratings using a tagging system and algorithms that match the standards British families expect and want to see. We continue to look at new ways we can work with platforms to get families the information we know they need, and want."
An aside in the report, and one well worth noting, as an addendum looking at the impact of the coronavirus pandemic on the organisation. It will certainly affect its finances for 2020 and into 2021, but what it's also illuminating for is how much theatrical and home entertainment releases have tailed off during the lockdown. The report said: "The impact of Covid-19 on classification income has been considerable. Income from film classification, which accounted for 27 per cent of classification income in 2019, has suffered a 98 per cent reduction since lockdown began. We expect film submissions to gradually increase in the run up to the reopening of cinemas but do not anticipate income levels to recover significantly until the end of the year. Other classification revenue including income from DVD classification has seen a 32 per cent decline since lockdown began. Income levels are expected to start to recover from mid year onwards."
---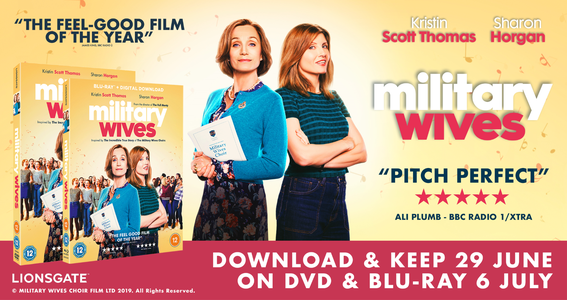 ---
Official Film Chart news now and Lionsgate has scored big again, with the return to the market of Military Wives, a theatrical release as the lockdown kicked in, then a premium vod outing and now physical and digital home ent release. It's good to see that the company's plan to remove the title from pvod to build demand in the run up to the full home entertainment appears to have paid off, as it stood at number one in its first week as a physical and download to own title. Commenting on its success, the company's Marie-Claire Benson said: "We're delighted to see Military Wives at Number 1 on DVD and Blu-ray. The film fast-tracked swiftly from cinemas, to premium VOD and then into its Home Entertainment window with excellent results at each touchpoint. This has demonstrated to us that no matter what the format, if the consumer is interested in a story they will watch it in their preferred way. And again, congratulations to the teams at Lionsgate and Elevation for masterminding a brilliant campaign in such challenging circumstances."
Out this week, and also covered here previously, is Parkland release The Last Full Measure, which was performing well at the halfway stage according to the midweeks, sitting pretty as the second highest new entry in the charts. Parkland's Tom Stewart said; "We're really delighted with how week one is looking and to be inside the Top 15 with the second highest new film release of the week is super news for us at Parkland! Again big thanks to the great efforts from the Spirit team in securing full distribution not only on physical but also digital where we've already seen strong performance across the platforms!" Comment for Spirit came from the company's Sarah Stanley, who said: "We are loving working with Parkland's broad and diverse release slate. Tom and the team have worked hard to deliver really innovative and effective marketing which has been ably demonstrated with the success of The Last Full Measure which has performed exceptionally well with our earlier digital release and now on physical.. Thanks as ever to all of our retail partners for all of the much valued support…
Forthcoming release news now and there's a brace due from Lionsgate on Monday July 20, first up is Arkansas, and commenting on the release is Lionsgate's Abi Golding, who said: "Following the EST release on July 13, Arkansas is releasing on DVD on Monday! With a one week EST window we've focused on a two week digital campaign including social and Amazon support to really drive awareness to this fantastic crime/ thriller film. We've driven home the all-star cast through our range of creatives- this film is the feature directorial debut from Clark Duke who also stars, along with Liam Hemsworth, Vince Vaughn, John Malkovich, Vivica A. Fox and more! The film is based on John Brandon's bestselling novel of the same name, and sees the story of Kyle and Swin who live by the orders of an Arkansas-based drug kingpin named Frog, whom they've never met. But when a deal goes horribly wrong, the consequences are deadly. In addition to the media campaign, we've run a really successful PR campaign with an overwhelming amount of support from Vivica A. Fox- she's conducted interviews with Grazia, Metro, Express.co.uk, NME and The Voice and was also on the cover of The Guardian Film & Music supplement along with a two-page feature interview and online with social shares on large Twitter and Facebook channels. We've also placed VAM from the film driving online awareness as well as competitions and reviews, and finally on Monday we'll be doing a Moonshine and Southern Fried Press Drop to key outlets."
Moving away from drug lords and into somewhat gentler territory is the next in Lionsgate's double header Think Like A Dog, a shaggy dog story for all the family. Comment on the release came from Lionsgte's Olivia Dean who said:"We're kicking off what, in more usual times, would be the start of the school holidays with Think Like A Dog – a fantastic, funny, and furry offering. With a stellar cast including Megan Fox, Josh Duhamel, Gabriel Bateman and Big Bang's own Kunal Nayyar, Think Like A Dog is perfect viewing for the whole family. We're supporting the release with a social campaign across Facebook and Instagram, and display activity on Amazon. Director Gil Junger, on-set dog trainer Sarah Clifford and star Gabriel Bateman have completed a raft of interviews including the Metro, Daily Express, Zavvi, London Mums Magazine, K9 Magazine, IntoFilm, Fun Kids Radio to create a really stand-out publicity campaign."
Also due on Monday, this time via Acorn, is The Luminaries, which arrives on DVD off the back of a high profile airing on BBC One. Commenting on the release, Acorn's Helen Squire said: "Eleanor Catton reinvented her Man Booker winning novel, The Luminaries for this beautiful BBC One series of the same name. The action takes place during the 19th century Gold Rush in New Zealand and the stunning scenery provides a fitting backdrop for this epic story of love, murder and revenge which also boasts a show stopping cast in the shape of Eva Green, Anna Hewson, Himesh Patel, Ewen Leslie. Worth its weight in gold, the series is releasing on DVD this Monday July 20."
Moving in to September and Anti-Worlds the imprint dedicated to the weird, wonderful and slightly more outré and experimental films around launched under the watchful eye of Powerhouse Films. Its September slate includes three Blu-ray world premieres, including a debut for one of our favourite films of the past year or more. Here's Powerhouse's Sam Dunn on the slate, He said: "We're so excited to finally be following up with a second wave of brilliant titles: Penny Slinger: Out of the Shadows - Richard Kovitch's fascinating film-profile of the pioneering multi-media artist and provocateur whose work has influenced a new generation of artists and thinkers; Best Before Death - Paul Duane's extraordinary film-record of two stages in artist-musician-writer (and ex-KLF member) Bill Drummond's epic world tour; and Krabi, 2562 - Anocha Suwichakornpong and Ben Rivers's mind-blowing mystery tour into the wilds of the imagination. Once again, we're extremely lucky to be working closely with the filmmakers, as well as with Penny and Bill, in order to produce comprehensive, world premiere Blu-ray editions featuring deleted scenes, short films, commentaries, and a wealth of other fantastic material."
Back to Lionsgate and the company has also this week announced the departure of its long-standing ceo Zygi Kamasa, who is leaving at the end of July to pursue "a new film and television business opportunity". He has been at the helm of Lionsgate's burgeoning UK arm since the US parent bought his fledgling Redbus outfit in 2005, growing its business tenfold. President Nicola Pearcey will assume his duties and remain president of Lionsgate's UK operation. Kamasa said: "I've had an amazing tenure growing the UK business from the foundations of my own indie film distributor, Redbus, into a world-class platform overseeing franchises such as The Hunger Games, executive producing over 30 local British films and expanding into UK TV production with shows like BBC's Motherland and The Goes Wrong Show. Now I'm moving on to my next exciting entrepreneurial opportunity that I plan to announce in the coming months. I leave our UK business in great shape and in very capable hands with Nicola Pearcey taking over my day to day role." Lionsgate global ceo Jon Feltheimer said: "Zygi is a great entrepreneur with savvy business instincts, strong talent relationships and a sharp eye for exciting content. He has played an important role in moving our global content platform forward over the past 15 years in the UK and Europe, and we wish him the very best in his future endeavours."
---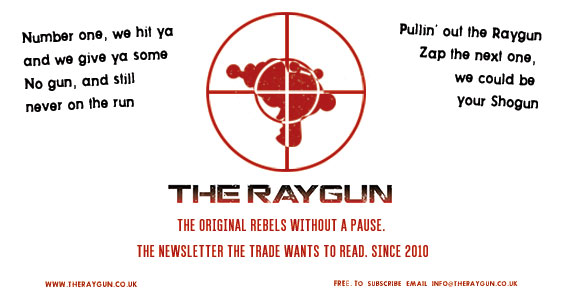 ---
'We know from our own as well as other surveys that there is an overwhelming desire amongst cinema-goers to return to the cinema as soon as they can, but equally that they and others want to understand and be reassured as to the safeguarding measures that will be in place when they do. We hope that the adverts we've launched today will offer that reassurance. The steps that all cinemas will take to protect both audiences and their teams are we think the right ones to help ensure that we will be able to deliver a safe but still enjoyable big screen experience."
UK Cinema chief Phil Clapp launching a new campaign to show consumers the work cinemas have done to safeguard customers. You can see the ads here.

AT THE MOVIES
News from the DC world where, despite filming of The Batman being put on hold, director Matt Reeves is busying himself with another comic book-related project. For even as Robert Pattinson is waiting to step into the Batman's shoes, Reeves is now developing an accompanying project for HBO Max, the new Warner-owned US streaming operator. He's working on a TV series that will be set in Gotham and look at crime in the city and how it became a centre of the underworld. Entirely separate from Warner and DC's own Gotham, it will set the scene for Reeves' The Batman. He said: "|This is an amazing opportunity, not only to expand the vision of the world I am creating in the film, but to explore it in the kind of depth and detail that only a longform format can afford — and getting to work with the incredibly talented Terence Winter, who has written so insightfully and powerfully about worlds of crime and corruption, is an absolute dream."
Another week, another Dirty Dancing project hoves into view, with further talks of a follow up to the hugely popular hit said to be on the way. Weirder still, star Jennifer Grey is said to be involved in the project, which will be a musical set in the 1990s. Grey will produce and co-star, although whether she is reprising her role as Baby is uncertain…
Richard Linklater is working on another blend of animation and live action, a concept he pioneered with such titles as A Scanner Darkly and Waking Life. Apollo 10 1/2 tells the story of the first moon landing both through the traditional perspective as well as that of a kid attending school near the launch site. Linklater was that pupil himself, giving him a close link to the story. It will appear on Netflix, with live action filming completed and graphics due to start soon. Linklater said: "It struck me years ago that this was my film to make, from both a chronological and proximity level – I was there, going into 3rd grade. Our unique animation style allows both the conjuring of a world long gone, and the flowing, playful expression of memory and imagination. It's been a fun, creative journey to incorporate things like 3D graphics into a live action shoot to help bring this story to life."
You're on The Raygun newsletter mailing list, which has been running for eight years, because you requested it, have been recommended to us or sent us emails. You can unsubscribe at any time, if you're daft, using the link elsewhere or by emailing as below. But of course, you don't want to do that, do you? We don't share your information with anyone else, we don't like cookies and we're the good guys. We care because you do…
To subscribe to The Raygun newsletter, please email
info@theraygun.co.uk
with subscribe in the subject matter
To unsubscribe, email

info@theraygun.co.uk

with unsubscribe in the subject
For editorial or advertising queries, contact

tim@theraygun.co.uk