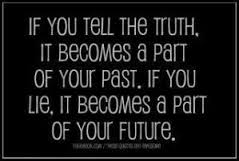 2014 Oklahoma Senate RINO Index
The Oklahoma state senate has been an embarrassment to Oklahoman values for many years. This year's RINO Index tells the sorry tale of state senators that are liberal as hell despite Oklahoma being the reddest state in the Union.
The bills used to score the senators are below:
SB 906, National Popular vote-
A bill designed to eliminate the electoral college which was put in place to ensure that the states were represented and that we didn't fall into a direct democracy. The electoral college requires presidential candidates to campaign in many states and not just focus on the East and West coast. It is a firewall that limits election fraud in Detroit or Chicago from canceling out Oklahoma votes and it makes it less profitable for people to vote in multiple states. Populous states already have more electoral votes so there is already an incentive for presidential candidates to focus on the larger population states but at least a candidate is aware that they didn't carry certain states in an election and maybe they will work harder at representing those states.
The National Popular vote has long been a vision for liberals and progressives so it is no wonder that we saw senate leadership pushing hard. Thank God that conservatives had control over the House and stopped this madness. Oklahoma is being targeted by NPV organizations because having us support NPV would make it easier to convince the other states to legislation this part of our U.S. Constitution into oblivion.
HB 3198 OETA Sunset law
This bill would remove state funds from the OETA budget. There was a time when we needed a publicly paid TV station but with the internet it is easier and cheaper to get news online so the public broadcasting stations are dinosaurs. The left and the progressives like having a propaganda machine and OETA has been fair to the Tea Party but there simply isn't a compelling reason to continue spending to support the program. They have advertising or sponsors, they can get grants, and they have fund drives each you so that those that enjoy the programming can support it.
HB 2580/Extend Film Subsidy
Pure pork barrel politics in action. Oklahoma already has low labor and infrastructure costs and that is the proper way to encourage businesses to use Oklahoma for projects or relocate here. We have a lot of people making their living as sound techs or video techs, people working on documentaries and national TV shows. Taking money from one citizen at gunpoint or seizing their property if they refuse to pay their taxes, then giving it to another citizen or business is not something we should be supporting.
HB 2509/Tax Credits
More pork barrel politics focused on the wealthy. This was an extension of the aerospace tax credits passed in 2009 by liberal senator Mike Mazzei and liberal Rep. Earl Sears. The tax credit allows BOTH the company and the employee to take advantage while increasing the tax burden on the rest of the tax payers.
SB 2128/Housing Tax credit
This legislation is for the rural areas of under 150,000 in population. The tax credits are for low income housing investors but really, how many vacant apartments are there in Oklahoma and is anyone having a problem finding an apartment to rent? The reality is this was passed by special interests to allow investors to escape income taxes on their rental property income. We are all for lowering taxes but the general rates should be lowered and not make special deals for special interests that bribe senators to get their way.
2533/States' Rights/ excavation on private property
This bill basically added layers of red tape onto property owners and allowed the Corporation Commission to regulate private property owners that want to dig a hole on their own land. The progressives claimed that the EPA was threatening to do the same thing so they bravely jumped in to "protect" Oklahoma from over reaching federal agents by taking over the job themselves. The bill is supposed to keep people from damaging pipe lines but it gives bureaucrats control over more and more of our property rights. And exactly what would have happened if Oklahoma had simply ignored the EPA regulations? We would have lost a tiny amount of federal funding for a unknown program at the Corporation Commission.
SB 1173/Lowering Ethical Safeguards
This legislation lowers the amount of oversight on contracting with state and local government entities. Prior to this bill, any contract over $10,000 required public bidding but the limit was raised to $25,000 for contracts. The bill also raised the maximum amount of a purchase order from $5,000 to $10,000. The end result is the ability to steer public money to special interests without having to bother with competitive bidding and therefore reward the special interests that elected the politician.
HB 2974/Phone Bill Fees/Obama Phone program funding
expands the list of nonprofit organizations that get free telephone and internet service to include mental health and substance abuse facilities. This is the same program that pays for the Obama phone program. Most of these organizations were set up as a job program for retiring legislators and they subsist on tax money. If the public supports a none profit then they will have money to pay the phone bill and there would be no need to tax you and I to pay for someone else's drug problem.
HB 2480/New Government agency
created new transportation trusts. Conservatives should be whittling down the size of government, not expanding it.
SB 1639/Corporate Welfare
would have expanded the Quality Workforce Act. The House killed the legislation after it failed to get a fourth reading on the final day of the session.
And please share it with everyone you know but give us credit for creating the index. Recently Project Vote Smart started using our index to help score politicians so the RINO Index is becoming nationally known.
| | | | |
| --- | --- | --- | --- |
| senator | Party | District | |
| Dahm, Nathan | R | 33 | 100 |
| Sykes, Anthony | R | 24 | 80 |
| Brown, Bill | R | 36 | 75 |
| Standridge, Rob | R | 15 | 60 |
| Allen, Mark | R | 4 | 60 |
| Brecheen, Josh | R | 6 | 60 |
| Newberry, Dan | R | 37 | 55 |
| Shortey, Ralph | R | 44 | 45 |
| Stanislawski, Gary | R | 35 | 45 |
| Anderson, Patrick | R | 19 | 45 |
| Mazzei, Mike | R | 25 | 35 |
| Aldridge, Cliff | R | 42 | 30 |
| Shaw, Wayne | R | 3 | 30 |
| Treat, Greg | R | 47 | 30 |
| Coates, Harry | R | 28 | 25 |
| Ford, John | R | 29 | 25 |
| Jolley, Clark | R | 41 | 25 |
| Shumate, Jabar | D | 11 | 25 |
| Crain, Brian | R | 39 | 20 |
| Bass, Randy | D | 32 | 20 |
| Marlatt, Bryce | R | 27 | 20 |
| Simpson, Frank | R | 14 | 20 |
| Boggs, Larry | R | 7 | 15 |
| Ballenger, Roger | D | 8 | 15 |
| Johnson, Constance | D | 48 | 15 |
| Justice, Ron | R | 23 | 15 |
| Wyrick, Charles | D | 1 | 15 |
| Brinkley, Rick | R | 34 | 10 |
| Brooks, Corey | R | 43 | 10 |
| McAffrey, Al | D | 46 | 10 |
| Barrington, Don | R | 31 | 10 |
| Bingman, Brian | R | 12 | 10 |
| David, Kim | R | 18 | 10 |
| Ellis, Jerry | D | 5 | 10 |
| Garrison, Earl | D | 9 | 10 |
| Griffin, A J | R | 20 | 10 |
| Halligan, Jim | R | 21 | 10 |
| Holt, David | R | 30 | 10 |
| Ivester, Tom | D | 26 | 10 |
| Sharp, Ron | R | 17 | 10 |
| Sparks, John | D | 16 | 5 |
| Branan, Cliff | R | 40 | 5 |
| Burrage, Sean | D | 2 | 5 |
| Fields, Eddie | R | 10 | 0 |
| Johnson, Rob | R | 22 | 0 |
| Loveless, Kyle | R | 45 | 0 |
| Paddack, Susan | D | 13 | 0 |
| Schulz, Mike | R | 38 | 0 |
What is Governor Fallin doing about it?
By the Watchman
Events on the Ebola scare in this great nation are rapidly expanding. Rumors are everywhere about this. The administration keeps insisting that we are ready to cope with any outbreak here, yet we have only 23 beds certified nationwide to handle such an outbreak. Then we see items such as
this
. If these noted Liberal newspapers are saying this about the administration, we can no longer trust them.
The next article of interest we found was
this
. This article gives you a list of ten (10) items everyone should have in their homes during this crisis. Folks we may not be able to tell you exactly what's going on with this Ebola outbreak, but we can at least try and tell you how to protect you and your family.
We are constantly being told that Ebola is not being transmitted by airborne methods, but is that the truth? We found
this report
by a nurse at the Dallas hospital where patient one was treated. Now we know that many will chalk that up to hysterics by a young nurse, but that doesn't explain
this article
. So why isn't this information being told to the general public? Why are those Doctors, Nurses and Lab Technicians involved told they could fly on commercial air and on cruise ships. Doesn't anyone in the CDC have any common sense?
Everyone is wondering how the two nurses came down with Ebola. Our research found
this article
. What it boils down to is the doctors and nurses are wearing clothing suitable to treat a patient infected with a Class 3 pathogen. Ebola is a Class 4 pathogen which requires a pressurized suit with its own air supply. Then they wonder why the nurses are getting sick? What stupidity is being demonstrated on their part.
So where does that leave Oklahoma? Frankly it leaves us in the dark. Dallas is not that far from here. We just went through the OU/Texas weekend in Dallas with thousands of fans in the area. Who's to say how many of them came into contact with some of those health care providers that are being watched, but aren't under any type of quarantine? Because our state government is silent, it leaves us to do the best we can on our own.
We know from experience of staff members that the hospitals are doing their best. One of the first questions out of their mouths is "Have you been to West Africa?" Followed by "Have you been around anyone suspected of having Ebola?" But are they truly ready for an Ebola case? We think not.
Which brings us to our state leadership? Where are they? We've had one statement by the Governor since this has started and that's it. Nothing from Dr. Cline, the Director of the Department of Health. Have they dropped the ball? Is the Governor more concerned about her re-election campaign? Could it be both? Whatever it is, the public is not being told the truth and is not receiving adequate information about the Ebola virus.
Whatever the problem is at the State Capitol, it's putting the citizens of Oklahoma in grave danger. Not once have we heard from the Secretary of Health regarding any steps to take for prevention. Not once have we even heard from the Governor on preparedness. It as if they could care less.
This could only leave us with one conclusion. This Governor and her staff could care less about anything else but your vote. It shows us that it's time to replace this Governor with someone who cares about the people more than their wallet. Hold her accountable at the polls and replace her with a competent individual.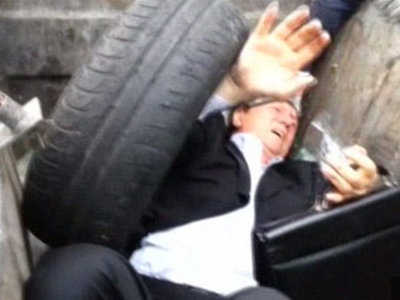 Former powerful Ukraine politician Vitaly Zhuravsky tossed in dumpster by crowd
Mary Fallin is "On the move"!
That is what her electoral shirt-tailer's are all claiming anyway. I'm not sure where she's moving to though. I haven't heard of any million dollar RV spotting around the Okla. City area. Most likely it has been stationary around the downtown area where she has been dumping millions of tax payer dollars for years. So she claimed.
I don't think that she is aware that the Okla. City area extends outside of that one mile radius.
She could have saved us all the cost of a RV and simply road the trolley around Bricktown.
I heard that she was asked about her thoughts and/or plans to address the issues that concern the general public. Her reply was -"Who"?, but she bounced back quick by tapping into her speech dodging resource bag. You know, her signature cookie cutter, vague, and no committing safe lines. One's like what a great job she has done and what she will do this time that she promised to do last time-for real. She does it with such impressive confidence too. It is as if she truly believes that no one has noticed the states ratings in all possible areas being face down in the dirt. Her battle cry of being a Conservative here to protect our rights has been worn out too.
She will make those statements as her phone is on hold with the " Feds Mo Money Hotline".
My friend also told me that when downtown it is was getting close to lunch time. He saw her collecting her campaign cronies by yelling out that she was buying lunch and something about how more funding came that day concerning the Capital repairs. He heard her cackling and spouting off about how the Capital doesn't need more than one bathroom stall anyway.
Yes, Mary is on the move alright, but only in the direction that smells of money. I guess that is why her campaign crew continues to drive around in circles within that one mile radius downtown. Nothing and no one else matters to her. She might as well live under the dome.
Oklahoma needs change to bring the state back on it's feet, and to begin repairs to the damage that has been done by our current leadership. New leadership that knows what the priority issues are. One that is still able to hear what the people want need, and is willing to address them . Someone who wants what is best for all of Oklahoma, not just a select few. Leadership that is not driven by personal gain or politics at our expense.
Mary Fallin has been a wet blanket on the state of Oklahoma. When nothing is working then change is not only good , but necessary.
Please vote for Joe Dorman for Oklahoma State Governor. It's time for change.
D.B., Oklahoma city