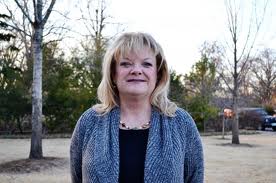 SENATE DISTRICT 15 RACE
PART 2
THE DEMOCRAT
The Democratic challenger for the Senate District 15 seat is Mrs. Claudia Griffith, a newcomer herself to politics but she is no stranger. Her husband sits on the Norman City Council. That raised some red flags immediately. The Norman City Council is quietly implementing the U. N.'s agenda 21 right under the noses of the public with the help of a corrupt GOP candidate for the state legislature Bobby Cleveland.
Mrs. Griffith's web site gives her work history as nursing and she claims to be an independent thinker.
However there is a complete lack of specifics in her proposals on her website. She believes that throwing more money at schools will solve our education problem, when it won't. What is needed in education is more local control and less state and federal interference in education. She fails to indicate whether or not she supports Obamacare. She also fails to indicate whether or not she supports the size of government. Sometimes what people don't say is more important than what they do say.
The Oklahoma State AFL-CIO is her largest contributor by far having contributed $5,000.00 to her campaign. We expect unions to contribute to Democrats, so this is no big deal.
In her filings with the Oklahoma State Ethics Commission three items that stuck out. The first is
· Evolve Ok
· the second is Transform Ok
· the third is Okie Force
The reason these three stuck out is that they all three share the same address. Now this would not be unusual if it was an office building, but it's not; this is a home in one of the outlying suburbs of Oklahoma City. All three entities are environmentally oriented organizations. In other words, they support Norman's Agenda 21 scheme. Why are we not surprised that they support her? I wonder if Bobby Cleveland has taken their money as well?
This is not a candidate that we can support. There is too much Agenda 21 in her platform to do Oklahoma and Oklahoma jobs any good.
The Rat, the Democrat and the Republican
By Ms PM
This story goes to show that it doesn't matter what party you belong to, the same conclusion is reached...our country is in trouble.
Vacationing in California and seeing my old boss and dear friend of 20+ years, we were able to talk about many of the issues facing the nation. This was a new experience for me as we had never gotten into politics. Armed with more knowledge following the political foolishness over the past few years, our conversations were interesting with surprisingly similar thought processes for the most part.
The only news I was able to catch was from local stations. During the two week stay the main topics were mostly about local California stupidity and I began to ask questions to see if my friend knew any of what was really going on. His most disturbing question was, "why haven't I heard about any of this stuff you're talking about in the news?"
He is a person that lives on 350 acres of one of the most beautiful secluded hill tops about five miles inland from the coast just south of Half Moon Bay. There is no cell coverage and he gets about eleven TV stations with an antenna, with six that are in English. That perturbs him, my word, not his. Politically correct isn't in his vocabulary. Being a registered Democrat and one that voted for Obama in 08, I could tell that some of what I was saying was disturbing, but, not at all surprising to him. He had no idea about all the executive orders bypassing Congress nor the acquisition of guns and ammo being stockpiled by different entities of the government just to name a couple. The information on the NDAA left him speechless.
This man has qualities that most others have discarded. His loyalty to people and friends would warm any heart. He's around 70 years old and a Vietnam Vet. He learned a long time ago that fighting in that war wasn't patriotic when he came back home. Being one of principle, he has become bitter towards our government because of all the lies told to him and others and absolutely does not trust those in charge. He has chosen not to follow what is going on because he gets too mad and doesn't believe there is anything he can do to change any of it. Both Obama and Romney scare the hell out of him. He doesn't believe either will keep their promises and follow what the Founders set up for America. The sadness I saw in his tired face broke my heart. I saw clearly what a tyrannical government does to its people. And now, his only choice as he sees it, is to live in an area he loves, eke out a living to pay his rent and enjoy the hilltop with some semblance of peace.
By now you're probably wondering how the rat fits into this. Well...he has an old truck parked that isn't running. I had parked next to it and he said, "I want to show you something." He raised the hood and this huge pack rat was sitting in the well established nest he had built for himself, just looking at us. He had been there a while. Two days later we went into town and there was no washer fluid, odd, it had been filled not long ago.
I checked it the next morning and Mr. Rat had chewed the hose to the wiper fluid and what I saw laying on the top of the motor was pretty amazing. There was one of our "Oklahoma Guardian" newspapers. Somehow he had gotten into the truck and swiped a copy to start his nest with under the hood. I took the paper into the house and had told my friend what had happened.
Curiosity got the better of him and he read the article I had written on "Fear and Unrest, What Will You Do?" But...he continued to read the entire newspaper. From all of our conversations we had had, after reading the newspaper he understood to a greater depth of what I had talked to him about. It had come clear to him that it didn't matter what party you were registered as, if what both party's are doing is wrong, it's wrong.
He understood why we were doing what we do and I understood just how worn out he had become. So...I will continue this fight for America, for him, and all of us. What an exceptional experience....and all because of a lesson from a rat. It doesn't get any better than that!
I gots me a sugar daddy to go with all these kids!

Stuart and the State Chamber Sitting in a Tree,
K-I-S-S-I-N-G.
First Comes Love, Then Comes Marriage,
Then Comes Stuart With a Baby Carriage…
Do kids still use that childhood ditty that our generation used to use on the playground to tease other kids that were smitten? Yuck, girls had cooties after all! Or so we thought at that young age, later on we wanted all the cooties we could get. If kids are still using the chant then it applies quite well to Stuart Jolley the director of Oklahoma's chapter of Americans For Prosperity (AFP). This last week found old Stuart (AKA Little Man Viagra spokesperson) slobbering all over the State Chamber and supporting their judicial evaluation report that is purported to evaluate judges based on their "pro business" positions.
Now we aren't knocking the idea of someone keeping up with these judges and letting the voters know when the law isn't followed and judges disregard Oklahoma conservative values. Appellate court judges stand for retention votes every six years and Oklahoma Supreme Court Justices stand for retention at the next statewide election following their initial appointment. As the sitting judges usually retain their seat by a two to one margin it is entirely appropriate for someone to cast a leery eye on their records, our problem is with the State Chamber being the sole judge, jury, and executioner.
So Stuart Jolly, ever the publicity hound, spooned up with the State Chamber in calling out four Justices for being activist judge: Yvonne Kauger, James Edmondson, Douglas Combs, and Noma Gurich. Stuart said in an interview that he would be publicizing the judicial rankings to "thousands of its members". Right…, I remember back when Stuart was claiming 40,000 member of Oklahoma AFP and we would have to lend him Sooner Tea Party volunteers to staff his table at events. People's email address captured by others forwarding their newsletter hardly constitutes "membership in a group. Hell Stuart, don't stop there, get a phone book and do some robo calls and claim everyone with a working phone number as a member.
Interesting enough, Stuart also claimed in a Capitol Beat story that he was considering whether or not to launch an advertising campaign against the jurists, something that AFP National might be interested in as actually advertising against a candidate violates their 501C 3 status.
The problem with AFP endorsing the State Chamber judicial rankings is that the judges are ranked using a narrow set of interests, the big business interests of the State Chamber with zero use of constitutional or civil rights votes. The only issues covered were employment, medical malpractice, product liability, insurance, other liability issues and workers' compensation, nothing was considered that covered respect for existing law, freedom, liberty, or justice.
The judges do need reined in, the AT&T v. Oklahoma State Board of Equalization case resulted in a ruling that ruled that "intangible" property could be assessed for purposes of ad valorem taxation, leading to a quick fix at the Capitol that allowed businesses to pay a token tax, but one that required more bookkeeping for businesses and was and is a pain in the Stuart Jolley. State Question 766 is to address this issue on the November ballot, but allowing the State Chamber even more control over Oklahoman's affairs is hardly a step forward for conservatives.
Poor Stuart, he reminds me of a blond joke:
Question: What is the first thing a blond will do in the morning?
Answer: She walks home…..
So once again Stuart Jolley embarrasses Oklahoma values and AFP by supporting the State Chamber instead of the common good. No doubt someone will catch him trudging North on the Broadway Extension one of these mornings, pushing his baby carriage full of illegitimate State Chamber offspring, already showing signs of his latest love child that he agreed to carry for the State Chamber.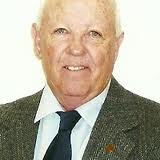 Give This Man Some Help
Or Would You Rather See a Liberal Democrat Elected Again?
Dave Bell, one of our favorite candidates, is running against former representative Jabar Shumate of North Tulsa. Shumate is a liberal Democrat, allegedly accused of being a closeted gay man, and is someone that needs sent back to the life he is better suited for. Dave put out a request for campaign donations last week so his campaign can purchase more signage and flyers for precinct walks.
Last week the Sooner Tea Party reached out to Brian Bingman, the President Pro Tem of the Senate and the one that has access to Senate PAC money. Bingman's office did respond and they did talk to Dave Bell on the possibility of considering a PAC donation but the staffer threw up a smokescreen of requirements before the Senate PAC would donate. Basically if the candidate had the money to jump through all their hoops, he wouldn't need their donation. Not good Brian, Dave Bell is a constitutional conservative, not a process that you can size up and categorize. Last I checked the Senate PAC had over $40,000 sitting in the bank and Dave Bell is one of the handful of contested Senate races in November.
Let's remind Brian Bingman that their PAC money was given to promote Republican candidates for Senate office. You can email Brian at bingman@oksenate.gov.
Let's also dig into our pockets and donate directly to Dave Bell. I will personally match the first $250.00 in donations to Dave so that your hard earned money is stretched to do more good. Just reply to this newsletter letting me know how much you donated and I will send a matching amount to Dave Bell. Any amount will help, from $5.00 to $5,000.00, and donations under $50 won't become public record if you wish, just make sure that you don't contribute more than $50 per campaign because then the info becomes public. If your donation is over $50, include who you work for, your profession, along with your home address.

Dave is a hard core constitutional conservative and he will look out for our interests all across the state if we can get him elected. You can't push Dave around, he stands for everything that the Republican Party Platform and the Tea Party stands for, and I think you would have to kill him before he would break his word. You can contact Dave at 918-638-9977 to donate or to volunteer. Please mail checks to Dave Bell for State Senate, 1312 North Canton, Tulsa Ok, 74115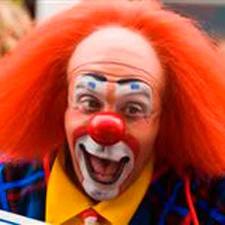 No Where to Hide Indeed
Once again State GOP Chairman Matt Pinnell cast aside decency and common sense with his weekly rant against other politicians. In his blog "Nowhere to Hide" Matt takes Obama to task for his record so far, high unemployment, skyrocketing debt, and poor foreign policy. He reminds us that Obama said in 2008 that if he didn't turn things around then he would be a one term president. Fair enough Matt...



Pinnell goes on to brag about Romney's Massachusetts record, balancing the budget, cutting taxes, reduced spending, and job growth, all with a Democrat controlled legislature.
Pinnell doesn't mention though the decline of Oklahoma's prosperity during his leadership of the GOP. Our own unemployment is still fairly high, the Governor that he helped elect and continues to support schemed to implement Obama Care on Oklahomans, while the Capitol building crumbles around her desk. Pinnell himself made huge promises in 2010 to win the Oklahoma GOP State Chairman slot yet few of those promises were delivered. Pinnell sat on his hands and watched the two largest budgets in Oklahoma history get passed at the Capital, saw the Governor that he supported join with the State Chamber of Commerce and RINO Republicans to support a bill that promised prosperity by taxing our way into economic freedom in a 2010 billion dollar state tax increase and Pinnell did this despite having a rock solid majority in the House, Senate, and all of the state agencies.
We can only hope that Republicans in Oklahoma make it to the February Republican precinct meetings, ask to be a delegate, and either remove Pinnell from office or force him to do his job of supporting the Republican Party Platform.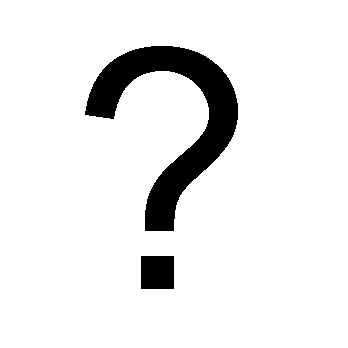 Questioning the State Questions?

On September 23rd the Sooner Tea Party Newsletter published a list of State Questions that would be on the November ballot and made recommendations on how to vote. However we had to take a second look at one of those State Questions after new information popped up that made us question if SQ 765 deserved a yes vote. Sometimes many minds working on a possible corruption case or an attempt to confuse and lead astray conservative voters will benefit finding the truth or will at least drive the cockroaches from the cracks where we can stomp on them. Below in blue type is the bill summary of every one of the State Questions along with the House voting record where it is warranted. Sometimes knowing who voted for and against a bill helps to define exactly what the intent of the legislature was. But skip the blue type if you wish to get to the gist of the matter.

The legislative bill number needs to be linked with the State Question number to avoid confusion:
SQ758 = HJR1002 SQ759 =SJR15 SQ762 = SJR25 SQ764 = HJR1085
SQ765 = HJR1092 SQ766 = SJR52
BILL SUMMARY
1st Session of the 53rd Legislature
Bill No.: HJR 1002
Version: Senate Amendments
Request Number: NA
Author: Rep. Dank
Date: 4/19/2011
Impact: Change in the Rate of Growth
FY-14: $6,558,000

The Tax Commission indicates the rate of potential growth in the revenue to taxing jurisdictions will be restrained. Analysis undertaken by the Commission reveals that forty-two percent (42%) of residential and commercial property parcels may be subject to a full five percent (5.0%) valuation increase at some point in future years. A reduction in the maximum annual rate of assessed valuation increase to three percent (3.0%) will restrain the revenue growth rate approximately $6.56 million in FY-14. The estimate is based on current county databases – the actual effect on revenue growth will be a function of changes in valuation in coming years.
The change in growth resulting from a similar cap in agricultural land is not estimated, as the utilization of use value methodology to value property is not expected to exceed the percentage cap.
Only around $7,000,000 in savings to the tax payer? Small change, better than a sharp stick in the eye but they could do much better.
Vote yes on SQ 758
BILL SUMMARY
1st Session of the 53rd Legislature
Bill No.: SJR 15
Version: Committee Substitute
Request Number: 1531
Author: Sen. Rob Johnson
Date: 4/26/2011
Impact: $0
Fiscal Analysis
The CS for SJR 15 ask the voters to approve or reject an amendment that the state shall not grant preferential treatment to any individual or group on certain specified conditions. This state question will be on the General Election ballot, so it will cost no additional funds to be voted upon.
Vote Yes on SQ 759
BILL SUMMARY
1st Session of the 53rd Legislature
Bill No.: SJR25
Version: CS
Request Number: N/A
Author: Representative Faught
Date: 2/29/2012
Impact: Estimated Cost Savings – DOC
$3.3 Million Annually
Research Analysis
The CS for Engrossed SJR 25 sends to a vote of the people a proposed amendment to the State Constitution that would give the Pardon and Parole Board the power to grant parole for nonviolent offenses and would require the Board to report annually to the Legislature certain information about all paroles granted.
Fiscal Analysis
The Committee Substitute for Engrossed SJR25 authorizes the Pardon and Parole Board to grant parole to nonviolent offenders. This action will allow nonviolent parolees to be released earlier than they are currently and save the Department of Corrections (DOC) the cost of housing these offenders while awaiting approval from the Governor.
According to the Pardon & Parole Board, approximately 1,200 non-violent offenders are recommended for parole annually. The process typically takes about 90 days after the Board recommendation before the offender is released. SJR25 would shorten that process by approximately 60 days. With average daily prison costs of $46/day per offender, SJR25 would save approximately $2,760 per offender, or $3.3 million annually.
OKLAHOMA HOUSE OF REPRESENTATIVES
Fifty-Third Legislature
First Regular Session
SENATE JOINT RES 25 Constitutional amendment; modifying parole
Steele authority. Ballot title. Filing.
THIRD READING PASSED
YEAS: 86 RCS# 1194
NAYS: 8 2/29/2012
EXC : 5 2:25 PM
C/P : 0
VAC : 2
YEAS: 86
Armes Hall McPeak Sanders
Banz Hardin Moore Schwartz
Blackwell Hickman Morrissette Scott
Brown Hilliard Mulready Sears
Brumbaugh Holland Nelson Shannon
Cannaday Hoskin Newell Shelton
Casey Inman Nollan Sherrer
Cockroft Jackson Ortega Shoemake
Condit Johnson Osborn Shumate
Coody Jordan Ownbey Stiles
Cooksey Kern Peters Thomsen
Cox Key Peterson Tibbs
Dank Kirby Pittman Vaughan
Denney Liebmann Pruett Virgin
Derby Lockhart Quinn Walker
DeWitt Martin, Sc. Renegar Watson
Dorman Martin, St. Richardson Wesselhoft
Enns McCullough Roan Williams
Faught McDaniel, C. Roberts, D. Wright
Fourkiller McDaniel, J. Roberts, S. Mr.Speaker
Glenn McDaniel, R. Rousselot
Grau McNiel Russ
NAYS: 8
Bennett Hamilton Proctor Ritze
Christian Murphey Reynolds Terrill
EXCUSED: 5
Billy Kouplen Trebilcock
Joyner Morgan
CONSTITUTIONAL PRIVILEGE: 0
Vote No on SQ 762
BILL SUMMARY
2nd Session of the 53rd Legislature
Bill No.: HJR 1085
Version: CS
Request Number:
Author: Richardson
Date: 3/8/2012
Impact: Impact only if bonds need to be issued
Research Analysis
The committee substitute to HJR 1085 creates a state question to amend the Oklahoma Constitution by creating the Oklahoma Water Resources Board (OWRB) Water Infrastructure Credit Enhancement Reserve Fund which is authorized to issue bonds used for a reserve fund for water resource and sewage treatment financial assistance programs for subdivisions of the state. OWRB can issue general obligation bonds up to $300,000,000 only after other monies and sources are used for repayment. The Legislature is required to provide for administration for the fund, methods for issuing the bonds and sufficient appropriations to pay for the bonds.
Fiscal Analysis
CS for HJR 1085 sends to a vote of the people a proposed constitutional amendment creating within the Oklahoma Water Resources Board the Water Infrastructure Credit Enhancement Reserve Fund. The purpose of the Fund is to secure the payment on bonds issued to provide for the Board's financial assistance programs. The bonds authorized by the amendment would only be issued in the event of a future payment default and after all pledged monies, reserved funds required of borrowers, reserved funds required of OWRB, and any surety bond payments have been used. According to officials at the OWRB, this kind of default has never happened in the history of OWRB's lending and the likelihood of these bonds needing to be issued is minimal. The purpose of the bond authority is to allow towns and rural water districts the foundation of the state's credit as they secure financing for water and wastewater infrastructure upgrades as outlined by the Comprehensive Water Plan.
Other Considerations
According to the OWRB, existing financing programs are expected to only cover 10% of the future demand for upgrades and improvements, leaving many Oklahoma communities to fend for themselves in securing financing.
OKLAHOMA HOUSE OF REPRESENTATIVES
Fifty-Third Legislature
First Regular Session
HOUSE JOINT RES 1085Constitutional amendment; water resources and
Richardson sewage treatment program; bonds; ballot title;
THIRD READING PASSED
YEAS: 81 RCS# 1407
NAYS: 11 3/12/2012
EXC : 7 3:08 PM
C/P : 0
VAC : 2
YEAS: 81
Armes Hall McPeak Sanders
Banz Hardin Moore Schwartz
Billy Hickman Morrissette Scott
Blackwell Hilliard Mulready Sears
Brown Holland Newell Shannon
Brumbaugh Hoskin Nollan Shelton
Cannaday Inman Ortega Sherrer
Casey Jackson Osborn Shoemake
Cockroft Jordan Ownbey Shumate
Condit Joyner Peterson Stiles
Coody Kirby Pittman Thomsen
Cooksey Kouplen Proctor Vaughan
Cox Liebmann Pruett Virgin
Dank Lockhart Quinn Walker
Denney Martin, Sc. Renegar Watson
Derby Martin, St. Richardson Williams
DeWitt McCullough Roan Wright
Dorman McDaniel, C. Roberts, D. Mr.Speaker
Fourkiller McDaniel, J. Roberts, S.
Glenn McDaniel, R. Rousselot
Grau McNiel Russ
NAYS: 11
Bennett Hamilton Key Ritze
Christian Johnson Murphey Terrill
Faught Kern Reynolds
EXCUSED: 7
Enns Nelson Tibbs Wesselhoft
Morgan Peters Trebilcock
CONSTITUTIONAL PRIVILEGE: 0
Vote No on SQ 764
Below is the State Question that we… well, began to question after an email from Representative Osborn was forwarded to us. When we looked back at the bill information we found that the bill that was passed didn't even mention the Governor controlling the DHS organization, it said that the legislature would create and administrate the agency.
Below is what Osborn had sent out on SQ 765 and it is very close to other legislator's email recommendations. We aren't picking on Osborn, just pointing out that the misinformation is wide spread and that got us to comparing notes and tying together some loose ends.
SQ 765 Rep. Steele/Sen. Treat
A yes vote on this State Question would abolish the Commission for Human Services, a constitutionally mandated, 9 member group of unelected volunteers. It is a 1930's governance model that can be traced to the agency's major problems with an unaccountable commission and an insulated director. With the passage of this measure The DHS director will be appointed by the Governor and confirmed by the Senate. This would place the agency's leadership closer to the people because the Governor is accountable to all the people of the state. DHS would basically now be answering directly to the public, not an unelected, unaccountable commission.
Now here is what the legislation actually said about the bill that would become SQ 765:
This measure amends the State Constitution. It provides for the repeal of Sections 2, 3 and 4 of Article 25 which relate to the Department of Public Welfare, the Oklahoma Public Welfare Commission and the Director of Public Welfare. This measure grants the Legislature the authority to create and direct by law the administration of a department or departments to provide for public welfare for the people of the State of Oklahoma.
Section 6>. For the purpose of effectively administering and carrying into execution all laws enacted pursuant to the authority granted in Section 1 of this Article, the Legislature is hereby authorized to create a department or departments charged with the duty and responsibility of faithfully administering and carrying into execution all laws enacted pursuant to the authority granted in Section 1 of this Article and shall perform such other duties as may, from time to time, be prescribed by law. <
And a monstrous red flag popped up, on the enrolled (final version) of the bill Democrat Wade Rousselot was one of the House co authors, along with Speaker Kris Steele, Jason Nelson, Pat Ownbey and Ron Peterson. That is a rouge's gallery if I ever saw one.
Here is the header of the enrolled version with the author's names in red type:
ENROLLED HOUSE
JOINT
RESOLUTION NO. 1092 By: Steele, Rousselot, Nelson, Ownbey and Peterson of the House
and
Treat, Brinkley and Johnson (Constance) of the Senate
So what is so ominous about Wade Rousselot's participation? We reported last week that Republican Governor Mary Fallin has allowed her image to be used by incumbent House member Democrat Wade Rousselot's campaign even though he is running against Republican David Tackett.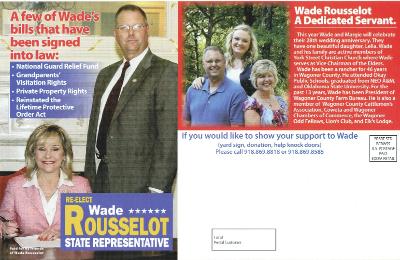 Tackett's campaign put out the word on Fallin's tactic support of an opposing party candidate against one of her own party's candidates along with a letter from Representative Mike Reynolds and another from Representative Mike Ritze calling for Governor Fallin to set the record straight on allowing the use of her picture. This week other legislators joined in calling Fallin to limit the use of her image in supporting opposing candidates and to publically endorse the Republican candidate for House District 12. Also the Republican Chairman for Wagoner County called for Governor Fallin to explain the use of her picture on Rousselot's campaign material.
The Tackett campaign reported that one GOP official had this to say:
"This is unprecedented. I can't remember if there was a time that a State Representative sent out campaign literature with a picture of the Governor of the opposing party. And the fact that Governor Fallin has yet to endorse the Republican candidate in this race makes it even more troubling."
We need everyone to contact the Governor about this mess and demand a response. Governor Fallin's political director is Denise Northrup, and can be contacted at denisenorthrup@cox.net Ask her just who the Governor is supporting in the HD 12 race and why the Governor's picture is on a Democrat's mailer. Tell her that Oklahomans deserve an answer on this issue.
It would appear to be obvious that the Governor may well have struck a deal with the liberal Democrat, support a power grab to seize power over the DHS department in exchange for her endorsement. I ask you how this is different from the Leftwich scandal that generated flimsy Oklahoma County criminal charges against two legislators in 2011? Are the unusually worded SQ 765 information emails circulating an effort to subvert the will of the legislature and potentially the vote of the people to maintain legislative control over the DHS agency? Is this a Quid Pro Quo between Republican Governor Fallin and Democrat Wade Rousselot?
Governor Fallin has a staff member read our newsletter every Sunday night right after it comes out. Andrew Silverstri is the current Deputy Policy Director for Governor Fallin and I must say he is conscientious about doing his task so we know that Governor Fallin also reads everything we write or at least the most interesting parts. It might be a good idea to email Andrew as well and pass along a request that Governor Fallin either endorse the Republican candidate for House District 12 and put a stop to her support of Democrat Wade Roussselot or switch party her affiliation to Democrat.
Here are those emails again:
BILL SUMMARY
2nd Session of the 53rd Legislature
Bill No.: HJR 1092
Version: CCRA
Request Number: 10514
Author: Speaker Steele et al
Date: 5/22/2012
Impact: $0
Research Analysis
The CCS for HJR 1092 sends to a vote of the people a proposed constitutional amendment that would repeal Sections 2, 3 and 4 of Article 25 of the State Constitution that created the Oklahoma Public Welfare Commission and the Director of Public Welfare position. The measure would authorize the Legislature to create and direct by law the administration of the Department of Human Services.
Fiscal Analysis
CCR A for HJR 1092 provides for a proposed amendment to the state Constitution and a ballot title related to repealing sections regarding the Department of Public Welfare, the Oklahoma Public Welfare Commission and the Director of Public Welfare. In addition, the measure grants the Legislature the authority to create and direct by law the administration of a department(s) to provide for public welfare for Oklahomans.
OKLAHOMA HOUSE OF REPRESENTATIVES
Fifty-Third Legislature
First Regular Session
CCR HJR1092 Constitutional amendment; Oklahoma Public Welfare
Steele Commission; authorizing the Legislature to create
FOURTH READING PASSED
YEAS: 80 RCS# 1948
NAYS: 7 5/22/2012
EXC : 11 5:30 PM
C/P : 0
VAC : 3
YEAS: 80
Armes Grau McDaniel, J. Rousselot
Banz Hall McDaniel, R. Russ
Billy Hamilton McNiel Sanders
Blackwell Hardin Moore Schwartz
Brown Hickman Mulready Scott
Cannaday Holland Murphey Sears
Casey Inman Nelson Shannon
Christian Jackson Nollan Sherrer
Condit Johnson Ortega Shoemake
Coody Jordan Osborn Shumate
Cooksey Joyner Ownbey Stiles
Cox Kern Peters Terrill
Dank Key Peterson Trebilcock
Denney Kirby Pittman Vaughan
Derby Kouplen Proctor Virgin
DeWitt Liebmann Pruett Walker
Enns Lockhart Quinn Watson
Faught Martin, Sc. Roan Wesselhoft
Fourkiller Martin, St. Roberts, D. Wright
Glenn McCullough Roberts, S. Mr.Speaker
NAYS: 7
Bennett Morrissette Reynolds Williams
Dorman Renegar Ritze
EXCUSED: 11
Brumbaugh Hoskin Morgan Shelton
Cockroft McDaniel, C. Newell Thomsen
Hilliard McPeak Richardson
And our recommendation on SQ 765?
We suggest that everyone vote yes on the condition that they be ready to help keep the legislature in control of the DHS and oppose any power grab by Governor Mary Fallin.
Straight party line voting on this one.
BILL SUMMARY
2nd Session of the 53rd Legislature
Bill No.: SJR 52
Version: CCRA
Request Number: 3513
Author: Rep. Dank
Date: 5/23/2012
Impact: Tax Commission:
Local Revenue Impact
FY-13: $0
FY-14: Decrease of $50.1 Million
Research Analysis
The CCS for SJR52 directs the Secretary of State to refer to the people a proposed amendment to the Oklahoma Constitution exempting all intangible personal property from ad valorem taxation.
Fiscal Analysis
Tax Commission analysis date May 22, 2012, indicates the resolution amends Section 6A of Aerticle X of the Oklahoma Constitution to provide that, beginning January 1, 2013, intangible personal property will not be subject to ad valorem taxation or to any other tax in-lieu of ad valorem taxation.
The estimated revenue impact of removing intangibles from central/unit valued companies is a $50,139,999 loss of ad valorem revenue to local taxing jurisdictions.
Vote yes on SQ 766
Food Stamp Phone Shumate
They call those "free" cell phones that are given away on street corners by vendors "food stamp phones" because if you are on food stamps you qualify for a "free" phone that you and I pay for through our phone bill taxes. That sense of entitlement is mirrored in Represenatative Jabar Shumate's campaign donation records.

Yeah, this one is a long article but you can scroll though the table of info below quickly while paying attention to the the info highlighted in red type. This guy is paying campaign workerss to walk for him; I didn't know that was even legal! No one has ever paid any Tea Party volunteers to walk precincts for candidates! Plus Representative Shumate is buying tires for his car, traveling to San Francisco (I'm going to bite my tounge on that one), donating to organizations that support gays, lesbians, and transsexuals, and good lord, look at his Starbucks bill!
The gay connection was interesting as although there was plenty of rumors and he said/he said info coming out of Tulsa alledging that Shumate was a closeted gay this was the first real documented connection between Shumate and a gay supported organization. Now we aren't bashing on the gays, we tend to leave them alone if they aren't bothering anybody, just pointing out that Shumate supports their issues. Read this article posted on the Rainbow Coalition website. The relevant info is highlighted in red:
February 08, 2012
Please see below a statement, from Rev. Jesse L. Jackson Sr., founder and president of the Rainbow PUSH Coalition, regarding marriage equality.
"Many years ago in the late 1970s', I visited South Africa, then deep in the throes of apartheid system. I was asked by the media what I thought of the situation, and I said something very culturally challenging to them, "I believe in human rights for all human beings. We must measure human rights by one yardstick." That principle – our moral center - still applies. Everything flows from this perspective. We all matter. Today let us fix the problem, not fix the blame – let us come together and build a broad coalition.
We stand together today as equal members of the human family; as consistent principled advocates for human rights for all people. We stand together today to uphold the principles of due process, of equal protection under the law, of fighting against discrimination against any and all people based on race, religion, gender or sexual orientation.
We applaud today's court ruling that supports Marriage Equality, striking down Proposition 8 as unconstitutional. Peoples' right to self-expression, self-determination be respected and affirmed. It's time to challenge ignorance, a time to break the silence and the chains of hatred, of divisive and discriminatory bigotry. Marriage is based on love and commitment — not on sexual orientation. Rainbow PUSH supports the right for any person to marry the person of their choosing..
If Dr. King and our civil rights movement has taught us anything, it's the fundamental principle of that all people deserve Equal protection under the law. LGBT people deserve equal rights – including marriage equality – and equal protection under the law. Discrimination against one group of people is discrimination against all of us. The State – and the Courts - should not sanction discrimination.
To those that believe in and fought for civil rights, that marched to end discrimination and win equality, you must not become that which you hated. It's past time to persist in hypocrisy and ignorance, and time to come out of the shadows and darkness to support unequivocally, equality for all people. Those that support civil and human rights cannot, must not, become perpetrators of discrimination against others based upon race, religion, culture, sexual orientation.
African Americans know too well the sting of legal, state sanctioned, constitutionally driven "second class" citizenship – from centuries of legal slavery and Jim Crow segregation, to classified as 3/5 of a human being in the U.S. Constitution, to facing anti-miscegenation laws that prevented Blacks from marrying whites.
Marriage is a fundamental right of all individuals. That principle was upheld today — for Blacks and Whites, for straight and gay, for ALL Americans. No group of people should be denied their fundamental constitutional liberties, like equal protection under the law, simply because of who they are.
Interestingly enough,reportedly the black community hates it when gays compare what they went through in the civil rights struggle to the gay rights movement. Many blacks believe that the comparison cheapens their struggle, perverts it if I might be so bold to use that word. Representative Shumate is certainly struggling to keep one foot in the black community and in the gay community, risky politics at best. The Tea Party could care less what Representative Shumate does to churn his butter but we don't like hypocrisy, if he is gay he should come right out and admit it. If he isn't gay he should address the allegations and put them to rest.
And take a look at all the "constituent gifts". This report reads like it is a slush fund to funnel campaign money to pay for Representative Shumate's personal expenses. That needs looking into, they cut off the gifts from lobbyists or at least make them public then allow money from campaign war chests to be spent on travel, Starbucks, Burlington Coat Factory, Wal-Mart, and so on? Spending $20 for breakfast at Starbucks on a regular basis? That is living high on the hog
Date

Brief description of the expenditure(s)

Name and address of the person/entity to which expen

diture was made.

Beneficiary

Explanation of Purpose

Amount

Year-to-date total

Mar 30, 2009

Shuttle Service

Washington Metro
600 5th Street NW
Washington, DC 20001

Legislative Business Travel

2.85

12.85

Mar 30, 2009

Gasoline

ONCUE Express 101
1 NW 23rd Street
Oklahoma City, OK 73104

Legislative Business Travel

8.66

12.31

Mar 30, 2009

Printing

AMPCO Parking
2800 SW 23rd
Oklahoma City, OK 73119

Legislative Business

16.00

128.00

Mar 30, 2009

Baggage Check

American Airlines
Post Office Box 619612 MD 2400
DFW Airport, TX 75261

Legislative Business Travel

25.00

1,675.28

Mar 30, 2009

Dinner Meeting

Abuelo's
17 East Sheridan
Oklahonma City, OK 73104

Legislative Business

87.26

163.96

Mar 30, 2009

Hotel Stay

Sheraton Hotel
801 N. St. Asaph Street
Alexandria, VA 22314

Legislative Business Travel

155.88

155.88

Mar 29, 2009

Hotel Stay

Embassy Suites
4650 W. Airport Fwy
Irving, TX 75062

Legislative Business Travel

148.35

148.35

Mar 26, 2009

Airport Shuttle

Washington Metro
600 5th Street NW
Washington, DC 20001

Legislative Business Travel

10.00

12.85

Mar 26, 2009

Baggage Check

American Airlines
Post Office Box 619612 MD 2400
DFW Airport, TX 75261

Legislative Business Travel

15.00

1,675.28

Mar 26, 2009

Dinner Meeting

Lounge 201
201 Massachusetts Avenue NE
Washington, DC 20002

Legislative Business Travel

22.80

22.80

Mar 26, 2009

Dinner Meeting

Hyatt Hotel
1000 H Street NW
Washington, DC 20001

Legislative Business Travel

30.40

30.40

Mar 25, 2009

Coffee

Travel Traders
999 9th Street NW
Washington, DC 20001

Legislative Business Travel

3.97

40.99

Mar 25, 2009

Volunteer Thank You Gifts

Travel Traders
999 9th Street NW
Washington, DC 20001

Volunteer Thank You Gifts

26.44

40.99

Mar 24, 2009

Cellular Phone

United States Cellular
6701 East 41st Street
Tulsa, OK 74145

Cellular Phone

174.56

3,587.08

Mar 23, 2009

Dinner Meeting

Cheevers Cafe
2409 Hudson Avenue
Oklahoma City, OK 73106

Legislative Business

29.47

29.47

Mar 23, 2009

Office Supplies

Cartridge World
1605 North Peoria Avenue
Tulsa, OK 74106

Office Supplies

35.36

70.72

Mar 23, 2009

Constituant Thank You Gift

Bed Bath & Beyond
5352 East Skelly Drive
Tulsa, OK 74135

Constituant Thank You Gift

35.69

35.69

Mar 20, 2009

Thank You Card

Target
2417 W. Main Street
Norman, OK 73069

Thank You Card

2.11

2.11

Mar 20, 2009

Donation

Sigma Gamma Rho Sorority
Post Office Box 48608
Tulsa, OK 74148

Status of Women Luncheon

100.00

130.00

Mar 20, 2009

Advertisement

Deborah Brown Community School
2 South Elgin Avenue
Tulsa, OK 74120

Legislative Travel

125.00

300.00

Mar 17, 2009

Pikepass Rebill

Oklahoma Turnpike Authority
4401 West Memorial Road #130
Oklahoma City, OK 73134

Pikepass Rebill

40.00

857.24

Mar 16, 2009

Lunch Meeting

Pearls Oyster Bar
928 NW 63rd
Oklahona City, OK 73116

Legislative Business

18.69

55.63

Mar 13, 2009

Parking

AMPCO Parking
2800 SW 23rd
Oklahoma City, OK 73119

Legislative Business Travel

8.00

128.00

Mar 13, 2009

Luggage Check

Northwest Airlines
1105 Arbor Run Place
Brentwood, TN 37027

Legislative Travel

15.00

271.89

Mar 12, 2009

Hotel Shuttle

Blue Cab
1417 Oakland Park Avenue
Columbus Ohio, OK 43224

Legislative Business Travel

29.19

29.19

Mar 12, 2009

Printing

Staples Office Supplies
2711 South Harvard Avenue
Tulsa, OK 74114

Legislative Advertisement

94.95

875.63

Mar 09, 2009

Dinner Meeting

Chilis Restaurant
1957 S. Muskogee
Tahlequah, OK 74464

Legislative Business

50.96

50.96

Mar 08, 2009

Office Supplies

Wal-Mart
1801 Bell Isle Blvd
Oklahoma City, OK 73118

Office Supplies

35.22

132.25

Mar 06, 2009

Airline Ticket

American Airlines
Post Office Box 619612 MD 2400
DFW Airport, TX 75261

Ohio Leg. for Nat'l Alliance for Charter Schools

339.89

1,675.28

Mar 03, 2009

Accounting, Clerical, Typesetting

Kathryne Horner
1238 West Reading Street
Tulsa, OK 74127

Accounting, Clerical, Typesetting

300.00

7,200.00

Mar 02, 2009

Thank You Notes

Reasor's
2429 East 15th Street
Tulsa, OK 74104

Thank You Notes

35.68

35.68

Mar 02, 2009

Esquire Club

Parkhill Warehouse
5111 South Lewis Avenue
Tulsa, OK 74105

Dinner Meeting

90.37

214.26

Mar 02, 2009

Airline Ticket

Northwest Airlines
1105 Arbor Run Place
Brentwood, TN 37027

National Urban League Conference

256.89

271.89

Feb 27, 2009

Lunch Meeting

VZD's Restaurant
4200 North Western
Oklahoma City, OK 73118

Legislative Business

29.96

63.63

Feb 26, 2009

Constituant Thank You Gift

Jensco, Inc
77-C Woodland Street
Manchester, CT 06042

Constutuant Thank You Gift

15.98

15.98

Feb 25, 2009

Cellular Phone

United States Cellular
6701 East 41st Street
Tulsa, OK 74145

Cellular Phone

174.56

3,587.08

Feb 23, 2009

Legislative Advertisement

OETA OK Broadcasting
Post Office Box 14190
Oklahoma City, OK 73113

Legislative Advertisement

30.00

30.00

Feb 23, 2009

Lunch Meeting

Pearls Oyster Bar
928 NW 63rd
Oklahona City, OK 73116

Legislative Business

36.94

55.63

Feb 23, 2009

Pikepass Rebill

Oklahoma Turnpike Authority
4401 West Memorial Road #130
Oklahoma City, OK 73134

Pikepass Rebill

46.70

857.24

Feb 17, 2009

Constituant Thank You

Mary Murray's Florist
3333 East 31st Street
Tulsa, OK 74135

Constituant Thank You

51.91

51.91

Feb 16, 2009

Lunch Meeting

The Brook Restaurant
3401 South Peoria Avenue
Tulsa, OK 74105

Legislative Business

9.00

191.03

Feb 16, 2009

Printing

Staples Office Supplies
2711 South Harvard Avenue
Tulsa, OK 74114

Legislative Advertisement

63.47

875.63

Feb 10, 2009

Lunch Meeting

On The Border Restaurant
3500 NW Expressway
Oklahoma City, OK 73112

Legislative Business

81.74

109.23

Feb 09, 2009

Lunch Meeting

Crown Plaza Of Tulsa
100 East 2nd Street
Tulsa, OK 74103

Legislative Business

16.50

16.50

Feb 08, 2009

Auto Rental

Hotwire
655 Montgomery Street
San Francisco, CA 94111

Legislative Travel

201.08

394.21

Feb 07, 2009

Lunch Meeting

The Brook Restaurant
3401 South Peoria Avenue
Tulsa, OK 74105

Legislative Business

38.56

191.03

Feb 04, 2009

Accounting, Clerical, Typesetting

Kathryne Horner
1238 West Reading Street
Tulsa, OK 74127

Accounting, Clerical, Typesetting

300.00

7,200.00

Feb 03, 2009

Hotel Stay

Residence Inn - Dallas
7642 LBJ Freeway
Dallas, TX 75251

Legislative Business Travel

51.75

51.75

Feb 02, 2009

Lunch Meeting

Zephyrs Patio Lounge
5628 Sears Street
Dallas, TX 75206

Legislative Business Travel

25.50

25.50

Feb 02, 2009

Car Rental

Alamo Car Rental
7777 East Apache Street
Tulsa, OK 74115

Legislative Business Travel

40.66

40.66

Feb 02, 2009

Hotel Stay

Lincoln Inn Of OKC
5405 North Lincoln
Oklahoma City, OK 73105

Legislative Business Travel

46.05

138.15

Feb 02, 2009

Legislative Advertisement

Perry Publishing And Broadcasting
7030 South Yale Avenue #302
Tulsa, OK 74136

Legislative Advertisement

50.00

11,489.70

Feb 02, 2009

Telephone Service

Cox Communications
1811 East 51st Street
Tulsa, OK 74136

2008 Campaign HQ

389.09

1,113.73

Jan 30, 2009

Hotel Stay

Lincoln Inn Of OKC
5405 North Lincoln
Oklahoma City, OK 73105

Legislative Business Travel

92.10

138.15

Jan 28, 2009

Lunch Meeting

Brookside By Day Restaurant
3313 South Peoria Avenue
Tulsa, OK 74105

Legislative Business

24.27

24.27

Jan 26, 2009

Service Charge/Airline Ticket Change

American Airlines
Post Office Box 619612 MD 2400
DFW Airport, TX 75261

Legislative Business Travel

40.00

1,675.28

Jan 26, 2009

Cellular Phone Service

United States Cellular
6701 East 41st Street
Tulsa, OK 74145

Cellular Phone Service

174.56

3,587.08

Jan 24, 2009

Auto Rental

Hotwire
655 Montgomery Street
San Francisco, CA 94111

Legislative Travel

193.13

394.21

Jan 20, 2009

Service Charge/Airline Ticket Change

American Airlines
Post Office Box 619612 MD 2400
DFW Airport, TX 75261

Legislative Business Travel

40.00

1,675.28

Jan 14, 2009

Hotel Stay

Springhill Suites
3 SE Interstate Drive
Lawton, OK 73501

Legislative Black Caucus Retreat

101.02

101.02

Jan 12, 2009

Gasoline

E Z Go Mart
H. E. Bailey Turnpike
Chickasha, OK 73018

Legislative Travel

15.12

15.12

Jan 09, 2009

Antivirus Software

DRI Trend Micro
Unkown
Unknown, OK 00000

Antivirus Software

35.95

35.95

Jan 09, 2009

Cellular Phone Repair

The Signal Cellular Repair
625 Willow Springs Lane
York, PA 17406

Cellular Phone Repair

50.00

50.00

Jan 09, 2009

Accounting, Clerical, Typesetting

Kathryne Horner
1238 West Reading Street
Tulsa, OK 74127

Accounting, Clerical, Typesetting

300.00

7,200.00

Jan 06, 2009

Post Office Box Renewal

United States Postmaster
626 East Apache Street
Tulsa, OK 74106

Post Office Box Renewal

42.00

442.84

Jan 02, 2009

Lunch Meeting

The Brook Restaurant
3401 South Peoria Avenue
Tulsa, OK 74105
Date

Brief description of the expenditure(s)

Name and address of the person/entity to which expenditure was made.

Beneficiary

Explanation of Purpose

Amount

Year-to-date total

Jun 11, 2012

Breakfast

Starbuck's Coffee House
1832 Utica Square
Tulsa, OK 74114

Camapign

Legislative Business Meeting

20.00

504.19

Jun 11, 2012

Postage

United States Post Office
626 East Apache Street
Tulssa, OK 74106

Camapign

Postage

32.00

317.76

Jun 11, 2012

Refreshments

Walgreens
405 East 2nd Street
Sand Springs, OK 74063

Campaign

Campaign Headquarters

62.30

227.08

Jun 11, 2012

Advertisement

Prairie Production
1637 South Boston Avenue
Tulsa, OK 74119

Campaign

Advertisement

351.09

696.96

Jun 11, 2012

Advertisement

The Oklahoma Eagle
624 East Archer
Tulsa, OK 74120

Campaign

Advertisement

1,320.00

5,970.00

Jun 08, 2012

Refreshments

Walgreens
405 East 2nd Street
Sand Springs, OK 74063

Campaign

Campaign Headquarters

51.68

227.08

Jun 08, 2012

Telephone Polling

SHO & Associates
2840 Linda Lane
Oklahoma City, OK 73115

Campaign

Campaign

4,649.48

4,649.48

Jun 07, 2012

Campaign Walking

Kevin Watkins
1301 North Denver
Tulsa, OK 74106

Campaign

Campaign Walking

40.00

430.00

Jun 07, 2012

Meal

Mazzio's Pizza
2305 West Edison
Tulsa, OK 74127

Campaign

Campaign Walkers

40.82

155.16

Jun 07, 2012

Gasoline

Quick Trip
229 N. Gilcrease Museum Road
Tulsa, OK 74127

Campaign

Legislative Travel

60.95

2,616.96

Jun 06, 2012

Meal

McDonald's Restaurant
229 North Gilcrease Museum Road
Tulsa, OK 74127

Campaign

Campaign Walker

6.04

33.69

Jun 06, 2012

Meal

McDonald's Restaurant
229 North Gilcrease Museum Road
Tulsa, OK 74127

Campaign

Campaign Walkers

14.26