=============
Upcoming EFT Workshop at Lightworkers Gifts for Phoenix-area folks:
Basic EFT: 12-2 PM
on Feb 1st, 2009
Call 623-334-3393
to reserve your seat 48 hours in advance!
=============
Need help identifying the Core Issues to tap on?
"Heal Your Body A-Z" by Louise Hay lists almost every physical condition known to science and the emotional issues that may be causing them. My website Products page has more info on this book and others to help YOU heal your life with the power of EFT and Louise Hay's teachings.
*
Treat yourself or your loved ones to an awakened new life in 2009 - you DESERVE IT!*
*
Want to jump start your 2009 weight loss program by flushing out the fears that keep the fat where it's at? Try a private session with Colleen. Her surrogate muscle testing will identify your hidden blocks to success! Click HERE for Private Session information.
* * *
Have you used EFT on yourself, pets or family but have not received the results you wanted?
Contact Colleen for a free consultation or session today!
Only $75 USD for an hour of surrogate muscle testing, tapping, laughing, fear blasting and SWEET RELIEF!
* * *
DISCLAIMER: EFT is gentle acupressure and has produced remarkable results in relieving emotional and physical distress.
USE EFT AT YOUR OWN RISK ON YOURSELF AND OTHERS, INCLUDING ANIMALS.
If you apply this newsletter's techniques to yourself or others, you are agreeing to take full responsibility for any side effects and/or outcomes.
* * *
Thank you for subscribing to my newsletter!
* * *
May you be blessed with perfect health, wealth, joy, peace and love in 2009 and always!
--Colleen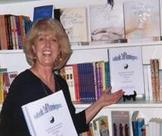 Please forward this newsletter to family and friends who could use the news!
Thank you to all my Worldwide Subscribers for allowing me to share my EFT Success Secrets!
*
Am offering
FREE EFT teleseminars
to thank you, educate and motivate you in 2009! Are you interested in being a volunteer on 1 or more weekend calls, and getting FREE EFT during the call?
Please email your name, desired EFT topic, your available times/days and time zone to
Colleen@EmoRescue.com
.
Will need 3-4 volunteers per call, so please contact me ASAP!
<><><><><><><><><><><><><><><><><><>
*
Despite new American President Obama's many recent policy changes, the media fear mongers are still busily reporting doom, gloom and CNN (constantly negative news)! They want you to stay afraid, feel victimized by the economic conditions, and to believe that you are powerless to create your own prosperity.
*
My highly intellingent subscribers would never buy into that BS! Here's a great way to use EFT to release your fear blocks, then Relax and grow RICH (Relationships, Income, Career, Health) in 2009!
*
*
Joe Vitale (from The Secret) recently emailed a prosperity affirmation and asked that it be shared with everyone I know.
*
Maybe you're religious, or spiritual but not religious, agnostic or a non-believer. If you're into EFT, you DO believe in the power of energy. You've probably created your own miracles using EFT, but could always use another tool to enhance your prosperity. If you don't believe in God or a Higher Power, or don't feel comfortable with some of the wording, change this affirmation to suit your comfort level.
*
Prosperity Affirmation
(Read Aloud and Tap on Your EFT Reminder Phrase Acupressure Points Every Day for 30 days. If you feel resistance to any statements, tap it away!)

*
I am the source of all wealth. I am rich with creative
ideas. My mind abounds with new, original,
inspired
thoughts
. What I have to offer is unique, and the world
desires it.
*
My value is beyond reckoning. What the world needs
and desires, I am ready to produce and give. What the
world needs and desires, I recognize and fulfill. The
bounty of my mind is without hindrance or limit. Nothing
can stand in the way of my inspired creativeness.
*
The overflowing
power of God life
energy overcomes
every obstacle, & pours out into the world, blessing &
prospering everyone, & everything through me.
*
I radiate blessings, I radiate creativity, I radiate
prosperity, I radiate loving service. I radiate Joy,
Beauty, Peace,Wisdom & Power. Humanity seeks
me and rewards me. I am beloved of the world.
I am wanted wherever I go.
*
I am appreciated. What I have to offer is greatly desired. What I have to offer brings a rich reward. Through my vision the world is blessed. Through my clear thinking & steadfast purpose, wonderful new values come into expression.
*
My vision is as the vision of the mighty ones. My faith is
as the faith of the undefeatable. My power to accomplish is unlimited. I, in my uttermost God Source, am all wealth, all power, all productivity. I hereby declare my financial free-dom, NOW and henceforth forever! And so it is!
*
Joe is a huge fan of using EFT to clear our paths to success. His materials are used by people around the world, including me, to achieve success. Am partnering with Joe Vitale to introduce his dynamic new
Awakening Course
, which includes unbelievable bonuses and a money-back guarantee!
*
For a limited time, this affordable, satisfaction guaranteed
entire package
is
LESS than the cost of a 1 on 1 EFT session with me
. You have NOTHING to lose and EVERYTHING to gain! Joe Vitale's teachings changed MY LIFE and gave me the POWER to be a co-creator with the Universe.
Tap your acu-points as you listen to these audios and manifest the life of your dreams!
*
Are you ready to open a holistic healing practice
but not sure where to begin or the best way to do it? Check out this
fabulous package
of incredible information for new and experienced business owners, from successful practitioners like yours truly! Yes, I own it. Yes, I recommend it! *
*
Are you disgusted with the violent, trashy or plain stupid movies available now? Wish you could have inspirational DVDs mailed to your home that the whole family can enjoy? Spiritual Cinema delivers movies that enlighten, inspire, teach and motivate their viewers and offers a FREE trial for new members!
*
If someone forwarded this newsletter to you, I hope you enjoyed it! Click
here
to get your own subscription and a free two-volume e-book on how to release panic, stress and fear via EFT. You can easily unsubscribe at any time.